An easy way to recognise a scout is by their uniform. Nowadays, the scout uniform is a dark green shirt with a neckerchief and woggle; the current Bishopsteignton neckerchief colour is purple. However, Scout uniforms previously were very different.
In 1989 the Scout Association had a uniform revision which saw the end of all Cubs, Scouts and Leaders wearing headgear. This cap was one of the last worn in Bishopsteignton, it belonged to the Vicar's son, Phillip James. Most other Caps at that time were donated to a collection made for 3rd world countries who had Scout groups but whose members couldn't afford a uniform. According to two previous cub members, the scout leaders used to hand out sweets in their hats after every meeting.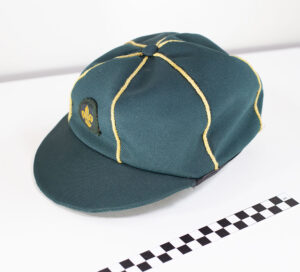 Previously, from 1908 when scouting began, the scout uniform included a wide-brimmed hat which both the scouts and leaders wore. The red badge on the front of the hat showed the scout leader's rank. A red one was worn by an assistant Scout Leader, green by Scout Leader and green and white by the Group Scout Leader (in charge of all four sections). This hat would have been worn by an assistant scout leader as shown by the red badge.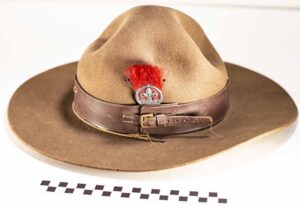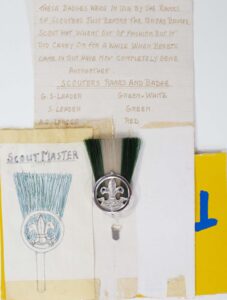 This scout uniform belonged to David Smellie who was a member of the 1st Bishopsteignton Scout Group for 4 years as you can see by the two year badges above the pocket. The green and yellow ribbons on the shoulder of the shirt were to show the patrol he was in; now, a scout wears a badge showing their patrol on their right arm. The world membership badge can be seen on the right pocket while the activity badges and group name are on the left arm.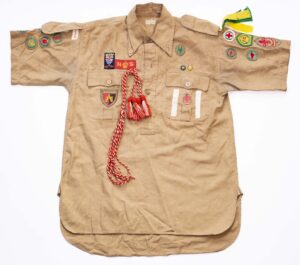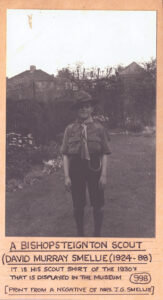 There are several types of badges a scout can get nowadays; an activity badge such as the international badge, a staged badge with different levels such as the navigator badge, one of the nine challenge badges which go towards the Chief Scout Gold Award such as the expedition challenge and finally the core badges which include the world membership, joining in award, patrol leader stripes, district and group name badge. Previously, scout uniforms only had space for a few activity badges and the same core badges. This used to be the Devon district badge and the Scout Fellowship badge which was worn by ex members of Scouts: