A short history of Bishopsteignton Women's Institute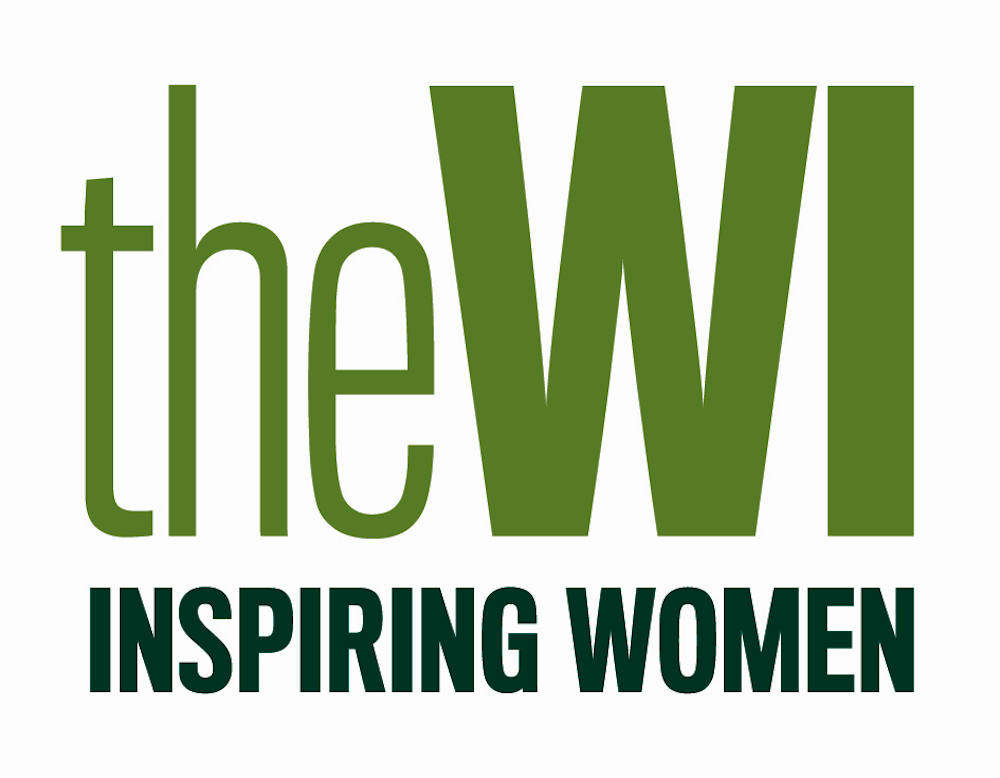 How it All Began
On Friday 2 December 1938 at 3.00pm a meeting was held at the Parish Hall, Bishopsteignton.  This was a public meeting to discuss the formation of a Women's Institute. Miss Harris VCO, who came to explain the workings of Women's Institutes, asked Mrs Benson to take the chair; 86 members gave their names as wishing to join. The following resolution was passed.  "We the Country Women of Bishopsteignton, do resolve on this day, 2 December 1938, that a Women's Institute be formed in our village".
A room at Huntly, then a hotel, was offered for a meeting place and the first meeting took place on 9 December 1938; Mrs Lilian Benson was elected President for the year. In 1938-39, according to the National Federation of Women's Institutes Aims and Objectives, the main purpose of the Institute "Is to improve and develop conditions of rural life".
At each meeting there would be a speaker, a demonstration, a competition and a social half hour (singing and dancing).  During 1939 and 1940 speakers covered topics such as fruit bottling, dressmaking, vegetables to feed the family and home beauty treatments.  Competitions included marmalade and cake making and demonstrations of glove making, loose cover making, knitting, papier mâché and soft slipper making took place.
The War Years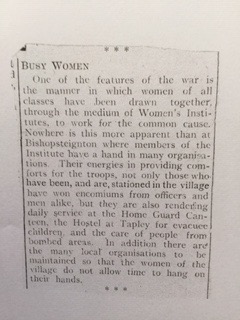 During the years of the Second World War,  (1939-1945), the membership was heavily involved in war work.  This included fundraising for such organisations as the Women's Voluntary Service (WVS) and the British Red Cross.  Amongst other things the membership became involved in were fruit preserving (bottling and jam making), salvage and fruit and veg growing.  Collecting herbs such as foxglove leaves, dandelion leaves and nettles was important and surplus fruit and vegetables were preserved for the community.  The members helped at Tapley Hotel, where some of the evacuee children were billeted  and the Huntly Canteen, which served the military.  Tribute was paid to the Women's Institute in the following newspaper cutting.
In April 1940 it is recorded that the total number of "comfort" articles made by the Women's Institute was 490. The list of articles was as follows:  53 pairs of operation stockings, 21 pairs of bed socks, 248 helmets, 34 scarves, 5 pairs socks, 51 pairs gloves, mittens and cuffs, 19 pairs sea-boot stockings, 10 pullovers, 1 shirt, 2 vests, 1 pair drawers and 5 knitted blankets; 97lbs of wool had been used. This continued throughout the war years.
In July 1940 meetings moved to Murley Grange so that the room at Huntly could be used by soldiers as a rest room and canteen.  During the War years a Produce Guild was setup.
Post War
In October 1946 the meetings changed venue to the Methodist Hall and were held there until March 1957 when they moved to the new Village Hall.  Rental costs at the Village Hall then were 10s 6d (52+1/2p) for the afternoon session.
In 1947 a market stall was opened in Newton Abbot, one day a week.  Local institutes contributed and ran the stall and is was deemed a great success.  In the first five months Bishopsteignton members who had supplied goods were paid £25 5s 10d (£25 26p).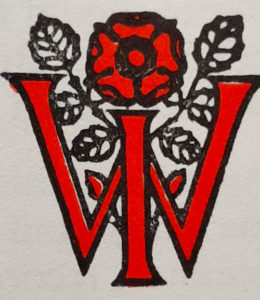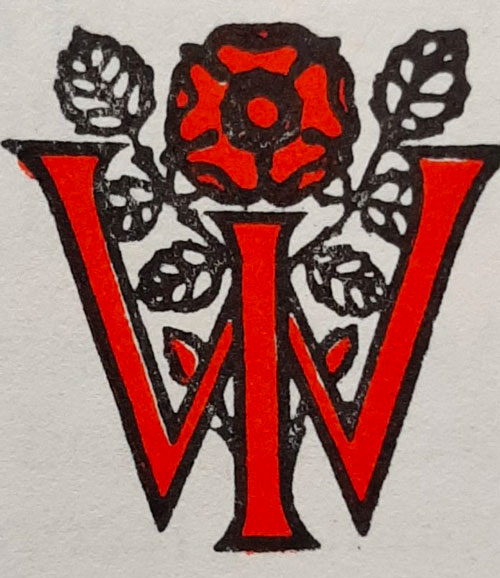 At a meeting of the WI in May 1947, Lady Tweedsmuir suggested that a link be made with an Institute in Canada and therefore a link was made with Greensville, Ontario, Canada. For some years during the acute post war rationing in Britain the Canadian ladies sent food parcels to help out.  For example, a parcel was received which contained the following products:  2lbs brown sugar, 10lbs cane sugar, 4lbs rice, 2lbs prunes, 2 packets raisins, 2lbs creamy butter, 4lbs lard, 2 tins sliced bacon, 2 tins roast beef, 2 tins corned beef, 2 tins chopped beef, 2 tins pineapple, 2 tins peaches, 4 tins breakfast sausage and 2 tins margarine.  In return the Institute sent copies of Home & County (WI magazine), Devon Journal and an Institute news sheet.
In 1955 the Greensville group were asked what they would like as a thank you gift and a Union Jack was chosen.  This was mounted on an oak base with an aluminium rod and an inscribed plaque, sent and received with grateful thanks by Greensville.  In 1965 a goblet was sent to mark the WI Golden Jubilee.
To celebrate the 21st birthday of the Institute in 1959, Greensville were again asked what they would like as a gift and a piece of Honiton lace was agreed and ordered.  The framed lace panel was about 14 inches square and took about 200 hours to make.  It features the letters WI surmounted by the English rose for its centrepiece.  Above this was the word "Greensville" and below it "Bishopsteignton".  The frame on both sides is a half-circle of trailing convolvulus leaves and flowers.  It was sent off together with a birthday cake, an exact replica of the one eaten at the birthday party in December 1959.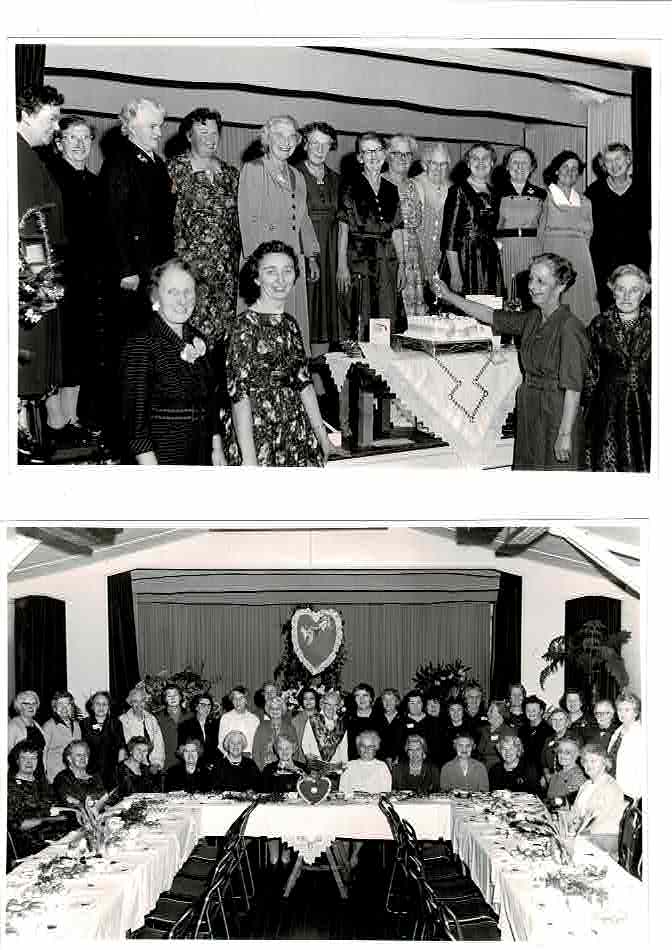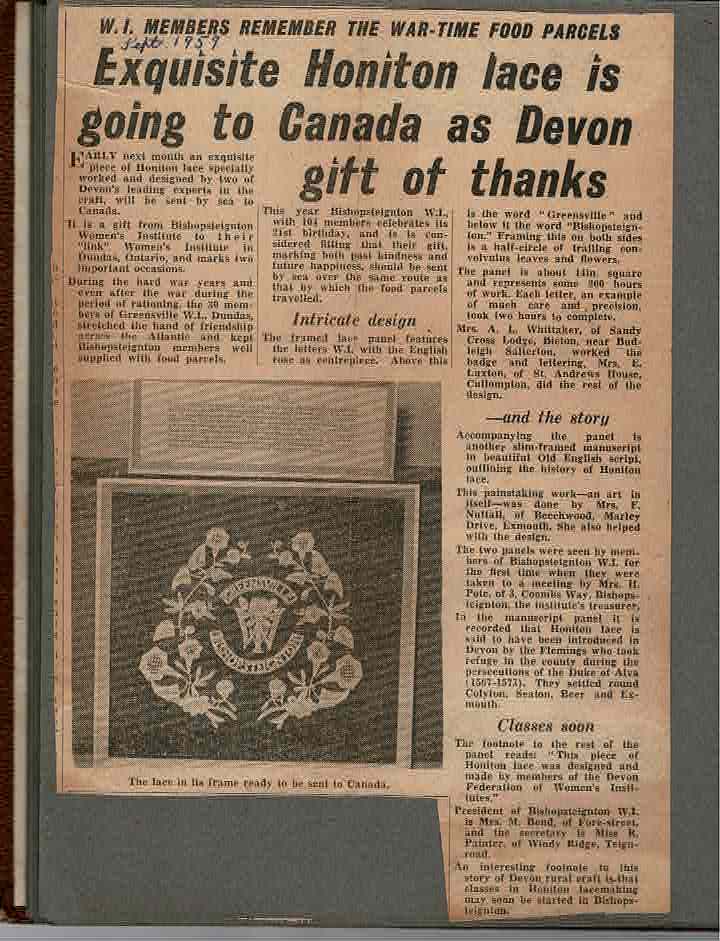 The link with Canada continued until November 1971 when it was discontinued as the two groups had not communicated for some time.
During the 1950s, 1960s and 1970s the WI were busy fundraising for charities and causes within the village and worldwide at national and local level.  For example, in 1970, magazines, especially those with knitting patterns, were collected and sent to Malaya.  Money was raised for refugees, Cheshire Homes and the Freedom from Hunger Campaign.  Fairs and jumble sales raised large amounts of money.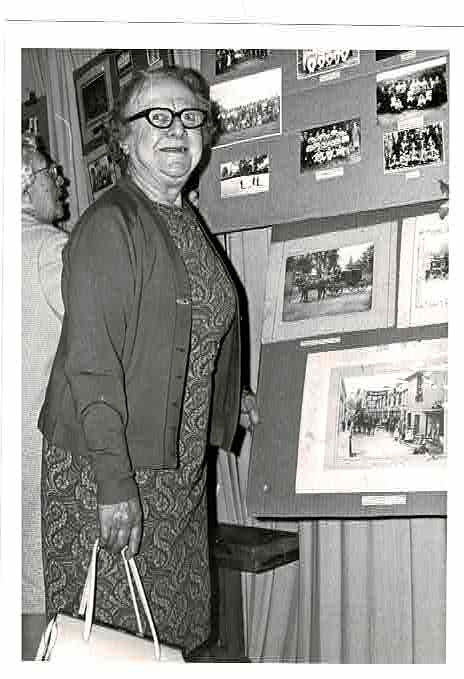 Money was also contributed to Denman College, the WI College in Oxfordshire to refurbish the Devon room.  Denman College is still in existence today and members can attend for courses covering a wide range of subjects and the fundraising for this is ongoing. Members took part in competitions in their Group and within the Institute.  Members attended courses such as basketry, painting, dressmaking, lampshade making and folk dancing to name a few.
To celebrate the Queen's coronation a cherry tree was planted at Wallis Grove.  The inscription on the plaque read as follows:  "Presented by the Women's Institute in commemoration of the Coronation of the H.M. Queen Elizabeth II June 2nd 1953".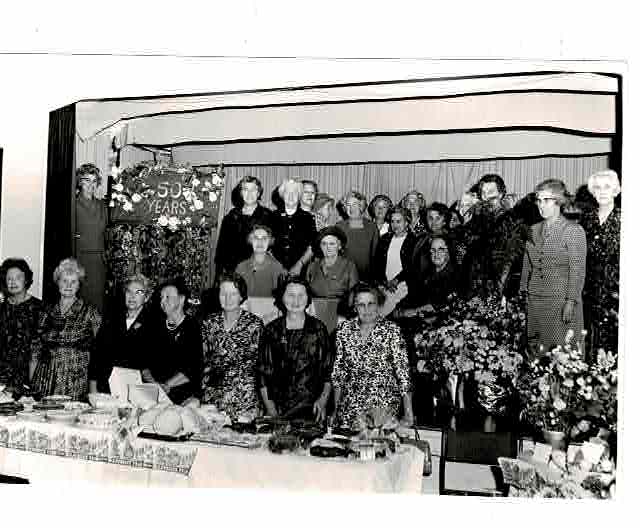 The Bishopsteignton WI celebrated their 25th anniversary in 1963 with a large birthday cake.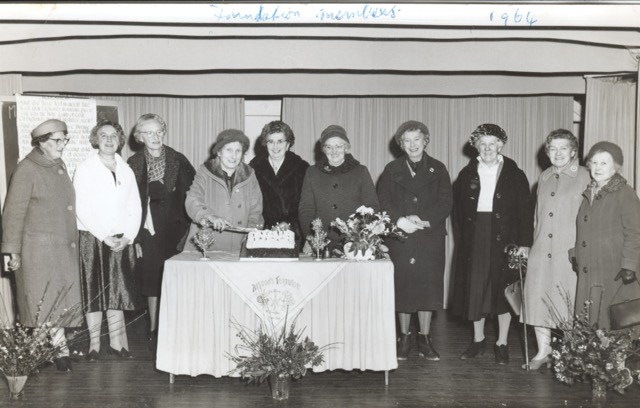 Jubilee
In 1965 the National Federation of the WI celebrated their Golden Anniversary and one of the members Mrs Gourd, was chosen to attend Buckingham Palace for this occasion.  Having suitably decorated her hat for this event, while the hat was unattended, unfortunately her dog decided it made something good to chew.  However, Mrs Gourd was able to repair the damage using artificial primroses.  This prompted the then Vicar, Rev. Easton, to remark that Mrs Gourd had  'gone to Buckingham Palace dressed like a dog's dinner!'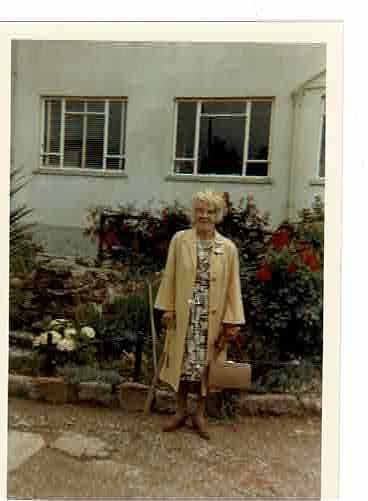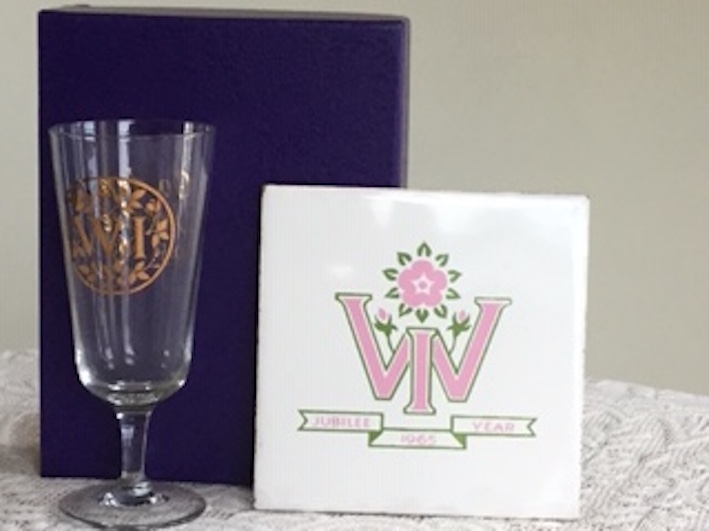 A bench was donated by the Institute to the village in 1967, situated in Fore Street, opposite the Ring of Bells.  Sadly in 2019 this had fallen into disrepair but a new one has been purchased and sited at the junction of The Orchard and Bishops Avenue.
Flowers and Fetes
In 1972 the membership had grown to almost 120 and a waiting list for new members was necessary.  At this time a Flower of the Month competition was started at the monthly members meeting and still happens to this day.  Members bring along a flower specimen from their garden and members, vote by putting a coin in a saucer for their favourite, thus raising money.
In 1973 another Institute was formed, this being Bishop Park WI which held meetings in the afternoons.  It is recorded that the first meeting was a very pleasant occasion.  It was a small group of 25, mostly new to the village and new to WI procedure.  Members were entertained with a film show on the beauties of Devon and during tea there were cryptic names of towns to puzzle over.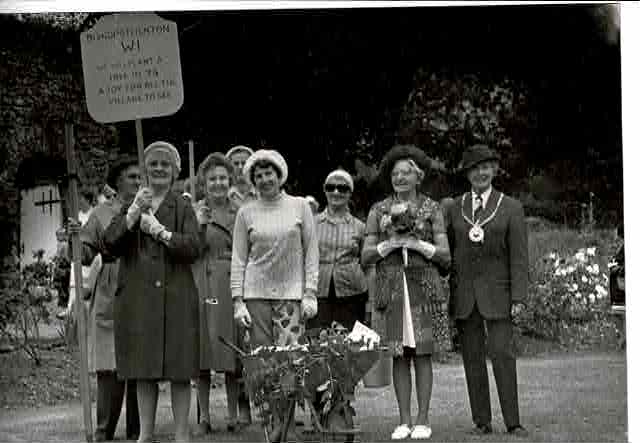 On 14 March 1975 the committee of Bishopsteignton Women's Institute agreed to leave the scrapbook illustrating village history in permanent charge of the museum and this is still in existence today.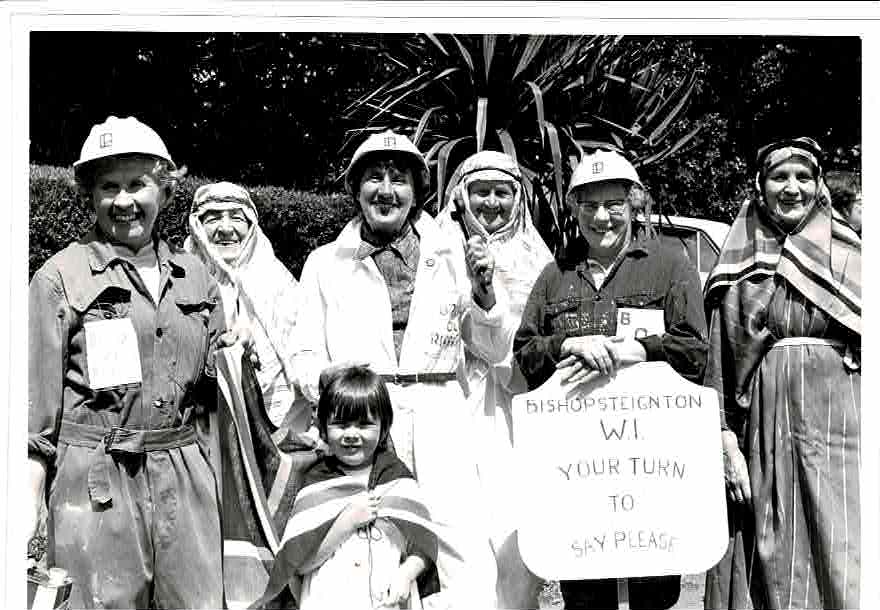 Drama and entertainment were part of the WI during and after the war years and the WI always entered into the village carnivals as well as producing shows and entertaining members.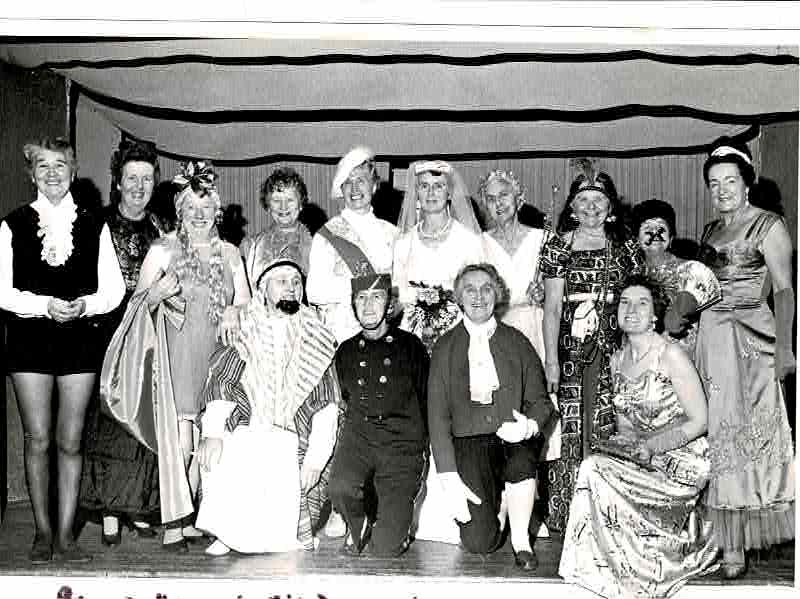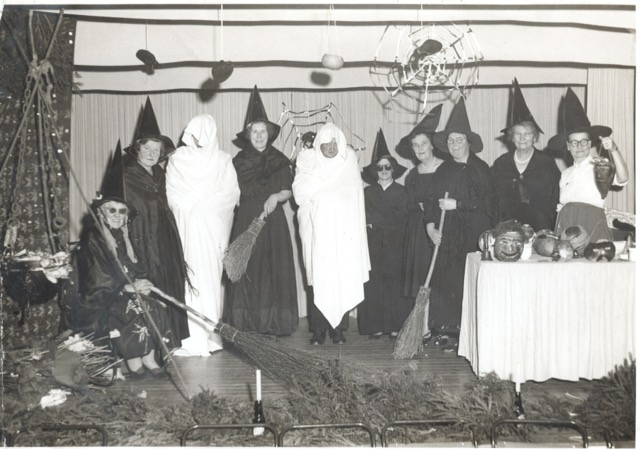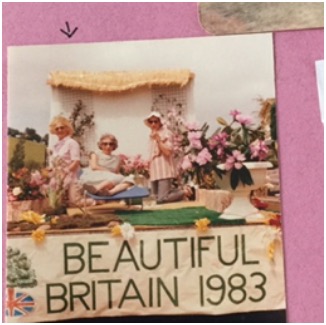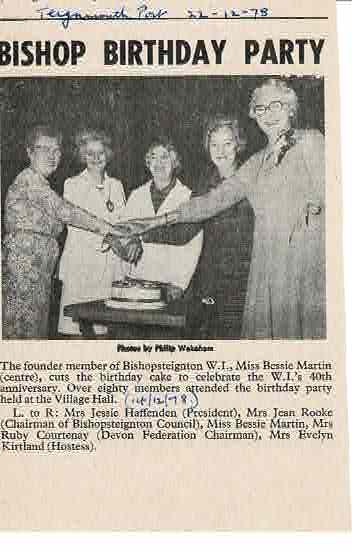 In 1984 the Queen visited the Life and Leisure Exhibition at Olympia, London and would have seen a knitted quilt made by members of the WI.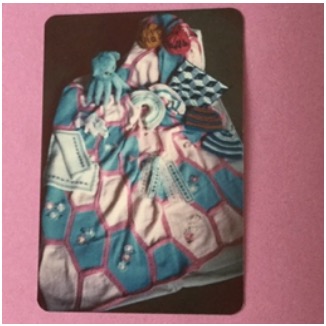 In 1972 a second WI was formed and was known as Bishops Park WI, this was an afternoon meeting.
Unfortunately, in 1988 after fifty years, the evening Institute closed.  St John's Church have many kneelers showing the relevant years of existence (1938 – 1988).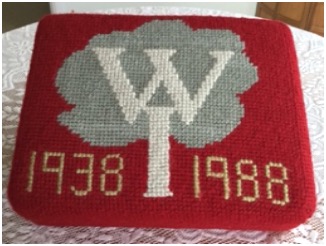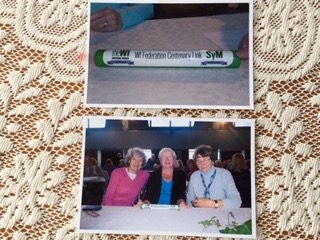 Bishop Park changed their name to Bishopsteignton WI in 2000.  They celebrated their 40th anniversary in 2013 and in 2015  three members from Bishopsteignton WI  attended the Royal Albert Hall for the Centenary of the National Federation at which the Queen, Princess Anne and Sophie Countess of Wessex were present.  Attendees were presented with a slice of cake – but no commemorative glass!
Bishopsteignton WI is part of the Devon Federation and also the National WI.  In 2010 the Devon Federation celebrated being in existence for 90 years.  Each WI was presented with a celebratory plaque.  Three members attended a celebration centenary lunch in Exeter.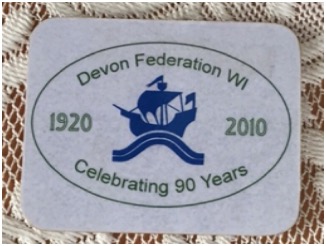 Present Day
Today members of the present WI enjoy various activities including skittles, craft classes and attend other Devon Federation events such as Group Meetings, Quizzes, Carol services, Christmas shopping trips and Federation Council Meetings. Our WI enjoys a membership of approximately 30, Devon Federation has nearly 7000 members and nationally nearly 220,000 members.
Today "The WI plays a unique role in providing women with educational opportunities and the chance to build new skills, to take part in a wide variety of activities and to campaign on issues that matter to them and their communities. The WI is based on the ideals of fellowship, truth, tolerance and justice. The organisation is non-sectarian and non-party political. WIs are charitable and everything they do must be consistent with that special legal status".1
In 2020 the Devon Federation will celebrate their 100-year anniversary, which the Bishopsteignton Institute will be part of.
References and credits
All other quotes are from the Bishopsteignton WI Committee Meetings minutes and Members Meetings minutes.