Many current and past members of 1st Bishopsteignton Scout Group have participated in local, national, and international Jamborees; this article will tell you about the differences between the Scout Jamborees in the past and present and give you an idea about what it's like to attend one.
A Jamboree is a large festive gathering of Scouts who rally at a national or international level with a variety of activities and entertainment. They are a brilliant part of being a member of the Scouts, ranging from huge international Jamborees to smaller national ones, they are amazing opportunities.
The latest Jamboree that one of the local Scouts attended was the 24th World Scout Jamboree in 2019. It was held at the Summit Bechtel reserve in West Virginia, America where over 40,000 Scouts between the ages of 14 and 17 stayed camping on the site for 12 days, making it the biggest educational event of its kind. 152 different countries sent units to stay on the 10,600-acre site. Amber Gardner, a 1st Bishopsteignton Explorer member attended as a part of Unit 73 from the UK, to attend she spent two years fundraising the £4,500 fee that paid for flights, food, and accommodation as well as to help fund lower income countries.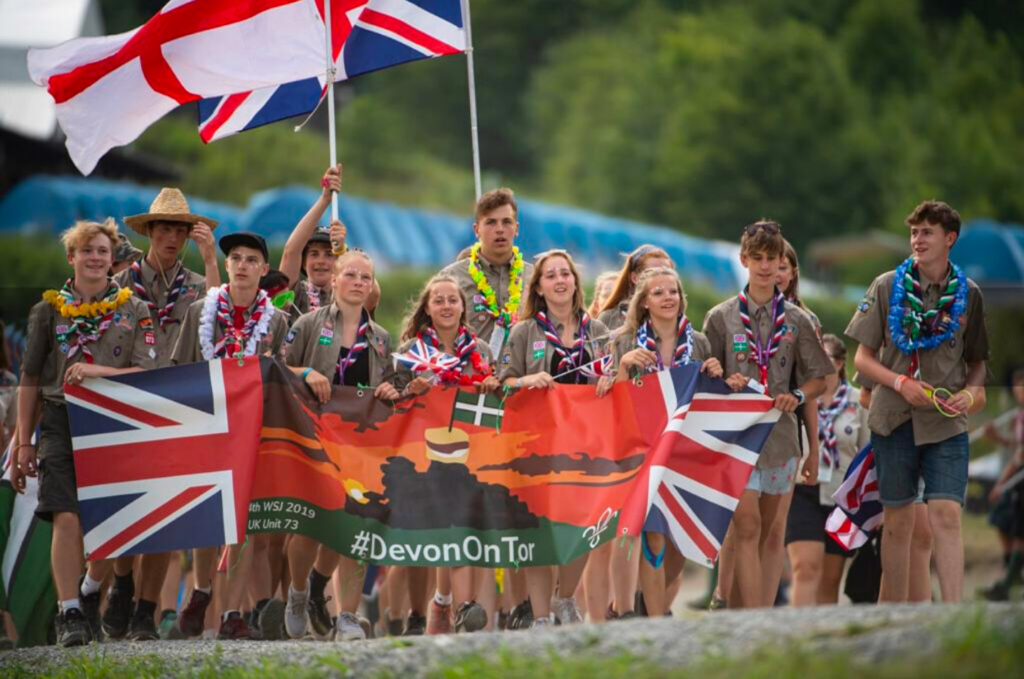 More than a few of the past 1st Bishopsteignton Scouts have attended Jamborees too. In 1986 Ben Randall, Duncan Madle, Dean Farleigh, Richard Wilkes, Matt Bray, Nobby Bray and Alan Tolley attended the international Westcountry Scout Jamboree at Mt. Edgcumbe.
Ben Randall said 'I would have just had my 11th birthday that year and it was the month before moving up to secondary school. The Jamboree was held in August 1986 at the same camp site as the Jamboree attended by Baden-Powell (founder of the Scouting movement) in 1936 (50th anniversary). Apparently about 6,500 Scouts and Guides from 21 countries around the world attended the Westcountry Jamboree.'
The scouts came back having collected lots of international badges by swapping and purchasing just as Amber did 33 years later. Activities at the Jamboree included canoeing, woggle making and lots of pioneering activities and challenges. Some things in Scouting haven't changed much; at the World Scout Jamboree there were plenty of water activities such as canoeing, as well as miles long zip lines and scuba diving tanks; woggle making is also a popular activity still at Scout camps such as the Hurdlestone Challenge.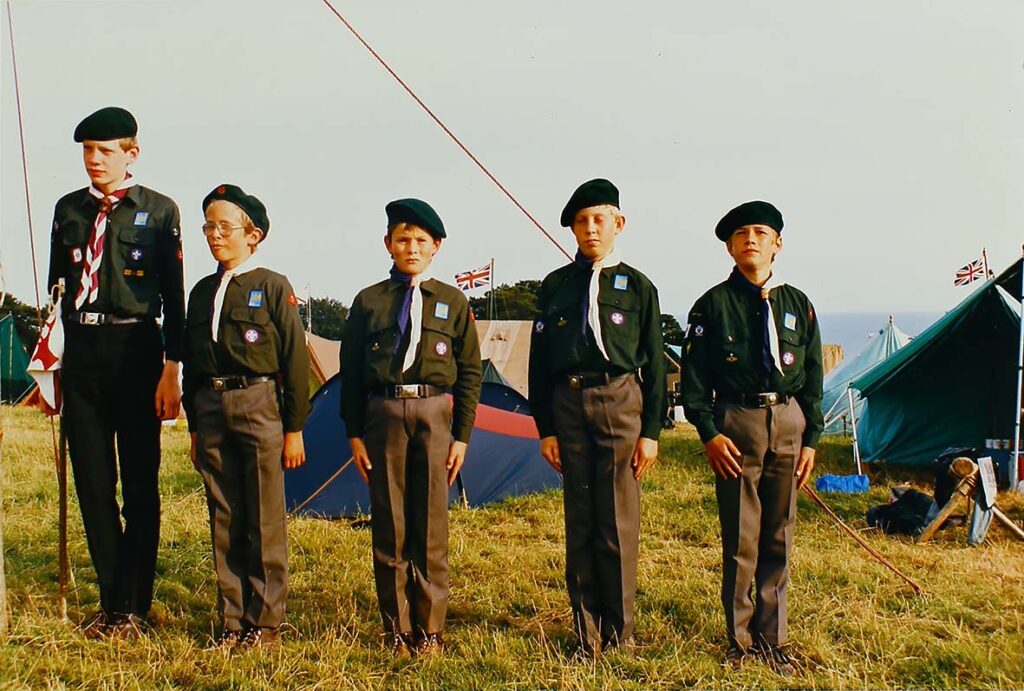 Another 7 of the 1st Bishopsteignton members were selected to attend the European Scout Jamboree in 2018 which was due to have around 30,000 attendees. Marcia and Thomas Leyman, Sophia Heathcote, Ashlee Arrowsmith, Joshua Jones, Leila Gardner and Ben Rusden each fundraised £1500 and participated in training camps in preparation for the Jamboree in summer 2020. Unfortunately, the Jamboree was cancelled due to Covid-19 but the training and effort put into the preparation was still a memorable experience.