During the Coronavirus outbreak, 1st Bishopsteignton Scout Group leaders worked incredibly hard to keep the group up and running despite the ever changing rules and guidelines. This article will tell you about the kinds of things our Scout Group got up to during Covid.
In 2020 during the first national lockdown (March through to June) the Scouts couldn't meet in person but as a group we decided to meet every fortnight on Fridays for a zoom call. We got up to lots of things like costume evenings, quizzes, cooking and online escape rooms. As well as that, the Scouts had the  opportunity to take part in lots of 'Camps at home' and organised activities with scouts all over the world.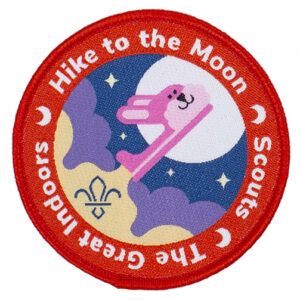 The first organised event some of our scout members took part in was 'The Great Indoors Hike to the Moon' in April of 2020. The scouts had to hike a mile in their homes or gardens to raise money for Children in Need. Scouts, along with friends and family, collectively walked more than 240,000 miles (the distance to the Moon), raising hundreds of thousands of pounds    for the event. Over the weekend they heard from Bear Grylls (Chief Scout) and astronaut Tim Peakes and those who took part got a special badge for the occasion.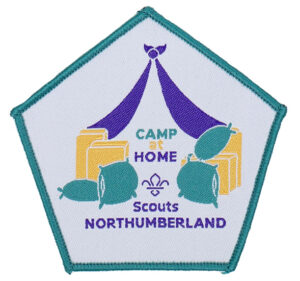 The second major organised event the scouts took part in was the Northumberland Scouts 'Camp at Home'. During April, over 60,000 scouts from across the world took part in camping at home, building dens, making virtual or real  fires, packing a bag and cooking a meal. Scouts who took part on April 30th were part of setting a world record too. There were activities online where the Scouts could meet new friends and get involved with Scouts from across the world and camping overnight went towards the Scouts 'night's away' badge.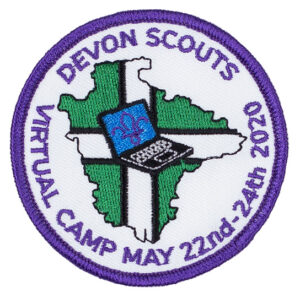 Later in the year another Camp at Home was hosted by Devon Scouts, with very similar activities to the others that included building dens, joining online events and having a go at online quizzes and game. More badges were awarded to participants after the weekend.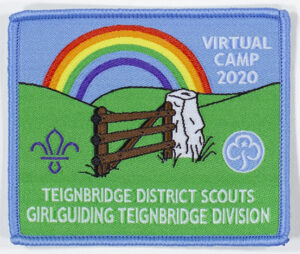 The next camp that the Scouts took part in was the virtual Hurdlestone Challenge on a weekend in June 2020. Hurdlestone is an important event for Bishop Scouts, usually teams would walk a route around
Bishopsteignton and Ideford earning points at exciting bases along the way such as knots, rifle-shooting, archery or river crossing bases (and more). However, due to Covid the event was cancelled and in its place a virtual event was organised. The Scouts camped once again in their houses or gardens and took part in online activities including a virtual disco and quizzes on knots and first aid. After taking part they received a special Hurdlestone 2020 badge for their camp blankets.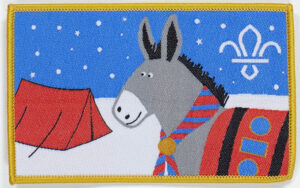 In Christmas of 2019 the Scout group put on their first 'Christmas Camp' with craft and outdoor activities and staying overnight together inside a scout hut, the weekend was fantastic so we decided to have another in the Christmas holidays of 2020. This one was virtual again, those taking part joined a zoom call for various festive activities together and camped again, although indoors this time due to the cold. another badge was awarded to those who took part so by now the most involved Scouts had earned a fair few badges for their camp blankets with even more to come!
The Scouts had so many opportunities over lockdown to help with the boredom and hopefully they enjoyed them! As well as these virtual camps, our own Scout group hosted regular zoom calls for those interested with games, virtual escape rooms and even badge work by the end like cooking and learning knots! Now that the restrictions have been lifted we're able to meet once a week as usual at Lawns End or around the village, the Scouts still have to stay two metres apart and sanitiser is used up incredibly quickly, but the leaders are able to think up exciting evenings of socially distant games and badge work like stuck in the mud with giant foam sticks or the entertainment badge. Recently, on the 26th and 27th of June the Scout Group was able to attend Hurdlestone 2021 at Lindridge, their training evenings were put to good use as they went through the fields earning points at first aid, knots, waterslide bases and more.  Despite the challenges of Covid, 1st Bishopsteignton Scouts have managed to stay up and running with a huge amount of oppurtunities and fun and the scouts have all shown amazing levels of resilience, determination and enthusiasm. But none of this would have been possible without our amazing and dedicated Leaders, Young Leaders and willing adult helpers.