The History of the Bishopsteignton Women's Institute, during WWII
Growing Vegetables Fruit and Herbs
Preserving Food and Jam Making
Collecting Rose Hips Dandelion Roots Nettles and Foxglove Leaves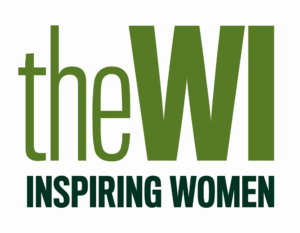 Jam and Jerusalem
The part played by Bishopsteignton Women's Institute in WW2
(Text in italic is taken directly from the committee meeting and member's meeting minutes).
On Friday 2 December 1938 at 3.00pm a meeting was held at the Parish Hall, Bishopsteignton.  This was a public meeting to discuss the formation of a Women's Institute. Miss Harris VCO who came to explain the workings of Women's Institutes asked Mrs Benson to take the chair.  86 members gave their names as wishing to join.
The following resolution was passed.  "We the Country Women of Bishopsteignton, do resolve on this day, 2 December 1938, that a Women's Institute be formed in our village".
A room at Huntly was offered for a meeting place and the first meeting took place on 9 December 1938.  Mrs Lilian Benson was elected President for the year. In 1938-39 according to the National Federation of Women's Institutes Aims and Objectives the main purpose of the Institute "Is to improve and develop conditions of rural life".
At the outbreak of the war in 1939 the WI nationally had 328,000 members.  The organisation was anti War and therefore the WI found it difficult to know how to become involved.  The Chairman at the time, Lady Denman, knew that the members would want to "do their bit" and so the WI organised and took part in many schemes to help on the home front.
In Bishopsteignton these included:
Helping with Evacuees
In 1939 the Government moved children, mothers and babies to rural areas to keep them safe.  WI members were active in relocating evacuees and helping them to settle in the country areas that they were not familiar with.
20 June 1940 – The President reported on the Government Evacuation Scheme and the children sent to Tapley Grange.  She said that the children, 70 in number had been received by a matron, nurse, VAD worker and two mothers and for the time being the staffing was inadequate.
Helpers were requested for ;
1. Night duty. 
2. Walks or occupying the children. 
3. Sewing and mending. 
4. Cleaning and kitchen work. 
Toys, old books and clothing were also needed.  Volunteers were asked to give their names to Mrs Norrington and after consultation with the Matron a meeting of a few helpers would meet at Huntly on the 21st.  Old clothes or material should be sent to Mrs Cribb and Mrs Righton.  These would be used both for children with foster parents in the village and for those at Tapley.
17 October 1940 – Mrs Benson had received a letter from Mr Luxton, Newton District Council asking for help with regard to equipping and getting Coles Barn Cottage ready for evacuated mothers and children.  Dr Cooper said that with Mrs Dawson and Miss Sargent she had been busy arranging the goods already sent but that many things were needed.  Some offers were made at the meeting.
8 August 1940 – Miss Forrest reported that there had been changes in the staff at Tapley and that there would be further changes.  There was still great need of the voluntary helpers and the new matron, Miss Smythe, would be very glad if volunteers would be forthcoming to take some children out on Saturdays and Sundays.
Help for Local Troops
Members volunteered to help at the Canteen for troops which was based at Huntly.  The WI worked alongside the Women's British Legion to provide shirts, mending, laundry and hospitality.
16 July 1940 – The Army chaplain explained the needs of the men at the Cockhaven and in the village.  Their needs might thus be summarised.
1.    Canteen accommodation.  Mrs Fedden said that she had already started the canteen at Huntly.  Light refreshments at small charges were served from 8.00pm.  Facilities for games and writing letters were provided also.  Mrs Fedden supplied the stationery.  She would be glad of two helpers each evening including Sundays.
2.    Sewing and mending.  The men, many of whom had been at Dunkirk, were short of clothing.  Mrs Benson said that Mrs Hepburn was allocating 50 yards of material and sending a pattern for shirts to be made.  Dr Cooper offered the use of her electric sewing machine.  Mending was also required at the Camp.
3.    Laundry.  A list of members would be made who would be willing to do the laundry of one or more soldiers.
4.    Hospitality and entertainment.  This would develop it was hoped as time went on.
5.    Cigarettes. It was stated that the vicar, the Reverend Biddle, had made an appeal on Sunday 14th.
19 September 1940 – The President reported that the workers at Huntly were very satisfactory and that a meeting held on 9 September at Murley Grange showed that the helpers wished to continue and were anxious to assist Mr Fedden in every way.
11 October 1940 – The soldiers continued to take advantage of the Canteen and on Sunday 6th October 242 soldiers were served during the day.
21 November 1940 – A meeting of the workers of the Huntly Soldiers Canteen was held on 23 October at 3.00pm at Murley Grange.  42 were present.  It was decided to carry on as usual and no changes were made in the rota.
An entertainment was arranged for 26th October for the Canteen for the rehearsal for which helpers and their friends were invited.  The entertainment was enjoyed and a silver collection was taken at the rehearsal.
Members helped at the Canteen until the end of 1941.
20 November 1941 – Mrs Fedden reported that the Canteen was now recognised as a WVS Canteen by the Southern Command and that all the helpers were now WVS members.
The Institute continued to help in the form of monetary donations.
18 December 1941 – Mrs Benson spoke of the Christmas party for soldiers at Huntly and suggested that a grant might be made towards it from the Salvage Fund.  Mrs Tull proposed that £2 should be given.  Mrs Dawson seconded this and it was unanimously passed.
14 January 1944 – Mrs Keen read the list of articles taken to Coles Barn for the searchlight squadron on Christmas Eve and recorded the thanks of the men.
Knitting and Sewing
In late 1939, to raise funds to buy knitting and sewing materials, a concert, over two nights, was held at Huntly, by kind permission of Mr Fedden, to buy knitting and sewing materials.  Mrs Nalder offered to organise this, the tickets to cost 2 shillings and 1 shilling.
Members knitted for all service personnel and in September 1944 the Government organised a knit for Europe campaign where the 150,000 items were made nationally.
The minutes record many accounts of the comforts made for all branches of the Services.  A couple of examples are:
15 February 1940 – Letters of warm appreciation were read from the WVS depot at Exeter and from the commander of a mine sweeper for the various comforts that had been sent by the Institute.
18 April 1940 – Mrs Cribb reported that the total number of articles made by the Women's Institute is 490 and 97lbs of wool have been used.  The list of articles are 53 pairs of operation stockings, 21 pairs bed socks, 248 helmets, 34 scarves, 5 pairs socks, 51 pairs gloves, mittens and cuffs, 19 pairs of short stockings, 10 pullovers, 1 shirt, 2 vests, 1 pair drawers and 5 knitted blankets.
21 November 1940 – From 1st January 1940 – 9th November 1940 712 garments in all had been made for the forces and hospital needs – and for the children at Tapley many garments had been made.
A doll, a handbag and waistcoats were made from strips of silk stockings as well as quilts, one being padded with an old woollen dressing gown.  These items were passed to the WVS for onward distribution.
Wool was provided from the Institute Comfort fund or was often sent to the Institute free of charge.
Mending socks for the Search Light Unit at Coles Barn is mentioned.
Lessons on dressmaking were successful and members encouraged to "make do and mend" clothes for themselves and their children.  Dressmaking patterns were loaned to each other.
20 February 1941 – A note in the letter referring to the washing of Army Socks was discussed.  The best method of shrinking wool before the socks were worn was said to be soaking in cold water and drying in the air if possible.
21 December 1944 – A collection of soft toys made by the members were on exhibition and it was arranged that they should be dispatched to the regional centre for distribution to children in hostels in the district.
Growing Vegetables, Fruit and Herbs
At the monthly meetings a speaker would be invited to talk on topics of interest to members.  During the war years this included subjects such as "Vegetables to feed the family", "Bottling fruit" and "Back yard hens".  Quite often a speaker from the County Agricultural Committee would attend.
19 September 1940 – A letter re kitchen waste and another re surplus vegetables were read and considered.  It was decided that extra vegetables could be sold by members to members at the Produce Stall.
All members were encouraged to grow vegetables and in particular onions and carrots.  Previously onions had been imported from France but this was no longer possible when the French fell under German jurisdiction.  WI's were provided with seeds from the County Secretary.  Seeds and potatoes were also sent from Canada for distribution.
20 February 1941 – Mrs Keen said that she had distributed the seeds especially packed by Suttons.  28 packets of mixed varieties and 6 of French beans having been allotted to the Institute.
A Produce Guild was set up by the Ministry of Agriculture to increase cultivation and to supply seeds, plants and fertilisers more cheaply.  Members were able to attend courses or speakers would attend meetings to offer advice.
13 February 1942 – After some discussion the meeting decided it would be well to enquire at the monthly meetings if any members would care to join the Produce Guild of the National Institute.  The Sec said she would get leaflets explaining the objects of the Guild.
9 April 1943 – Miss Benson read the Produce Guild notes and it was decided that the members of the Produce Guild should consider holding a vegetable show in July for the Red Cross.
Preserving Food and Jam Making
The WI were to play an important part in the preservation and production of the country's food.  As much of the country's food was imported it was necessary to increase production at home.  WI members were very knowledgeable about bottling and preserving and so this expertise was built on.
Jam making has always been a very important part of WI life and this was something that was of tremendous importance in the War.  Surplus fruit was collected and made into jams and jellies for distribution.
16 January 1941 – The classes for food preservation were to be held in March at 3.00pm.
Following this a Village Fruit Preservation Scheme was set up to include Institute and non-Institute members.  Apparatus, money and surplus fruit were all offered for the scheme which was based at Murley Grange.
Instructions and information were received from the Ministry of Food.  Talks and demonstrations were given so that members could receive as much information as possible and a committee was formed.
14 March 1941 – The school is holding its meetings on the four Tuesdays in March at Murley Grange and the members hoped to form a Centre for Fruit Preservation in the same premises in the ensuing summer.  Particulars had been obtained from the lecturers and Mrs Keen has applied for registration, for the £5 free grant and for one of the oil stoves which it was hoped would be sent from America.
15 May 1941 – Mrs Clark gave a report on the preliminary arrangements for the Fruit Preservation Scheme.  She said that the loans from private sources would not be used, that various necessaries would be purchased out of the £4 granted from the Salvage Fund and that it was hoped the Federation would grant a loan sufficient for all needs.  Various utensils were being lent.  Some things were needed like oven cloths and tea cloths and she hoped these might be supplied by members to be able to send 700 jars to the centre.
Preserving sugar was made available to be used in the Fruit Preservation scheme.  The centre in Bishopsteignton was set up in Murley Grange, staffed by volunteers who were not allowed to buy any goods for themselves.  Jars were collected by Ministry Inspectors and taken to wholesale depots for distribution and was highly regulated.  Nationally between 1940-1945 over 5,300 tons of fruit had been preserved.
17 July 1941 – A start had been made with 44lbs of gooseberry jam which had been bought by Mrs Bibbings.  Fruit was wanted and rhubarb.
18 September 1941 – Mrs Clark reported that 266lbs of jam and jelly had been made of various kinds.  136lbs of sugar had so far been used.  96lbs of jam had been sold.
12 November 1942 – One gross of 2lb kilner jars and ½ gross of 3 lb jars for fruit bottling were given to the Institute by Lady Benthal of Lindridge.  These were soon bought by members who used them for bottling their fruit.  There was no surplus fruit until the blackberry and apple season began.  Members then made 31 lbs of jelly passed by the Federation jam examiner as being of excellent quality.  28lbs of marrow jam has also been made.
Collecting Rose Hips, Dandelion roots, Nettles and Foxglove leaves
Requests were made for the collection of these for medicinal purposes.  Rosehips were needed as they could be made into rosehip syrup, a good source of Vitamin C as oranges could no longer be imported.
20 November 1941 – 9s 2d was realised from the sale of rose hips.
The collection of foxglove leaves, which were dried, continued throughout the war years as the leaves contain a compound called digitalin that acts on heart muscle.  It was required by the medical profession to help with arrythmia of the heart and atrial fibrillation.
19 June 1941 – Mrs Benson said that foxglove leaves which were the immediate need might be left at Murley Grange and the leaves would be conveyed to Dartington for drying.
17 July 1941 – As a result of the collection of foxglove leaves the net result when the leaves were dried at Dartington Hall was 3 lbs 3ozs.  It was suggested there should be another collection.
20 November 1941 – £1 17s 6d was realised from the sale of dried foxglove leaves.
18 December 1941 – With regard to the money obtained from the foxglove and rosehips collection, a sum of £2 4s 6d, it was unanimously approved that it be sent to the Rt Hon. A V Alexander for King George's Navy and Merchant Service War Relief Fund.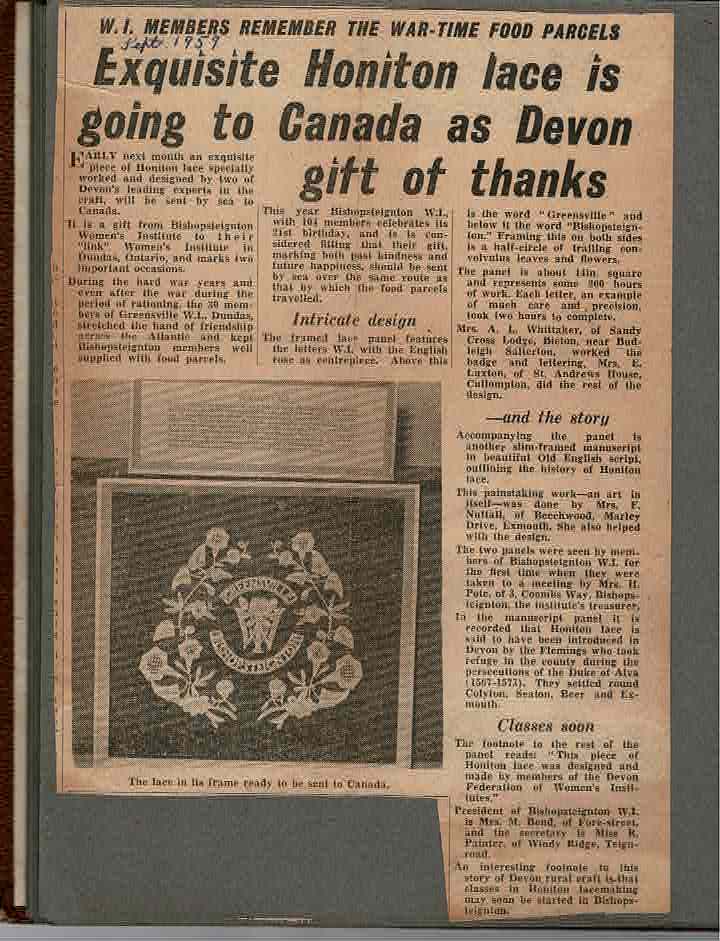 Food rationing had been introduced in 1940 and as the War progressed other items such as clothing were added.  On 8 May 1945 the Second World War ended in Europe but rationing continued until 4 July 1954.
In 1947 Bishopsteignton Women's Institute started a correspondence with Greensville Women's Institute in Ontario, Canada.  The first parcel of foodstuffs arrived from Canada in 1948 and thereafter at regular intervals.
15 January 1954 – A parcel of food has been received from our link in Canada.  It comprised the following:  2lbs of sugar, 10lbs cane sugar, 4lbs rice, 2lbs prunes, 2 pkts raisins,2lbs creamy butter, 4lbs lard, 2 tins sliced bacon, 2 tins roast beef, 2 tins corned beef, 2 tins chopped beef, 2 tins pineapple, 2 tins peaches, 4 tins breakfast sausage, 2 tins margarine.
In 1955 Greensville were sent a Union Jack as a thank you.  To celebrate our Institutes 21st birthday in 1959 a piece of Honiton lace was commissioned and sent to Canada.  It measured 14 inches square and took 200 hours to make.  A birthday cake was also sent which was the exact replica of the one eaten at the birthday party here.  The link continued until the early 70's.
National Savings
In 1940 The National Savings Committee asked the WI to raise the profile of the National Savings Campaign.  Each WI was asked to set up its own scheme and posters were sent out.
9 February 1940 – A letter was read from the National savings Committee.  It was decided to suggest to the Institute that a group should be asked to run it.
20 November 1941 – Mrs Benson said that £688 had been saved in 1 year 5 months.
16 March 1944 – Mrs Tull said she would be sending the half yearly returns to the National War Savings on 31st March and that up to date she had received £798 16s 0d sinc3 30th September last year.
Raising Money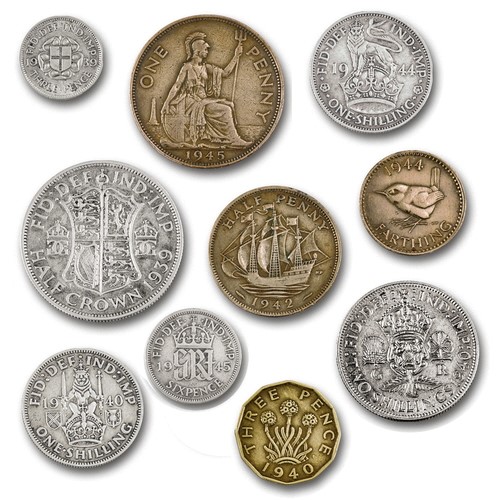 18 July 1940 – Mrs Benson read an appeal for old silver in connection with the "Silver Thimble Fund.  Mrs Thompson seconded the appeal and urged members to turn out trinkets and other old treasures and send them to her.  The money raised might be considerable and would be devoted to forming a Flying Ambulance.
17 July 1941 – The Secretary read an appeal from the Secretary of the Queen Charlotte's Maternity Hospital which has suffered from the bombing of London.  A collection was made and as a result a cheque for £2 13s 0d was sent towards the upkeep of Women's Institute cots.
In 1943 the Institute set themselves a target of £30 to raise for the "Wings for Victory week".
20 May 1943 – Mrs Tull said the total amount for the Wings for Victory week was £330 16s 0d.
Salvage
Paper Salvage was a part of a programme launched by the British Government in 1939 at the outbreak of the Second World War to encourage the recycling of materials to aid the war effort, and which continued to be promoted until 1950.
8 August 1940 – Mrs Benson read a letter from the Newton Abbot Rural Council about the proposed collected of salvage.  Mrs Edge Partington had signified her willingness to undertake this work and the Committee agreed that she should be appointed the parish organiser and she asked to form her own committee of helpers.
Aluminium was collected in the village and taken to Newton Abbot by WI members.  This was needed for aeroplanes.
Alongside all of the above the Bishopsteignton WI members attended their usual monthly meetings when there would be a competition, entertainment and a speaker.  To keep members up to date and aware of what was happening outside the village films were sometimes shown.
17 April 1941 – The films sent by the ministry of Information were much appreciated.  They included pictures illustrating the work of women in wartime as nurses and in engineering, of the elimination of waste and the saving of all scraps for pig feeding stuffs.  In August another show would be given to include the colour film "A garden goes to War" if it could be obtained.
As the War progressed the WI turned its attention to post war problems and how to adapt to them.  Speakers would often attend the meetings.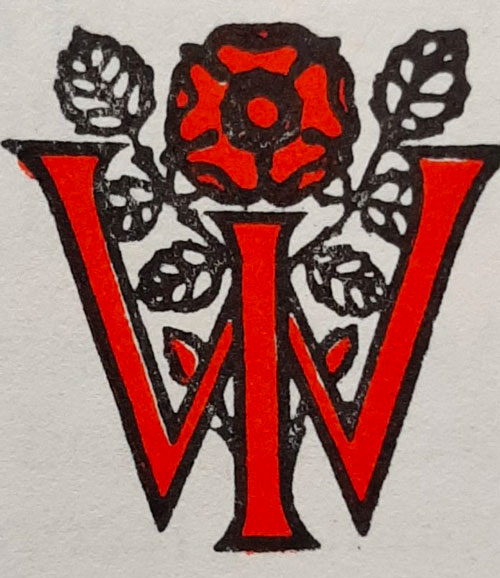 Jerusalem
Why was Jerusalem chosen as the WI's anthem?  Apparently, the National Institute ran a competition to choose a WI anthem and Jerusalem was chosen.  It had previously been used by the National Union of Suffrage Societies and by singing Jerusalem the WI is marking its links with the wider women's movement and its commitment to improving the conditions of rural life.

Today the WI sing Jerusalem as at all major and special events but not necessarily at every meeting.
Jerusalem Hymn
And did those feet in ancient time
Walk upon England's mountain green?
And was the holy Lamb of God
On England's pleasant pastures seen?
And did the countenance divine
Shine forth upon our clouded hills?
And was Jerusalem builded here
Among those dark satanic mills?
Bring me my bow of burning gold!
Bring me my arrows of desire!
Bring me my spear! O clouds, unfold!
Bring me my chariot of fire!
I will not cease from mental fight,
Nor shall my sword sleep in my hand,
Till we have built Jerusalem
In England's green and pleasant land.
William Blake