The Beginnings
It all began September 1995.
When the village celebrated the 50th anniversaries of VE Day and VJ Day, which proved a great success, it prompted the idea of holding a village show.  A committee was formed to set up the organisation of a Village Show that would take place on Saturday 14th and Sunday 15th of September 1996 and would be held in the Community Centre.
An entry was made in the Parish Chronicle that month outlining plans together with a letter which was also circulated to all village organisations explaining the aims of this first Village Show, together with the request of their support in order for the show to take place.
The aim of the show was to raise much needed funds towards the repair of the Community Centre roof.  It was agreed at this first meeting that monies raised at the 1996 show would be donated for this sole purpose.
The original committee included Mrs J. Hawker (Secretary),  Mrs J. Knapman, Mr Searle, Mr R. Pepperall, Mrs A. Evans, Mrs C. Gibson, Mrs T. Sercombe and was Chaired by Mr Roy Halsey, who together with his wife, Mrs T. Halsey, ran the show until 2018.  Over the following years new committee members came 'onboard' and some include: Mrs J. Chaplin- Fisher, Mrs S. Cockerton, Mr D. Hourahane, Mrs J. Denman, Mrs P. Best, Mr and Mrs G. Wareham, Mr and Mrs Gorringe, Mr S. Pooley, Mrs M. Sturgess.  Many of the original committee members continued to help until 2018 when a completely new committee chaired by Mrs A. Prestt was formed due to the retirement of Mr and Mrs Halsey.  It was agreed at the very first meeting that the Village Show committee would consist of nine members: three members from the Community Centre, three members from organisations within the village and three other members to include all representatives from the village.
The following make up of the first show set a precedent for the forthcoming shows.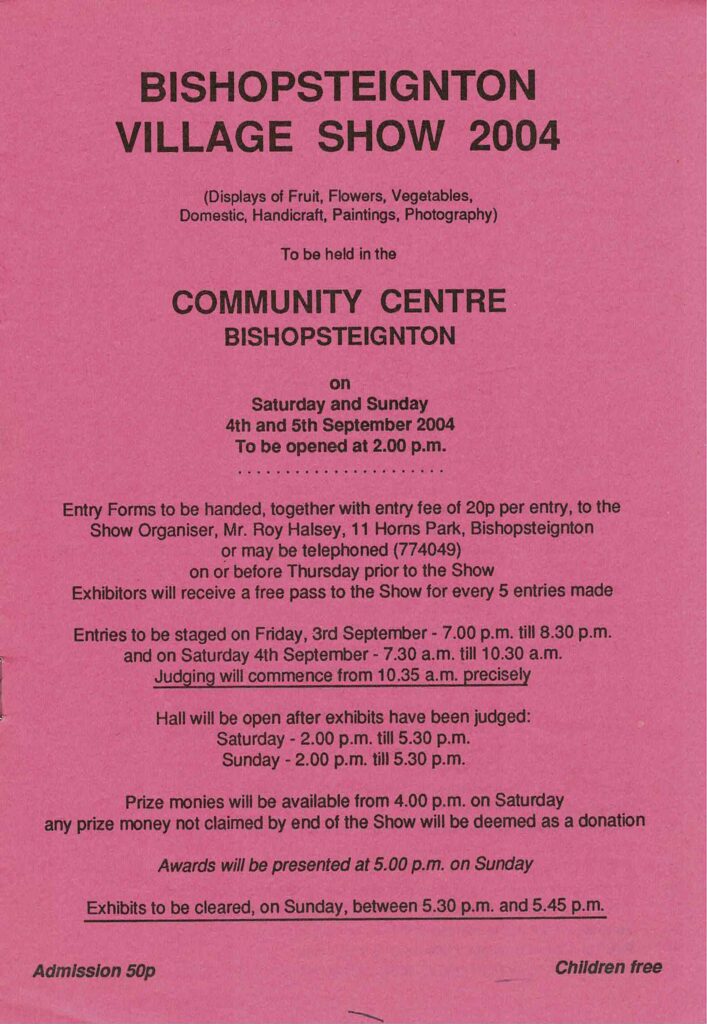 Entry charge to be made (50p per adult and children go free).

Entry to classes cost 20p and exhibitors entry be free.

Classes included: floral, art, crafts, photography, children's section, vegetables, domestic (cakes jams etc).
No cups given but suitable prizes to be presented.
Local business asked to sponsor a particular class.
Lunch supplied to the judges and refreshments also available.
There were a band of helpers that were called upon to help set up, clear up and insure the show run smoothly.
Fund raising was required initially to cover the 'set up costs'.  Fund raising events included cream teas and a car boot sale in this first year.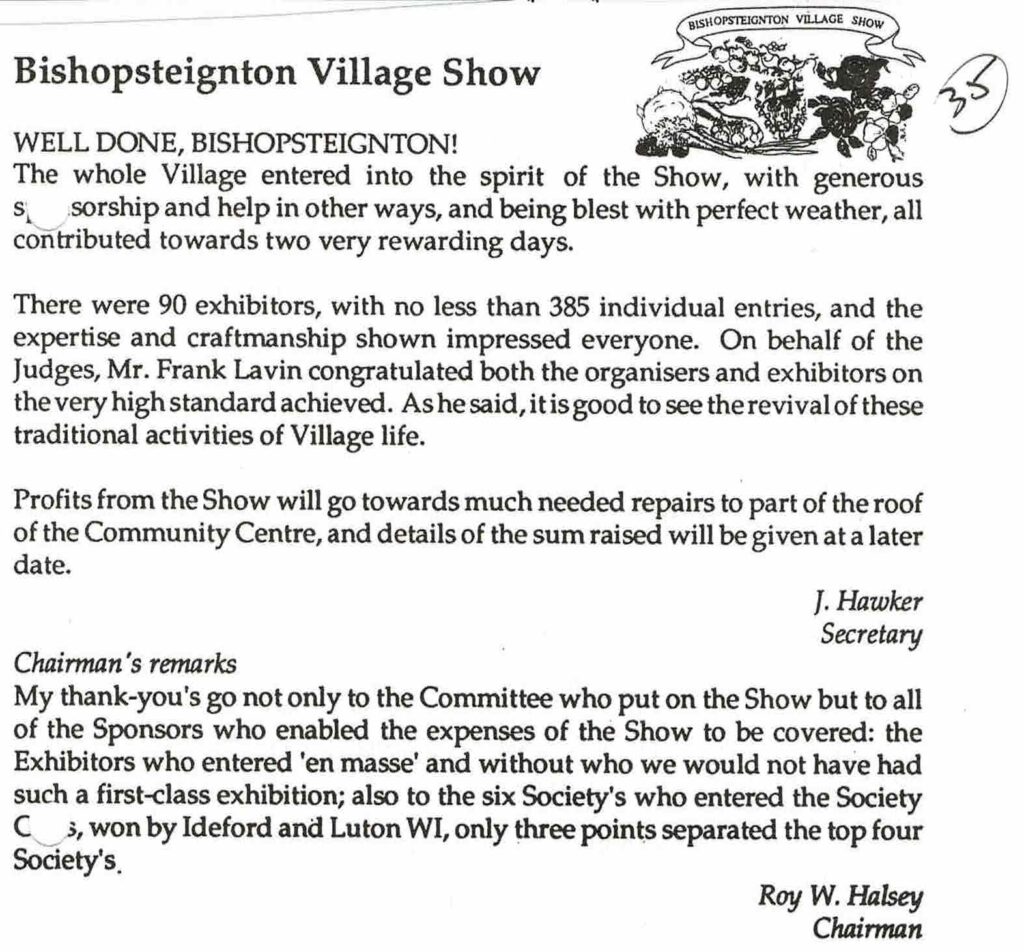 1996
The 1996 show was a resounding success with a profit of £800 (£600 was presented to the Community Centre for the roof repairs and £200 was made available towards next year's show).
A 'mop up' meeting was held October 1996 to discuss the outcome of this first Village Show.  At this meeting the committee agreed to continue and run next year's show and again raise monies for roof repairs at the Community Centre.
At this meeting Roy Halsey (Chair) felt that asking for sponsorship for the classes raised interest and enthusiasm, enabling the whole village to take part in the show and has remained a focus of the Village Show up to today.   Different topics were embraced within the Floral Art and Handcraft classes and included:
Floral Art Classes:
The Stately Homes of England.
One Fine Day.
It takes two to Tango.
Where Corals Lie.
Singing in the Rain.
Cradle Song.
Handicrafts:
Sugar craft.
A greeting Card made with pressed flowers.
A Doll dressed in hand sewn clothes.
A picture in cross stitch embroidered.
Topics within the Art classes are changed each year to cover a wide range of themes.
1997
The Village Show 1997 was opened by Brian Carter.  It was in this year that the committee added a new rule declaring that: "Exhibitors must reside, work or be a member of a club within Bishopsteignton or Ideford Parish".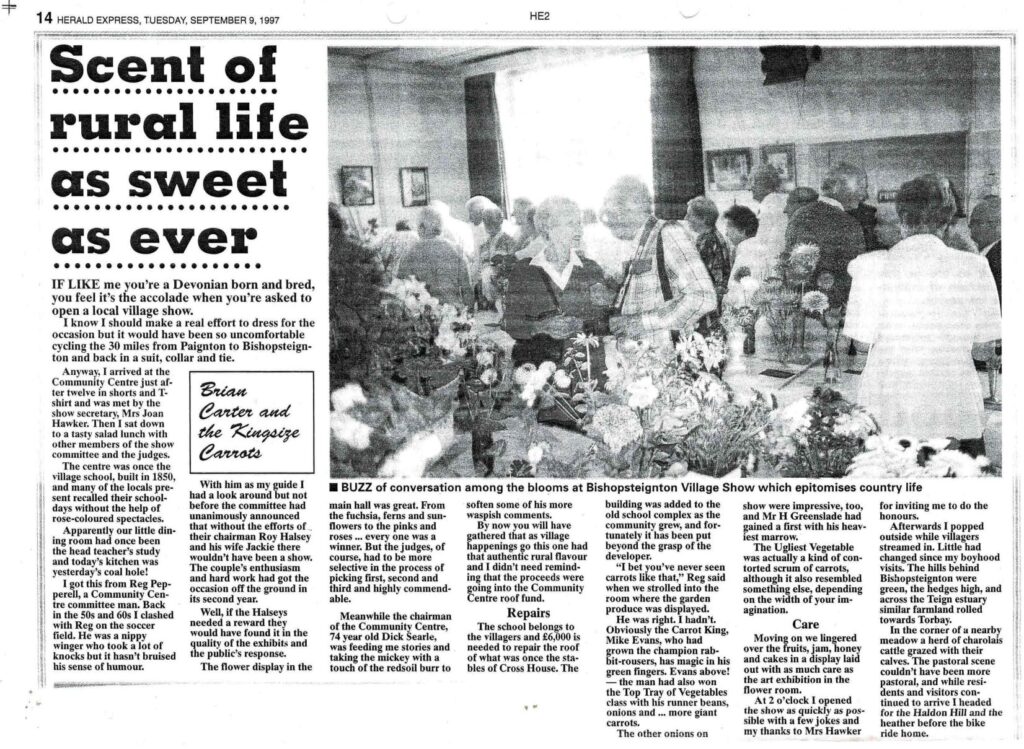 1997 also saw Miss Mary Thornton made a Life President of the Show.
Originally The British Legion and Huntley loaned tables to the Village Show committee in order to use during the shows.  In 1998 an application was put forward to the National Lottery Charities for a grant to buy tables, plastic vases and aid in printing, by the Village Show Committee.  As part of this application process a constitution would be required, and was agreed by the committee.  Unfortunately, this application was turned down by the National Lottery Charities but Roy Halsey suggested that the Community Centre take up the application themselves and with success a grant was eventually given for the purchase of 'much needed' tables.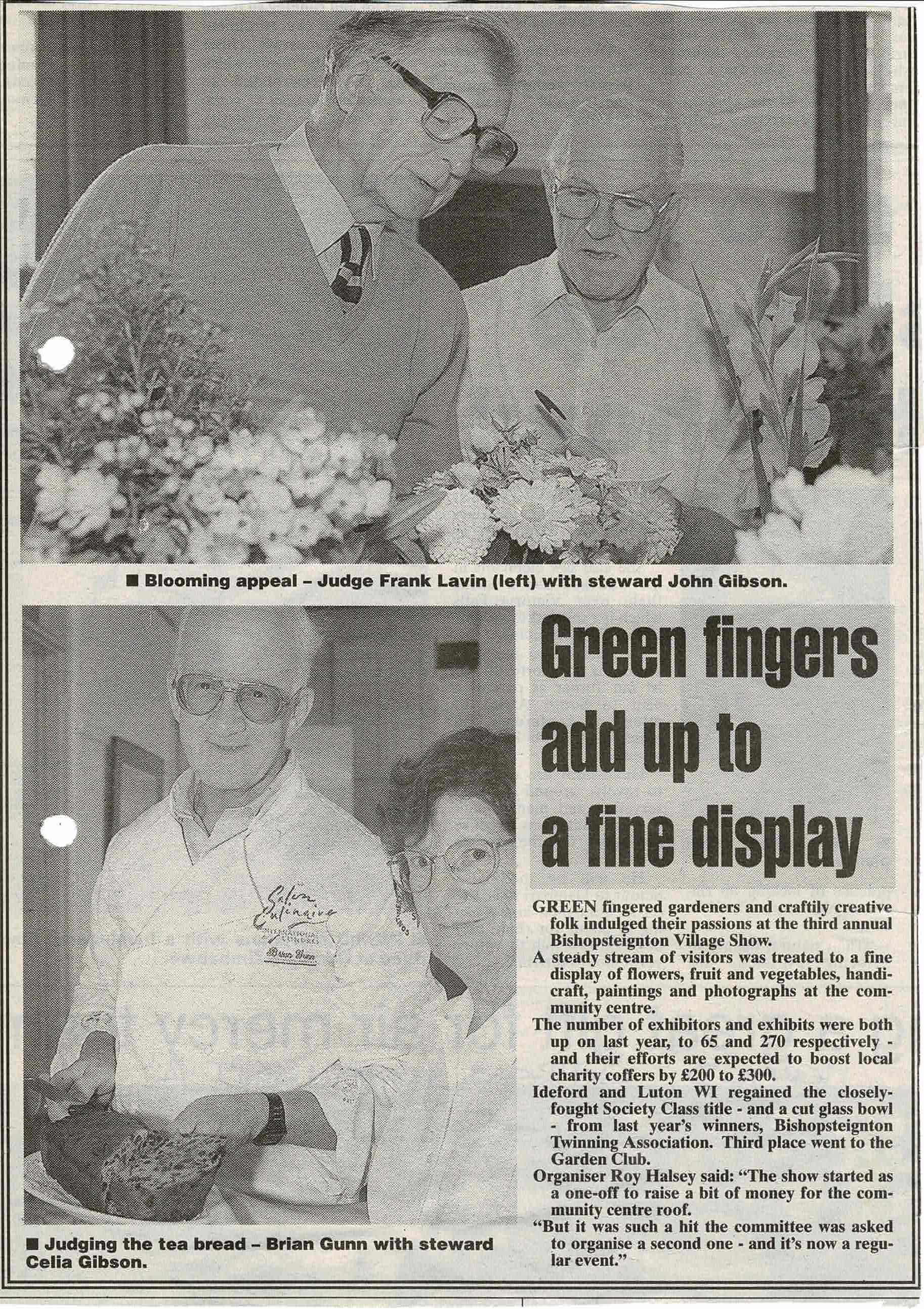 1999
The  Village Show 1999 continued to show the creative successes of villagers as documented below.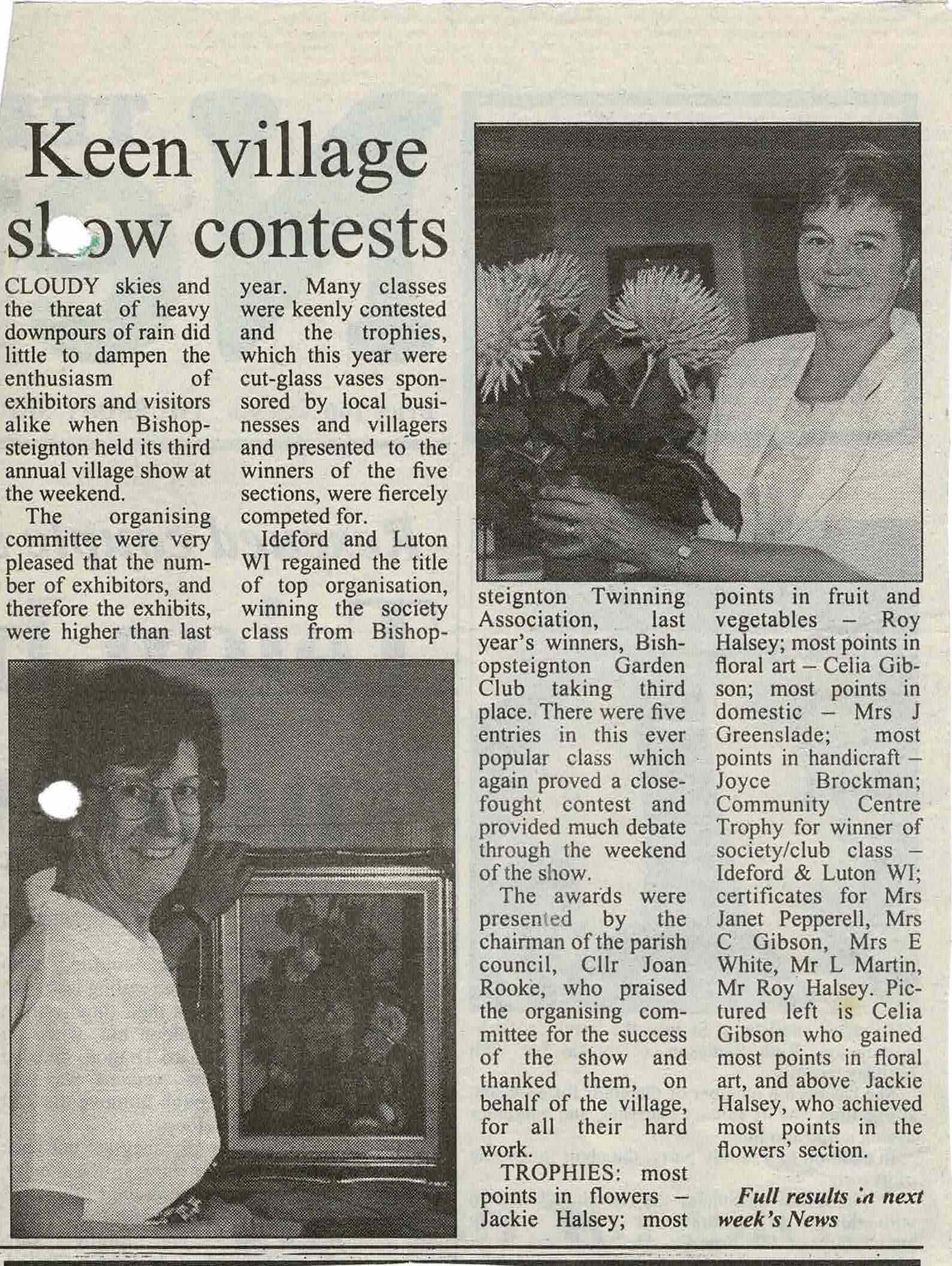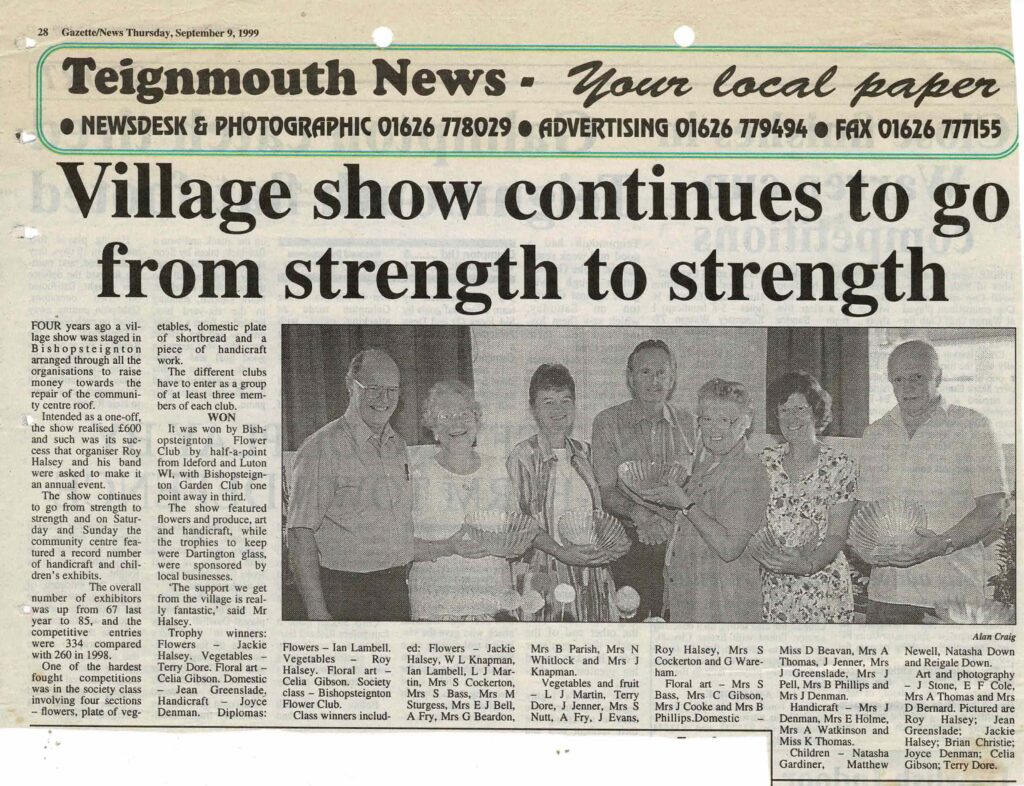 21st Century
Well into the 21st Century The Village Show continued to succeed, and go from strength to strength.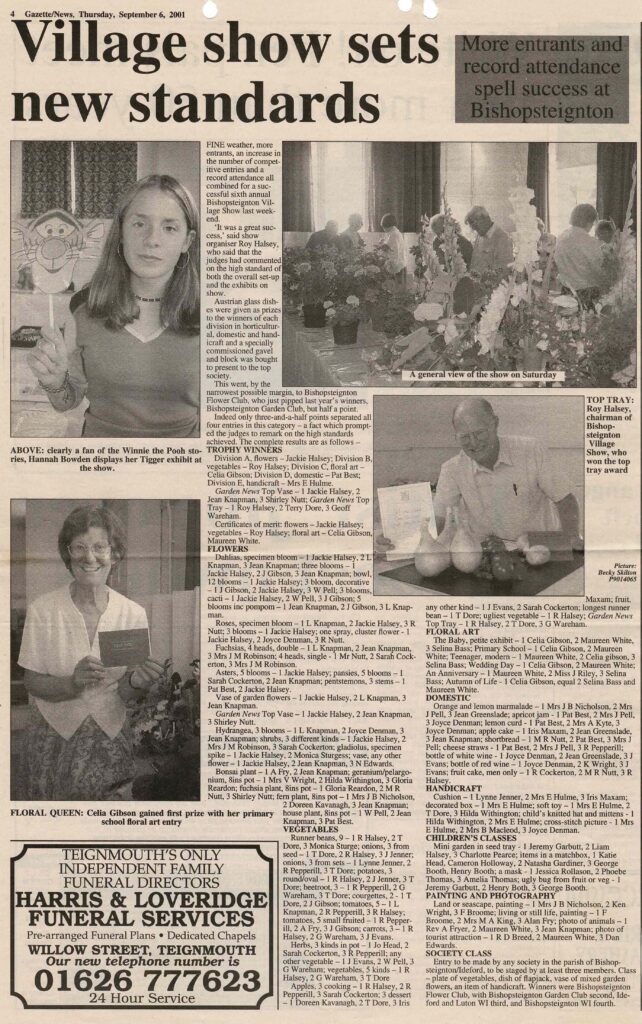 The 2001 Show was deemed a fabulous success and Roy Halsey reported at the 2001 September minutes that it was possibly the best show during the past six years it had been running.  It was a very happy show with an increase in exhibitors and entries and provided a profit of £976.73.  With the roof mended, with this year's profit a number of tables were bought with the rest being presented to the Community Centre Maintenance Fund.  It was also the year that a new entry class for Men was made – Make a Fruit Cake. Today, there is still a men's entry which has proved very popular and very competitive.
In 2004 it was agreed by the Village Show Committee that a 'Les Martin Memorial Class' would replace Division A Class 10 Double Flowering Fuchsias with the recipient receiving a certificate.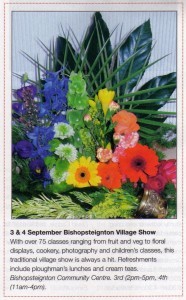 In 2011 success of the show was highlighted in the Devon Life Magazine.
The following Press Releases were made to publicize the 2012 Show:
This is the 16th annual Bishopsteignton Village Show and each year it goes from strength to strength. Roy Halsey, Chairman of the Show says "When we first had a Show in 1996 I never thought it would carry on all these years. It's a great community event and we manage to attract all ages to compete and come along and join in the fun."
Bishopsteignton Community Centre, which was previously the Village School, is in the heart of the village and Mr Halsey added "We're very lucky to have this great building and facilities. It's used by lots of local groups and we hire it out for weddings and parties. With all the recent refurbishment and decorating, it's ideal for the Village Show and we're thrilled with how many villagers and those from outside the village come along and enjoy it."1
Something for Everyone at Bishopsteignton Village Show
The 2012 Bishopsteignton Village Show will take place on Saturday 1 September and Sunday 2 September in Bishopsteignton Community Centre and this year features various themes inspired by village events, the Olympics and, of course, the Golden Jubilee. Bishopsteignton Village Show has a great mix of classes to enter including fabulous flowers, fruit and veg, incredible floral art, handicrafts, cookery, jams and chutneys, photography and, of course, a range of classes for the children to enter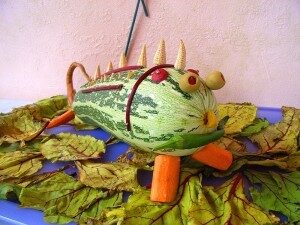 To exhibit at this year's show costs just 20p per entry. Exhibitors must reside, work or be a member of a club in the Bishopsteignton/Ideford Parish and, with over 75 classes to choose from, there's bound to be something to try your hand at. All the details can be found on the Show website at www.bishopsvillageshow.co.uk and locals are being encouraged to have a go. The committee welcomes all entries from eligible participants and people can enter just one class or lots of classes if they want. There's prize money too, and trophies for those with the most points won in various sections.
The Village Show is open to the public to look around from 2pm until 5pm on the Saturday and 11am to 4pm on the Sunday. There are cream teas served both days and Ploughman's Lunches on the Sunday. There are also a number of stalls featuring local produce, crafts and greetings cards. Show Chairman Roy Halsey said "We're really looking forward to seeing the range of exhibits we get this year. The Show has a lovely, traditional feel and we are lucky enough to receive support from various local businesses which helps us pay to put the show on, as well as provide a fantastic Grand Raffle to raise money." A list of all those who have supported the 2012 Show can be found on the show's website which also has an archive of previous year's results and photo galleries.
Roy added "As well as all those who exhibit it's lovely to be able to welcome members of the public to look around and be able to enjoy our Show which takes over practically every room in the Community Centre. Admission is just 50p for adults and Children are free. With some delicious refreshments on offer and great local stalls we hope plenty of people will pop in to see us over the weekend."
This entry was posted in Bishopsteignton Village, Latest and tagged Bishopsteignton, show, village on August 22, 2012. 2 
Over the Years
Over all the years that the Village Show has taken place, there have been many fund raising events held at local venues to support and enable the purchase of various items like banners and tables, which then have been presented to the Community Centre Committee.  The villagers have always supported these occasions with many events making profits, and acknowledged in the committee minutes.  These events have included:
Ascot Hats event.
Table Top Sales/Car Boot.
Coffee/Cake Morning.
Wine and Cheese Evening.
Ploughman's Lunch.
Bingo Evening.
BBQ.
Tea Party.
Opening the shows since 1996 have been an integral part of the proceedings, and there have been many people who have enjoyed this position, some include:
Miss Viv Wilson.
Mr Brian Carter.
Mr Dick Searle.
Mr Craig Rich.
Sir Andrew Ridgeway.
Mr G Davis (President of the British Beekeepers Association).
Distinguished Guests
In the 2009 minutes it was highlighted that two distinguished guests would make an appearance to that year's show:
Group Captain Billy Drake RAF DSO, DFC and Bar, DFC (USA) who was a Battle of Britain Spitfire Pilot, one of The Few, and Captain Hedley Kett RN, DSC and Bar who was a submarine commander during the siege of Malta.
It was a great honour for everyone to host these two veterans, who created a great centrepiece to the show, and it was  a fascinating insight into snippets of their life stories and of two great heroes of this country's history, appreciated by young and old.
20th Anniversary
The 20th Anniversary of the Village Show 2015 was one to remember as stated in the article below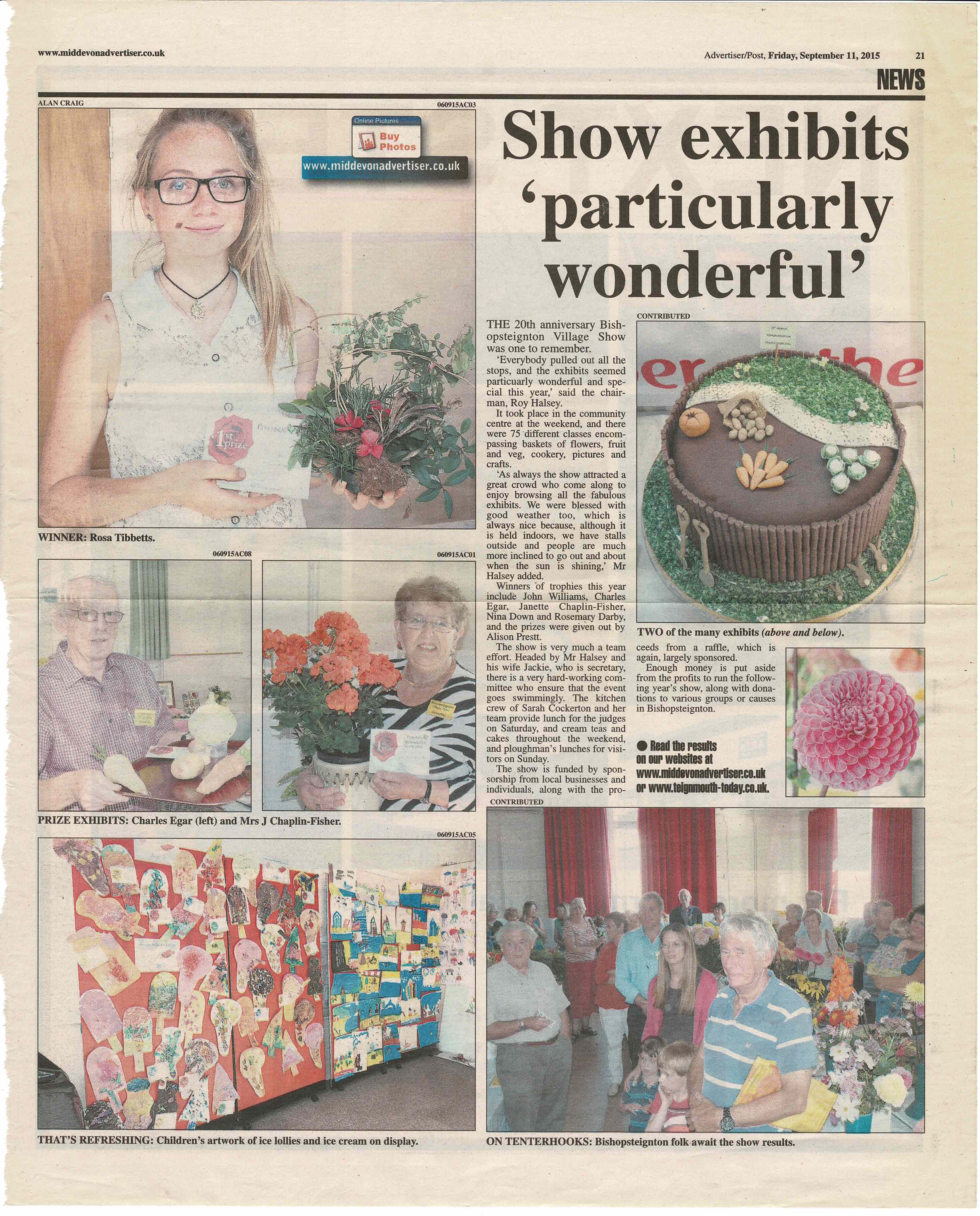 2019
An article on the Bishopsteignton Banter web site early March read: 'Sad News – The Bishopsteignton Village Show folds after 23 Years.  Surely there's someone out there who'd like to take this on?'  This sad news was prompted by the retirement of Mr and Mrs Roy Halsey and the committee.
Due to the past successes of this annual village event and the desire for this event to continue the following article was placed on the Village Web site: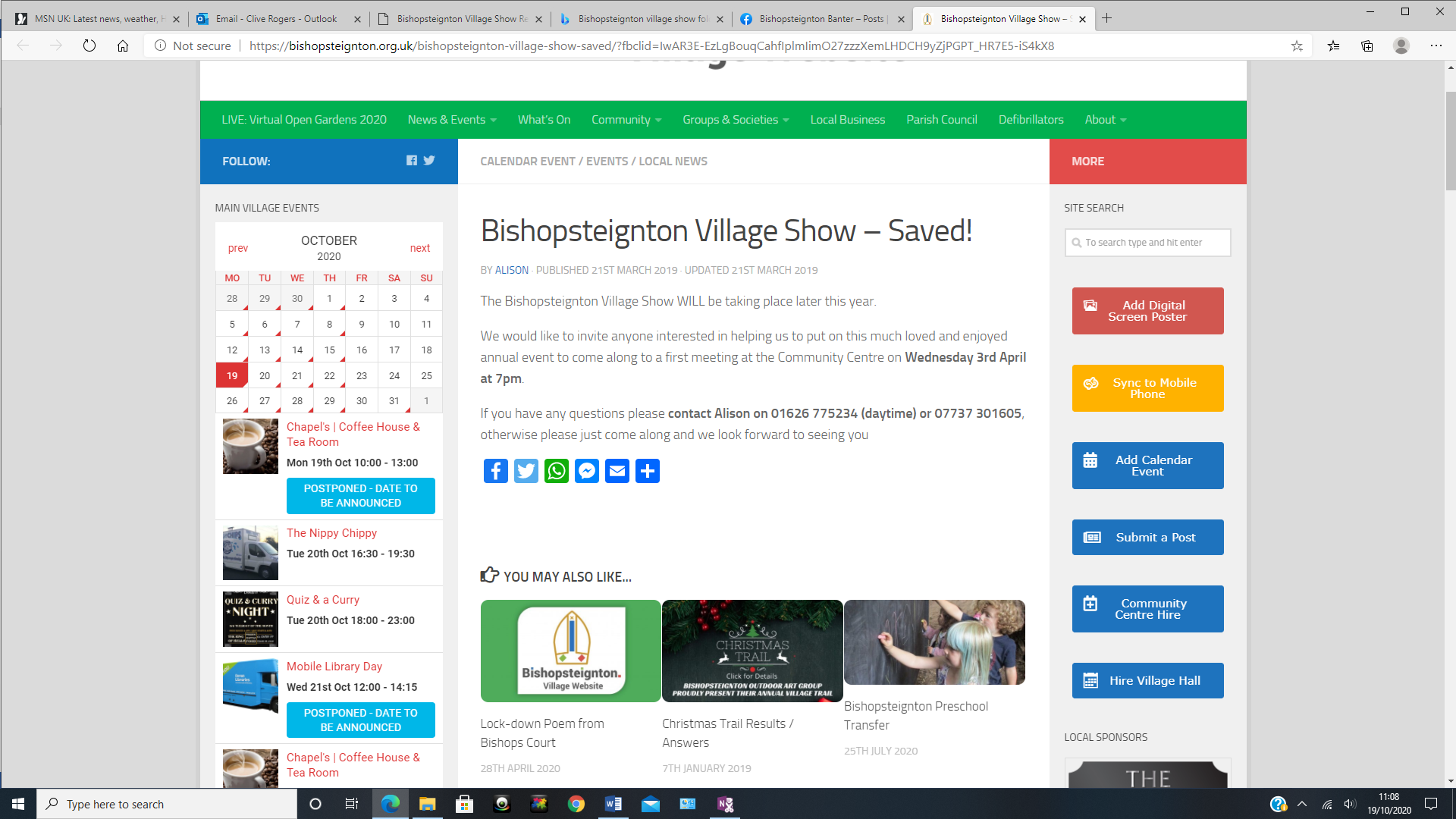 With a very successful first meeting, chaired by Alison Prestt the 2019 Village Show was 'SAVED' and took on a new committee with Alison Prestt as Chair, ensuring a successful event would take place on the 7th and 8th September.  Time was short to organise but with 'all hands on deck', (and the help of past committee members) they made short work to continue and deliver this popular village event.
The format of the show remained the same as in previous years together with a few new activities including cider pressing and children's art work sessions on the Vegetable Lego Table.  This year was also a first for the addition of a marquee, which proved very successful.  Back by popular demand was the Ploughman's Lunch which was available on Sunday lunchtime, together with tea, coffee and cakes to devour to everyone's delight.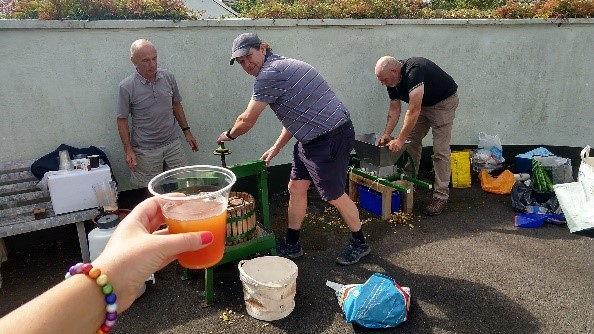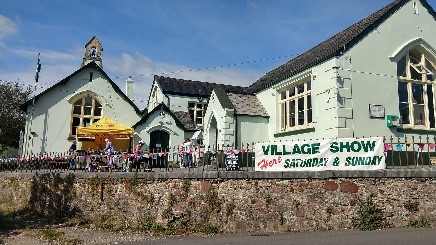 There were around 100 villagers who entered approximately 400 exhibits, a rounding success.  There were also 250 wonderful children's art work, ranging from drawings of birds, paintwork and sculptures which were all spectacular.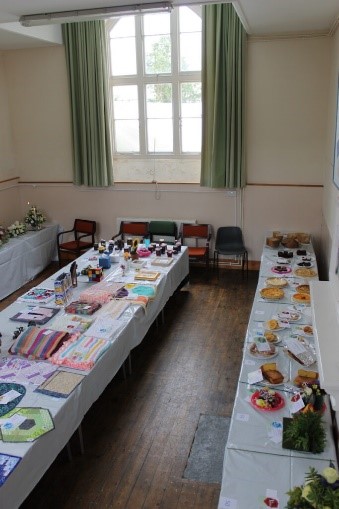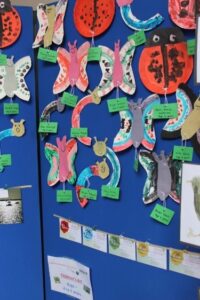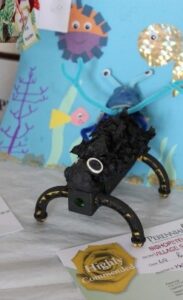 The 2019 show was a fabulous success as commented on the Bishopsteignton Village Show Facebook page, stating:
'A huge thank you to all the entrants, visitors, volunteers and sponsors. The 2019 Village Show was a great success. It was so lovely to see so many people enjoying themselves.' 
The following statement from the Village Show web site made by Alison Presst, also shows how successful and meaningful the show is to the community:
'We were totally overwhelmed and delighted to see so many people supporting this year's village show as exhibitors and viewing and thank you for all your kind comments.'
2020
This year was 'gearing up' to fully celebrate the 25th anniversary of the Village Show.  However, due to the current pandemic and government guidelines it was decided to postpone the celebrations until 2021.  Nevertheless, to prevent disappointment from villagers not showing their skills in crafting, growing and displaying, summer 2020 became a year of difference where all photographed items representing the categories of wild flowers, cakes, early summer flowers, your vegetable patch, handicraft, floral display, herbs and salads were displayed digitally on the Village Show web site.  Hence, the celebration became a record of sharing all the wonderful skills that exist within the parish.  The children were also asked to take part in this celebration by making a beautiful/colourful picture that would be displayed on the Community Centre windows for all to see.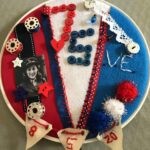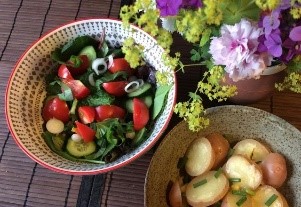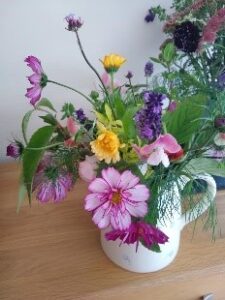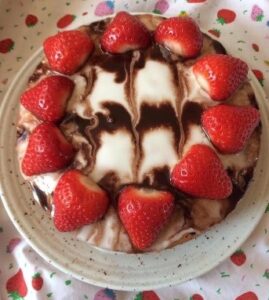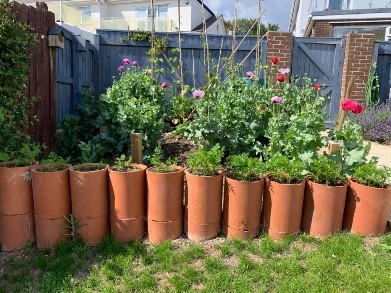 Bishopsteignton Village Show will be back in 2021, to fully embrace the 25th anniversary of the show, so watch out for the schedule highlighting the ranges of subjects that will be celebrated.