The History and development of the Bishopsteignton 'Knit & tinK' knitting and crochet group, and the lead up to their Knitted Spitfire for VE-75.
75th Anniversary VE-Day Celebrations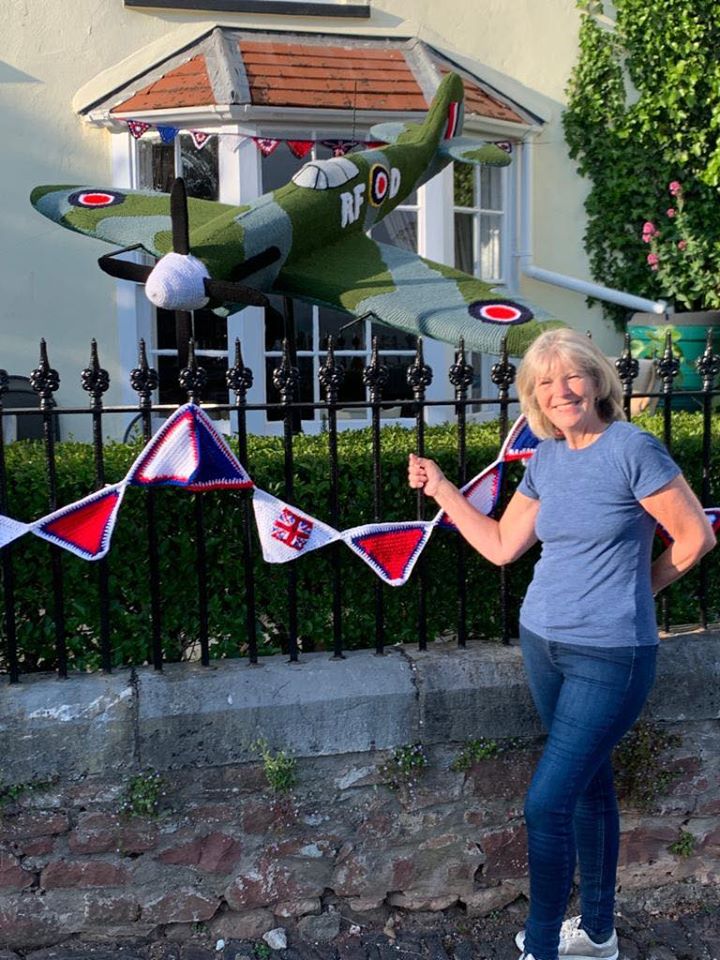 How the Group Developed
The knitting group was set up and met before I came to the village.  Called 'Knit & tinK' (tinK is Knit written backwards to indicate when we go wrong and have to unravel our stitches), the group meet in a local pub every month. We take our knitting or crochet and chat over a drink; we share patterns and help each other with difficult stitches and assist new members who want to learn to knit or crochet. Mostly we natter and have fun. Meetings have been suspended since COVID lockdown of course.
There are around 25 people in the group, some just want to meet up in the pub, and others are happy to join in with our village projects.  We have organised get-togethers in my house when we had deadlines to meet.
Before I came to the village I worked for a large insurance company, and organised many charitable fund raising events, one of which was to have a mass knitting event to produce hundreds of little teddy bears, which were then sold for the charity. I have always knitted. My mother taught me how to knit when I was around 6 years old.  I remember helping some school friends with their knitting when the girls in my class were taught to knit.  (The boys were taught French knitting involving a cotton reel with four pins in the top.)
Yarn Bombing
Yarn bombing is known as an act of covering or enveloping public structures in knitted or crocheted yarn or fibre, often completed anonymously overnight with an element of surprise.  It was initiated in the early days by street artists and graffiti artists, and originally used as a form of protest in public spaces by feminist groups etc., but has now relaxed into a more entertaining and humorous art form.  I personally consider our yarn bombing as a way of bringing people together through our love of knitting and crocheting, to create a community art form that temporarily enhances our village areas and makes people smile.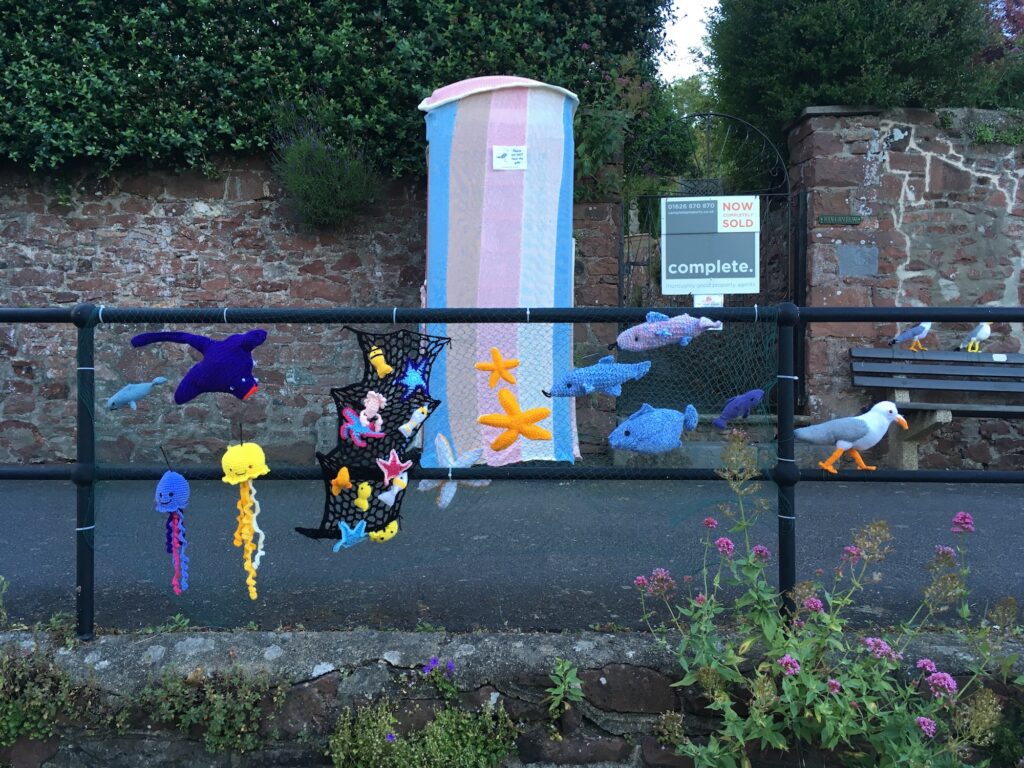 During the Village Festival in 2017 the knitting group created a yarn bombing event to cover the telephone box in Fore Street in knitting to make it look like a beach hut.  We also made life size sea gulls and starfish and jellyfish decorating the black railings in front of the box.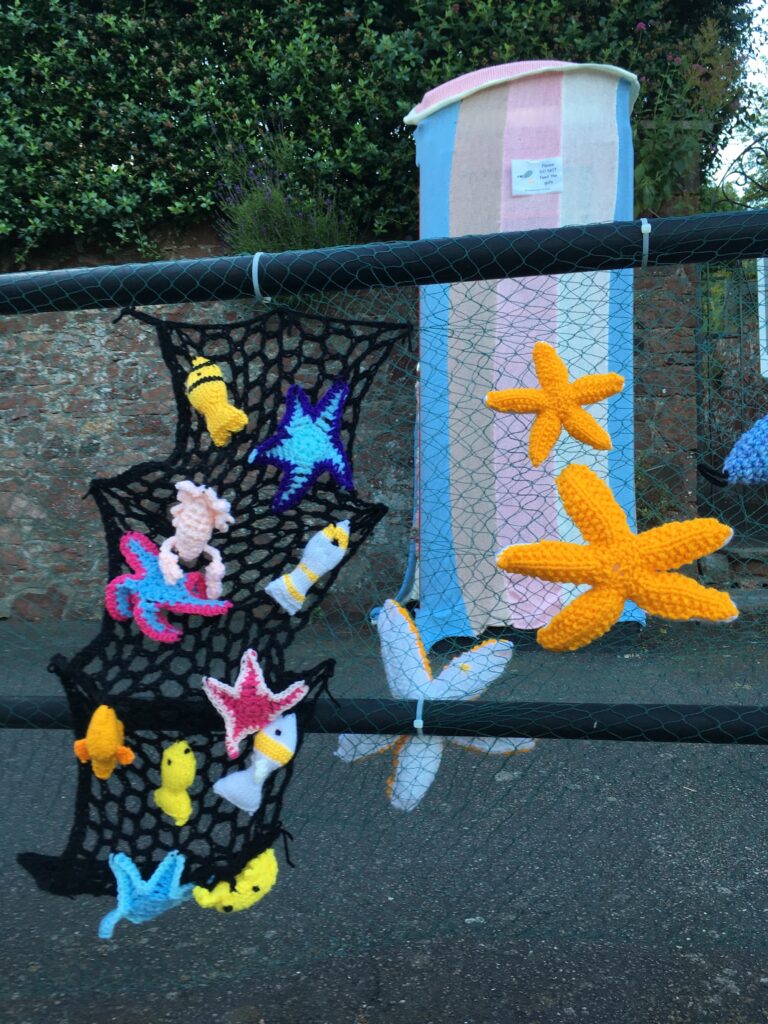 Previous Projects
In November 2016 the knitting group completed a cascade of poppies which we hung from the black railings in front of the village war memorial.  It was inspired by the Blood Swept Lands and Seas of Red installation at the Tower of London.  In November 2017 we embellished the cascade of poppies with more poppies making a fuller drop.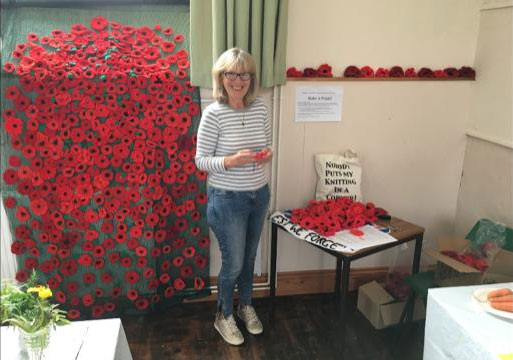 November 2018 was the 100 years anniversary of the ending of 1st World War. This was a huge project involving all the village.  Over 2,500 poppies were created by people. We taught Scouts, Brownies and school children to finger knit. We did a session at the Memory Cafe and at the Village Show.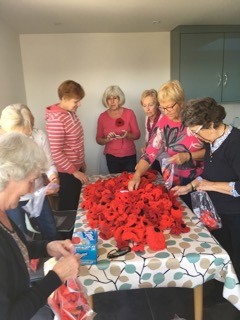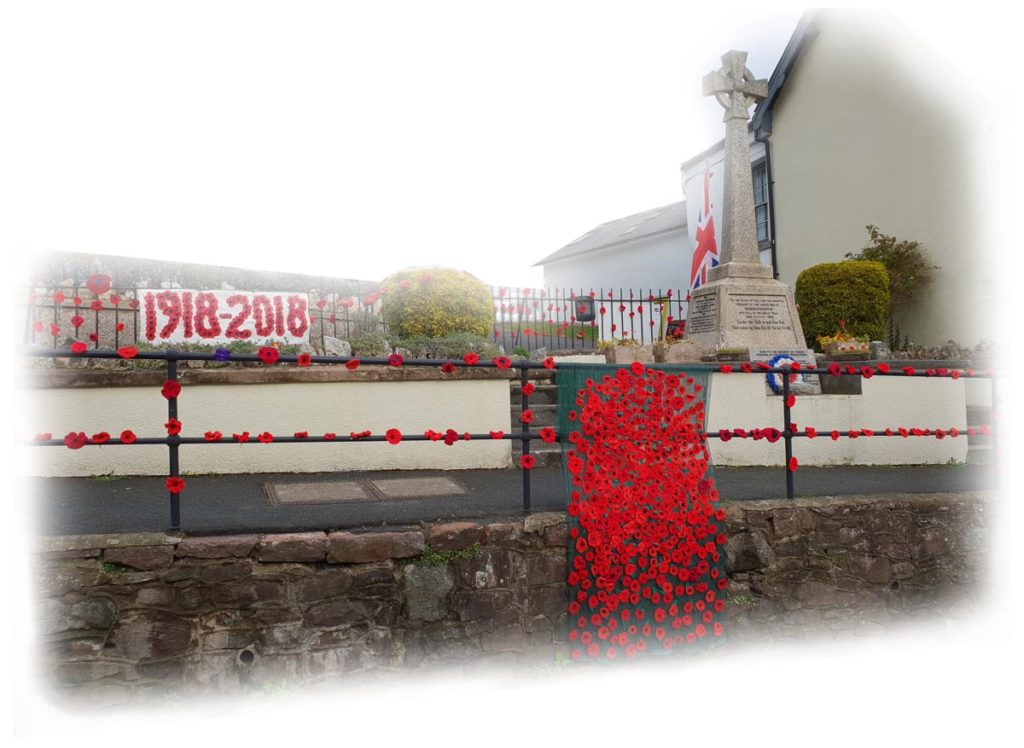 See more here
On the day before the June 2019 Village Festival, a group of us went out in daylight and yarn bombed the black railings from the War memorial down to the Ring of Bells and beyond with knitted and crocheted bunting.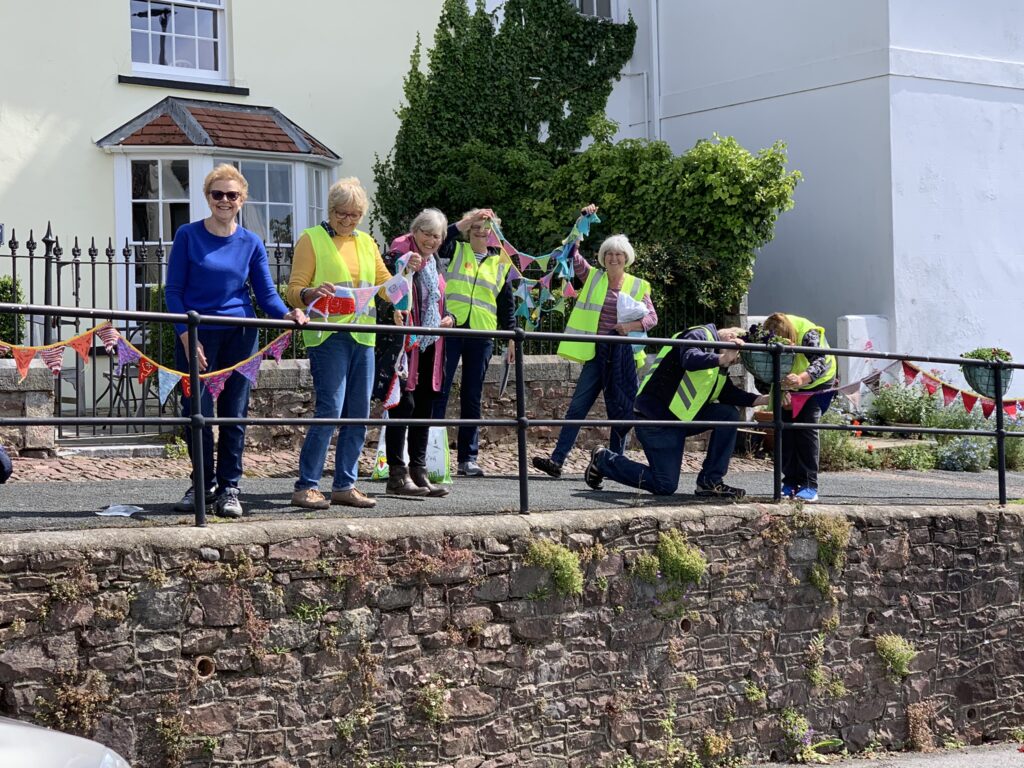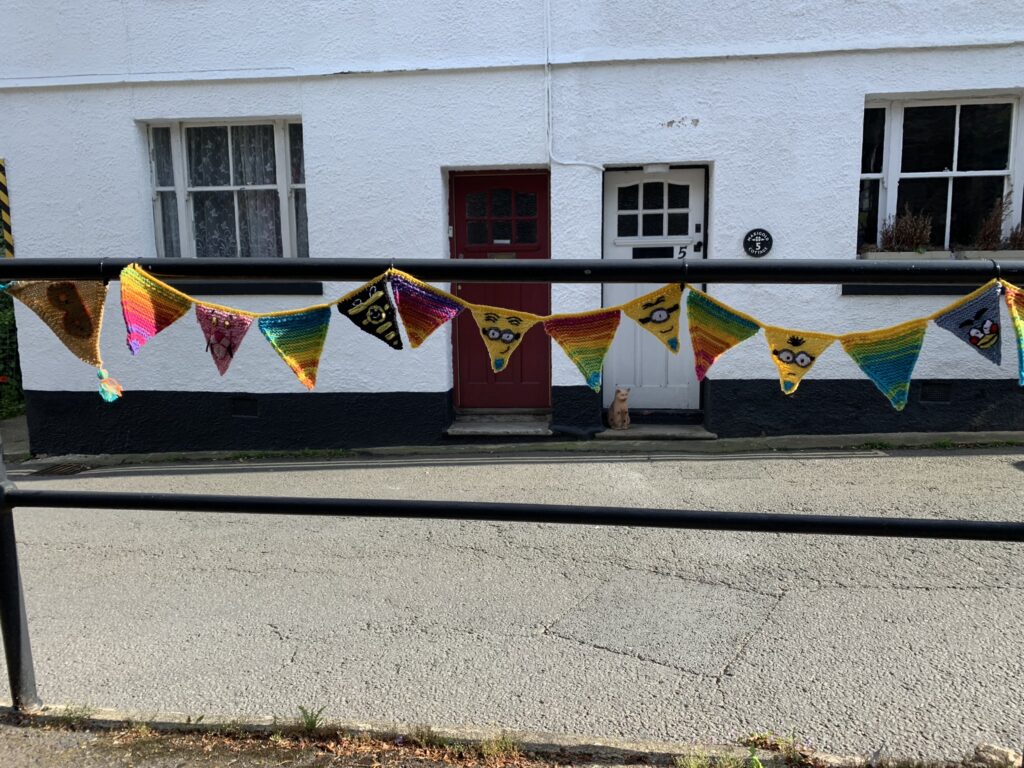 In September 2019 the knitting group won 1st prize for their entry in the Bishopsteignton Village Show! The humorous depiction of woollen fruit and vegetables with faces was great fun to make!
In November 2019, using the poppies from the 2018 project, we created a 16 foot drop on fine netting to cover one of the church pillars.  We held sessions to sew the poppies on to a fine netting to give the impression of just the poppies falling in the church.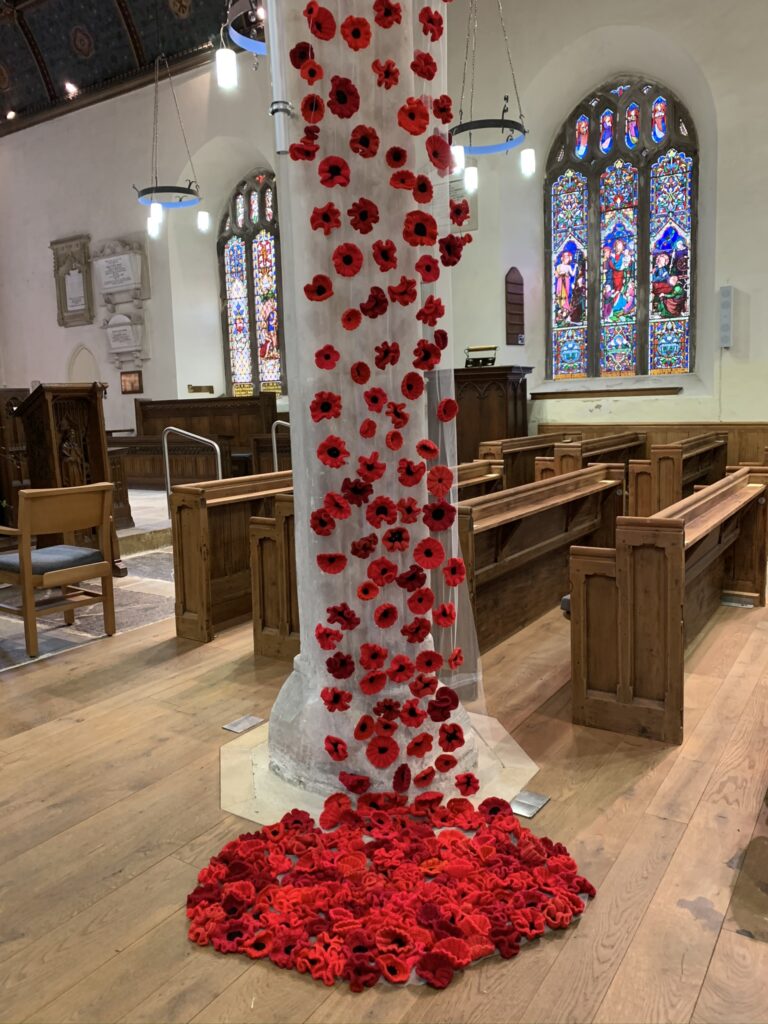 Despite Covid restrictions, in this year 2020 we created thirteen poppy wreaths, one for every WW2 serviceman's name on the village war memorial. We worked in our own homes and hung the individually named poppy wreaths on to the black railings in front of the war memorial. Next year we will have completed a wreath for all the WW1 names too.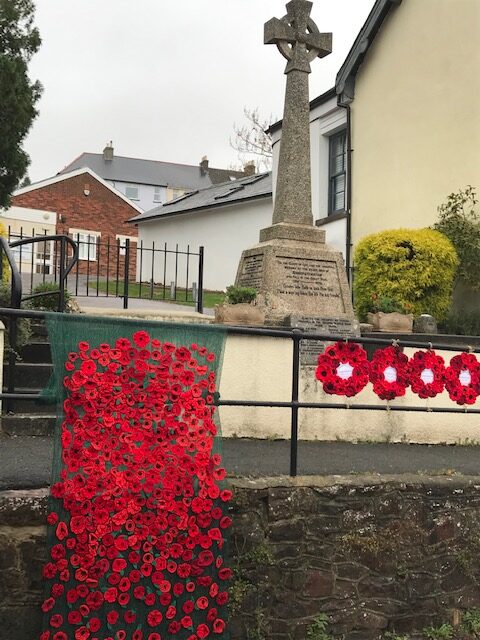 75th Anniversary VE-Day Celebrations
The 'Knit & tinK' group's contribution to the village 75th Anniversary VE-Day celebrations needed to be a really good secret yarn-bombing event!
Group members suggested several ideas, however, the response from one of our members, Jill Gledhill, was inspirational! 'You're not going to knit a Spitfire, are you?' Our response was 'Brilliant idea! Yes, we are!'
Secret plans were made, and two of our wonderful supportive husbands said they'd be delighted to create the form of the Spitfire for us to cover with knitting, Rob Garratt and Tony Early spent three enjoyable days in our garage working on the project, bringing on boyhood memories of model plane making.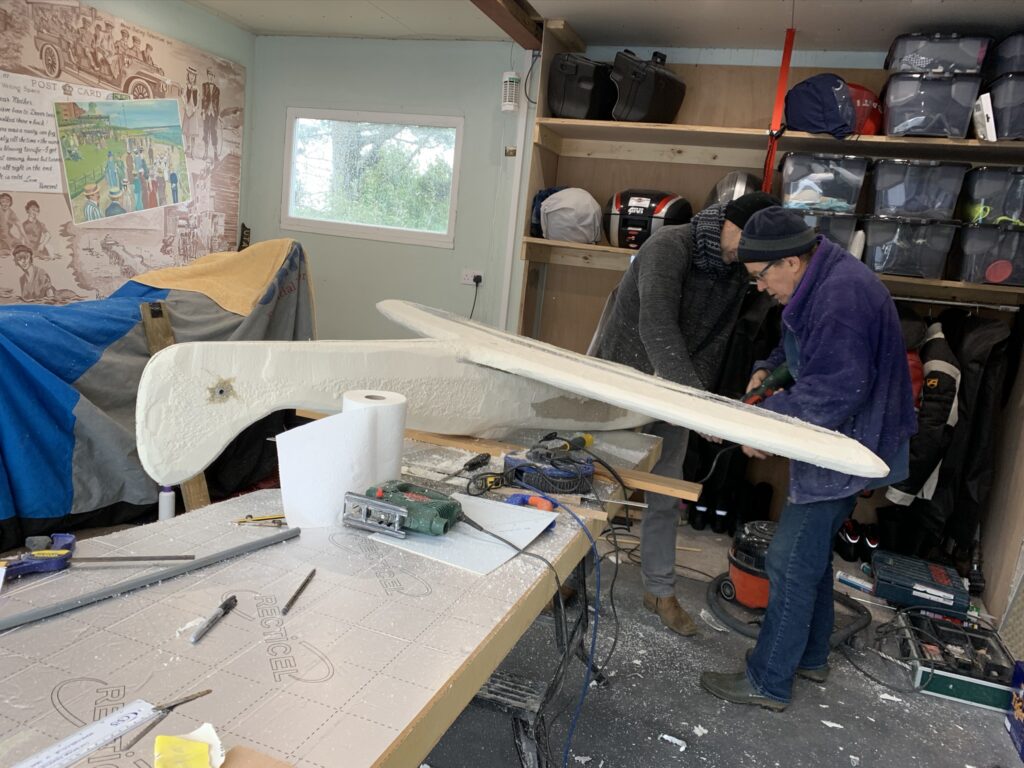 When they emerged they had designed and shaped a 5-foot x 6-foot pro-forma of the iconic lines of the Spitfire from foam insulation board.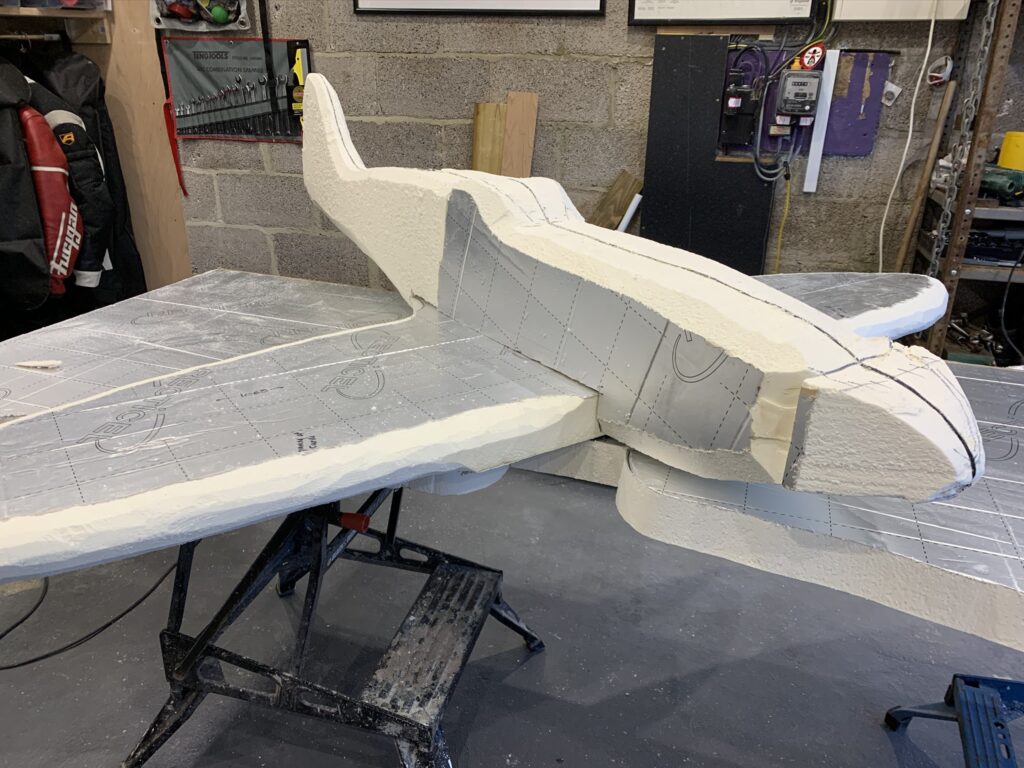 From this model, paper patterns were made of the fuselage and wings in camouflage colours, 6 RAF roundels, a nose cone and propellers, and the cockpit cover.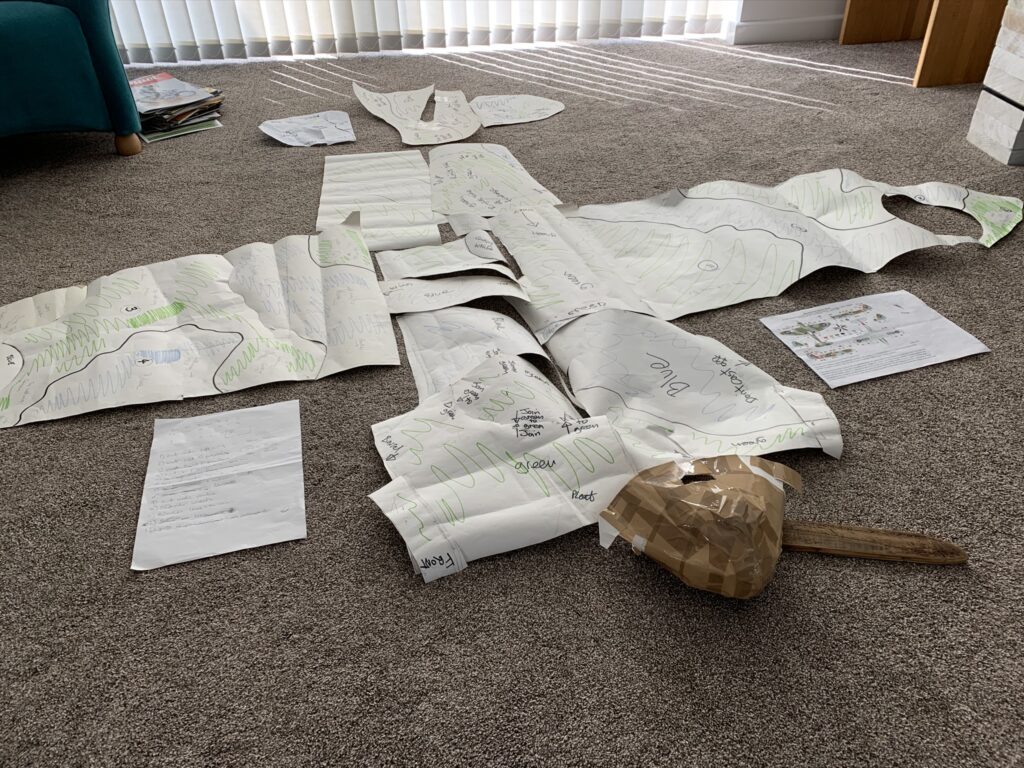 Around this time the government declared a countrywide COVID-19 lockdown, so all thoughts of working on this together were dashed. The paper patterns were cut up and shared out to members of 'Knit & tinK' to make at home.  This worked well however it meant that only one person could sew it all together.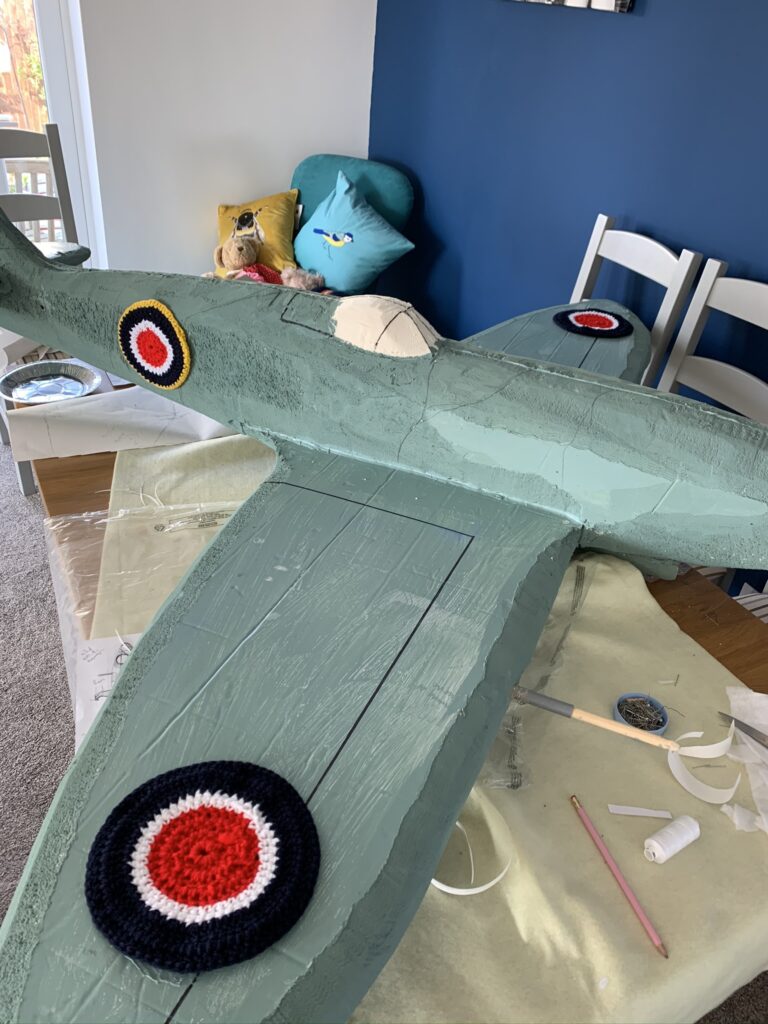 So as I had the Spitfire on my living room table, I accepted the mission!  As the knitted shapes were completed, the jigsaw pieces were fitted together and sewn around the pro-forma of the plane. The crocheted RAF roundels and the propeller shafts were sewn into place and finally the identification letters of the Battle of Britain Memorial Flight markings 'RFD' were embroidered. The Spitfire was ready to fly!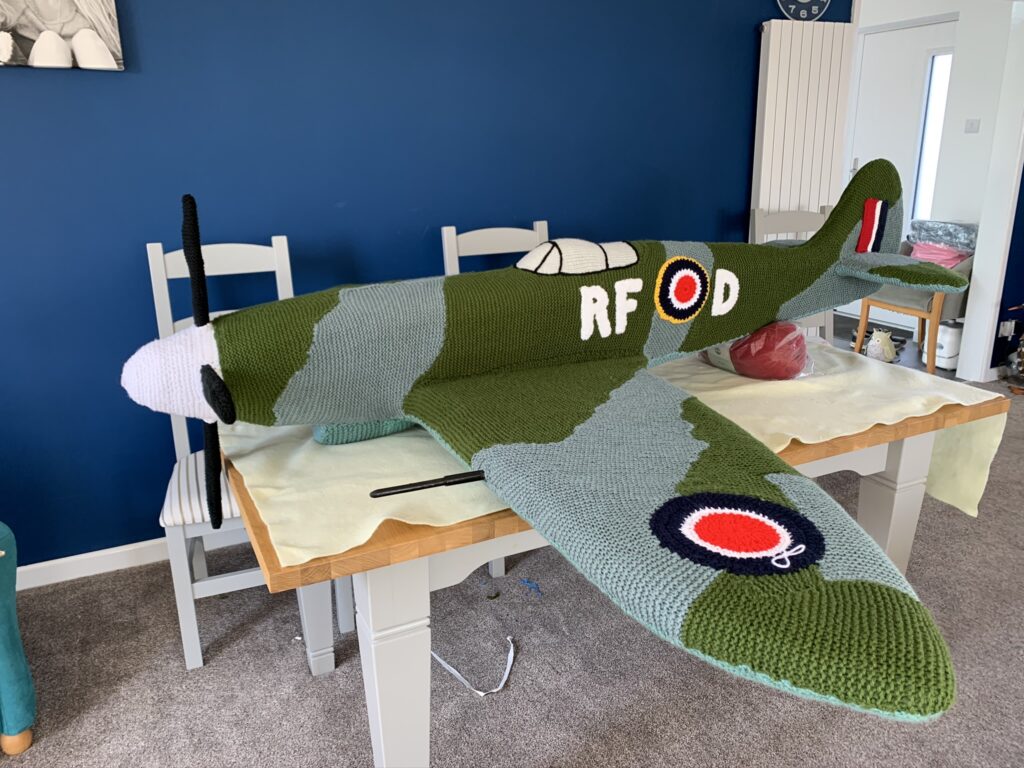 This had taken us from 12 February to 7 May to complete. On the day before VE-Day the plane commenced its inaugural flight.  Several people walking in the village were intrigued by the sight of a knitted Spitfire being carried by two men circumnavigating the Ring of Bells, on its way to Causeway Cottage in Fore Street.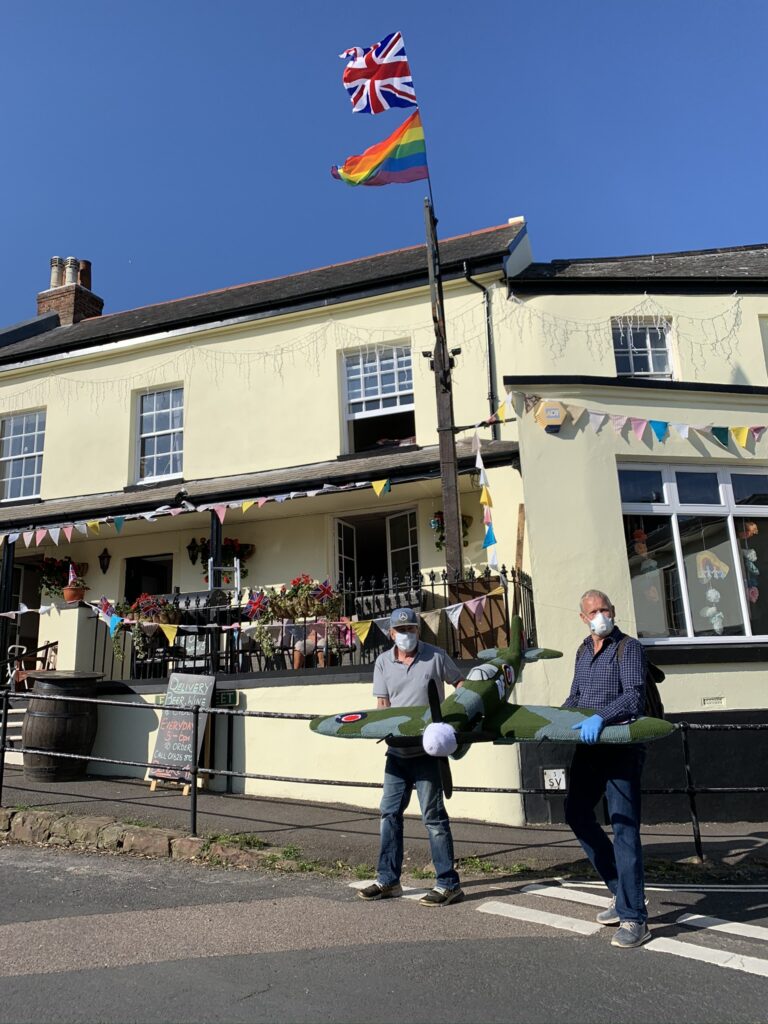 There it was fixed on a pole so the Spitfire could be seen from Fore Street and Bishops Avenue.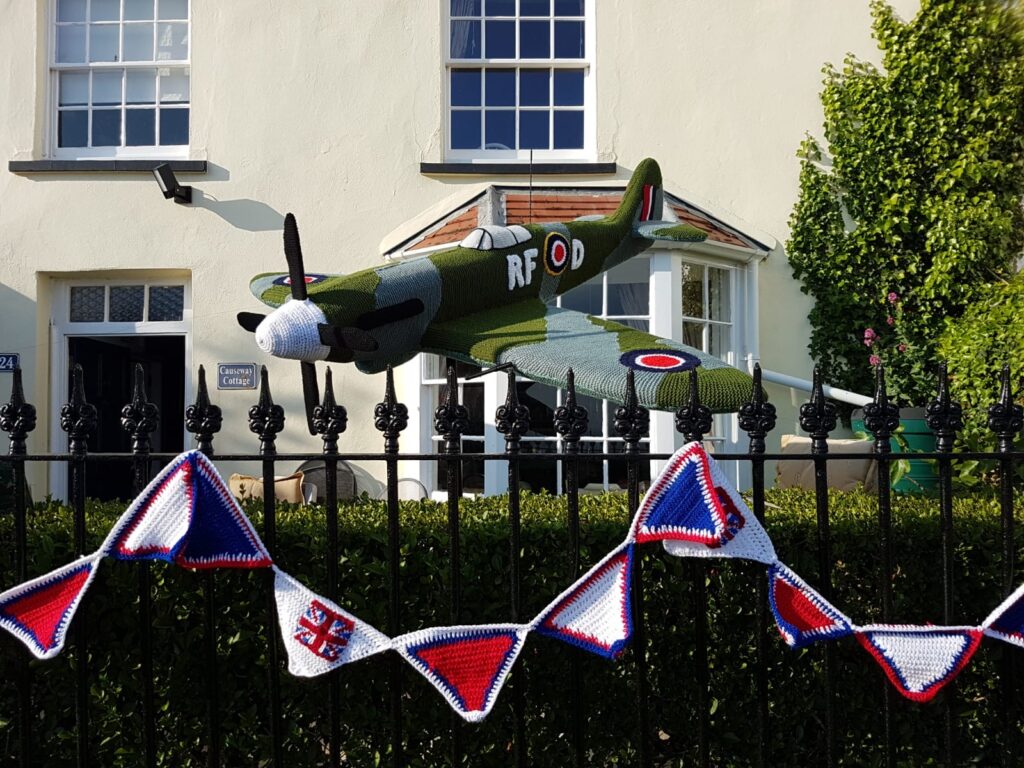 BBC Spotlight aired a video of the plane on local news and it was given a super reception from people in the village.
I don't think we were ever daunted by the idea, we all loved doing it and being part of it.  I envisaged what I wanted it to look like, and because we had such a good pro-forma made by Rob and Tony, it was a great project to do.
Maybe too much time has elapsed to answer if I had second thoughts! It was tough when COVID stopped us meeting together, and I was left to meet the deadline.  We were meant to be having a good time together, we even had the dates in our calendars scheduled in.  But we are so proud of it now and we've had such great feedback from everyone.
The Spitfire had a second flight briefly displayed alongside the Millennium stone at the top of Bishops Avenue and then returned to my living room table with the intention of 'flying' permanently in Bishopsteignton Heritage Hub at the Community Centre, where it now resides.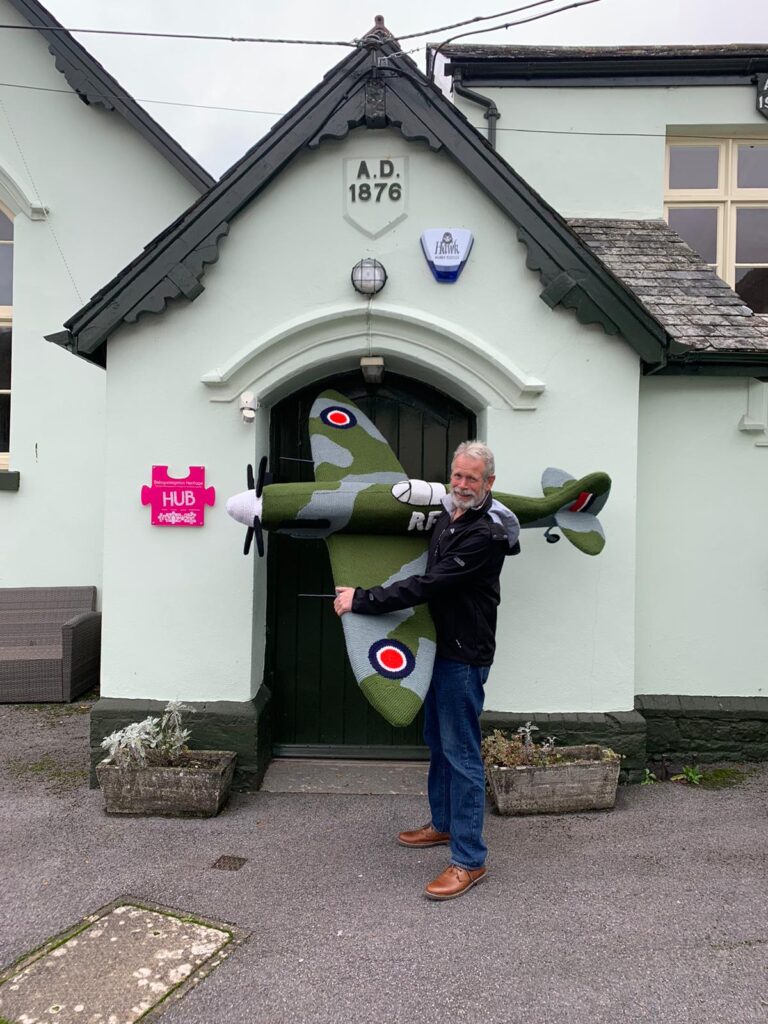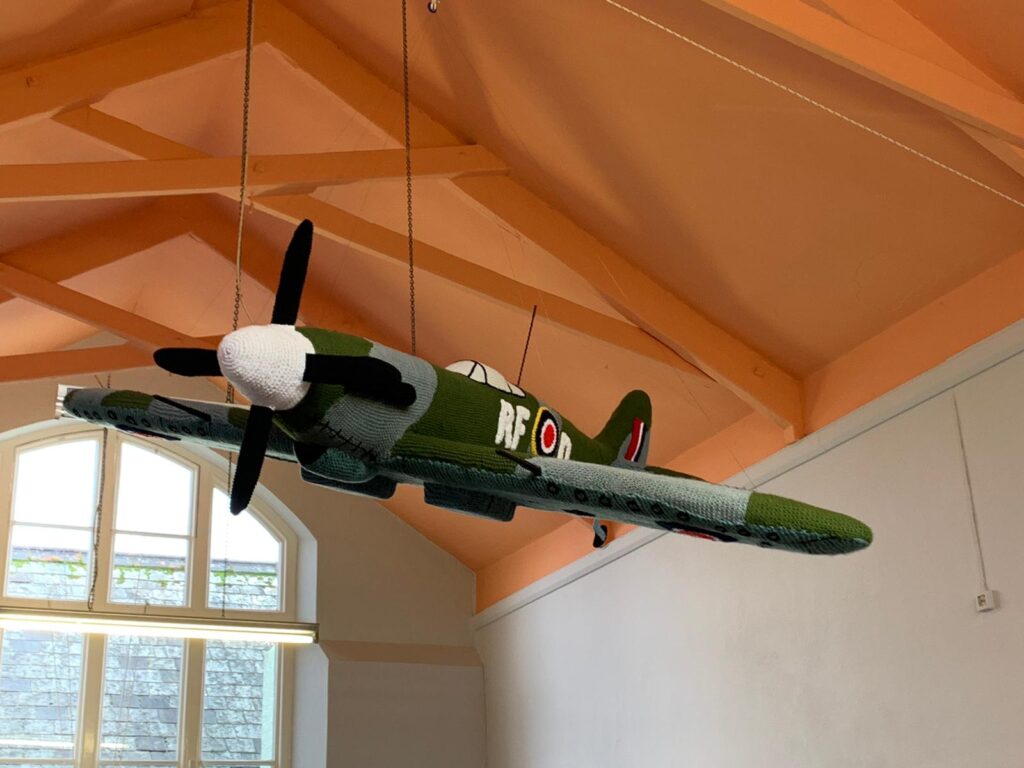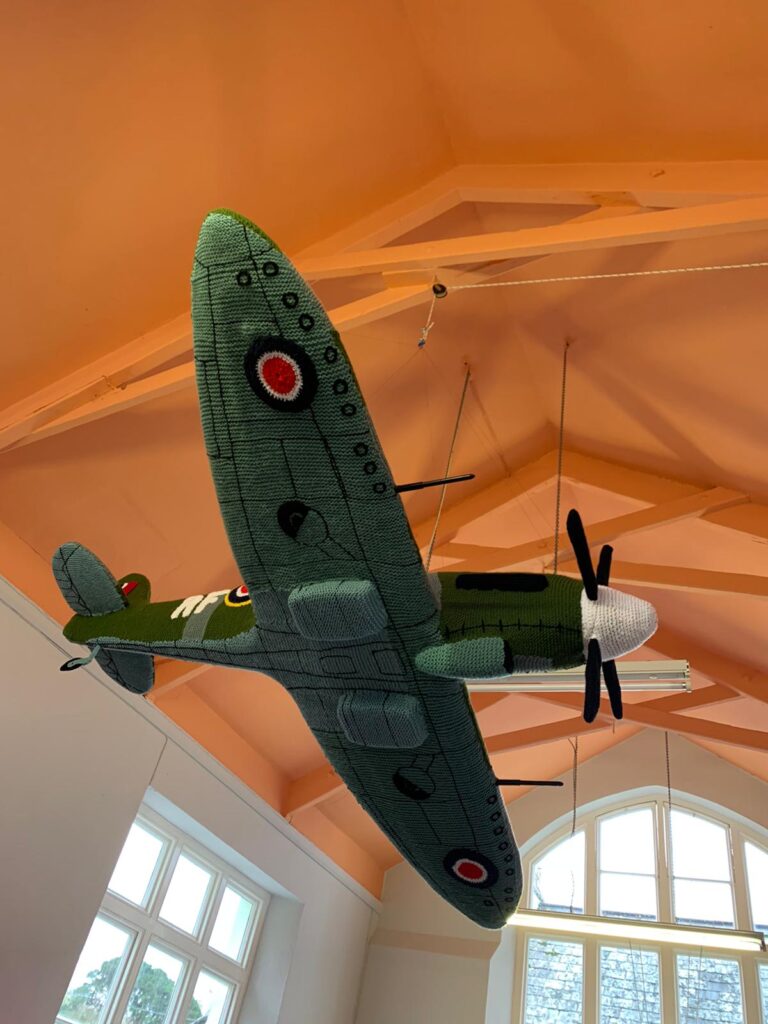 My thanks go to Caroline Teall, Elaine Russum, Jill Gledhill, Janet Greig, and Helen Garratt, for all their beautiful handiwork, and Rob Garratt and my long suffering husband Tony Early, for their enthusiastic and meticulous model making, and of course thank you to Terry and Marilyn Bannon who allowed us to display the Spitfire in their front garden.
Written by Caroline Thornton
—