Bishopsteignton Village Festival
Many thanks to everyone who came to see us at the festival this year! After nearly 2 years without opening the Hub to visitors and researchers, it was wonderful to meet you, hear your stories, and tell you what we have been up to during Lockdown! Thank you to those who signed up to the mailing list and special thanks to the lovely volunteers we recruited at the festival who will be working on collections management and community engagement!
Two of our Trustees braved the rain to take Bishopsteignton School pupils on a village history trail for the festival. While they got a bit soggy, everyone enjoyed the trail and learned lots, producing some brilliant work for the BH website which you can find by searching 'Festival 2021' on our website. Well done to the children and the Trustees! We hope to do even more fun heritage activities with the school for every village festival!
Here's a brilliant drone photograph of the festival site courtesy of David Mitchell, can you spot Vikings fighting in the arena?
Join the Team!
We are recruiting for enthusiastic people who want to help with the project! We would love to hear from anybody who wants to get closer to their heritage, learn new skills and help the community. There is something for everyone to get involved with from historical research and history writing to digitisation and cataloguing and even community engagement and web development!
We are refreshing our website
Are you or someone you know looking for experience in WordPress design and development?
If so we would love to hear from you!
To join the team, email us at [email protected]
Archaeological Investigations – Metal Detecting
We have commenced a collaborative project working with 2 local members of the National Council for Metal Detecting. Alongside working with local archaeology authorities, we will be carrying out investigations in and around the village using metal detectors to discover small finds. The project aims to:
Contribute to the discovery and preservation of finds of archaeological and historical interest in the Bishopsteignton area
Help protect heritage and areas of potential archaeological interest in the local area and environment
Help educate the local community by preserving and providing access to finds of archaeological and historical interest that help tell the story of Bishopsteignton
Publish our research and reports on the Bishopsteignton Heritage website about finds and investigations in and around Bishopsteignton
The detectorists had their first session investigating a large garden in the village and discovered some interesting finds including a medal commemorating Queen Victoria's Diamond Jubilee in 1897 (pictured below left), a similar item on the right illustrates what the medal may have looked like when it was new.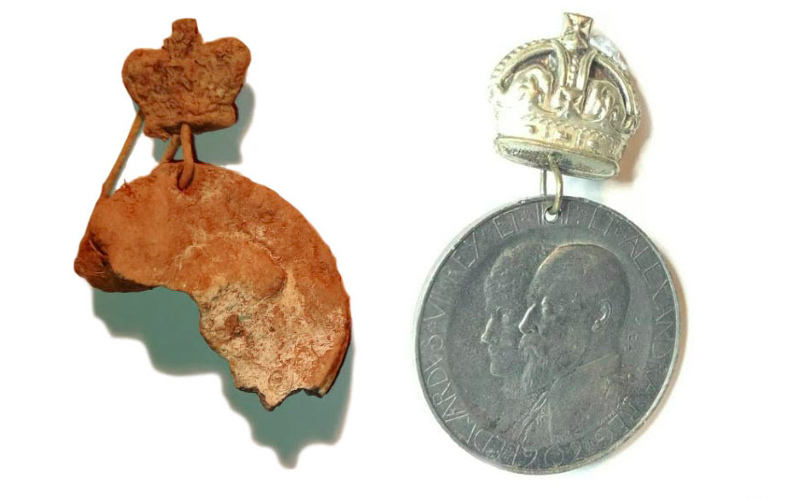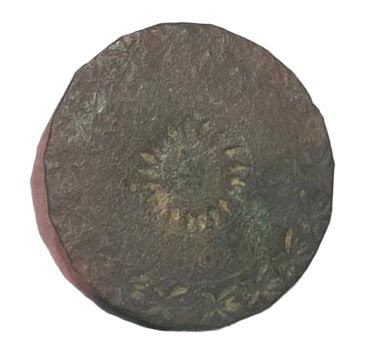 We also unearthed an attractive 'dandy' button (left), likely to date from the late 18th century. Buttons like these adorned one's Sunday best clothes so it's sad to see this one would have to have been replaced! These finds will be processed as part of the BH Remote Collection and will be accessible to view and read about on our website very soon.
If you have any suggestions of land in the parish that may be of archaeological significance, including your own property, please get in touch:
Email us at [email protected]
Hub Updates
With help from our cataloguing and digitisation superstar volunteer, Dawn, we have processed yet more of the amazing Bishopsteignton Players archive! There are now over 200 individual digitised items in our online catalogue relating to the Players with more being added every week. You can search for them and nearly 2000 other records in our archive here: www.bishopsteigntonheritage.co.uk/bishopsteignton-archive-collection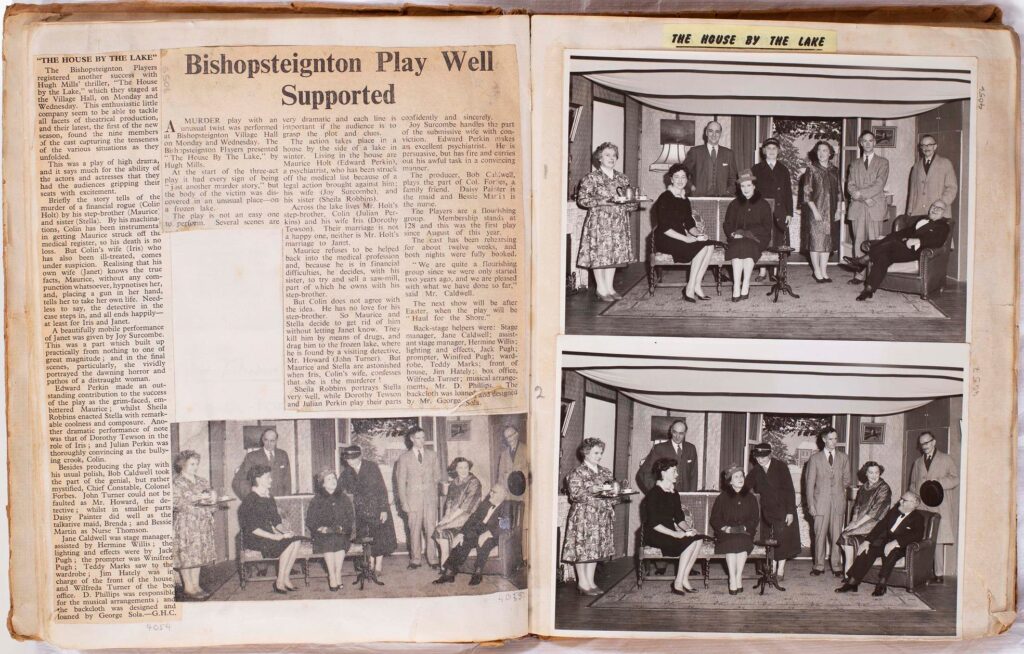 Your Heritage Hub in the Community Centre will soon be decorated and ready to open for regular opening hours, look out for these on our website! We will be installing a small exhibition area where we will regularly rotate a display of interesting items from the collection as well as research and other projects.
Upcoming Events
South West Lindy Hoppers Tea Dance
16th October 2021, Bishopsteignton Community Centre
As a welcome back to our Heritage Hub, Bishopsteignton Heritage invites you to an afternoon of dancing with the South West Lindy Hoppers! Learn to dance, watch a demonstration, take to the floor and join in the fun!
Entry and tea are free, bring some cash for cake and fizzy drinks.
Please contact [email protected] to book your place. See you there!
Bishopsteignton School Tea Party – A Molly Coombe Memorial Event
20th November 2021, Bishopsteignton Community Centre
To start off our project to research and preserve the history of Bishopsteignton School, Bishopsteignton Heritage invites former pupils of the village schools to a Tea Party. Come along and enjoy tea and homemade cakes and share your stories. Remember to bring along any class photos, exercise books or other items that record your time at school in Bishopsteignton.
Tea and homemade cake are free. Please contact [email protected] to let us know you are coming.