Bishopsteignton Children's Theatre recently celebrated it's 50th Anniversary. This article combines the memories of people who participated in the shows and is linked to an interview with Sheila Robbins, a major character in the running of those shows.
Karen Whitehouse on her memories of the children's theatre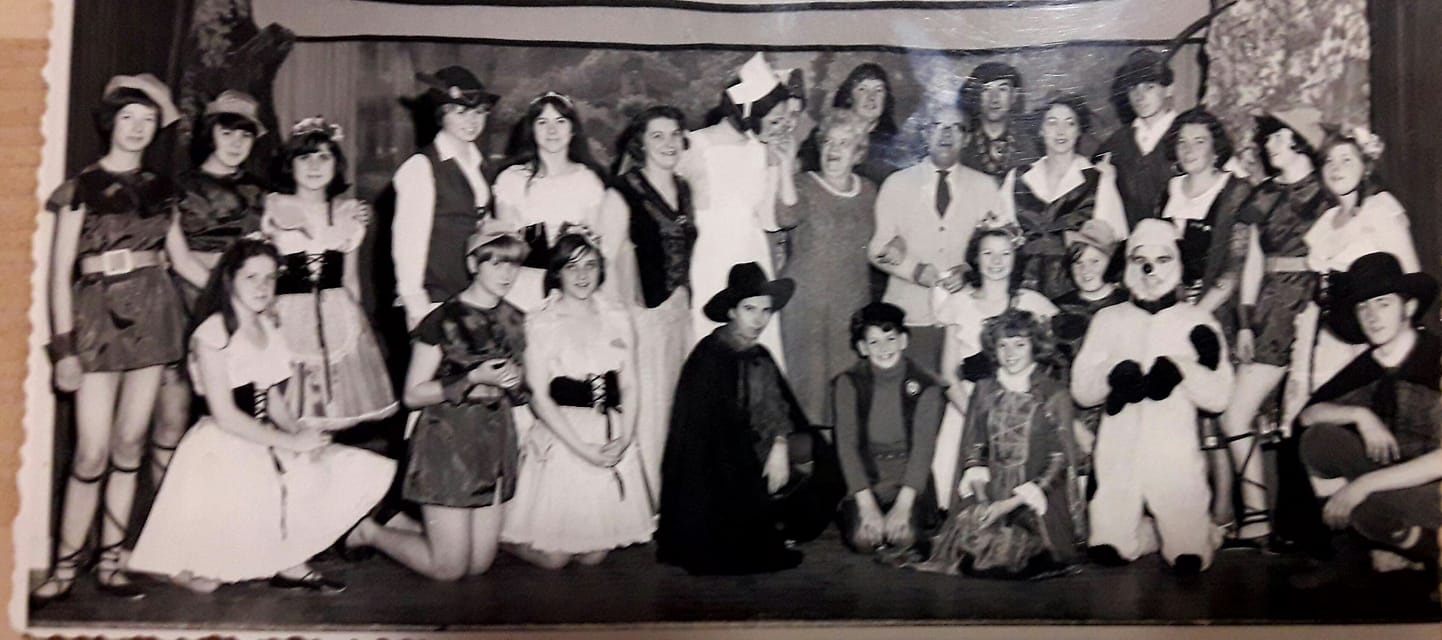 The Bishopsteignton Pantomimes started in the 1960s, when an increasing number of young people wanted to get involved with the Bishopsteignton Players. The pantomimes were the perfect vehicle for combining age groups, and, eventually, led to the formation of the Bishopsteignton Children's Theatre in 1970.
Memories prompted by this photograph;
"This was Babes In The Wood. That's me Patricia Dawe as Polly Perkins standing 5th from the left next to Jane Martin 4th from the left as Will Scarlet."
"We think…Linda Brennan, Lynette Renton, Sheila Gourd, Jane Martin, Trish Dawe, Pat Brown, ? John Head, Jane Caldwell, Terry Brown, Bob Caldwell, Julian Perkin, Sheila Robbins, ? ? ?"
"Susan Rendall, Norma Cleary, Susan Honeywell, Rosemary Harris, Dave Cummings, Jane Bernard, Denise Rendall, Peter Hepworth ( Ingersoll the watchdog) Martin Farrell"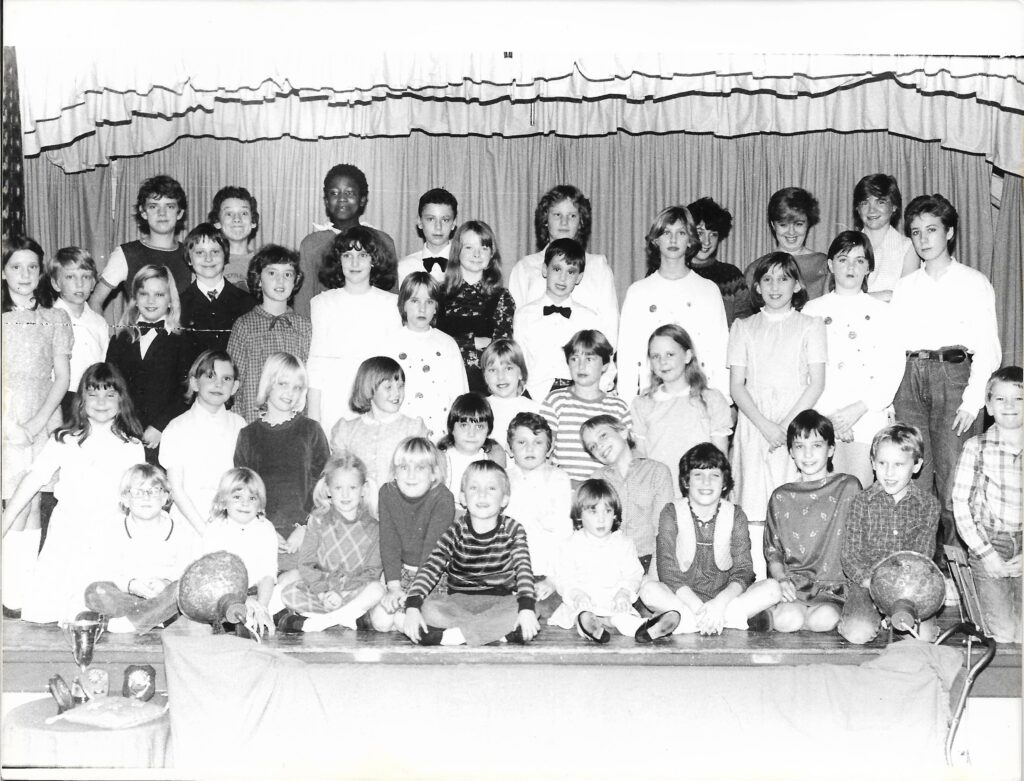 Memories of Luke Whitlock [1]
I wonder how many people remember those events and experiences that took place in their youth, which later turned out to be important? You know, the ones that may not have seemed important at the time, just everyday type occurrences, but have since turned out to have an influence upon you.
I certainly do, and while the clock ticks away towards my 40th birthday, I realise that many of my early experiences that have had a huge impact upon me stem from my involvement in Bishopsteignton Children's Theatre.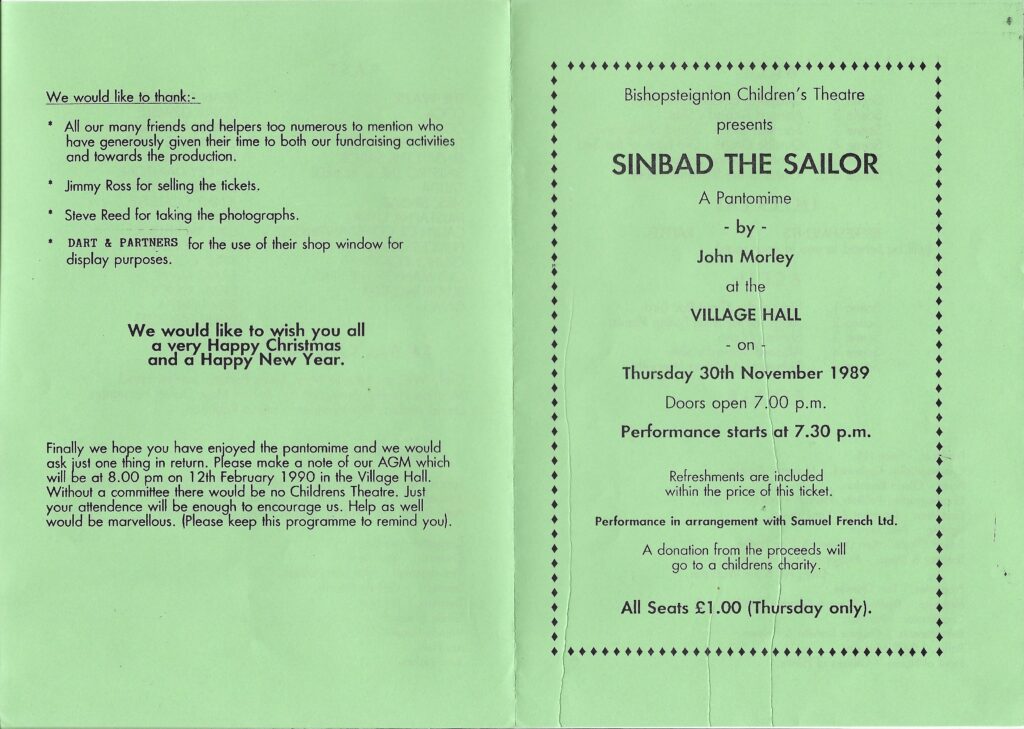 There was a yearly pantomime or review. A real community event in Bishopsteignton which began with registering interest in the village hall and auditioning a few weeks later, to then those few months of weekly Sunday rehearsals learning lines, songs and choreography, all building up to that exciting opening night.
I can still recollect the odour of the slightly musty cramped dressing rooms and the smell of the greasepaint. We'd all line up on a show night, once we'd got into our costumes, and in turn sit on the front of the stage where bright red lipstick, a heavy dusting of rouge, and florescent green or blue eyeshadow would be liberally applied. It really was a different era!
How many shows now start with the National Anthem being played?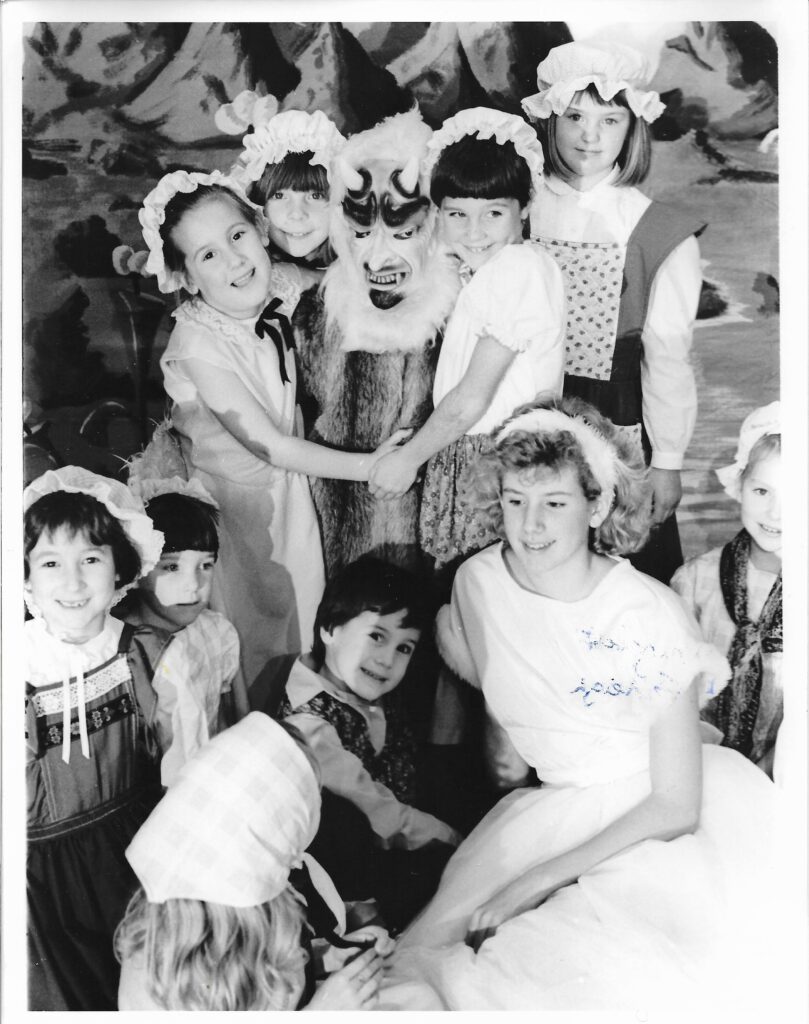 Children's theatre for me began at the age of three, following in the footsteps of my elder brother and sister. My first speaking line on stage was when I was aged about five and dressed as a sailor. The captain of the vessel was giving orders to his crew, to which my rather cheeky line was 'What about the ladies?' I think this was deliberately put in to give the audience something to chuckle at, seeing this young boy ask such a question.
Later, as a young teenager, I unintentionally stopped the show for a good few minutes.  It was a production of Red Riding Hood, which involved an evil witch, and a friendly vegetarian wolf – as you do. I played the latter.
Much to the annoyance of the prompt there came a point in the show where each night I'd be on stage with the dame, and we'd ad lib a few pages. While waxing lyrical about the trials and tribulations of being expected to eat people when in fact I was a vegetarian, I had intended to say that 'I would just die without my rest period'. Unfortunately, that night, I missed out a word and unwittingly told the audience that I'd 'just die without my period', to which the dame replied 'Ooh, I know'.
I immediately realised my mistake and shouted 'rest period', but the damage was done. The audience were in hysterics, heightened further by my futile attempt to correct myself. At this point both the dame and I were laughing non-stop, as indeed was everyone else in the auditorium and in the wings. The show literally stopped! I wonder if any night from this production was filmed?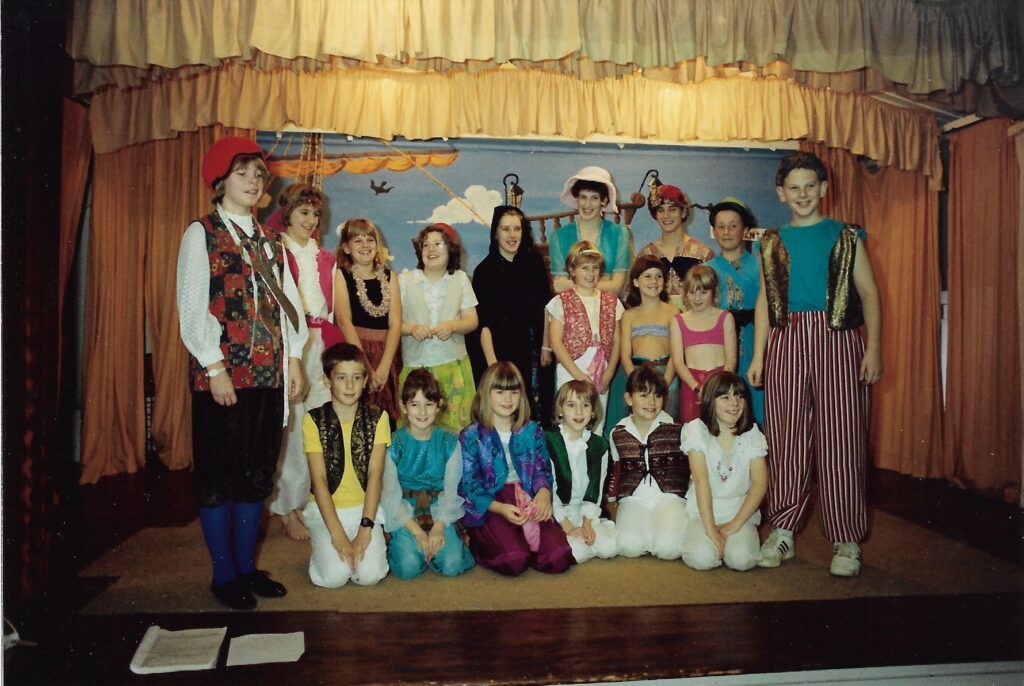 Now, more than half a century old, the final curtain has come down on Bishopsteignton Children's Theatre, and I would like to voice my sincere thanks to all those people who made it such a wonderful experience.
The list is too long to write, or indeed remember, but the likes of Irene Hill, Pauline Spear, Margaret Farleigh, Gloria Reardon, Andy and Nobby Bray, Ron and Jan Hunt, all deserve a mention in my book. In particular, what would children's theatre have been without its founder, Sheila Robbins, who in 2014 was rightly awarded the British Empire Medal for her work in the community of Bishopsteignton.
Hundreds of children over a period of more than 50 years have been involved in this community theatre group. We are indebted to Sheila for our happy memories and experiences, and also not forgetting the hard work given freely by many volunteers and parents who also helped out.
There is one final person I'd like to mention, and that is the late Corinne Darville who died on New Year's Day, 2018. Corinne was another backbone member of the children's theatre, and for many years she was its chairman.
For a few years I also served on the committee, one year as vice-chairman to Corinne. We had such fun working together for Corinne had a heart of gold and was passionate about doing what she could for the good of the children, whether it was getting to rehearsals early to open the doors and set up chairs, to fundraising events and seeking sponsors.
Corinne was in the background for many years, making sure that each year a show took place, and it is so poignant that within a month or so of Bishopsteignton Children's Theatre official notice of closure, that the final curtain should also be lowered for someone who gave so much to it herself.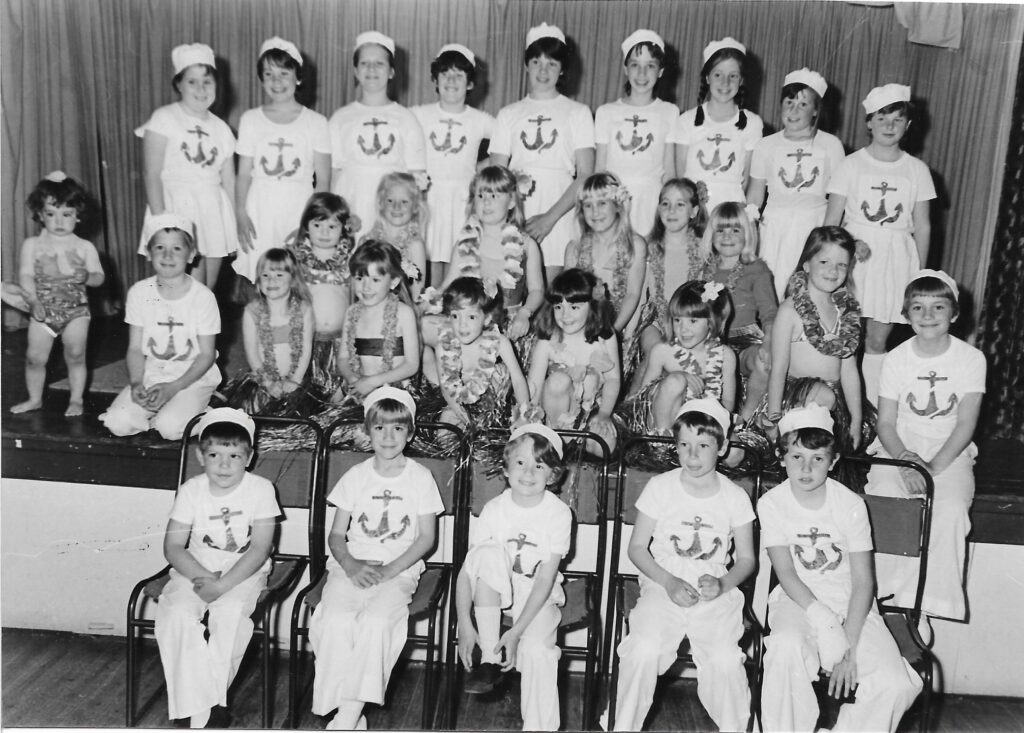 I have such happy memories from my time in children's theatre, and I also realise how much it still impacts upon my life today.
Professionally, I frequently have to address large audiences. When I do this I often recall my youthful training with those ingrained words 'Speak to the back of the room' pervading my consciousness.
Also, my love and passion for music stems from these early years, from singing songs by Noel Gay such as the raucous Lambeth Walk, to Cole Porter's catchy Anything Goes. Again, my work in music to this very day as a composer and radio producer is routed firmly in this exposure to music in my youth.
Thank you to Bishopsteignton Children's Theatre, to Sheila, to Corinne, to all the helpers. Thank you for the laughs, the training, the friendships, and indeed the memories. I will hold these dear forever, as I am sure so many other people will also.
Although those plush red velvet curtains have now been lowered, or in the case of the village hall, drawn over from each side, children's theatre will live on in us, the many children who took part thanks to you.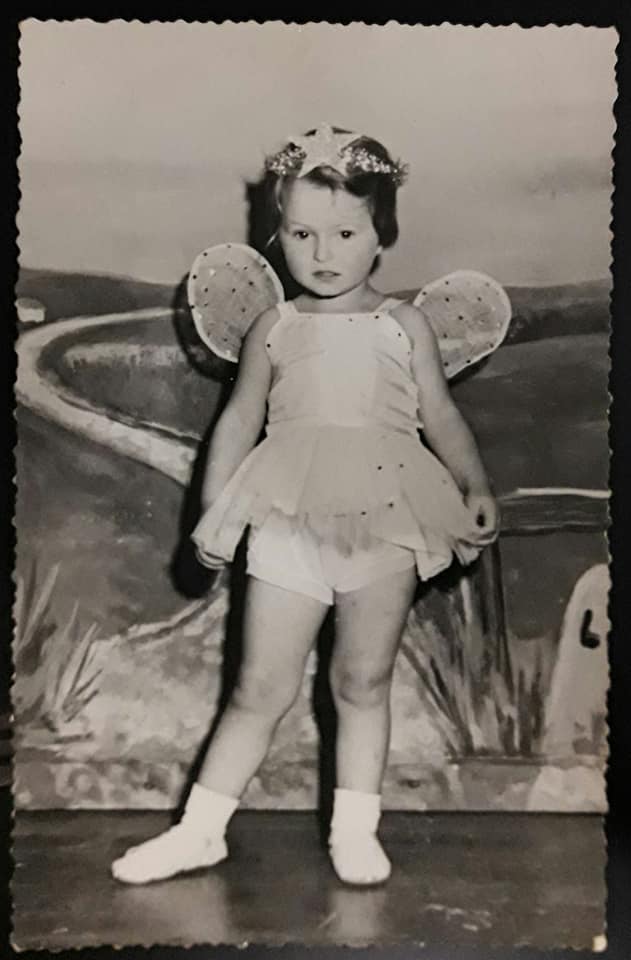 Karen Whitehouse (nee Cummings) on her memories of the children's theatre
Growing up in Bishopsteignton, allowed me and many others to have access to the Children's Theatre – and what an amazing experience for any child to have.
All ages were welcome, from little tots to teenage boys, including my brothers! It enriched our lives in so many ways and brought out the best in us all.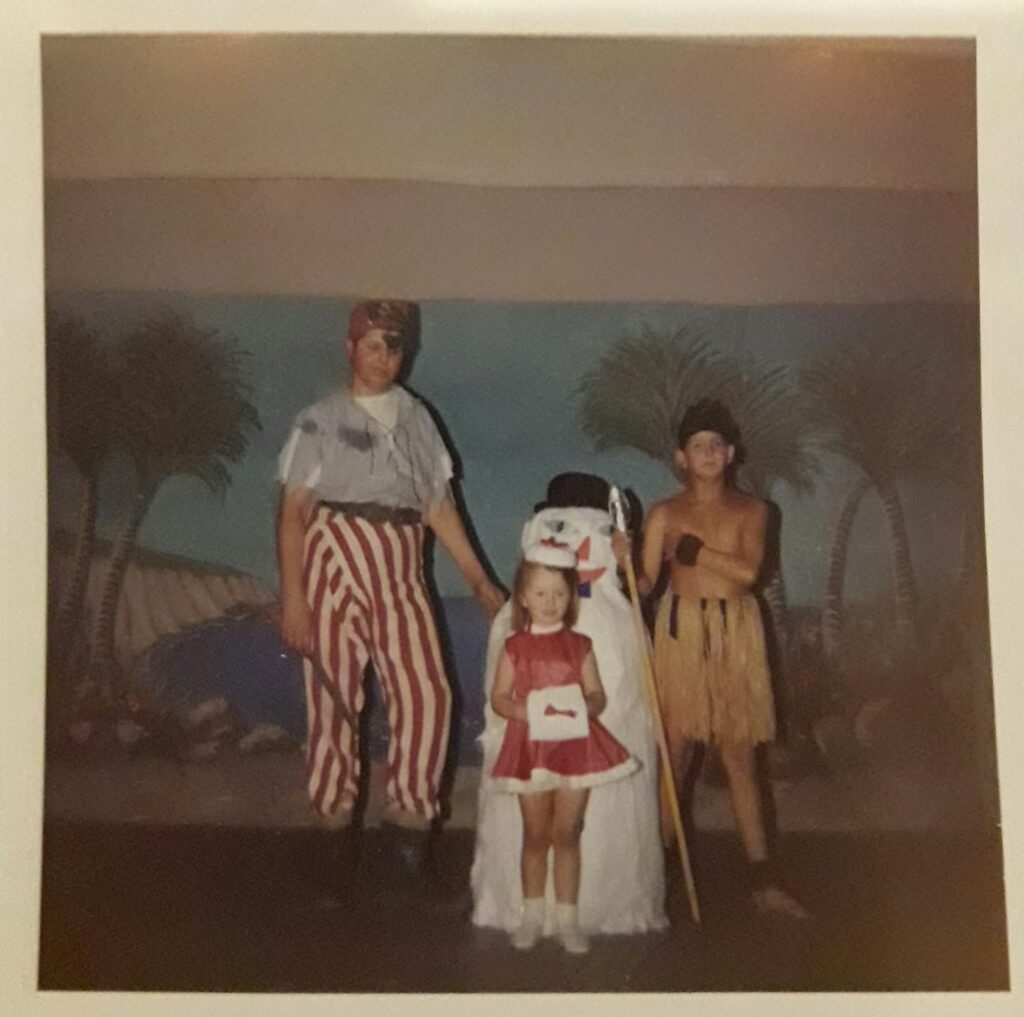 It was spearheaded by Bob and Jane Caldwell plus the amazing Sheila Robbins. Uncle Bob and Aunty Jane Caldwell were an incredibly talented and special couple.
Uncle Bob turned his hand to all the practical side of the shows and Aunty Jane was the seamstress. I can remember some amazing costumes being made in her home sewing room. I spent many hours there with my Mum, as she helped – a very exciting place for a child. If I was too young to be in one of the pantomines (more for the adults), she often made a small version of one of the costumes just for me ! Her ideas and talents were endless.
The driving force, for me, was the extraordinary Sheila Robbins – or Auntie Sheila as she was known to everybody, young and old. Her enthusiasm, professionalism, kindness, endless energy, elegance and above all, her smile!  It was infectious. It made her a very special person to be around.  She made everyone feel so special and had a way of bringing out the best in all who came into contact with her, especially the children.
Anne Hatton played the piano, succeeded by Rosemary Harris -both very talented ladies. My mum, Margaret Cummings (or Mrs. Cummings as she preferred to be known !), was always the lady in charge of the raffle. She had a knack for organising some great prizes from all the local businesses and kind villagers. I remember going from door to door, selling tickets with her, often dressed in one of my costumes. Great fun.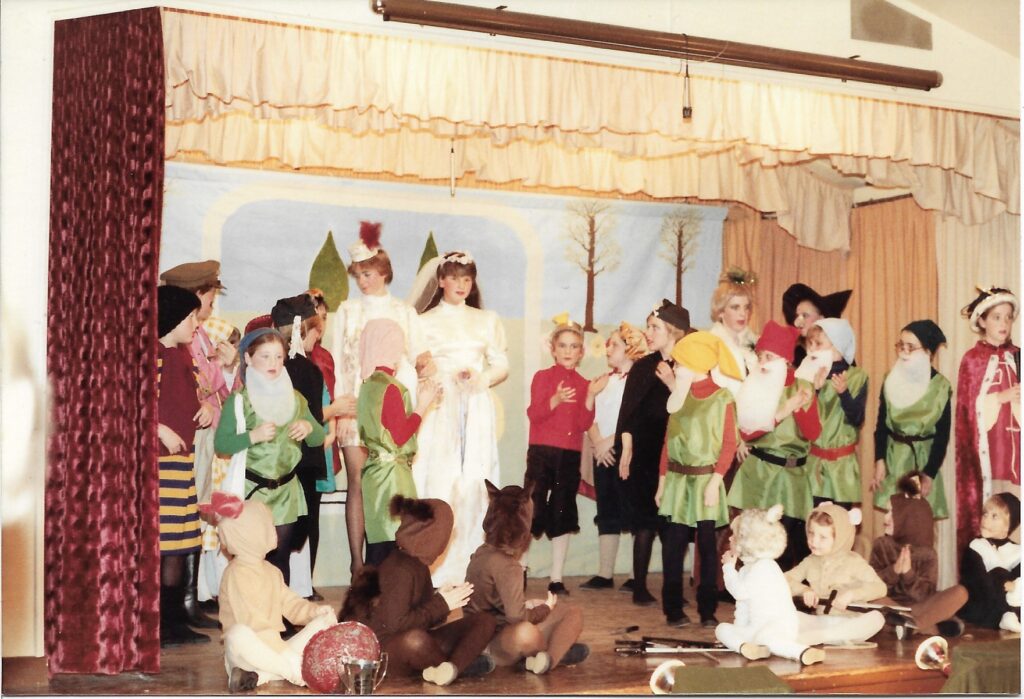 My memories include the two dressing rooms, at the back of the stage – one for the boys and one for the girls. It was always so exciting to be called back to have your make up done. I can still smell it to this day. Then, to get dressed and stand in the wings, ready for your moment to go on stage and 'shine'.
There was always a tinge of sadness when a show came to an end and your 'family' disbanded until the next time.  We were always so keen to hear when the next show would start rehearsals and who had been selected for which part.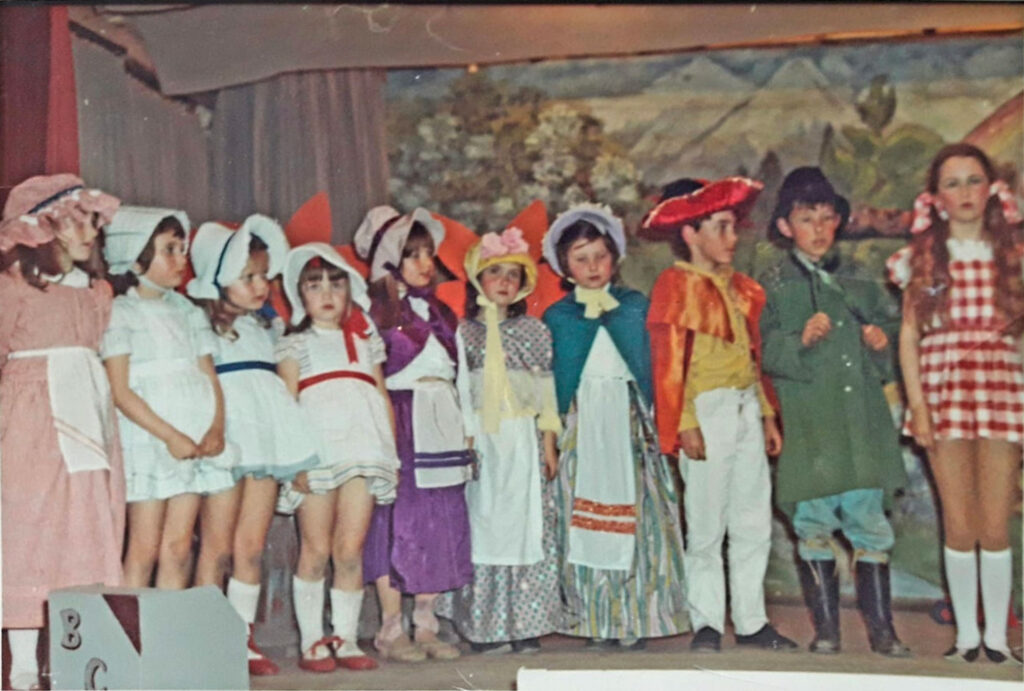 A very special show for me was the "Wizard of Oz"… about 1972.
All the rehearsals were going very well and Susan Lewis was playing Dorothy. Liz Lamboll was Aunty Em, Carolyn Day was the Scarecrow, Chris Dilke was the Lion and who was the Tinman? ( I can see his face, but can't think of his name ) I was a munchkin !!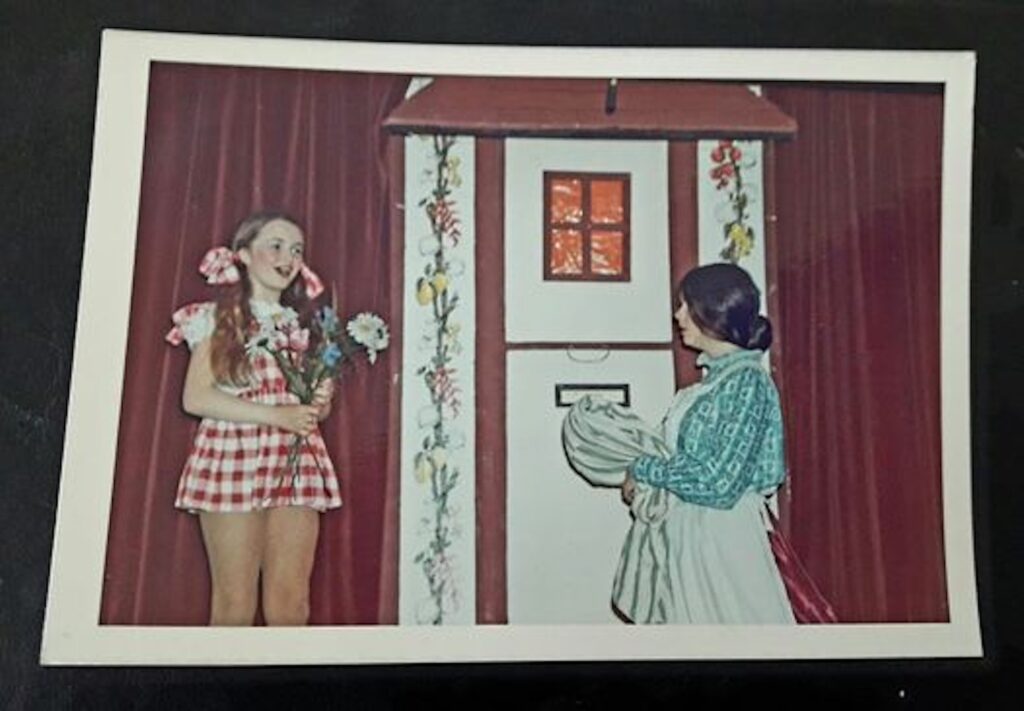 Unfortunately, three weeks before curtain up, Sue Lewis broke her leg and was devastated to have to give up her role as Dorothy. It was a dream part for any girl. Sheila asked if I would stand in for her – I was horrified! Sheila spoke to my Mum and got her agreement to what came next.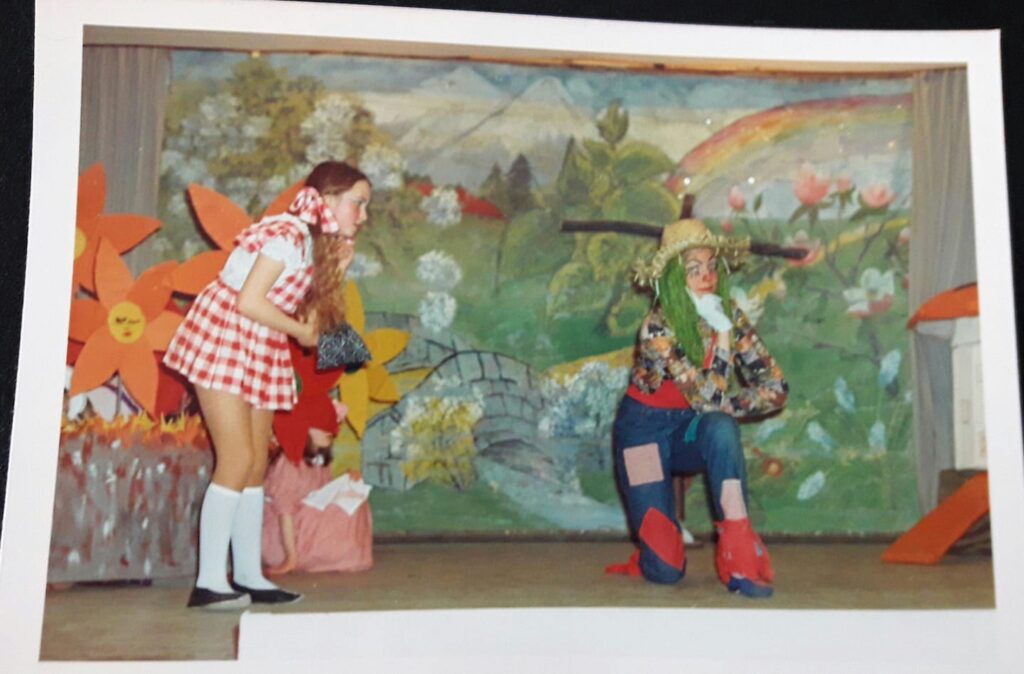 Every day, after school, I would go directly to her house and she would patiently help me learn the part, plus all the songs, dances etc… Her constant encouragement and belief in me was extraordinary. Her commitment to the show was immense and she didn't want it to fail for any of the kids who had invested so much time and effort.
The show must go on, as they say… and it always did….. and always thanks to the incredible team of the Bishop Children's Theatre. SO many people were involved, in so many different ways.
They should be very, very proud of their village's Children's Theatre.
To hear an interview with Sheila Robbins about her time and experiences with The Children's Theatre click here.
References and credits
1. Published in the Teignmouth Post, January 2018. With thanks to MDA group for permission to reproduce this article.