20882 Lance Corporal Ernest John Passmore of the 10th Battalion, the York & Lancaster Regiment was the son of Alfred and Sarah Passmore, of Radway Street, Bishopsteignton. Born in Bishopsteignton in the March Quarter of 1890 and died 5th July 1916, at the age of 26, in France.
Early Life
Ernest John Passmore was born in Bishopsteignton in the March Quarter [1] of 1890. In 1891 he was living with his parents (Alfred and Sarah Passmore) and sisters (Florence, Annie, Mary, Caroline and Lily) at 9, Radway Street, Bishopsteignton and was still living there in 1901 with his parents and sisters Florence, Rosa and Emily.
According to the 1911 census, when he was 22 years old, he was still living at Radway Street, Bishopsteignton with his father Alfred (60 years old, a domestic gardener), his mother Sarah Anne, his sister Emily (aged 15 years) and their grand-daughter Florrie Matthews (aged 11 years ).
Military Experience
Ernest enlisted on the 3rd September 1914 in Exeter for the 4th Hussars under a short service attestation. He indicated that he had received a "notice " from a Captain Beaune. He was registered as a gardener and single.
Death and Burial
Ernest died from his wounds on the 5th July 1916 near Fricourt Farm, France and the operations can be read about in the regiment diaries. [1]  His family was given the Victory Medal. His body was laid to rest at the Heilly Station Cemetery, Department of the Somme, Picardy, France. [2]  Plot  ID 30 Memorial ID 56163230 and these details can be verified  on the Commonwealth War Graves site. [3]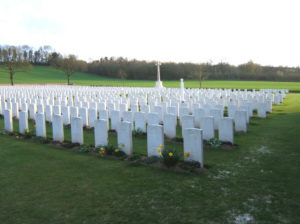 His headstone has the following inscription:
"Lance Corporal, 10th Battalion, York and Lancaster Regiment. Son of Mr. and Mrs. A. J. Passmore, of Radway St, Bishopsteignton, Devon. Age: 26."
"GONE BUT NOT FORGOTTEN"
Descendants
Are you a descendant of this Passmore family? Please get in touch with us.
References and credits
1.     "Four times a year all the registers for England & Wales were
collated into a single countrywide index, arranged alphabetically by
surname.
The indexes to the registers are quarterly rather than annual in
scope – the four quarters being known as March, June, September
and December. Each of these covers the month itself and the two
preceding months, as follows:
•January, February, March registrations in the March quarter
•April, May, June registrations in the June quarter
•July, August, September registrations in the September quarter
•October, November, December registrations in the December
quarter" https://www.findmypast.co.uk/content/expert-bmd
2. York and Lancaster Regiment War Diaries page 83-86.
3. https://www.ww1cemeteries.com/heilly-station-cemetery.html
4. https://www.cwgc.org/find-war-dead/casualty/272123/passmore,-/
.