Geoffrey Theodore Garratt was born 7 November 1888, in Little Tew, Oxfordshire. Son of Charles Foster Garratt and Agnes Mary Garratt (née Percival). He married Annie Beryl Garratt (née Benthall) in April, 1920. He served in the First World War and during the Second World War in the Pioneer Corps as a Major, 135713. He died in Pembrokeshire on 28th April, 1942.
Early Life
Geoffrey Theodore Garratt was born 7 November 1888, in Little Tew, Oxfordshire [1]. Son of Reverend Charles Foster Garratt and Agnes Mary Garratt (née Percival), Geoffrey was the youngest of four siblings, as well as six half siblings. His brother Percival (b.1877), sister Dorothy (b.1879), brother Bertram (b.1881) and his sister Stella (b.1886). Geoffrey was educated at Rugby and Hertford College, Oxford University.
On 15 November 1913 he travelled to Bombay, India to join the Indian Civil Service where he worked as an assistant collector and magistrate.
After the First World War he returned to England, where he married Annie Beryl Benthall during April 1920 in Madeley, Shropshire.
He left the colonial service in 1923 in protest against the British colonial administration's spending policy. [2]
On his return to England Geoffrey and Annie settled in Cambridgeshire. It was here that he took up farming and became politically active. He joined the Independent Labour Party, and stood unsuccessfully for the Labour Party in Cambridgeshire at the 1924, 1929 and 1931 United Kingdom general elections, and then The Wrekin at the 1935 United Kingdom general election, and in the 1937 Plymouth Drake by-election. In 1925, he was elected to Cambridgeshire County Council. Although his farming was largely a hobby, he has been described as "almost… the party's official spokesman to the farming community". [3]
Shortly after the death of Geoffrey's father (April 1925), Geoffrey and Annie travelled to Tangier where he is noted as a farmer on the passenger list. Both returning to Tangier again in 1929, this time as a journalist living at 5 Brompton Street, Knightsbridge, London.
Geoffrey Theodore Garratt was a prolific author, writing many books from the late 1920's through to the late 1930's. These include Hundred Acre Farm (1928), Agriculture and the Labour Party (1929), An Indian Commentary (1930), The Organisation of Farming : Volume 1 : Production (1930), The Mugwumps and the Labour Party (1932), Rise and Fulfilment of British Rule in India (Jun 1934), What Has Happened To Europe? (1935), The Two Mr. Gladstones (1936), The Shadow of the Swastika (1938), Rise and Fulfilment of British Rule in India (published 1971).
During the 1930's he worked for the Manchester Guardian, covering Indian nationalism, the Second Italo-Ethiopian War, and the Winter War. Based on his experiences, he wrote Mussolini's Roman Empire (1938), and also edited The Legacy of India (1937).
In 1939, both Geoffrey and Annie Garratt lived at Bishopsteignton House in Bishopsteignton, Devon.
Military Service
First World War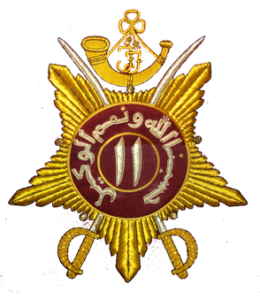 During his early years in India, Geoffrey Theodore Garratt was placed in the Indian Army Reserve of Officers in 1915, and from 1916 was on active service with the 21st Prince Albert Victor's Own Cavalry as part of the 6th Indian Cavalry Brigade, taking part in the Mesopotamian campaign. [4]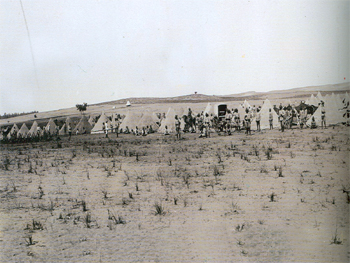 The 21st Prince Albert Victor's Own Cavalry (Frontier Force) fought on the Tigris Front and took part in the capture of Kut al Amara and Baghdad. It also fought in the Actions of Istabulat, Ramadi, Daur and Tikrit. Later it saw service in Kurdistan and took part in the capture of Kirkuk. [5]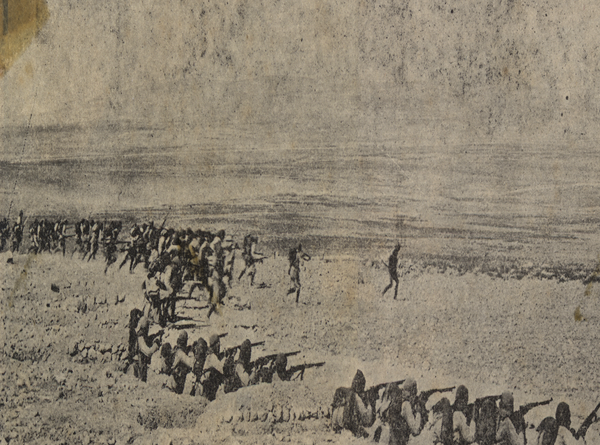 Second World War
At the outbreak of World War II, Geoffrey Theodore Garratt reported to the British army. As was the case with persons who were regarded as strongly left-wingers, he was credited with sympathies for the Russian revolution and the Soviet Union, as well as for non-British volunteers in the British army, was assigned to the Pioneer Corps.
The Pioneer Corps was a British Army combatant corps used for light engineering tasks and was formed in 1939. Pioneer units performed a wide variety of tasks in all theatres of war, including stretcher-bearing, handling all types of stores, laying prefabricated track on beaches, and effecting various logistical operations. Under Royal Engineers supervision, they constructed airfields and roads and erected bridges; they constructed the Mulberry Harbour and laid the Pipe Line Under the Ocean (PLUTO).
The Pioneer Corps served in numerous campaigns from North Africa to Normandy and on 28 November 1946, in recognition of their performance during the Second World War, King George VI decreed that the Pioneer Corps should have the distinction "Royal" added to its title. [6]
Geoffrey Theodore Garratt  served with both the 87 (Alien) Company and the 210 Company which included him being placed in charge of a group of German volunteers doing war work for the British government. It was on the 5 November 1941, that he was recommended his award for non-combatant gallantry and received his MBE for the following action [7]
"Lieutenant (temporary Captain) Geoffrey Theodore Garratt (135713), Pioneer Corps.

An officer of the Pioneer Corps was accidentally killed whilst searching for unmarked mines in a minefield. With complete disregard for personal danger, Captain Garratt entered the minefield, which was covered with long grass and extremely dangerous, and brought out the officer's body."
Death and Burial
In April 1942, Sir Richard Stafford Cripps the British Labour politician had called for Major Garratt to visit him in London. It was en route to this meeting that tragedy struck.
Major Garratt was taking part in a training demonstration in a cellar at Pembrokeshire Barracks. During the assembly of nineteen Pioneers and Engineers, there was an explosion of two mines that killed him and seventeen other people immediately, the nineteenth person died of their injuries the next day. Because of the censorship during the war, it was not reported in the press because of concern about the negative effects that the public would have on the war morale. Although it was one of the worst non-operational military disasters to occur in wartime Britain, it became one of the forgotten stories and tragedies of the Second World War for almost seventy years due to this censorship.
Geoffrey Theodore Garratt died on April 28, 1942. He was 53 years of age.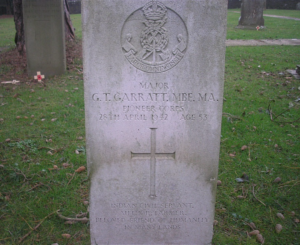 Pembroke Dock Military Cemetery
Pembroke Dock, Pembrokeshire, Wales
PLOT
Sec. E. Coll. grave 16b.-16r.
MEMORIAL ID
98180557 [8]
Descendants
Annie Beryl Garratt (née Benthall) was born 1 November, 1895 in Cofton, Devon. Her parents were Charles Francis Benthall and Annie Theodosia Wilson, Annie also had two brothers and two sisters. Annie went to school in Poole, Dorset in 1911 and later travelled extensively with Geoffrey and also accompanying her sister to Canada during the early 1920's.
They had two sons, John and Michael.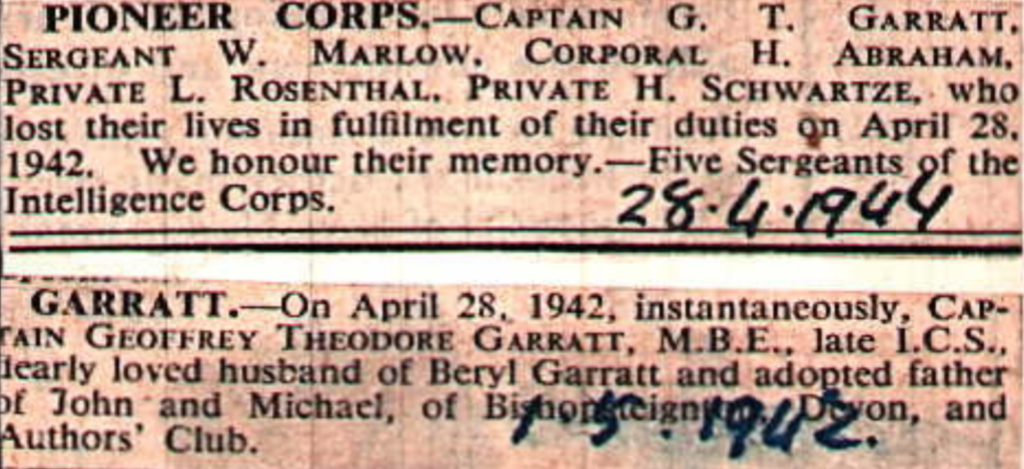 Annie Beryl Garratt passed away in Devon on 12 September, 1949.

The Benthalls were long term residents of Lindridge Estate on the outskirts of Bishopsteignton. Annie Beryl's nephew still lives there and remembers visiting his aunt when he was a child.
If you happen to have any more information that you would like to share, please leave a comment below or contact us directly by email.
Geoffrey Theodore Garratt is remembered by the village of Bishopsteignton.