John (known as Jack) Harvey McGregor was born 12 May 1906, in Ashstead, Surrey. Son of Robert McGregor, O.B.E. and Edith Annie McGregor (née Dunnett); married to Audrey Pamela McGregor (née Brooke) of Bishopsteignton, Devon. He served on H.M.S. Neptune in the Royal Navy as paymaster commander (acting). He died at sea in Libyan waters on the 19th December, 1941.
Early Life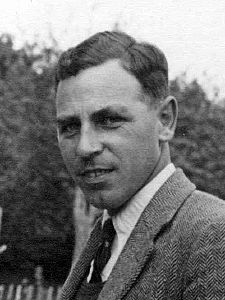 John Harvey McGregor was born 12 May, 1906, in Ashstead, Surrey. His father Robert McGregor was born in Montrose, Scotland. He moved to London where he worked as a civil servant in the admiralty for the whole of his career. Robert married Edith Alice Dunnett in 1901, London. They had their first son, Finlay in 1902 and then Roy in 1904. John (known as Jack) was born next in April 1906 and had a younger brother Kenneth, born in 1908. Robert and Edith moved to Hampshire in the early 1930s where they lived for the rest of their lives.[1]
Jack's brother Ken joined the Army Intelligence Corps and died in December 1945 of jaundice out in Italy. To his parents he was just as much missed as Jack. He never got back home from Italy and they had lost two sons in the war.
On leaving school, Jack joined the Royal Navy as a Cadet. After various postings he came to Shanghai in 1931 on the China Station. It was there that he met Audrey Pamela (Pam) Brooke, whose family had lived and worked there for some years.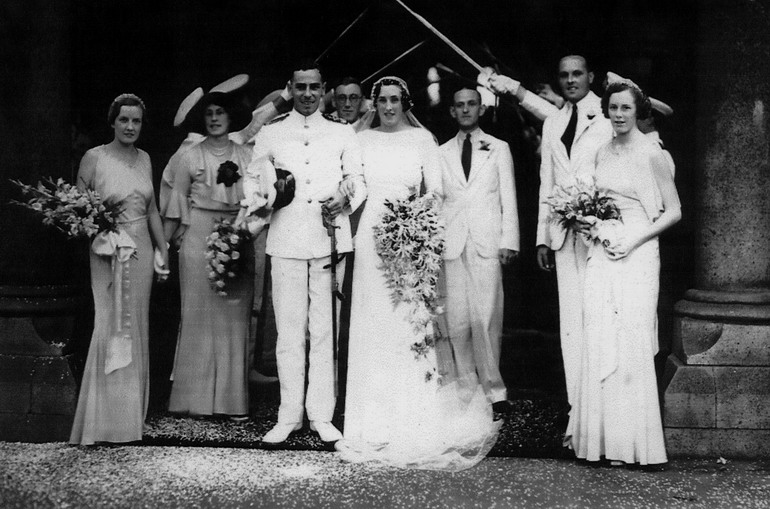 Jack married Pam on 22nd September, 1934, in Kiangsu, Shanghai, China. At this time Jack was a paymaster lieutenant in the Royal Navy, aged 28 years and Pam was 26. Pam's father John Tallents Wynard Brooke (an architect), mother Kate and sister Nancy were present at the ceremony.
Soon after they returned to England. They lived mainly in Surrey, with their two sons, John (b 1937) and Richard (b 1939).
Then in September 1940 they all moved down to Devon to escape the blitz, and it was then that they came to live in Bishopsteignton.
HMS Neptune sailed from Chatham in May 1941 on its last voyage and so they did not see Jack again after that. Pam kept all the letters she received from Jack up to two weeks before the ship went down in the early hours of 19 December 1941.
Military Service
John Harvey McGregor served on H.M.S. Neptune in the Royal Navy as Paymaster Commander (Acting). The title of purser transformed into the "purser and paymaster" in 1842, and the warrant officer rank was elevated to commissioned officer in 1843. The title of purser finally disappeared in 1852 and he became the paymaster. By 1867, it was laid down that a paymaster of 15 years' seniority should rank with a commander and in 1886 followed the distinction between fleet paymaster (ranking with commander) and staff paymaster (ranking with lieutenants of 8 years' seniority). In March 1918, fleet paymaster became paymaster commander; staff paymaster became paymaster lieutenant-commander; paymaster became paymaster lieutenant. By mid century they were known as General List officers of the Supply branch and had lost their distinctive white stripes between the gold stripes. Now they are known as Logistics officers.[2]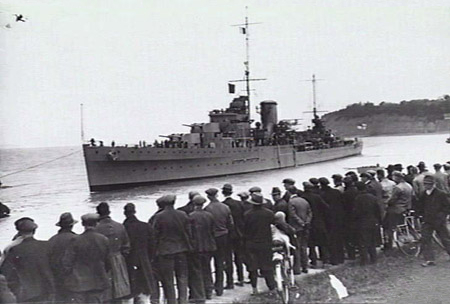 Death and Burial
On 19th December 1941, there occurred one of the most extensive but least known naval disasters of the Second World War. The Cruiser HMS Neptune ran into an uncharted minefield in the Mediterranean off Tripoli, and sank with the loss of 764 officers and men. Just one man was rescued by an Italian torpedo boat, after 5 days in the water.[3]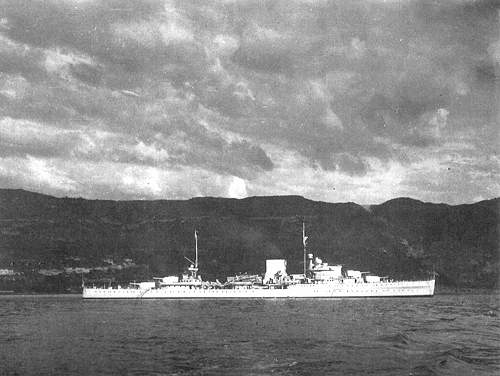 HMS Neptune, commanded by Captain Rory O'Conor, was leading 'Force K', a Cruiser raiding squadron. Their task was to destroy German and Italian convoys carrying troops and supplies to Libya, in support of Rommel's army in North Africa. On the afternoon of December 18th the squadron was despatched from Malta to intercept an important enemy convoy bound for Tripoli. The three cruisers of 'Force K', the Neptune, Aurora and Penelope, supported by the destroyers Kandahar, Lance, Lively and Havock, were steaming south, in single line ahead on a dark, stormy night when at 0106, the Neptune struck a mine. The Aurora, her next astern, hauled out to starboard but only a minute later she too exploded a mine; two minutes later an explosion buffeted Penelope's port side abreast the bridge. The Neptune going full astern hit another mine, which wrecked her steering gear and propellers and brought her to a standstill. The cruiser force had run into a minefield in a depth of water and at a distance from land which made it utterly unexpected.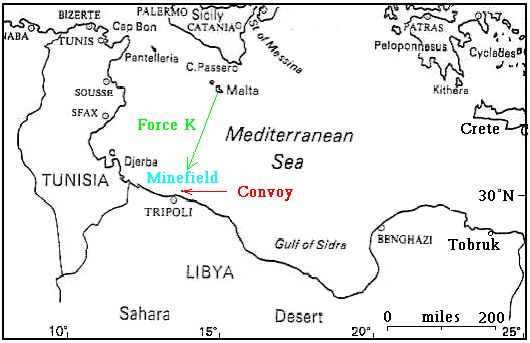 The Aurora contrived to turn and steam out of the field without further catastrophe, followed by the Penelope; Captain Agnew, in command of Aurora considered the situation in all its dire gravity. They were 15 miles from Tripoli and it was nearly dawn. The damage to Aurora had reduced her maximum speed to 10 knots, and his duty was to get her as far from the enemy coast as he could before daylight. The risk of sending another ship into the minefield to tow the Neptune out was hardly justified but the need to save life made it imperative.
The destroyers Kandahar and Lively then entered the minefield in an attempt to reach the Neptune and tow her out. Captain Nicholl was also cautiously edging the Penelope towards her when at 0318 the Kandahar struck a mine. Captain O'Conor of the Neptune flashed a warning : "Keep away". At 0403 she struck a fourth mine which exploded amidships. This was more than her hull could take; she slowly turned over and sank.[4]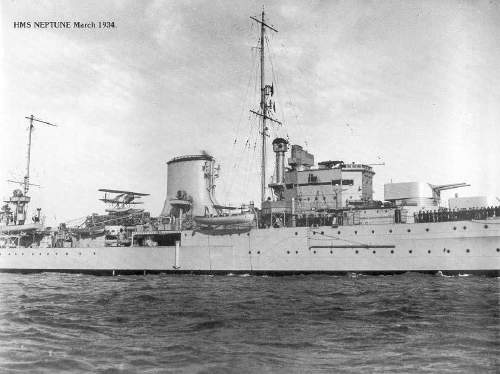 John Harvey McGregor died at sea in Libyan waters on 19th December, 1941.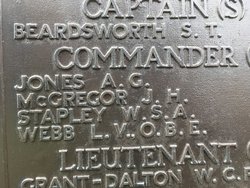 Burial:
Plymouth Naval Memorial
Plymouth, Plymouth Unitary Authority, Devon, England
Plot:
Panel 45 Column 1
Memorial ID:
13299432[5]
Descendants
Jack's sons, John and Richard both remember their time in Bishopsteignton very well (1940-1948).
"we lived (as a tenant) in four different houses. At first we lived at Radway House which was opposite the old Gourds bus depot. Then we moved to a house called Greenways which was near Huntly. Next we lived at White Lodge at the top of Berry Hill, and finally at Manor Farm at the top of Radway Hill. Manor Farm was owned by Percy Dawe from the Dawe's farm family and he was married to Lilian who had been a Gourd. They had a daughter called Christine who was almost exactly the same age as Richard. When I revisited Bishopsteignton in 1964 Manor Farm was literally a pile of rubble as it had obviously just been demolished for redevelopment. I have only been back to Bishopsteignton 3 or 4 times since we left and the last time was in 1999. Then I met Philip Gourd in the museum who was the youngest of the brothers who drove the buses when we were there, and he remembered my mother. I gather he died in 2013 aged 93.

I remember the buses well as I used to travel on them to school in Teignmouth for two or three years. We finally left Bishopsteignton in March 1948, after seven and a half years there, and we moved back to Surrey. One of the last things I remember doing in the village was going to the re-dedication of the War Memorial to those who fell in WW2 with my mother on 29 February 1948 (the day before my ninth birthday). (John was not there as he was away at boarding school). I know this because my mother kept a copy of the Teignmouth Post and Gazette which I now have."

Kate Brooke also lived at Radway House and at White Lodge with Pam and her
sons between 1940 and 1948. During that time her husband, Wynyard Brooke (as he was known) was interned in Shanghai by the Japanese occupying forces for two and a half years. Wynyard Brooke finally returned from Shanghai in 1949 and he and Kate lived in Surrey. Kate died in Colombo in 1951 when they were on their way to visit their eldest son in India. All three of their sons –
Thomas, Peter and Christopher served in the Armed Forces during the Second
World War. Wynyard Brooke continued to live in Surrey, mostly with Pam and
John and Richard until his own death in 1958.
After the War, Audrey Pamela McGregor married a widower, Errol S
Barraclough (known as Budge), and they lived in Surrey until his death in
1965. Pam continued to live in Surrey until her own passing in July 2001.
John McGregor followed his father into the Royal Navy. He went on to serve as a Commander on both submarines and big ships,  in 1982 his actions in the Falklands earned him an O.B.E. He now lives in Kent with his wife, and has two children and five grandchildren.
Richard McGregor qualified as a chartered accountant before working for an industrial group in Berkshire. He now lives in Wiltshire with his wife, and has three children and nine grandchildren.
John Harvey McGregor is remembered by the village of Bishopsteignton.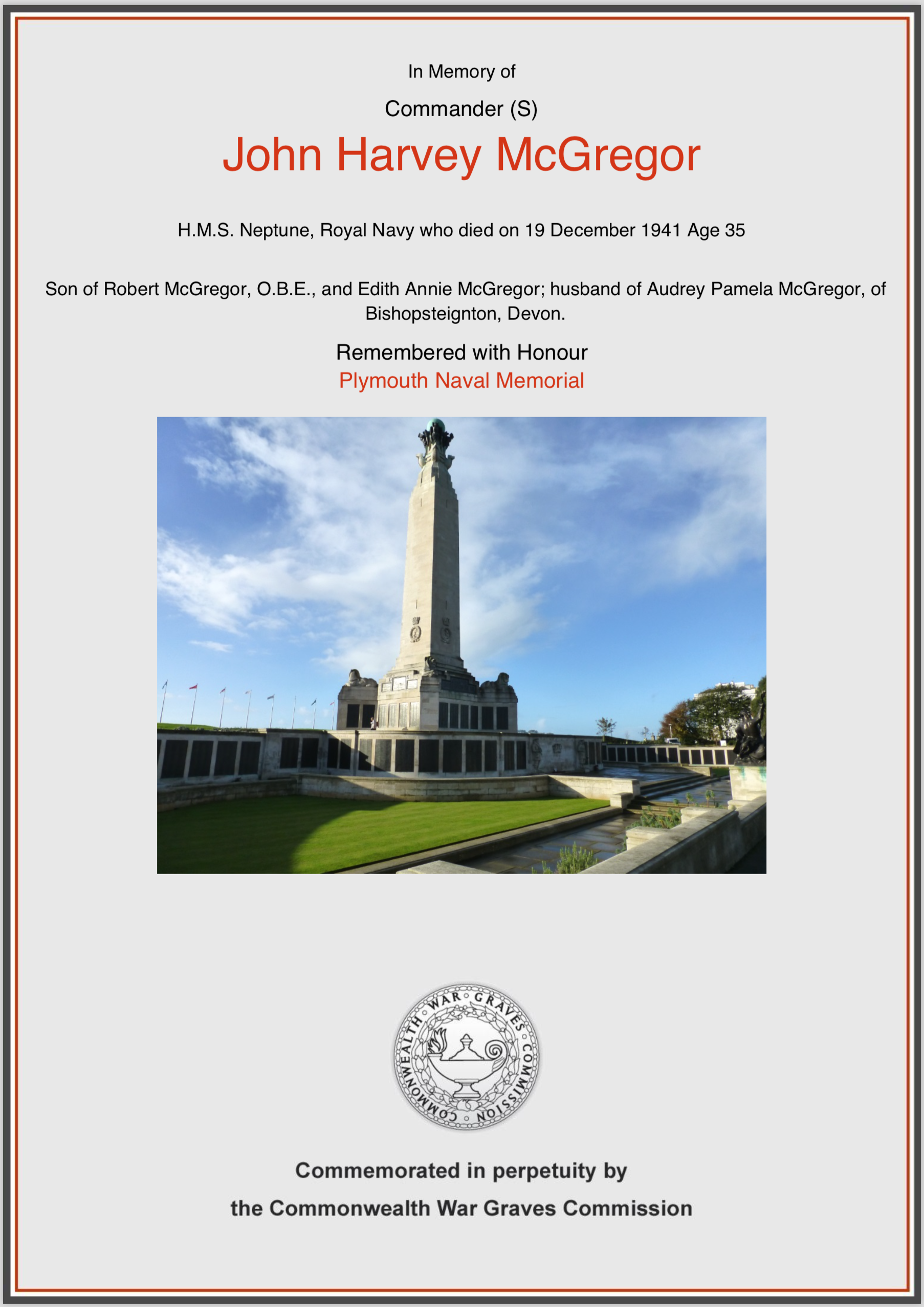 If you are related to him in any way or have any information you would like to share with us, please contact us directly or feel free to comment below.