Private John Walling 20853 joined the 8th Battalion Devonshire Regiment, served in France and died from his wounds after action in France on 24th September 1916. He is buried in the Netley Military Hospital Cemetery in Hampshire.
Early Life
John Walling is currently a bit of an enigma as regards his link with Bishopsteignton and his family. His birthplace was Bovey Tracey and his residence at the time of his death is recorded as Newton Abbot. [1] There is a Walling family in the 1911 census registered at Gunn Cottage, Bishopsteignton where a  boarder John Walling, aged 39 years old and a stone mason's labourer, is staying with them. The residents of Gunn Cottage at this time were William H Walling (farm labourer), his wife Ada and their children Ida, George, Morrison and Eliza.  However the age does not tally with our soldier John Walling, but were they relatives?
Military Experience
John Walling joined the 8th Battalion, Devonshire Regiment with the Service No  20853 and served in France and Flanders. He was listed as wounded on the 25th August 1916.
Death and Burial
Many wounded soldiers and those affected by mustard gas were transported from France in hospital ambulance troopships. They arrived in Southampton docks and were taken by train to the back of the Royal Victoria Military Hospital commonly referred to as  Netley Hospital. The train lines can still be seen in the ground today. It was originally built to tend the injured after the Crimean war but was subsequently used in WW1. [2]
Presumably John was brought here after his injury. He died on the 24th September 1916 and is buried at the Netley Military Cemetery in Hampshire C.E. Grave No 1857. He was 22 years old.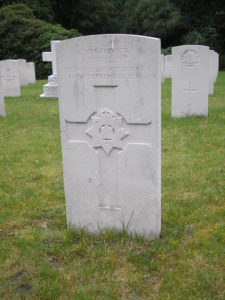 This is his gravestone in the cemetery close to the original Netley Hospital overlooking Southampton Water. There is a fascinating wealth of information and photographs on the history of this hospital and the cemetery here.[3]
Descendants
There is no reference on his headstone or official grave registration documents to any family member.[4]
Do you know any more about him? If so we would love to hear from you.