Having established contact with Bishopsteignton Heritage in early 2021,  Paddy O'Gorman from Dublin, completed his research on the life of his grandfather, Robert Collier. This is his story.
Introduction
In the Spring of 2021 Bishopsteignton Heritage received a message from Paddy O'Gorman from Dublin, asking if anyone had any information on his grandfather, Robert Collier, who had tragically died in the village in 1972. After appeals on social media, several people came forward with snippets of information which helped him to peice together the story of the last days of his grandfather's life. Paddy and his brothers visited the village and saw where his grandfather had been living. He then went home and wrote this article for the website.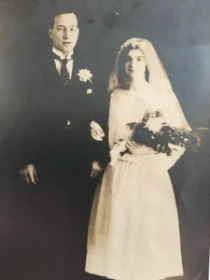 Paddy O'Gorman's journey,
On Tuesday 10 August my two brothers and I stood by the railway line that runs by the caravan park at Wear Farm, Bishopsteignton, and paid our respects to our grandfather, Robert Collier, who died by suicide there nearly fifty years previously. Our day in Bishopsteignton was the culmination of a long time searching to find out whatever happened to the grandfather we never knew.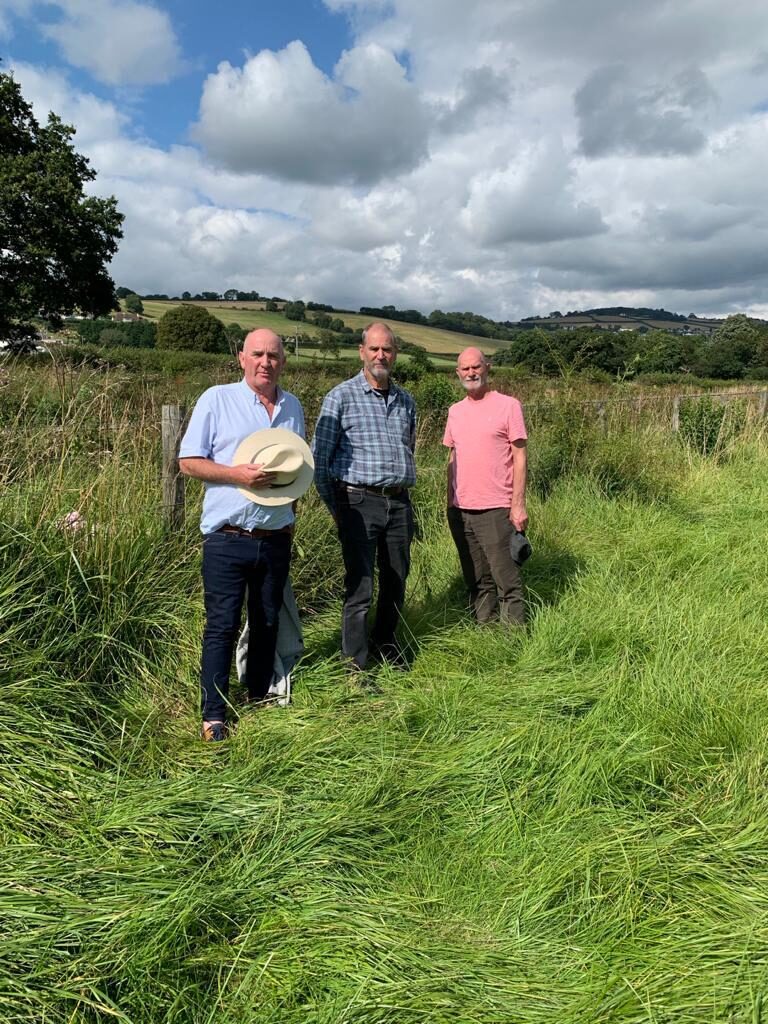 Robert was born in London in 1898. His daughter, our mother, also a Londoner, barely ever spoke of him and we three brothers grew up in Ireland believing he had long since died. In recent years and since our mother's death two years ago at the age of 94, we have learned a bit about our grandfather, including the fact that he didn't die until 1972.
A few weeks ago, Bishopsteignton Heritage on Facebook published an appeal I wrote looking for anyone who may have remembered my grandfather or his death. I included this report from a local newspaper, 7 December 1972.
"HACKNEY RAIL MYSTERY Ambulance crew searched one mile along the main Exeter-to-Newton Abbot railway line near the Passage House Inn, at Hackney, Newton Abbot, this afternoon, after reports that a man had been knocked down by a train. Man's body found there later named as 74-year-old Mr Robert Collier, of 27 Meadow View, Ware Farm, Bishopsteignton, a residential caravan site. Accident happened only a few yards from his home."
From other press coverage we had learned that Robert had been living with a person by the name of Alice Helen Edwards and that he had been suffering with advanced lung cancer at the time of his death.
A number of Bishopsteignton people responded with helpful suggestions but, crucially, one person wrote back who remembered the day of our grandfather's death. Nigel Davey was 14 and just home from school that day in 1972 when he saw that something terrible had happened on the railway line next to the Wear Farm caravan park that was run by his mother and father. Nigel, now 63, messaged me and offered to speak on the phone. I wrote back and said I would travel from Dublin to meet him. My elder brother John, who lives in Surrey, said he would come too. My eldest brother Mike, who lives in County Cork in Ireland, also chose to make the journey to join us. So it was that the three of us, along with my wife Deirdre and Mike's wife Fiona, met at lunchtime at the Passage House Inn and waited to be joined by Nigel. This was exciting. For the first time in our lives we were meeting someone who actually knew our grandfather.
Nigel joined us along with his wife, Jill. He brought a ledger that showed the rent record of Mr and Mrs Edwards at Wear Farm for 1971/72. Mr Edwards! Grandad, what were you doing living under a false name? We learned that Robert and Alice had first arrived in July of 1971 and that Alice left Bishopsteignton in March of 1973, fairly soon after Robert's death. We realise now that Robert was probably not known to many people in Bishopsteignton. He didn't live there long enough. Also the caravan park is quite far away from the village on the hill so Robert, in poor health, was unlikely to have visited there much.
After lunch, Nigel and Jill brought us to Wear Farm to see where our grandfather lived and died.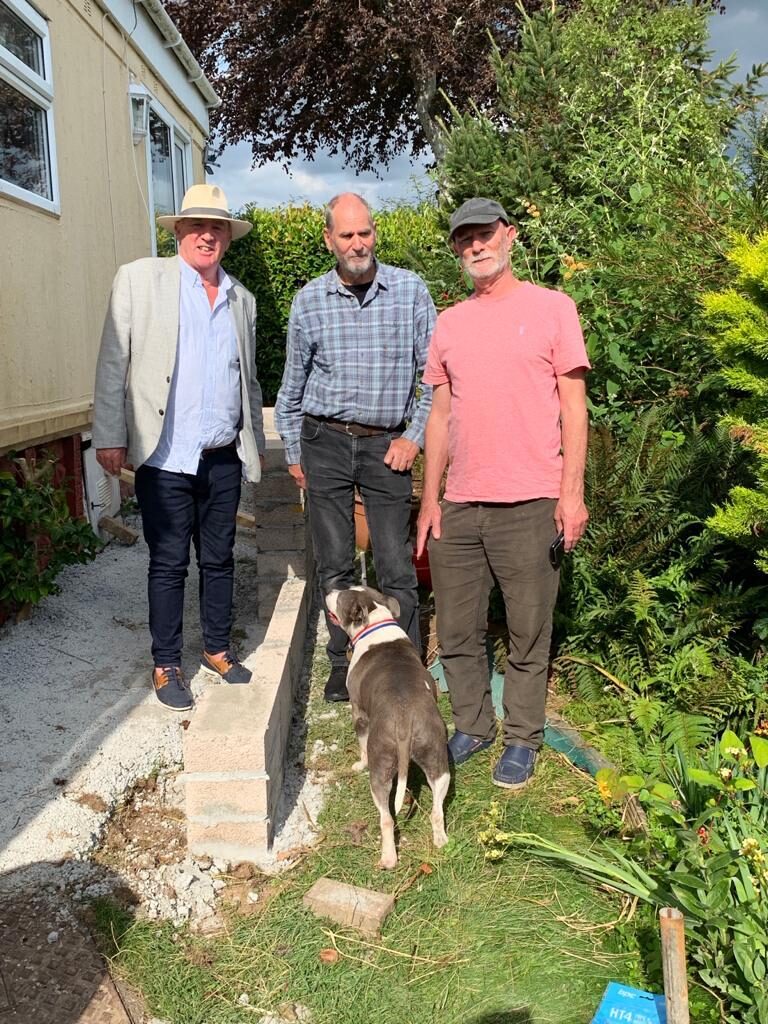 How do you pay your respects to someone nearly fifty years after their death? None of the three of us brothers is religious. We are English-born, although two of us, Mike and I, have lived nearly all our lives in Ireland. I don't think English people are particularly good at this sort of thing. But my wife Deirdre is a Dubliner and she has an Irish person's understanding of how to honour the dead. Deirdre said we should bring flowers, so Nigel and Jill kindly brought us into their home and garden where Deirdre cut three hydrangeas, one for each of us brothers, and three white roses for Robert's three children, all now deceased. My mother was the only one of Robert's children who married and had children.
Nigel and Jill led us down the hill, past the chalet where Robert lived, then through a gate to a field and towards the railway line. This was the path, we knew, that Robert would have taken on the way to his death. Then the others in our group paused as we three brothers walked to the place by the railway that Nigel had pointed us too. We laid our flowers and stood in silence; three grandfathers finally getting to pay our respects to the grandfather we never knew.
Then we spoke of Robert. All of us took a strange comfort in knowing that Robert had incurable lung cancer. It made his suicide a conscious decision, it would seem. And we know that Robert had faced death before in his life. He was gassed and wounded in Flanders in 1915 and, during the Second World War, he had been an air raid warden in Coventry. Robert wasn't scared to die.
We noted we were at a bend on the railway. At the inquest, the train driver had described how he came around a bend when he saw the man ahead on the railway track. Then the man bent his head forward onto the rail. The driver braked but could not stop in time. It must have been a terrible experience for that driver. We can only hope he found it in his heart to forgive our grandfather for using him as an instrument in his death.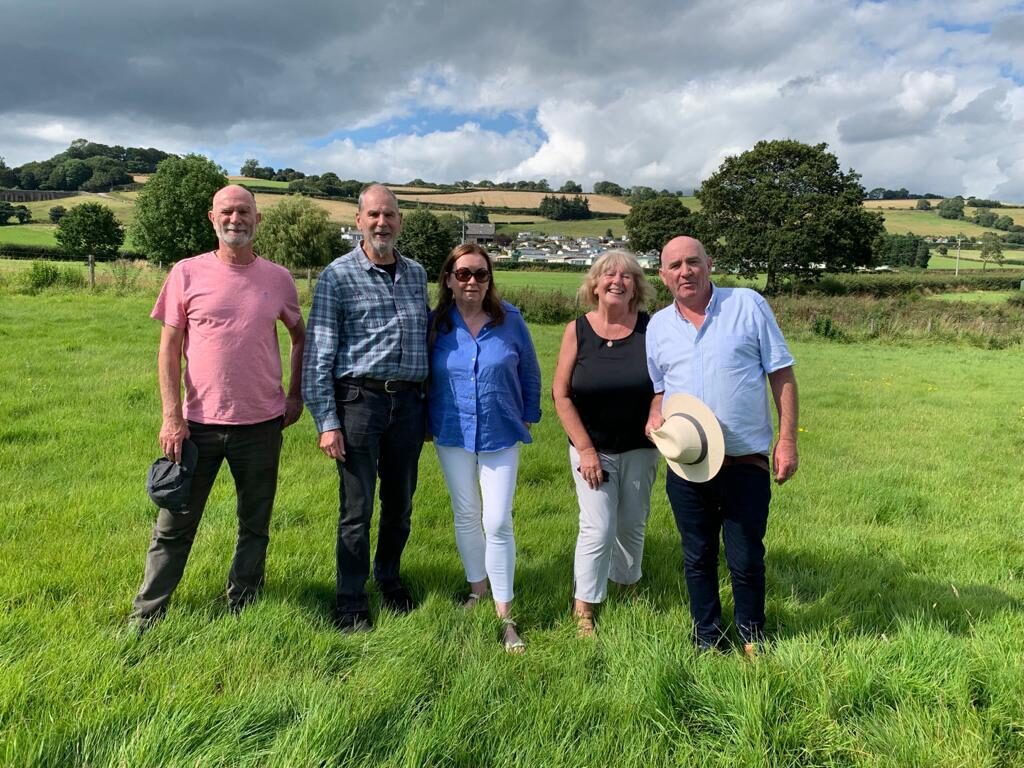 Then we rejoined the others and walked back up the hill. Nigel showed us the chalet where Bob and Alice lived. Previously, we had learned that Robert sought a divorce from our grandmother in 1971, decades after their marriage break-up. This was puzzling. Now it looks obvious that Alice was the reason for this, even though she and Bob seem to have not got around to marrying each other in the end. Nigel told us that on the morning of his death, Bob had waited until Alice had gone to the shops or somewhere before he made his fateful walk to the railway line.
After the chalet visit we said goodbye to Nigel and Jill, truly grateful for their help and kindness. We felt good after the visit. We only wished that our mother could have made a visit like this if, indeed, she ever even knew about whatever had happened to her father.
That fine evening we sat outside the Passage House Inn together and dined and drank beers and talked and laughed until late. And that's how we remembered our grandfather Robert Collier.
Other Devon Connections
One postscript on something that still puzzles us. Robert's last years and death were not the first connection in his lifetime with the Newton Abbot area. That occurred in 1940.
From 1937, we know Robert was living in Coventry and by 1939, he had been living at a series of addresses there with a woman by the name of Florence Berejnitsky, born Gell. In 1940 Florence gave birth to a baby, Christine, in Newton Abbot.
After the war, Florence is living back in Coventry with her daughter and, by the 1960s, Christine excels as an artist and her work is frequently reported in the local newspapers. If Christine Berejnitsky is living still she would now be 81 years old. We have been trying to trace her for months but so far we have had no success.
Was Robert's decision to spend the last year of his life in Newton Abbot in any way connected to the birth of a baby there thirty two years earlier? We don't know.
A Bit about Myself
Finally, I have been asked to say a bit about myself. I was born in London in 1957. In 1964 my family moved to Ireland to my father's hometown Cobh (pronounced Cove) in County Cork. For most of my life I have lived in Dublin and have worked as a broadcaster for RTE since 1980.
I don't generally interview famous people but rather, I meet strangers and see what they have to say. I am known for meeting people in queues- welfare queues, housing queues, prison visitor queues. I have, for years, extensively covered emigration from Ireland to Britain and elsewhere. I am known for reporting from courts of law and speaking to the people who are up before them. I have won awards for both my television and radio work.
I am widely-known as the man with the hat and the dog- both invaluable aids in getting strangers to talk to you.
I feel privileged to have been able to do the work I do and meet so many memorable people in my life.
To hear some of Paddy's radio programes please click on this link;
https://www.rte.ie/radio/radio1/paddys-people/
Robert's Journey
The following section has been researched and written by Rowena Bradnam
Robert Clifford Collier
Robert Clifford Collier was born in London on the 19th January 1898.  His father was a brass moulder. At the age of 16 he volunteered for the army and joined the Royal Engineers as a sapper.  No. 32910. (1914-1920)
Whist in France at the age of 17 he had gas poisoning. 3/10/1915
Electoral Roll 1920 – Robert Collier and parents Henry and Grace 5 Foley Street W1 London
Electoral Roll 1921 – Robert Collier and parents Henry and Grace 5 Foley Street W1 London
At age 25 on the 22nd December 1923, he married at All Souls London, Sarah Catherine Meredith Born 15 November 1901.  Her father, John Meredith,  was a journeyman baker. They had three children;  Irene 24th June 1925, Gladys 21 December 1927, Clifford 31 July 1933
Electoral Roll 1924 – Robert Collier and parents Henry and Grace 5 Foley Street W1 London
Electoral Roll 1925 – Robert Collier and parents Henry and Grace 5 Foley Street W1 London
Electoral Roll 1926 – Robert Collier and parents Henry and Grace 5 Foley Street W1 London
Electoral Roll 1927- Robert  Collier  with parents Grace and Henry at 5 Foley Street W1
1929 Death of father Henry Collier. Sarah Collier eligible to vote.
Electoral Roll 1930 – Robert and Sarah Collier 2 Lynton House, London
Electoral Roll 1931 – Robert and Sarah Collier 2 Lynton House, London
Electoral Roll 1932 – Robert and Sarah Collier 2 Lynton House, London
Electoral Roll 1933 – Robert and Sarah Collier 2 Lynton House, London
Electoral Roll 1934 – Robert and Sarah Collier 2 Lynton House, London
Electoral Roll 1935 – Robert and Sarah Collier 2 Lynton House, London
Electoral Roll 1936 – Robert and Sarah Collier 2 Lynton House, London
8 April 1937 Sarah files a maintenance order for Irene (12), Gladys (10)  and Clifford (4) of 43 Bolsover Street London.  Robert's address is listed as 126 Allesley Old Road Coventry.
Electoral Roll 1939 – Sarah Collier 43 Bolsover Street, London
Census 29 Sept 1939 Robert Collier 19 Allesley Old Road, Coventry occupation Engineers clerk controlling release of aircraft spares. The Triumph Factory in Coventry was used for aircraft spares during the war.
Also sharing this address/room,  Florence Bejnitsky nee Gell Born 24 December 1899. Occupation housewife. 19 Allesley Old Road is a boarding house.
3rd Quarter (Jul-Sep) 1940 Christine Berejnitsky, daughter of Florence born in Newton Abbott area.
Electoral Roll 1946- Sarah Collier  and children Camden, London
Electoral Roll 1949 – Sarah Collier 212 Adelaide Road, London
Electoral Roll 1951 – Sarah  and Gladys Collier 212 Adelaide Road, London
Electoral Roll 1957 – Sarah, Gladys and Clifford  Collier, 212 Adelaide Road, London
Electoral Roll 1965 – Sarah, Gladys and Clifford  Collier, London
Divorce Reform Act 1969, allowed couples to divorce after they had been separated for two years (or five years if only one of them wanted a divorce). A marriage could be ended if it had irretrievably broken down, and neither partner no longer had to prove "fault".
12th July 1971 Sarah divorces Robert
1972 Robert Clifford Collier of Meadow View, Ware Farm Bishopsteignton, killed on railway line.
If anyone reading this has any further information on Robert Collier or Alice Edwards, please do get in touch, so that we can pass this on to his grandsons.