Delamore
Forder Lane
Before the building of Delamore House, the ground was part of West Town Tenement, the property of John Comyns. The Comyns family were major land owners who lived at Wood from 1732 to 1957. John Comyns was parson of St John the Baptist Church from 1801 to 1856.
Delamore is a Grade II Listed House. It was built in the early 19th Century as a particularly fine example of a large villa in substantial grounds. This type of house is characteristic of the development of Bishopsteignton in the early 19th century. A full description of the property can be found in its listing by British Listed Buildings.[1] There is a separate listing for the Garden Walls and Gate Piers to the south of Delamore.
The house and grounds show evidence of decline in the photographs taken by J Evans and M Bannon in 1999. The photographs also show some of the improvements carried out at that time.
In about 2003 a large parcel of land to the north and east of Delamore was sold to the developer Gerald Wood for the building of three houses: Charter House, Bronscombe and Chestnut House.
In 2007 onwards, major changes were made to the house and gardens. In 2009, the Coach House was renovated and converted from a garage into a two bedroom cottage.
19th Century
1813. The Churchwardens' Records show Delamore as being erected by Thomas Boone. The 1841 census shows Thomas Boone at Cross Cottage Cockhaven Street. He is recorded in the Pigot's Directory in 1844 as a Builder and Carpenter.
Information included in the Saint John's Church document on Nelson's Admirals states, 'Admiral George Parker, son of Admiral William Parker of the Delamore House Estate, Ivybridge, built Delamore Bishopsteignton in 1813 using local builder Thomas Boone.
Mortimer Family
1813 The Churchwardens' Records show the tenant was Mortimer.
1815 The occupier is shown as William Mortimer.
William Mortimer has been described as a country gentleman and his eldest son, George Ferris Whidborne Mortimer was born in 1805 in Bishopsteignton.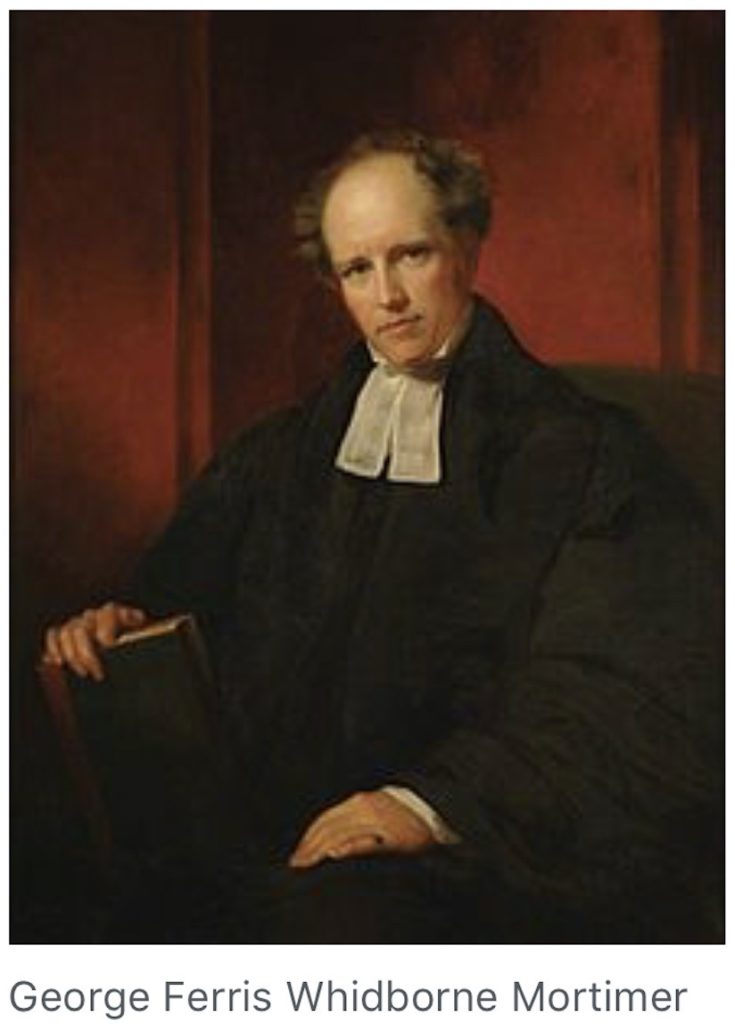 George Mortimer biography Oxford University Press
https://en.wikipedia.org/wiki/George_Ferris_Whidborne_Mortimer
1825 The Churchwardens' Records show that Mrs Cross paid the rate as occupier.
1826 No rate was paid for the house.
Huxham Family
1826. The Churchwardens' Records show John Huxham as the occupier.
1836. The Tithe Map shows the owner is John Comyns and the occupier is John Huxham.
1841 The census shows the occupier as John Huxham. He was an Attorney at Law and he lived at Delamore with his wife Frances and five children. There were five living-in servants recorded. John Brown Huxham was born in Ashburton, Devon to the Reverend John Huxham and Elizabeth Elliot Brown. He married Frances Lydia Land in 1820 in Exeter. He qualified as a solicitor and was made an Attorney at Law of her Majesty's Court of the Queen's Bench at Westminster in 1841.
Francis Peregrine Huxham
Francis Peregrine Huxham was one of the sons shown on the 1841 census for Delamore. He was born on 19th March 1833 in Bishopsteignton and is recorded as aged 8 on the census. He emigrated to New South Wales Australia where he married Mary Emily Clerk at Armidale in New South Wales. They had nine children. Emily died in 1908 and he died on 19th January 1911 in Chatswood, New South Wales aged 77. Photographs and documents from Ancestry show Francis with his granddaughter Evelyn and also his wife Emily.
Not shown on this census because presumably he was not at Delamore at the time, is another son George Corham Huxham. He was born in Teignmouth in May 1826. His father John is shown as occupier of Delamore in 1826 where George probably spent his childhood before he left the family home for a career in the army.
George Corham Huxham achieved the rank of Lieutenant Colonel in the 30th Punjab Infantry. He died 14 November 1874 and there is a plaque in St John the Baptist Church Bishopsteignton to his memory.
George Huxham served in the Indian Mutiny of 1857 and is buried Taikai Cemetery, Peshawar.
https://www.nam.ac.uk/explore/why-did-indian-mutiny-happen
1844 Pigot's Directory shows the occupier as Mrs Mary Huxham
Gardner Family
1851 The 1851 Census shows the occupier as recently widowed General William Henry Gardner, his daughter Augusta, son-in-law Arthur Ponsonby Moore and a 4 year old grandson. The grandson was Ponsonby William Moore who became the 9th Earl of Drogheda. A butler, cook and 4 other servants were also recorded.
Other interesting entries for Delamore on the 1851 Census is William Gardner's Granddaughter Agnes Alexandria Moore aged 3 who married Sir Robert Anderson in 1873. He became Assistant Commissioner (Crime) of the Metropolitan Police from 1888 to 1901. Anderson was the highest ranking officer with direct involvement the Jack the Ripper case and was in a position to know more of the evidence and information about the Whitechapel Murders than almost any other officer.
https://en.wikipedia.org/wiki/Robert_Anderson_(Scotland_Yard_official)
https://www.jack-the-ripper.org/robert-anderson.htm
1856 The Post Office Directory shows the occupier as General William Henry Gardner.
1857 Hughes' Directory shows the occupier as General W H Gardner.
1857 Billing's Directory also shows the occupant as General the Honourable William Hyde Gardner. He actually died on 15th December 1856.
William Henry Gardner
William Henry Gardner was born in 1774 in Jamaica to Susannah Hyde Gale, Baroness Gardner aged 25 and Admiral Alan Gardner, 1st Baron Gardner, aged 32. William's father was regarded as one of the Georgian era's most dashing frigate captains and ultimately became a respected senior admiral. He was MP for Plymouth from 1790 to 1796. He then became MP for Westminster until 1806.
https://morethannelson.com/officer/alan-gardner-1st-baron-gardner/
William Gardner married Elizabeth Lydia Fyers in Gibraltar in 1803. Her grandfather was Joseph Wanton (1705-1780), the Governor of the Colony of Rhode Island. Her grandmother was Mary Winthrop. Mary's ancestors included John Winthrop Jr., the Governor of Connecticut and John Winthrop, the Governor of Massachusetts and the founder of Boston.
https://en.wikipedia.org/wiki/Joseph_Wanton
MARY WINTHROP 1708-1767

General William Henry Gardner's military service began in 1793 in the Royal Artillery. He took part in the Walcheren Expedition in 1809 [2] and was present during the siege and capture of Flushing. He was appointed Colonel Commandant of the 10th Battalion of the Royal Regiment of Artillery in April 1846.
https://www.ncbi.nlm.nih.gov/pmc/articles/PMC1127097/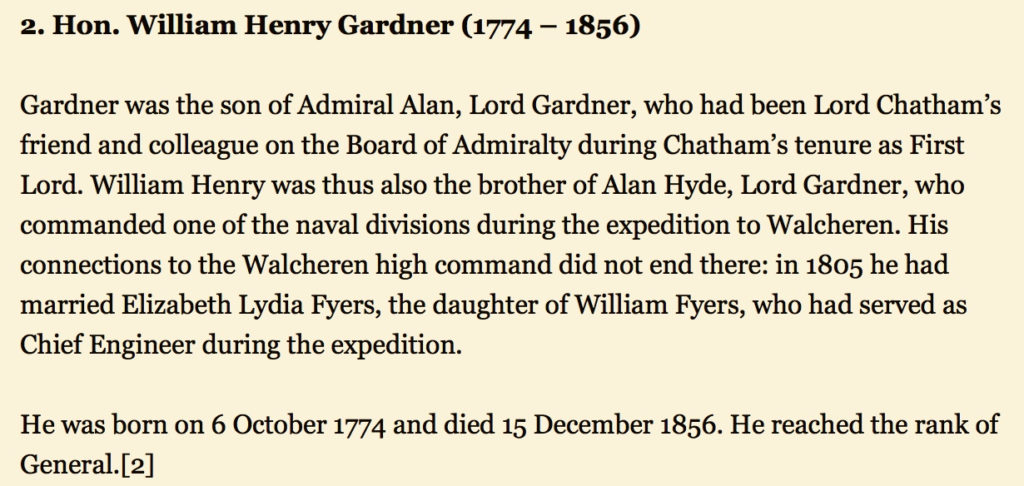 His wife Lydia passed away in April 1850 aged 62. The following year, William Gardner is recorded as the occupier of Delamore in the 1851 Census.
William Gardner died on December 15, 1856 aged 82 years. An obituary was included in The Illustrated London News in 1857.
A memorial window to him and the Gardner family can be seen in the south wall of Bishopsteignton Church. The window remembers his sons: Captain Edward Gardner, killed in Burma aged 32; Captain Herbert Gardner who died in the Indian Mutiny in 1856 aged 35 and Lt Henry Gardner who died in 1855 aged 28 years.
The stained glass window and brass plaques also commemorate his wife Eliza Lydia and his daughters Anne and Mary, his son Admiral Alan Henry Gardner, his son Major General William Bethell Gardner and the two infant daughters of his son Captain Herbert Gardner.
William Gardner's grave can be found to the rear of Bishopsteignton Churchyard beneath the Eastern boundary wall.
1861 The only occupiers recorded were Jane Border and Ellen Coves. Both are listed as servants.
1866 Kelly's Directory and the 1870 Morris' Directory shows the occupants as the Miss Gardner and Miss Fanny Mackworth.
1871 Census No record for Delamore was found.
Guerin Family
1881 The 1881 Census for Delamore shows the occupant as Edmund A Guerin.
Edmund Arthur Guerin 1805-1895
Edmund Arthur Guerin was born in 1804 in Bagborough, Somerset. His father was Reverend Joseph Guerin and his mother was Maria Lucy Shuldham. Edmund's mother died when he was just 13. Edmund joined the army and spent most of his military career in India. While serving in the army in India, he married Louisa Jane Gilbert on the 20th September 1836 when he was 32 years old. His son Joseph Arthur was born the 12th July 1837 at Anndsbad Bombay Regency, Mumbai.
Little has been found about his service in India but in 1853 he is recorded as a Captain in the 2nd European Regiment Light Infantry at Kurrachee. In the Edinburgh Gazette 28th March 1862, Edmund Guerin is recorded as a Lieutenant Colonel. Further information appears on the biographical details given at the sale of his medals.
His wife Louisa passed away on 26th June 1862 at the age of 47 and she was buried in All Souls Cemetery Kensal Green. The 1871 Census shows Edmund Guerin as living in Arreton Hampshire.
1881 The Census for Delamore not only shows the occupant as Edmund A Guerin but also shows Edmund Guerin's sister-in-law Mrs Augusta Mackworth and her daughter Fanny Mackworth. It records three servants including Mary Babbage, a housemaid who was born in Bishopsteignton.
Mary Jane Babbage
Mary Jane Babbage was born in April 1864 in Bishopsteignton. Her father Samuel was 42, and her mother Ann was 33. The family are recorded in West Town Cottages in the 1871 census when Mary Jane was six years old. As seen in the 1881 census above, Mary Jane is 16 years old and the youngest of three servants. A photograph from Fanny Mackworth's Album shows three servants in the grounds of Delamore with the Mackworth family. It is probable that one of the servants is Mary Jane.
The 1891 Census show Mary Jane living with her 71 year old father Samuel at West Town Cottages and her occupation is recorded as a Dressmaker.
Mackworth Family
1883 Kelly's Directory shows the occupants of Delamore as Colonel Edmund Arthur Guerin and his sister-in-law Mrs Augusta Mackworth and her daughter Fanny Mackworth.
Augusta Mackworth
Augusta was born in 1809 in Somerset and her father was Joseph Gilbert and her mother Matilda Anne Goefrel. Augusta married Arthur Francis John Mackworth in Mumbai, India in 1831. Arthur Mackworth was the son of Sir Digby Mackworth and Dame Jane Deere.
In 1834 their daughter Fanny was born while they were India. Sadly, just one year later Augusta's husband Arthur died of a fever aged just 31. In 1871 Augusta Mackworth and her daughter are recorded on the census in Arreton, Hampshire with Fanny Mackworth's Uncle Edmund Guerin.
1883 Edmund Guerin's sister-in-law Augusta Mackworth died aged 74. She had been a widow for almost 50 years.
1890 White's Directory shows the occupant as Colonel Edmund Arthur Guerin.
The photograph below is from Fanny Mackworth's photograph album and is most likely to be of her Uncle Edmund Guerin.
1891 The 1891 Census shows the occupants as Edmund Guerin, Fanny Mackworth and four servants.
1895 Colonel Edmund Guerin died aged 90.
1895 Kelly's Directory shows the occupant of Delamore as Fanny Augusta Mackworth who was Edmund Guerin's niece.
20th Century
Fanny Augusta Matilda Mackworth
Fanny was born in India in 1834 in Belgaum, Karnataka, India to Augusta Mary Gilbert and Arthur Francis John Mackworth who was the son of Lt. Col. Sir Digby Mackworth and Dame Jane Deere. Just one year after her birth, on 13th September 1835, Fanny's father Arthur died of fever in Belgaum when he was just 31 years old.
1897 Kelly's Directory shows the occupant as Miss F A Mackworth.
1901 Census – no record found
1902 Kelly's Directory does not show Delamore this year. It shows Miss Mackworth at The Gnoll.
1911 Fanny Mackworth is the occupant of Radway Villa in the 1911 census.
Fanny Mackworth lived in Bishopsteignton until her death in 1926 aged 92. A plaque recording her death and in memory of her father, his infant daughter and her mother, can be found in Bishopsteignton Church.
Another lasting legacy of Fanny Mackworth is a small photograph album. This provides a valuable photographic archive for the village.
Here are the photographs as they appear in the album.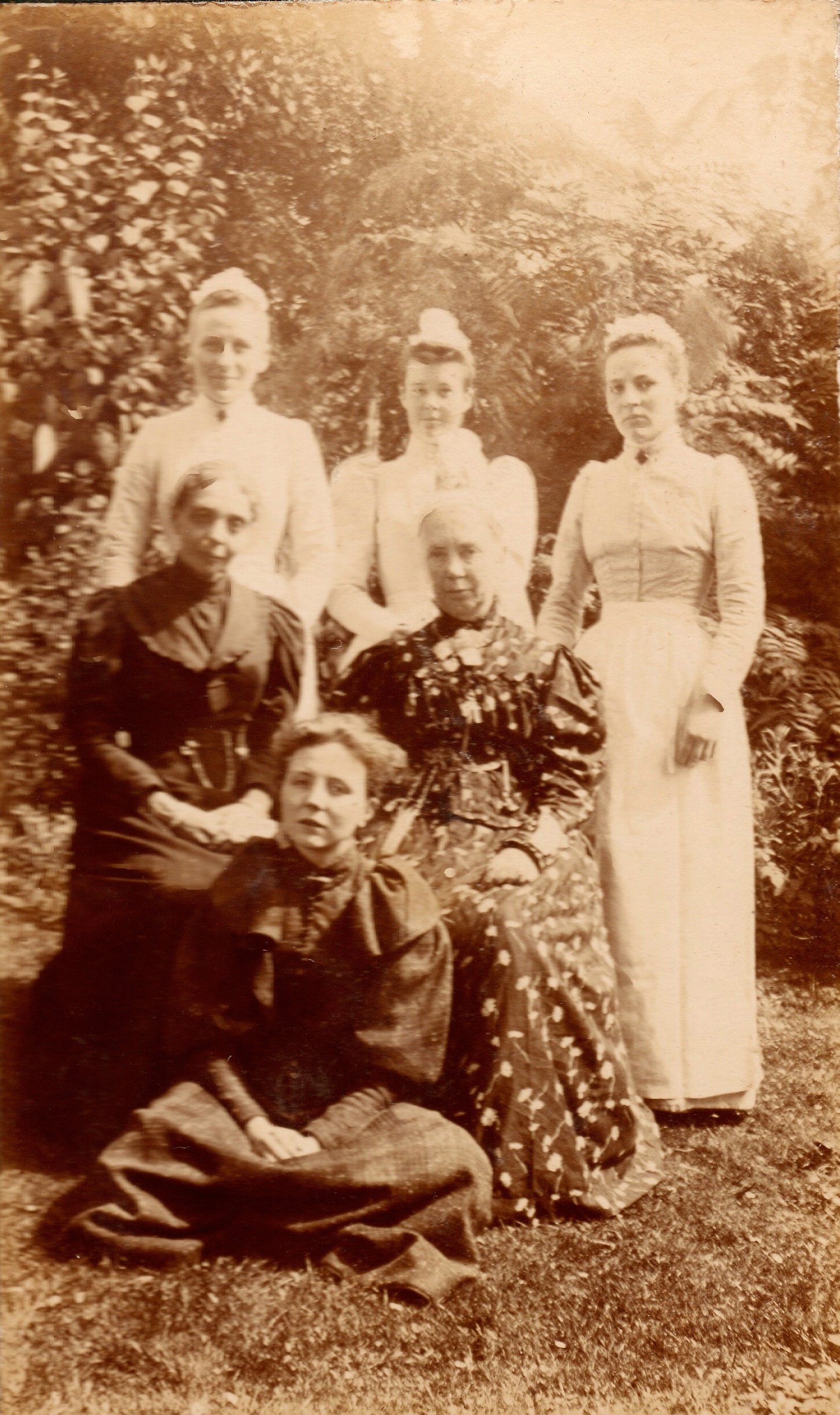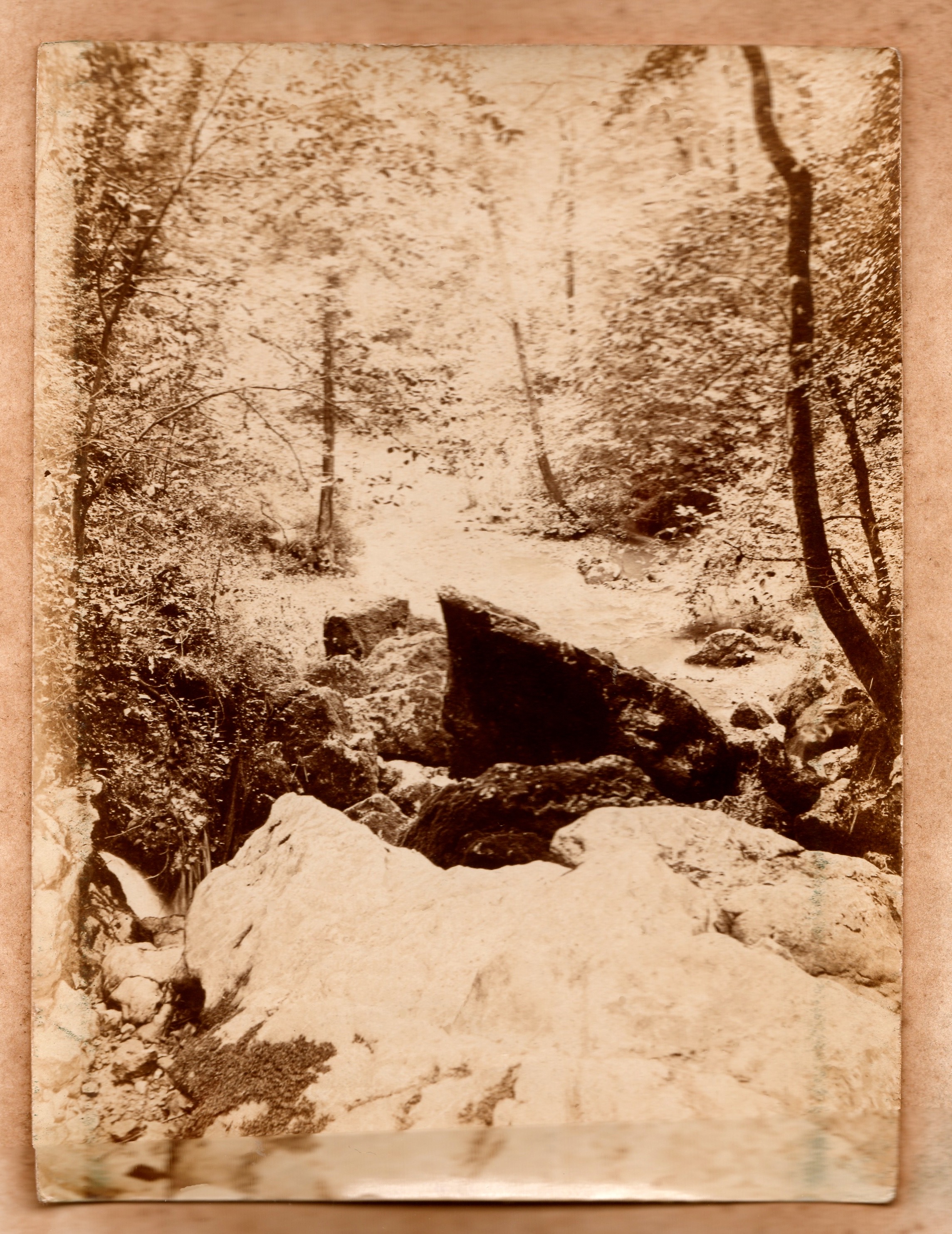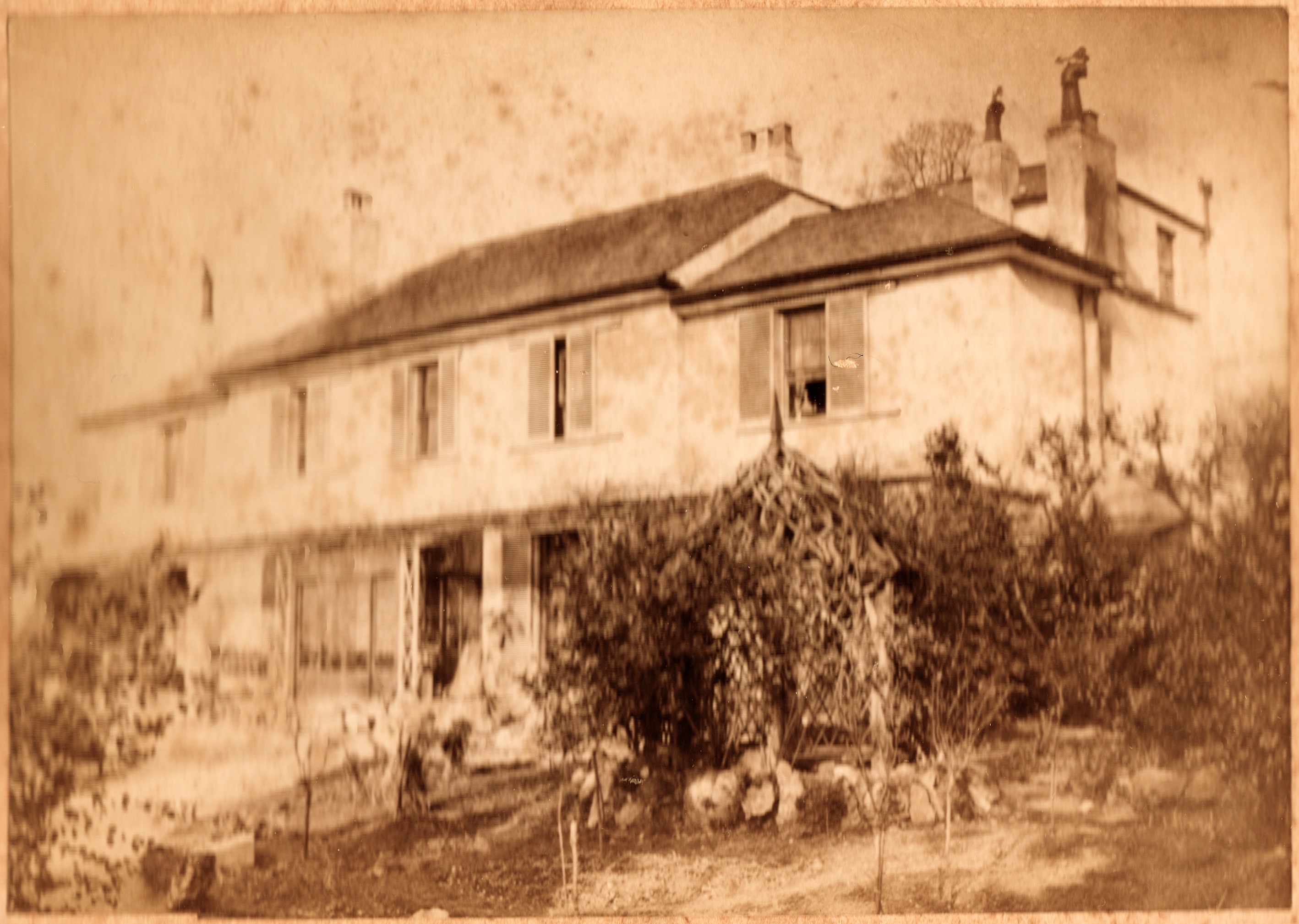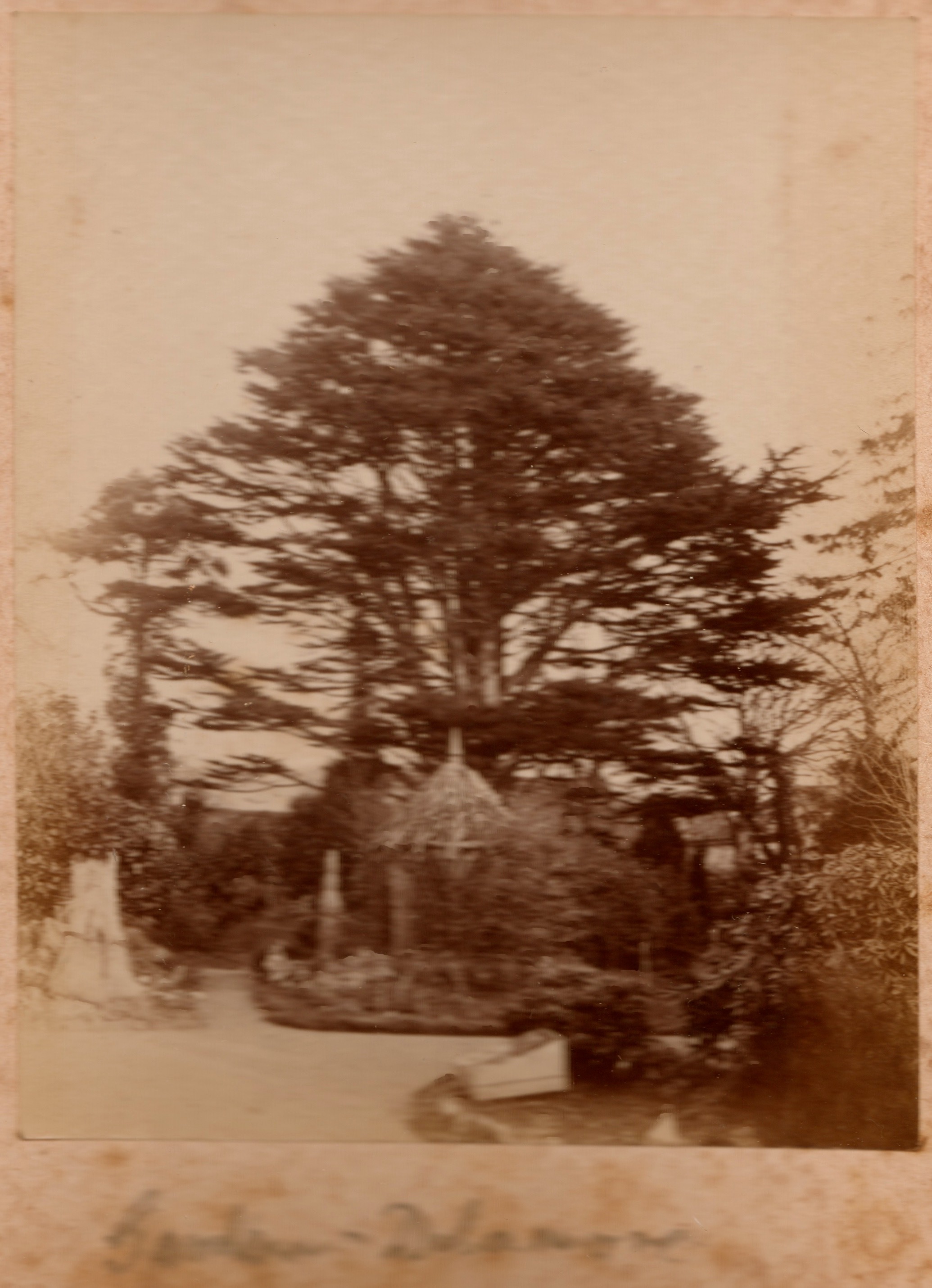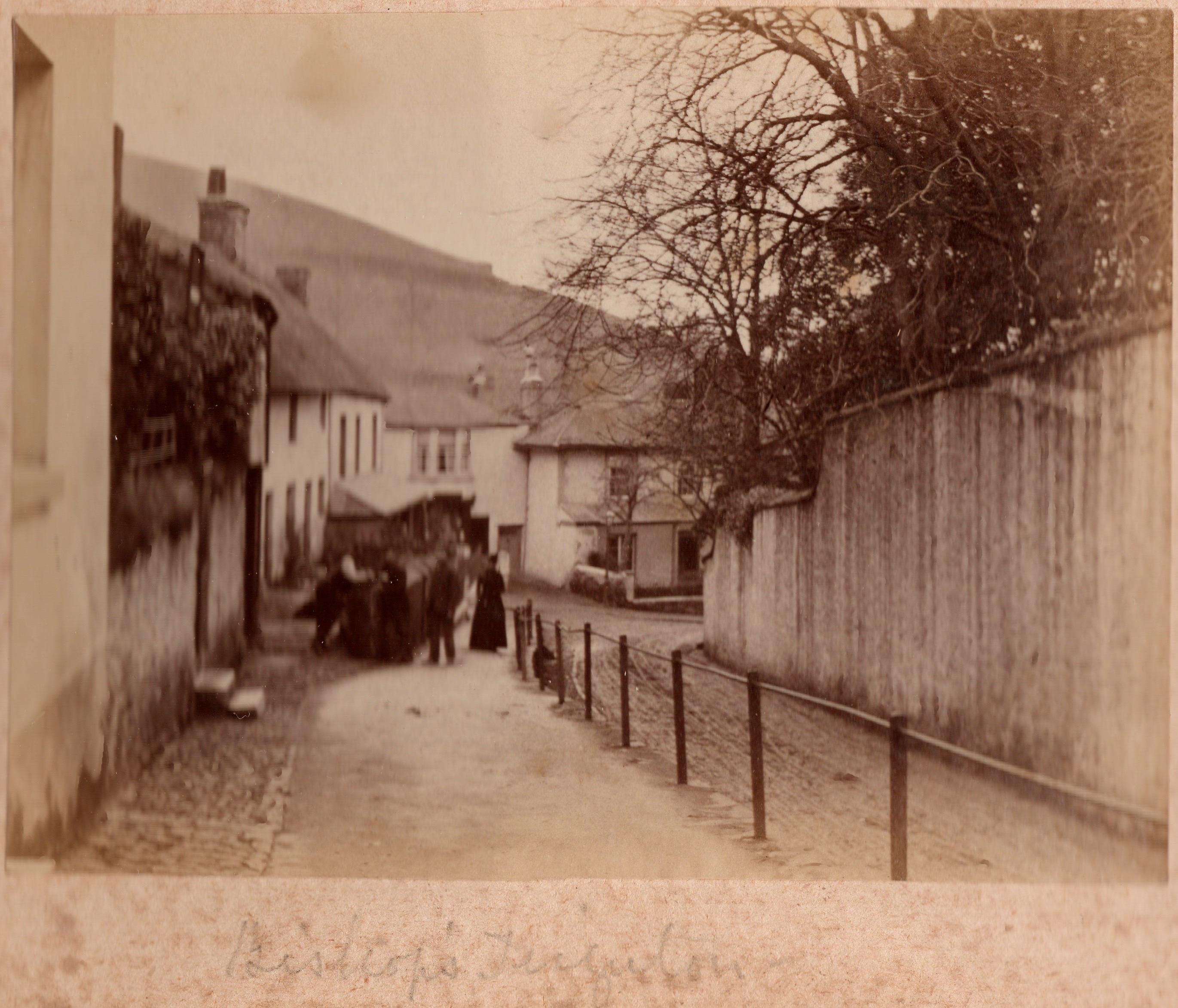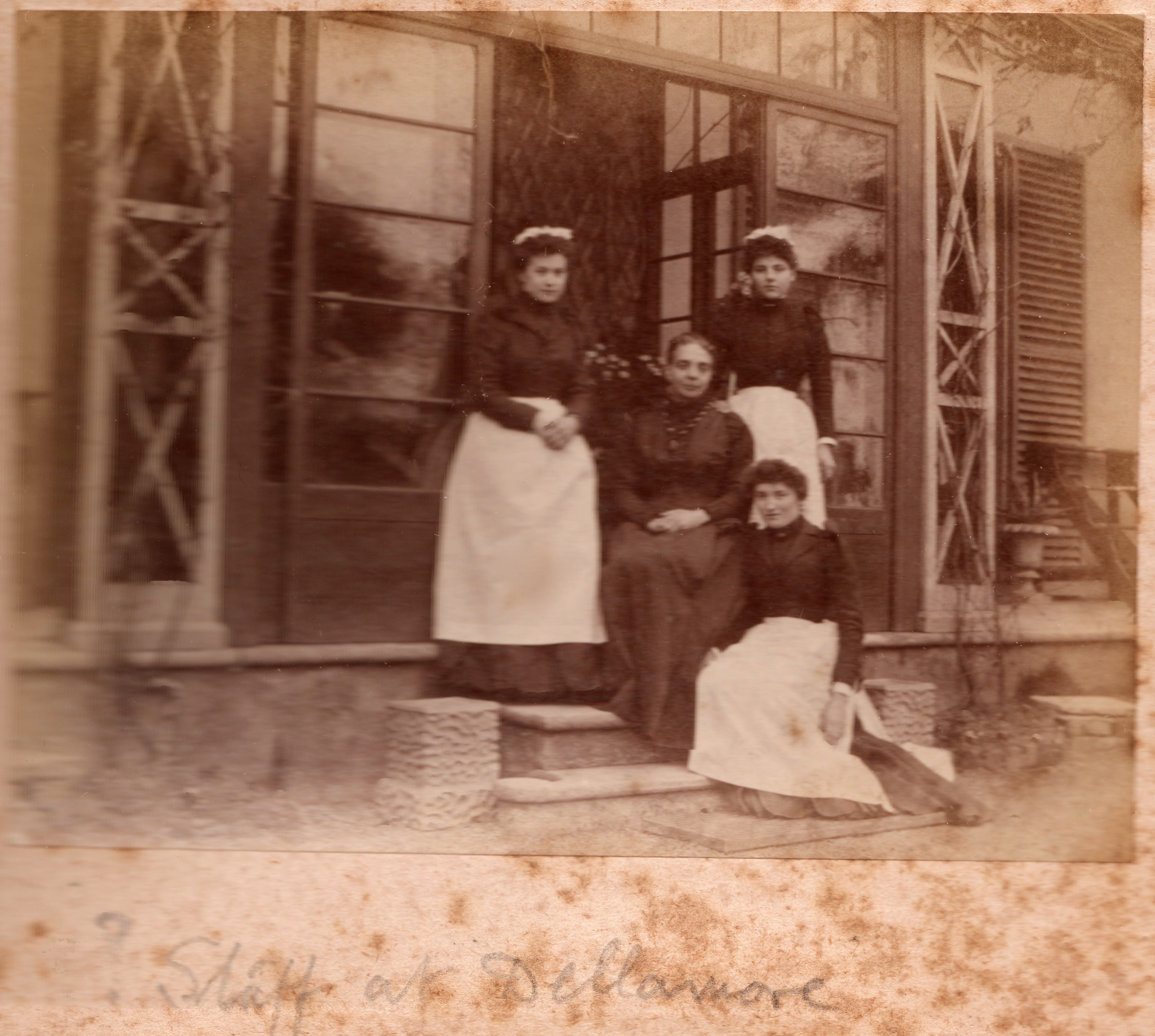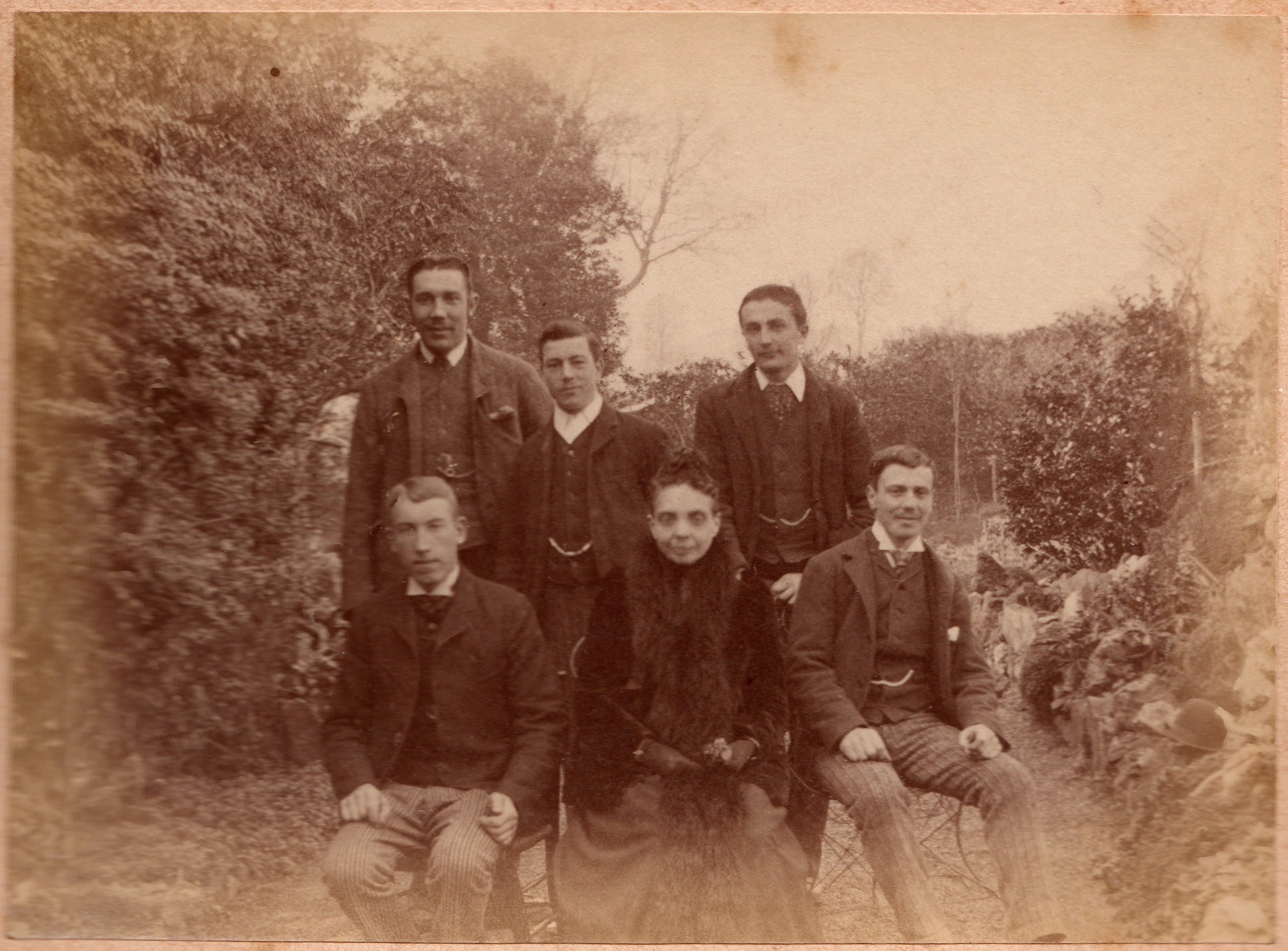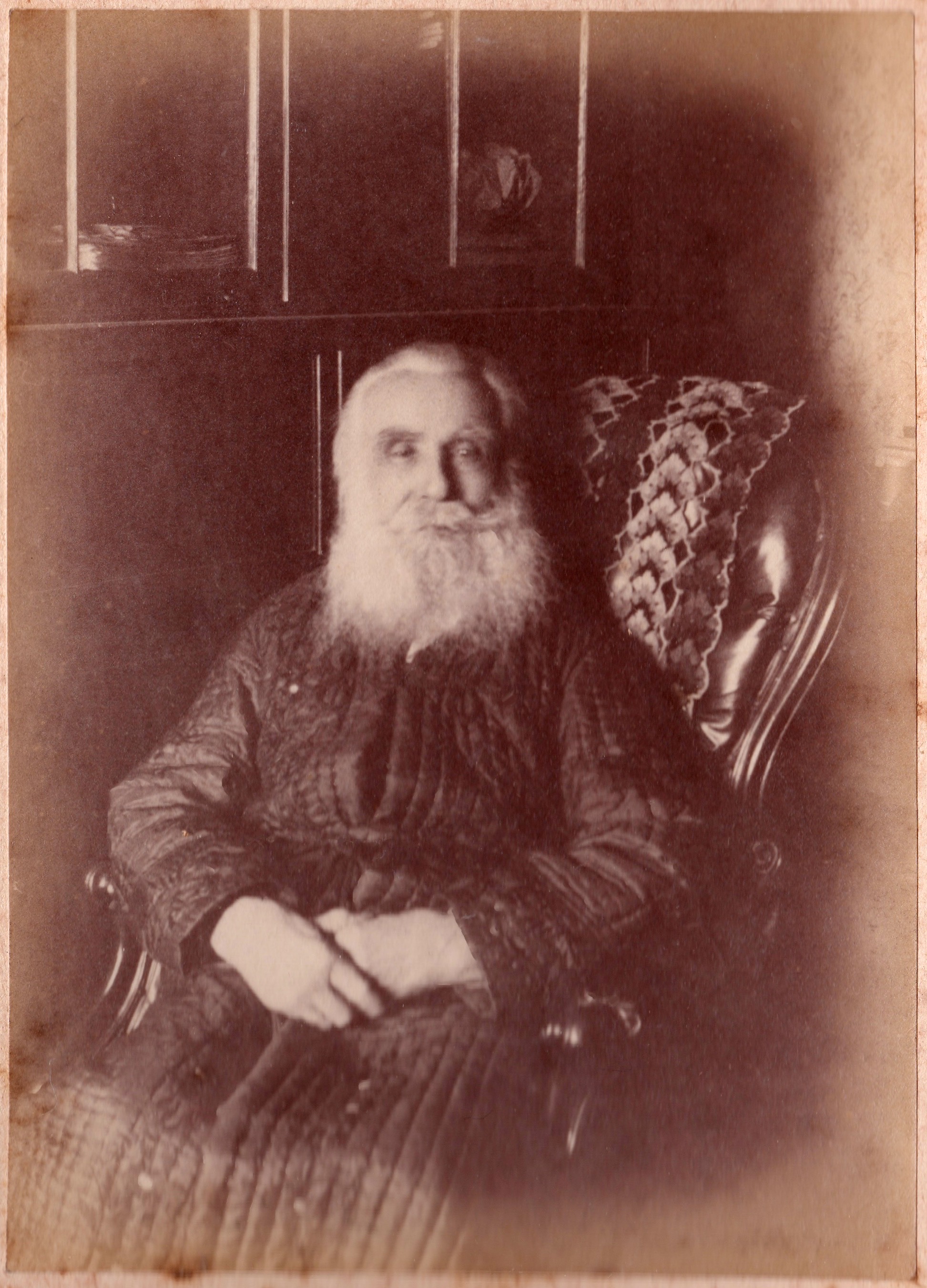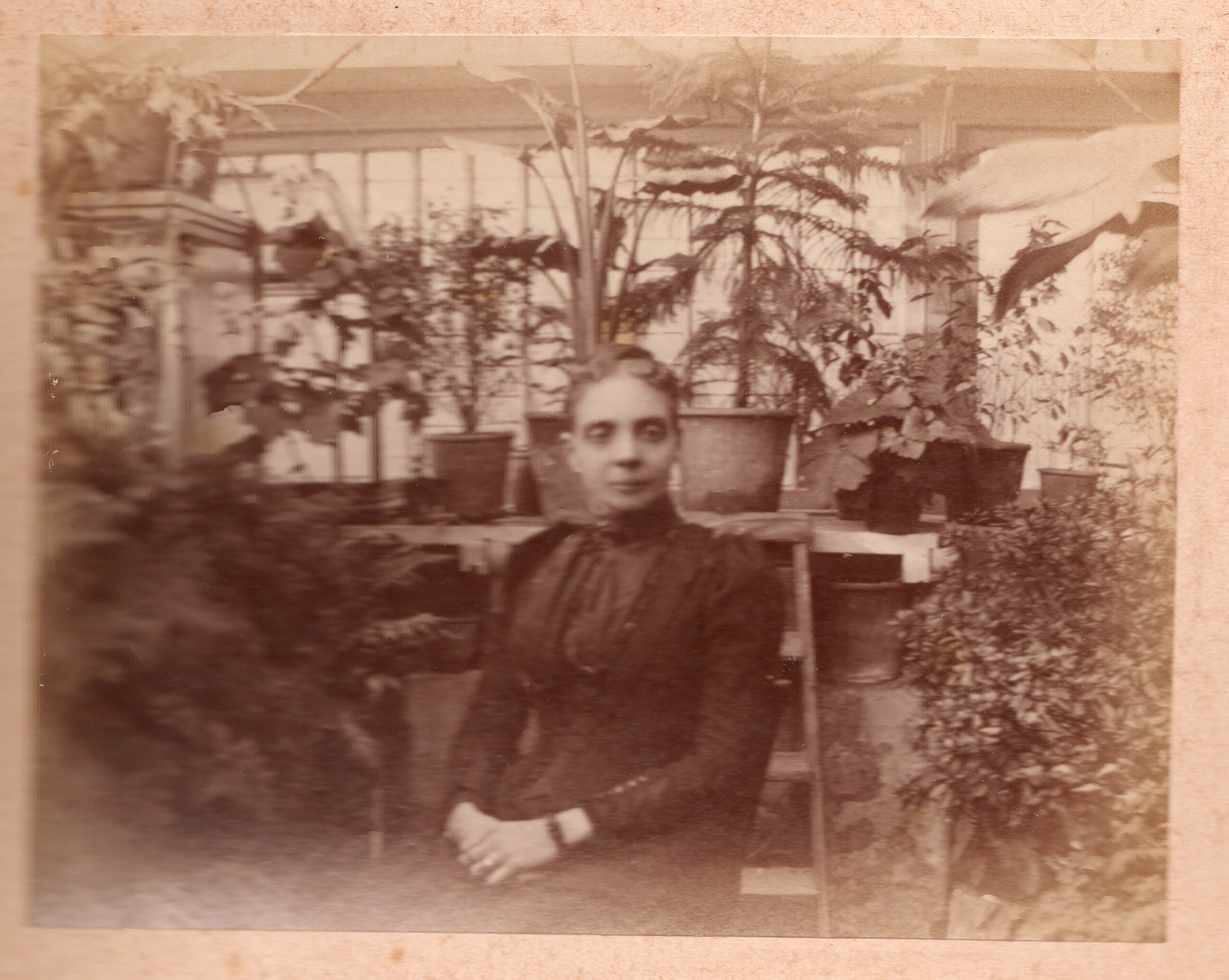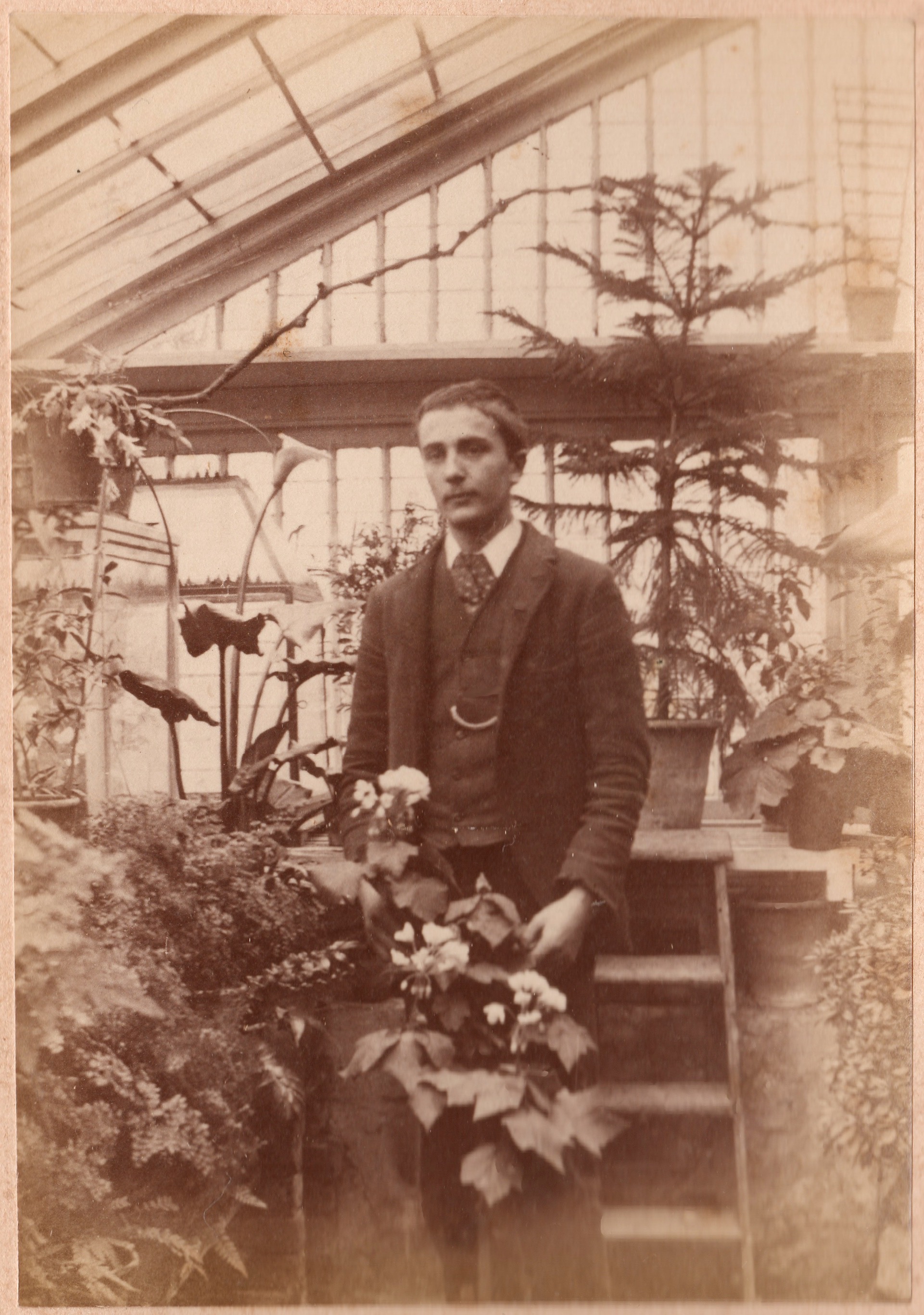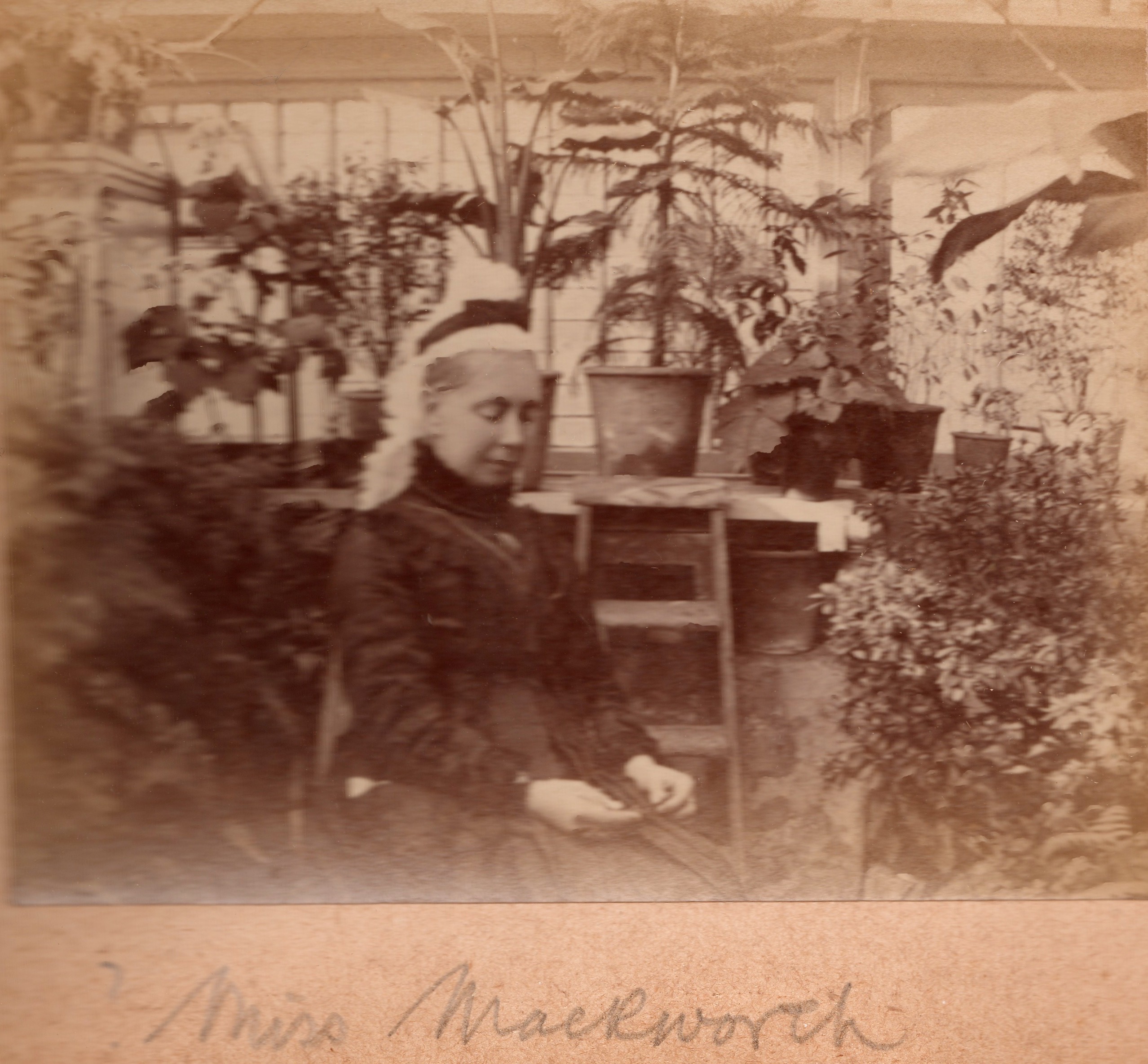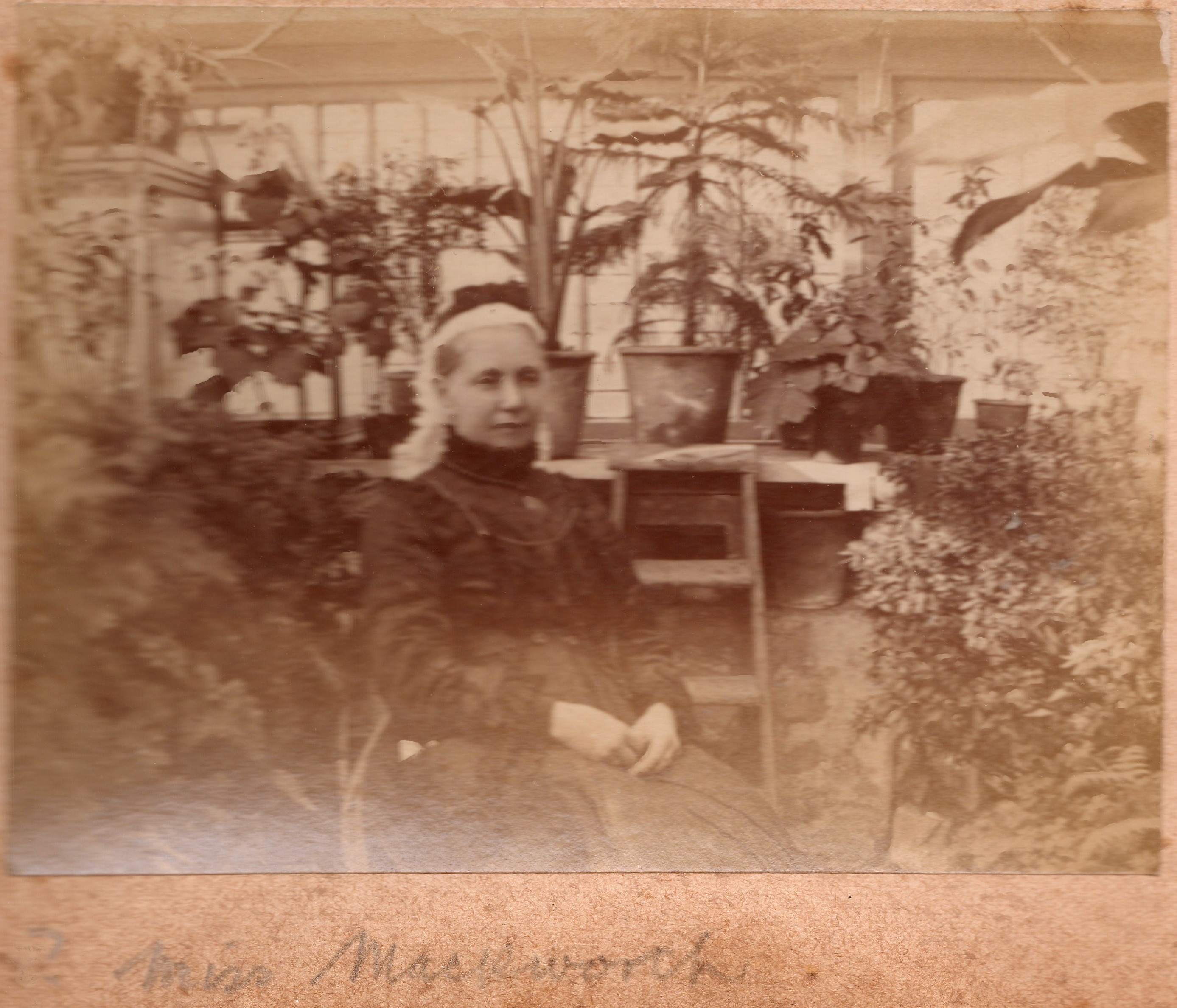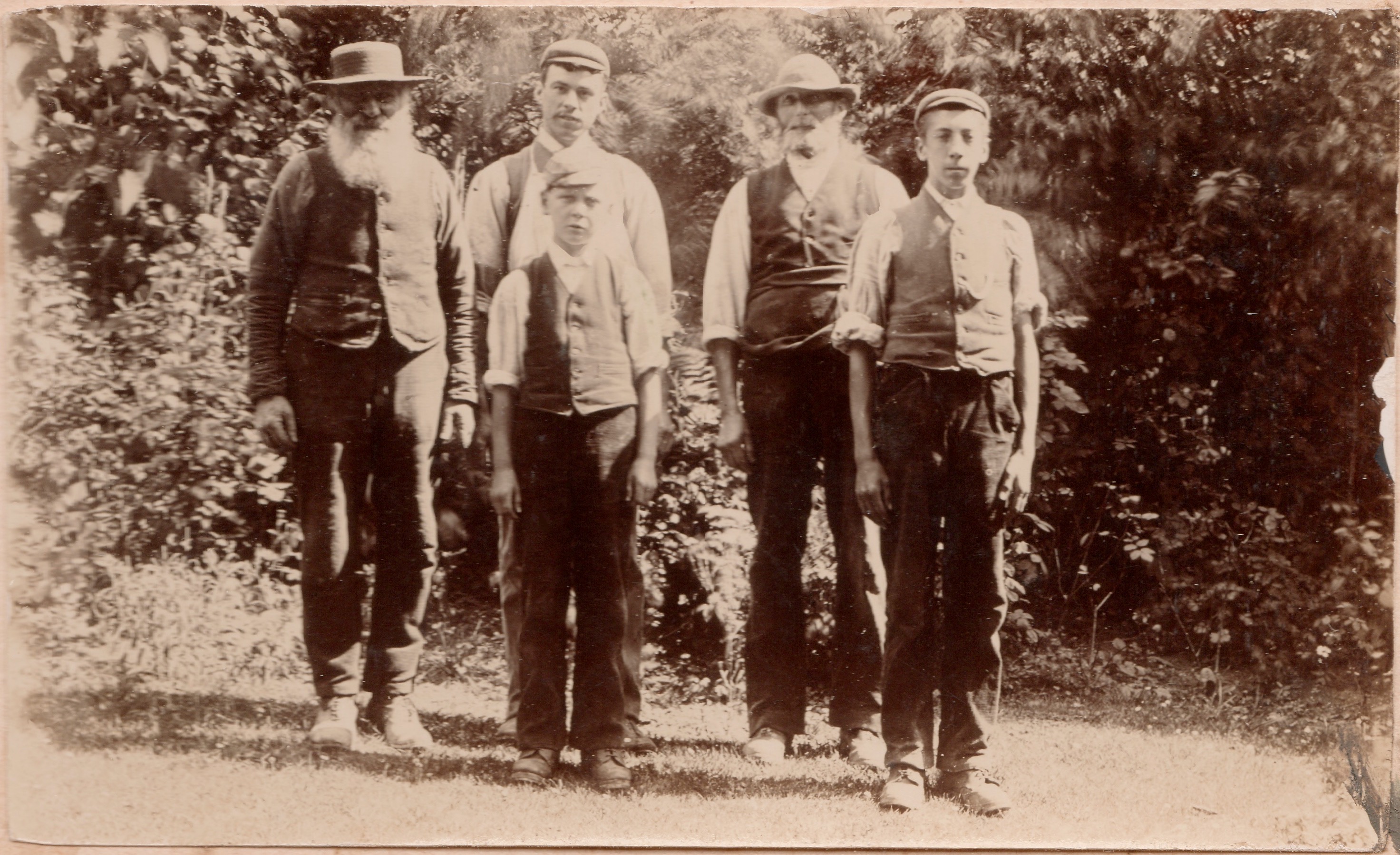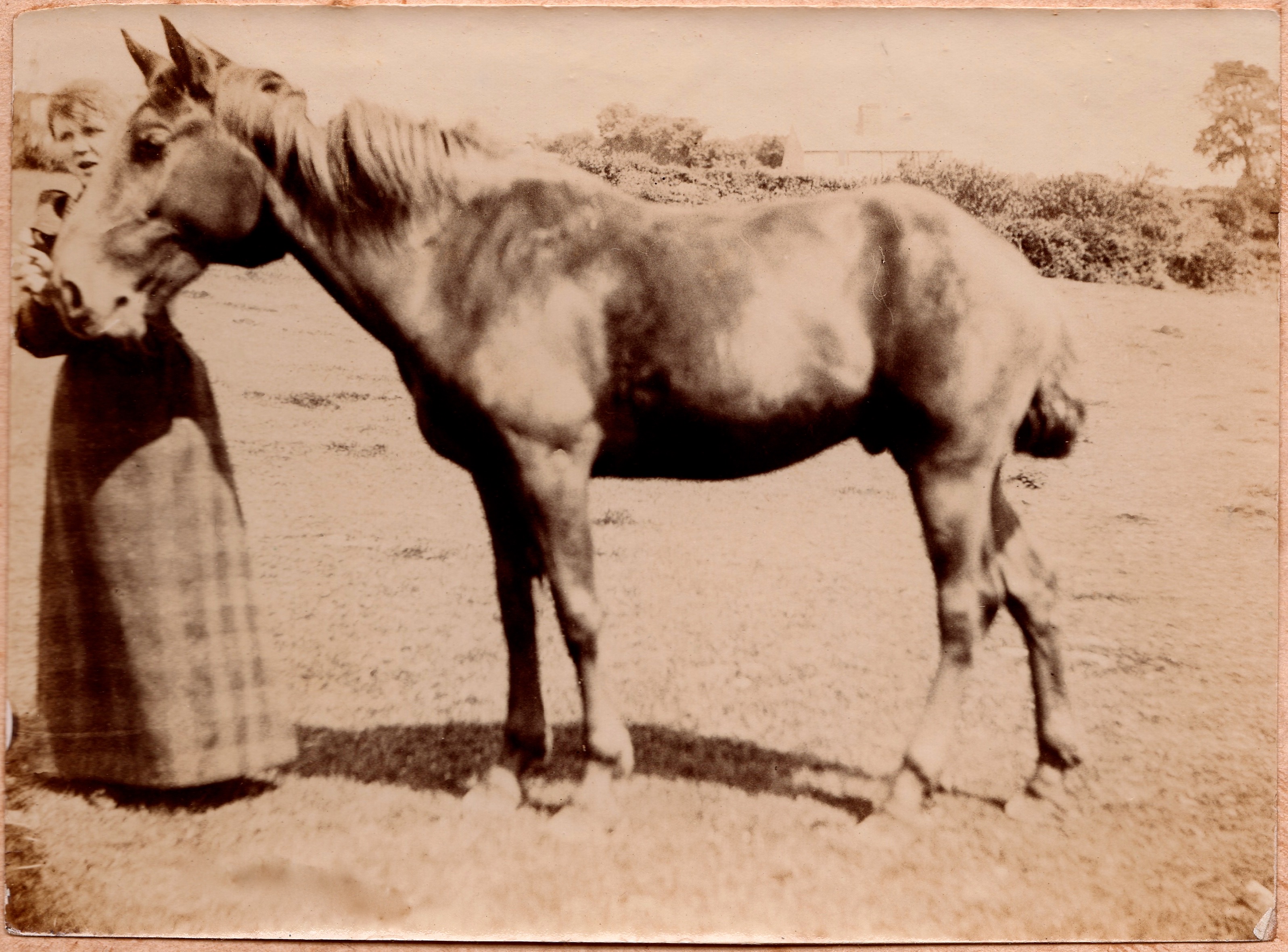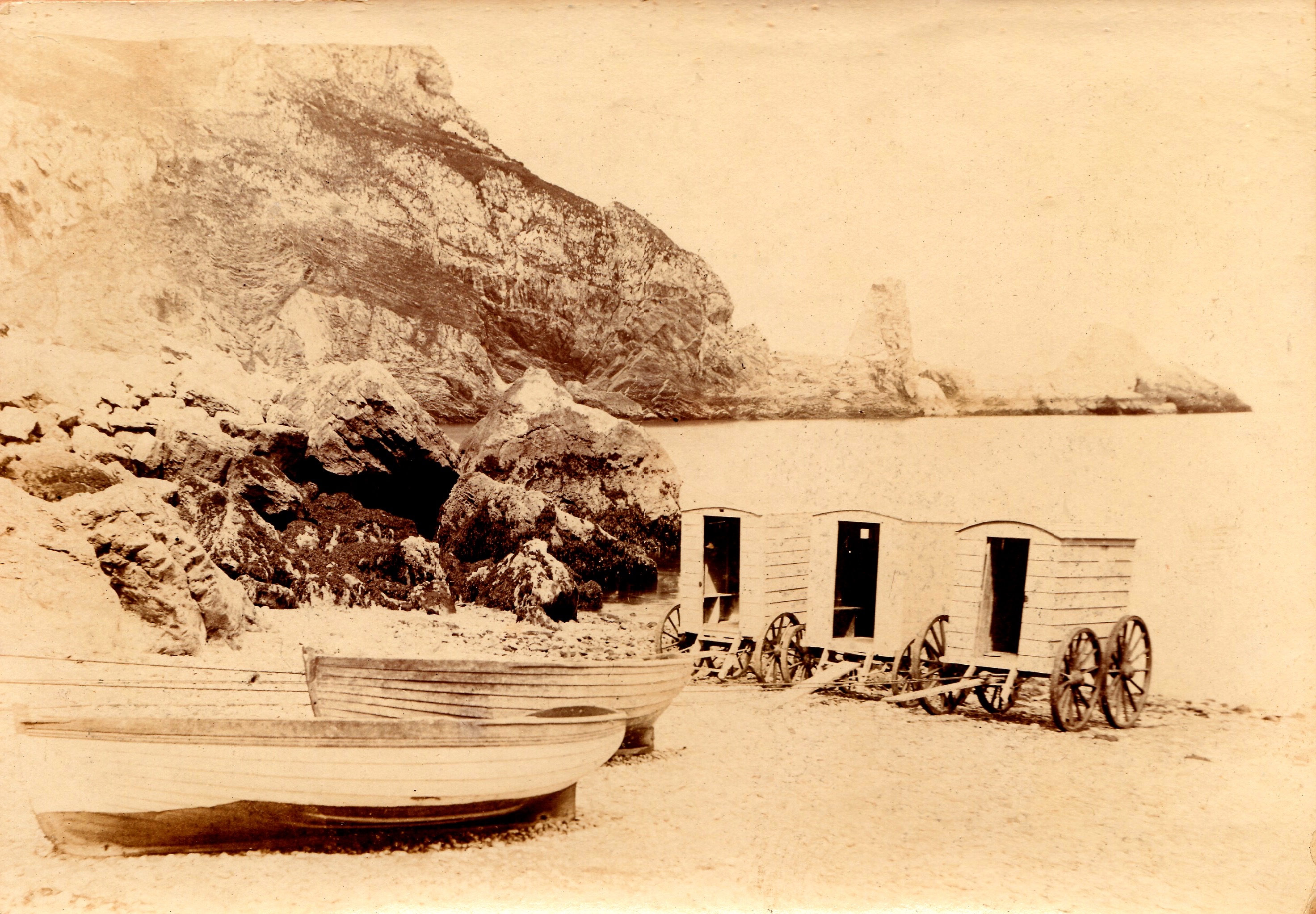 Bathing huts, Ansty's Cove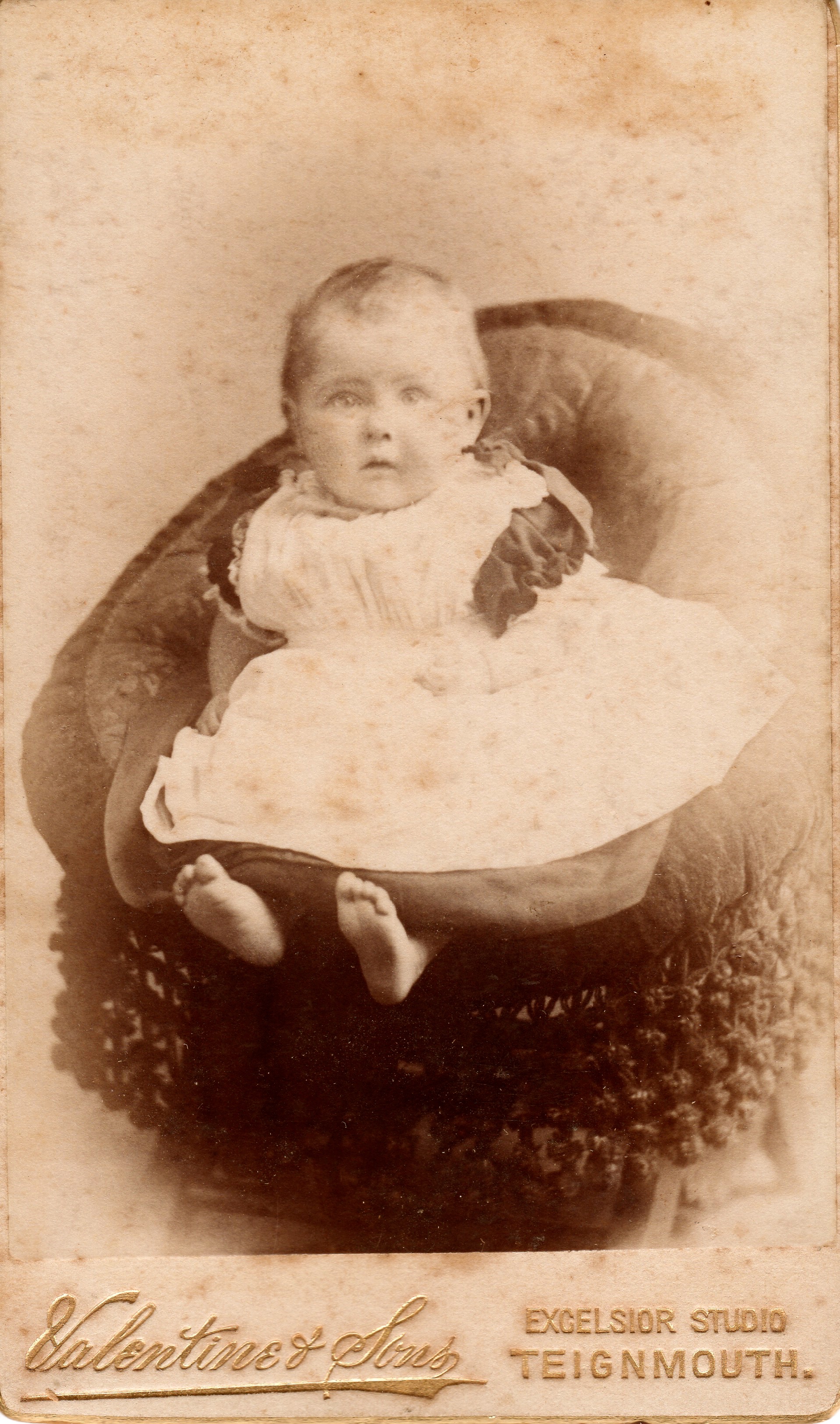 1911 The 1911 Census shows Christopher Hill as Dairyman at Delamore Dairy. Christopher Hill was born in 1868. His parents were David and Louisa Hill. This 1881 Census shows the Hill family at The Manor Inn on Fore Street.
Christopher Hill married Jessie Ann Downing in April 1891 when he was 23 years old. They are shown in the 1891 census as living on Fore Street.
In 1897 Christopher Hill's brother William died in Bishopsteignton aged 29 years old
The Kelly's Directory of Dairymen of 1910 shows Christopher John Hill at Delamore Dairy and the 1911 Census shows him and Jessie and their four children at Delamore Dairy.
Ancestry records show the Christopher's father David Hill died in 1890 and his mother Louisa Hill died in 1902. Their grave can be seen in Bishopsteignton Church.
Christopher John Hill died in 1944 in Totnes when he was 76 years old. Jessie died in 1955 in Totnes when she was 90 years old.
Thomson Family
1911 The 1911 Census shows the occupant of Delamore as Henry Fraser Braley-Thomson. He was born in 1875 in Stoke Newington, London. He is recorded on the census as aged 35 and as a Civil Engineer. Also recorded are his mother Helen Thomson aged 72, his sister Isabelle Thomson aged 48 and Adam Thomson a visitor aged 45. Also recorded are a niece and two servants one of whom is described as a Groom/Gardener.
1913 Henry-Braley-Thomson aged 37, married Agnes Jane Charles, aged 50 in January 1913 in Newton Abbot, Devon.
1916 Henry Braley-Fraser's mother Helen Thomson died 4th May 1916.
1919. Kelly's records Henry Fraser Braley-Thomson as resident at The Gnoll. It also shows Miss Thomson as resident at Delamore.
The 1911 Census record for Delamore shows Thomas Munto as a groom and one of the photographs from Fanny Mackworth's Album shows a lady with a horse. Could this be Isabelle Thomson who continued to live at Delamore after her brother moved to the Gnoll?
1923 Kelly's Directory records Henry Braley-Thomson at The Gnoll.
1931 Isabella Thomson died aged 68. She is recorded as a spinster and still living at Delamore.

1936 Agnes Jane Braley-Thomson died on 14th March 1936.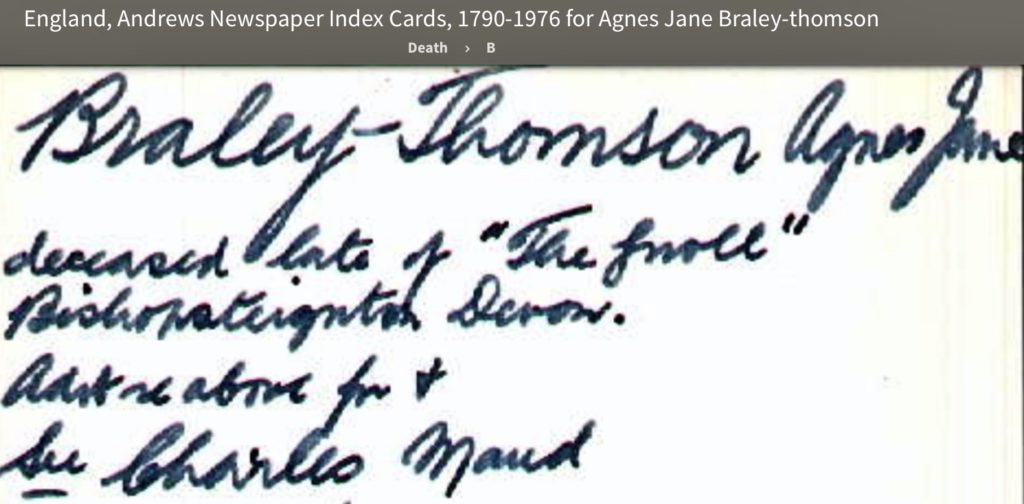 1939 Henry Fraser Braley-Thomson aged 75 was recorded on the 1939 Census as a widower, a retired civil engineer and living at The Gnoll.
1954 Henry Fraser Braley-Thomson died on 13th January 1954 when he was 78 years old.
To be continued………