This series of articles describe the history of Huntly from its construction as a private house in 1813, through its conversion to a hotel/hydro in 1878, sale to the Officers Association in 1949 and finally to its conversion back to private residences after 2012.
Huntly Hydro and Health Resort
Huntly Hydro and Health Resort - Used as a school?
Huntly Hydro and Health Resort - Offered for sale 1936
Huntly Hydro and Health Resort - Owned by the Feddens
Huntly Hydro and Health Resort - Who visited?
Part Two 1878-1949
Huntly Hydro and Health Resort.
For much of the period 1878 to 1949, Huntly operated as a hotel and health resort. Successive Kelly's directories list Charles Carpenter as the proprietor of a hydropathic establishment. Charles Frederick Carpenter (1842-1925) and his wife Mary (1846-1930), together with daughters Annie (1869-1940) and Florence (1875-1947) came to Huntly in 1878 to establish the hydro.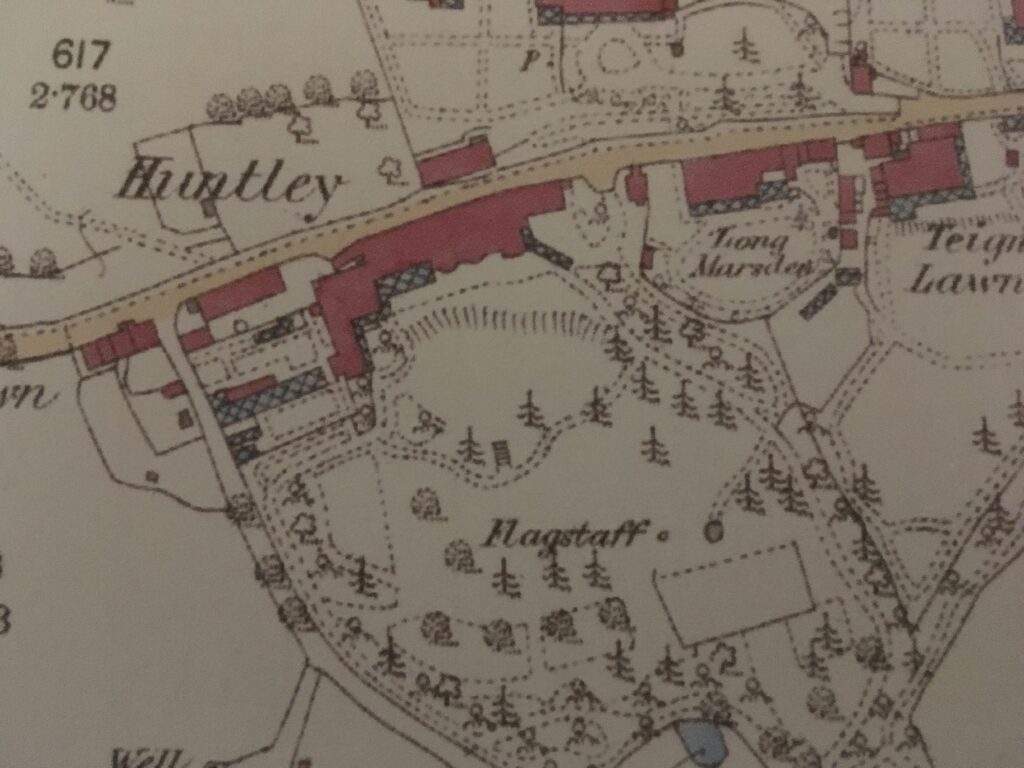 At some stage the buildings underwent significant expansion. An OS map published in 1888 shows the extensive buildings which largely remain in situ to this day. The original house is now flanked by buildings to both the west and east. It can be assumed that these were added by Charles Carpenter although it is possible that part of the extension to the east was added during the residence of the Wests to accommodate their large family. Huntly Lodge is very clearly in place adjacent to the entrance gates. To the west of the site are buildings which were probably the barns burned down in 2012 and replaced by new build homes. One feature of the property is the extensive range of conservatory type buildings. It is noted that the adjacent house Lendrick, at this time was known as Long Marsden.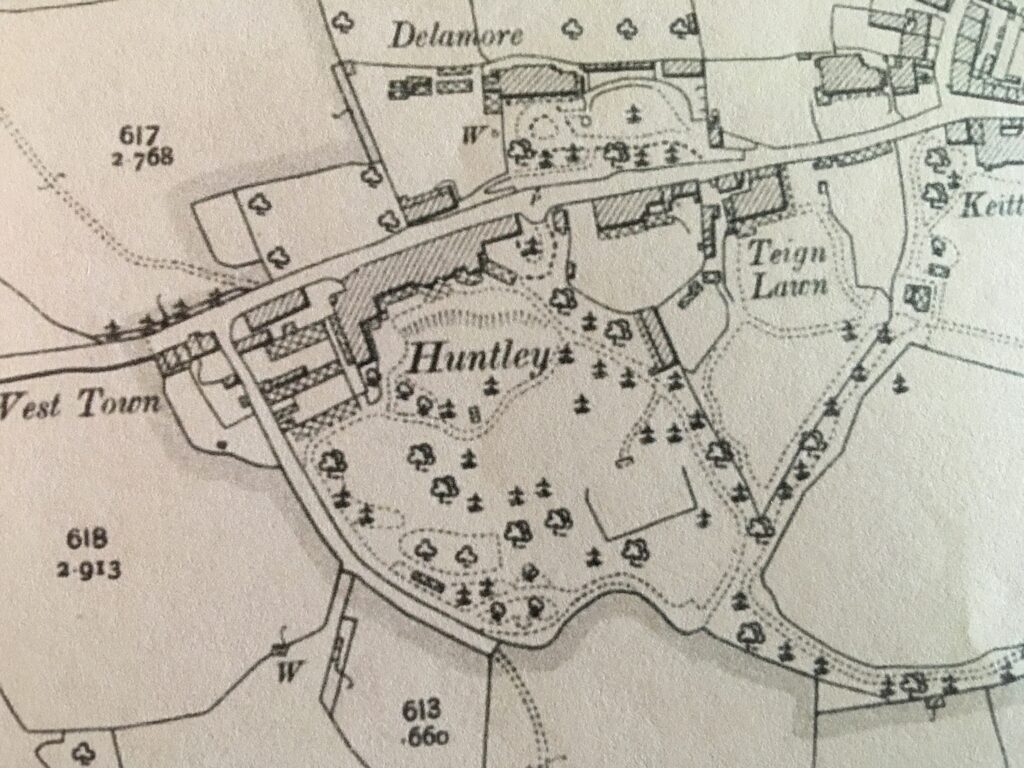 The 1904 Ordnance survey map shows further small changes. The principal change, since 1889, was the addition of a bungalow running along the eastern boundary and now forming part of Mulberry House. In addition there is now a further conservatory structure attached to the south side of what is now Beech House and is the only one which survives to this day. There is also a canopy marked in front of what is now Wysteria House. This is best illustrated in a post card dating back to the 1910s.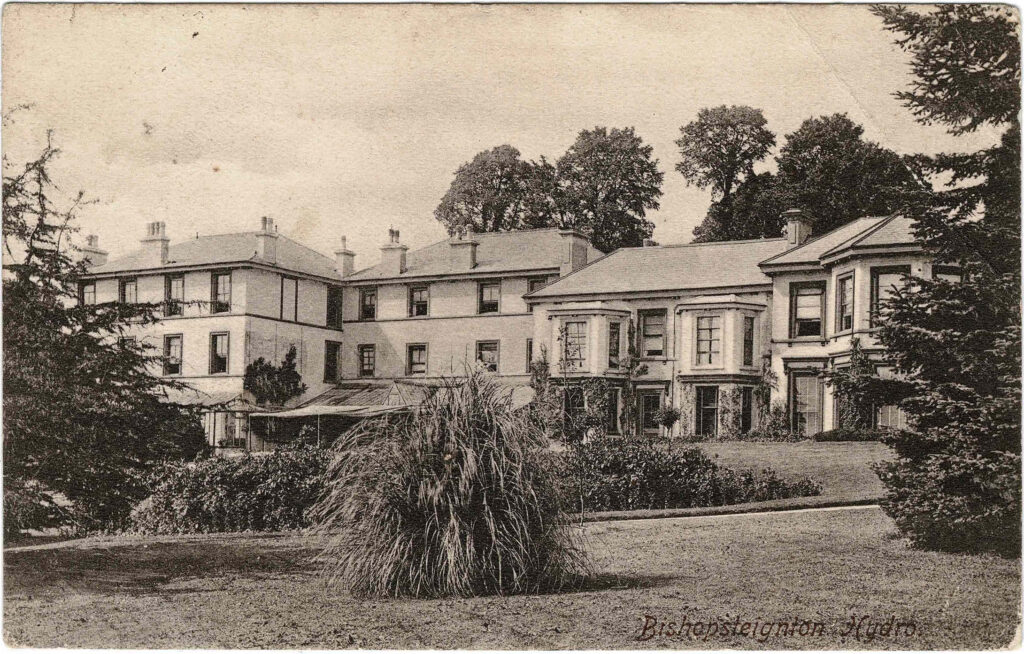 Census records for 1881 show the occupancy of the Huntly Health Resort. Headed by Charles and Mary Carpenter and 12 year old Annie and 5 year old Florence, the listing also includes staff including a waiter, 4 housemaids, 2 ladies maids and a bath attendant. It also includes 22 boarders with professions including a retired sugar planter, a timber merchant, a ship builder, a justice of the peace and alderman and a drapers assistant.
Clearly a successful establishment given the longevity of the business and the tenure by the Carpenters, the 1911 census gives further insights. By then the residents of 3 separate properties are listed. The Hydro itself, headed by Charles Carpenter, the Bungalow by Mr Green and the Lodge by Mr Lippett. Next door Lendrick (formerly Long Marsden) is shown with Mr Maclaren as the head of the household. By now Huntly itself has 15 males and 36 females in residence.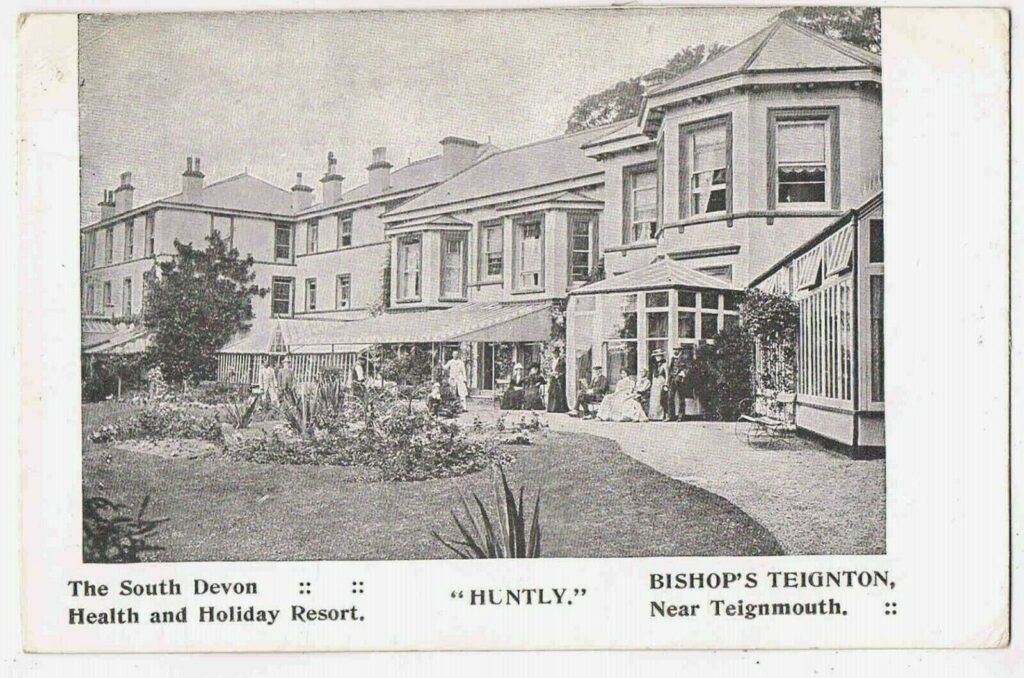 Messrs Green and Maclaren are important in the future of Huntly. !n 1896 Annie Carpenter had married Walford Davis Green (1869-1941) and in 1909 Florence Carpenter had married John Rayner Maclaren (1881-1947). Both married couples lived effectively on the Huntly estate and both daughters were to inherit Huntly on the deaths of their father and mother in 1925 and 1930 respectively.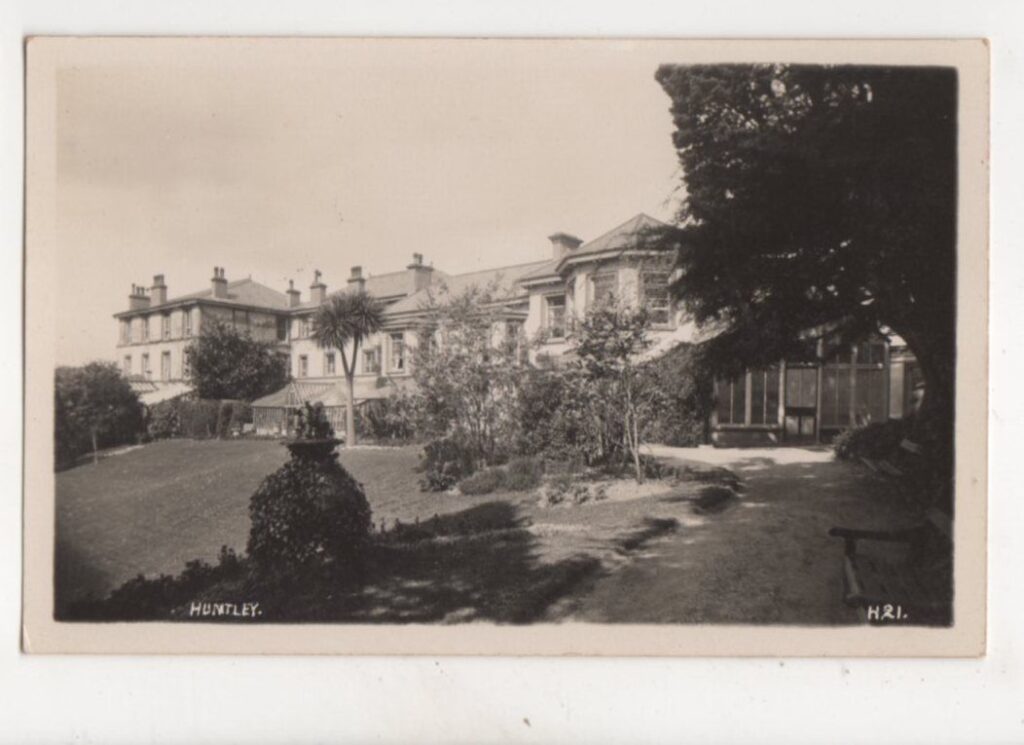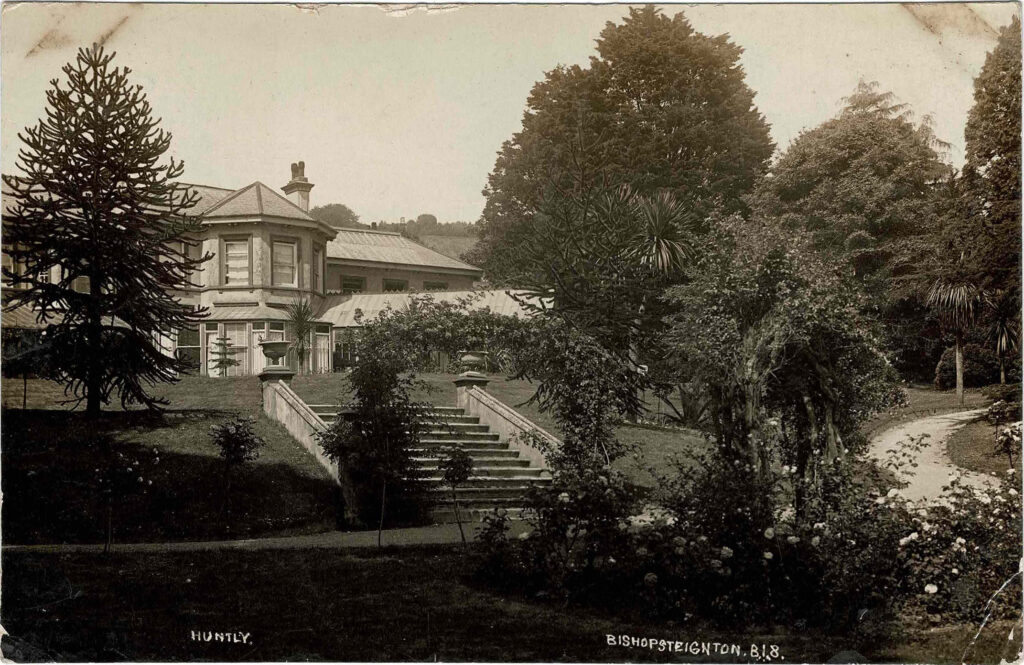 The Carpenters were strong Methodists. Charles Carpenter was founder of the Bishopsteignton Band of Hope and a plaque to the memory of Mary Carpenter was placed in the Methodist church in the village following her death. Also interesting is that the historian of Bishopsteignton, WD Cleland, came to Bishopsteignton answering an advert in the Methodist Recorder for a plumber, placed by Charles Carpenter. Walford Green, who married Annie was also the son of the Rev Walford Green formerly ex president to the Wesleyan Conference. The 1891 census coincidentally shows the Rev Walford Green and his wife as guests at Huntly some 5 years before their families were united by marriage.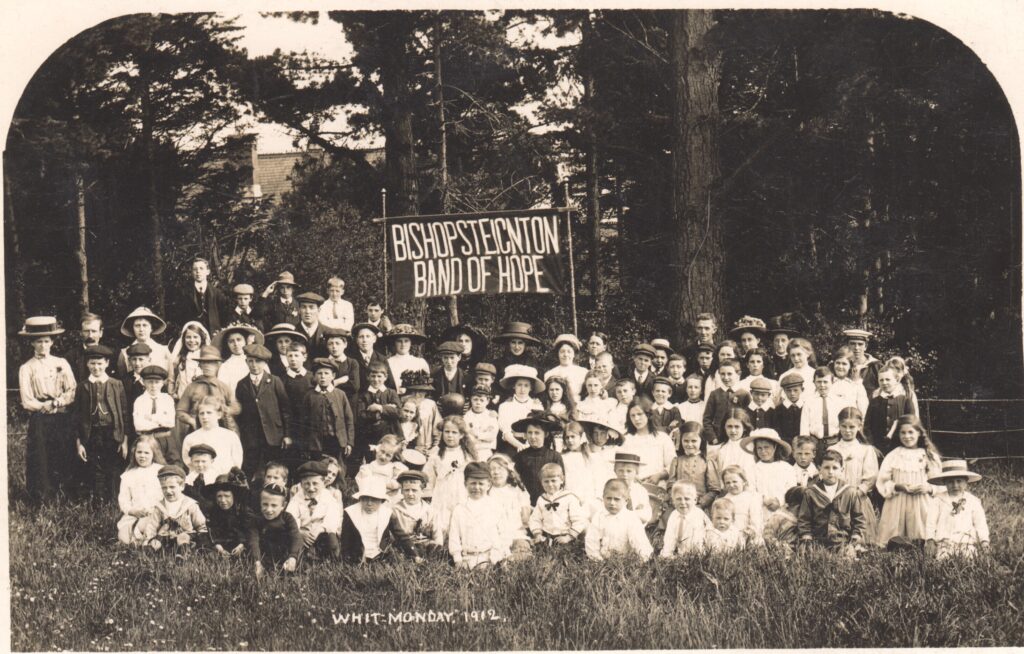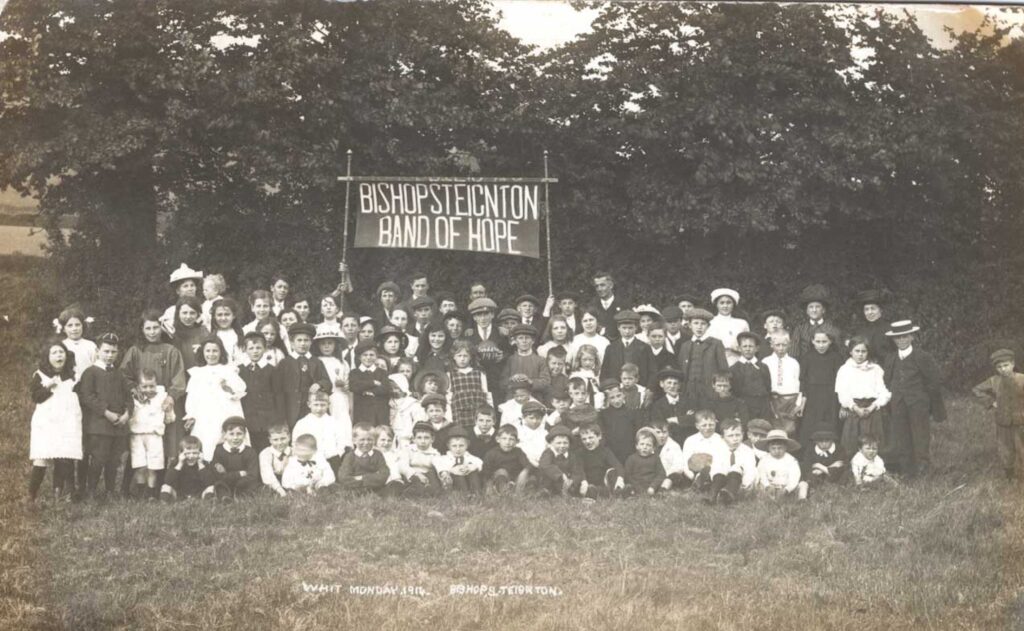 Educated at the Leys school and Cambridge University, Walford Green was called to the bar and was elected Unionist MP for Wednesbury in Staffordshire in 1895, shortly before his marriage. In the 1901 census he and Annie are recorded as living in Hanover Square London. Walford Green did not contest the 1906 General Election, apparently for health reasons, and sometime thereafter he and his wife came to live in Huntly.
Huntly Hydro and Health Resort – Used as a school?
John Rayner MacLaren was a scottish school teacher who established a preparatory school out of the former Long Marsden naming both school and house 'Lendrick' after a place in Scotland. The general impression of Huntly is that it remained a hotel or health spa until its sale to the Officers Association in 1949. However there is a brief history of Huntly, of unknown provenance but produced after 1950, which suggests that after Mr and Mrs Carpenter's deaths it was run as a school by the Greens and the MacLarens.
Oddly when the property is offered for auction in Newton Abbot in 1936 there is no mention of the school and the property is advertised as "A South Devon Hydro Private Hotel or Guest House" and "where many visitors, who have lived in the tropics, have found Huntly valuable as an intermediary state between the high temperatures to which they have been accustomed and the cooler airs which prevail in many parts of the home country". There are however two pieces of evidence which point to the school's existence at Huntly and not Lendrick.
In 1911 MacLaren is recorded as living in Lendrick. However Kellys directory shows that in 1924, 1931 and 1935 the occupiers of Lendrick were Walford Davis Green and his wife. Anecdotally it appears that MacLaren lived in Huntly Lodge and had moved out of Lendrick, which is at odds with Lendrick being the school. Huntly, though, continues to be shown in the various directories as a hydropathic establishment with Mrs Carpenter as the proprietor until her death in 1930. It is possible that the building continued as a hotel but was partly used by the school. Huntly was still advertised as a hotel in 1933.[1]
One piece of evidence however very firmly suggests the use of Huntly by the school.
In 1929 a Janet Henderson made arrangements for her son Hamish to become a border at Lendrick School "a small mixed preparatory school in Bishopsteignton". Hamish Henderson (1919-2002) went on to become a renowned Scottish poet, song writer and communist intellectual. In the years up to World War 2 he was a visiting student in Germany aiding German resistance and helping to rescue Jews. He was voted Scot of the year by Radio Scotland in 1983. Hamish described Maclaren as a "bluff and massive Scot with grizzled moustache and mischievous eyes". In 1930 the school apparently had 65 pupils and the school house in which Hamish boarded was called Huntly. The accommodation is described as consisting of "two large interconnected buildings, set amidst fine lawns and cedar tress looking out across the tidal estuary of the Teign". On Janet Henderson's death MacLaren became Hamish's legal guardian.
One experience at the school which coloured much of Hamish's later life was experiencing the death of a fellow pupil. "As Hamish slowly descended the banistered stairwell (from the landing of Huntly house) the front door opened and another master entered – carrying in his arms "the dead body of a boy killed by a Devon Red General Omnibus".[2]
Unfortunately census records are of no help in tracing the history of the hotel after 1911. The 1921 census has yet to be published and the 1931 census which could have thrown light on the school issue was destroyed in a fire during World War 2.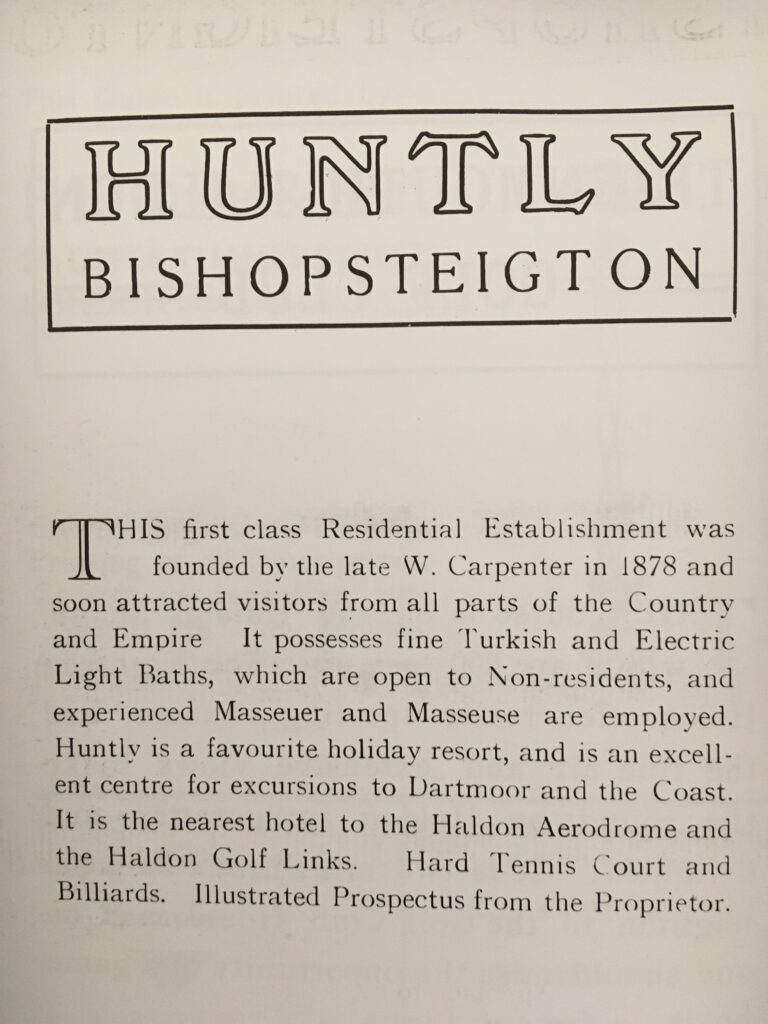 Huntly Hydro and Health Resort – Offered for sale 1936
In 1936 Huntly was offered for sale by auction on 11 June at the Globe Hotel Newton Abbot. The sales particulars[3] make fascinating reading and give the following information:
"A South Devon Hydro Hotel or Guest House" "established for more than 50 years.
The Tithe Rent is stated at £3pa, the Rateable Value at £275 and the Land Tax at £3 16s.
Completely equipped Turkish and Electric Light Baths.
17 Double bedrooms, 15 Single bedrooms, 3 Attic rooms, 6 Bathrooms, 11 separate WCs, Large Lofty Lounge (40ft by 20ft) used for occasional dances, Drawing Doom (20ft by 30ft), Writing room, Smoking room, full sized billiard table, 2 Conservatories / Sun Lounges and a Dining room which can seat 50-60 guests.
There is also a 4 room bungalow in the grounds described as a "Distinct and Delightful Dwelling".
The grounds comprise 4 ½ acres and include the "Finest conifers and eucalypus in the country".
The Western boundary is flanked by a 9-10ft lane which gives access to a walled kitchen garden described as "Productive and well stocked".
Huntly Hydro and Health Resort – Owned by the Feddens
By 1937 the property was in the hands of Mr and Mrs FJ Fedden. Intriguingly we have a letter dated 21 May 1937 addressed to F Jack Fedden at Huntly from a distant cousin, Roy Fedden, who writes "I have noted with considerable interest your venture at Huntly and remember the place quite well. I went there with my Father and Mother as a boy one easter some 30 to 35 years ago". This would have placed the visit between 1902 and 1907. Roy Fedden went onto be a renowned engineer who designed most of the piston aircraft engines built by the Bristol Engine Company. He was knighted in 1942.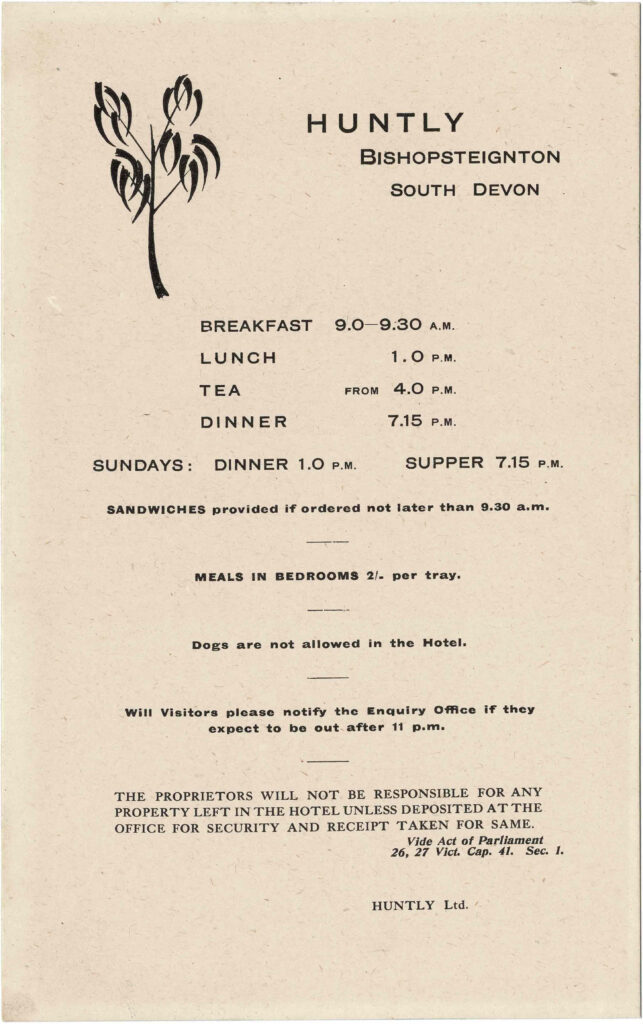 The 1939 Register, taken on 29/9/39 to facilitate the production of ID cards, lists Grace Fedden as hotel keeper. 22 individuals are listed as resident at Huntly, of whom 8 were connected with the running of the hotel. Additionally the Lodge now lists members of the Wright family who were hotel employees, James (aged 29) listed as a chauffeur and Andrew (aged 59), presumably James' father, as Head Gardener. The Bungalow also shows Thomas Branch and his wife with Thomas listed as a General farm Worker.[4]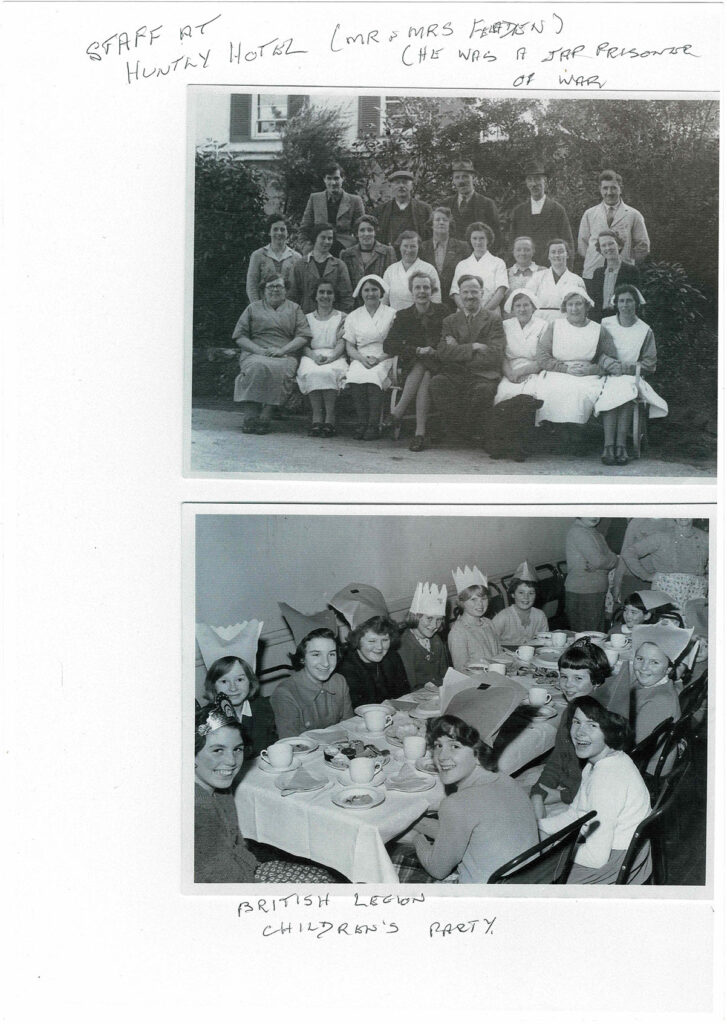 The Feddens left Huntly on its sale to the Officers Association in 1949. Jack Fedden lived to the age of 95, dying in Yeovil in 1996. His wife, Grace, unfortunately passed away in 1956. Their son Bryant (1930-2004) was a well known sculptor and glass engraver.
Huntly Hydro and Health Resort – Who visited?
We know something of those who stayed at Huntly whilst a hotel. It is believed that both Noel Coward and Somerset-Maugham have stayed at the hotel but there is firmer evidence of three other individuals. The Hollywood actress Lillian Gish's visit to Huntly in the 1920s is described in some detail by Philip Gourd. She apparently travelled from the station in an open top car and wandered around the grounds at one point asking the young Gourd where the nearest toilet was. Gourd also records that George Arliss (1868-1946), the first Englishman to win a best actor Oscar in 1927 was a frequent visitor and had the use of a suite at Huntly. His visits to Huntly and Bishopsteignton may be attributable to the fact another resident of the village was Louis Napoleon Parker, a playwright, who wrote the play Disraeli, with the lead role being taken on both stage and film by Arliss. The film version won Arliss his Oscar. Parker died at Inverteign in 1944. Gourd also records a visit by a Caterina Irene Elena Maria Imperiali dei Principi di Francavilla, together with her sister Maragrita and her mother. Whilst at Huntly she reputedly met Richard Boyle, married him in 1948 and became better known to the UK public as Katie Boyle.
References and credits
1. Cleland's Short History and Guide to Bishopsteignton published in 1933 includes the advertisment and makes no mention whatsoever of Lendrick School.
2.All extracts from Hamish Henderson – The Making of the Poet by Timothy Neat.
3. The sales particulars state that the investigation of title on the property shall commence with a conveyance for sale dated 29/9/1880 between John Wills and Charles Frederick Carpenter.  This is worthy of further research as it may throw further light on the transfer of ownership from George West to Elizabeth Hole and then Charles Carpenter or potentially reflect the disposal of other pieces of land throughout the village.
4 Anecdotally it appears that Huntly was used as an Officers Mess during the second world war.  Further research is required in this area.
There is significant evidence in archives held by Bishopsteignton Heritage on the use of the grounds of Huntly during its time as an Officers Home.  This includes use by the Royal British Legion and the running of summer fetes.  A section on this will be added in due course to this document.