A short Local History of Nursing During WWII
Nursing in Bishopsteignton in WWII
In the National Register that was taken in 1939 there are several nurses mentioned as living in the village and we can only presume that there continued to be some living and serving the people of the village during the war years – delivering babies and  tending to the sick of the village as well as caring for any members of the forces who may been injured and returned to their village homes.
The local hospital was in Teignmouth so was very nearby  when  needed.  We  know that that Teignmouth Hospital was bombed in 1941 and several people were killed including some nurses, and it was then forced to relocate temporarily to Hermosa House. It was  ultimately  rebuilt thirteen years later, opening in 1954 making it the first complete general hospital in the UK to be built after the formation of the National Health Service.  We also know that Newton Abbot Station was bombed in 1940 so the war would have been very apparent to the residents of the Parish with aircraft regularly been seen in the skies. Added to this in the autumn of 1943 the US Army arrived at their nearly constructed, and considered to be very modern and well equipped, hospital at "Camp Stover" between Newton Abbot and Bovey Tracey.
The US Army considered it important to have a hospital in this area to tend to its troops. Devon was an area involved in massive invasion manoeuvres and nearby Plymouth and Torquay were sites of bombing. Camp Stover was to be labelled one of the finest medical  installations in England to become a US Hospital. Read all about it here;
 316th Station Hospital – WW2 US Medical Research Centre
The Army Nurse Corps – WW2 US Medical Research Centre
Nursing in the village of Bishopsteignton at this time would have largely comprised of what we now think of as District or Community Nurses largely caring for people in their homes supported by family members. At the beginning of WWII so many nurses volunteered for active service that in 1943 the Control of Engagement Order was introduced to stop District Nurses from leaving their posts as it was, and still is considered, to be a vital role to make sure the local community is fit and well. We still believe that when possible people should be nursed at home. There are lots of records from the  nurses that worked in the forces and in the cities in the UK but very little is written  about the nurses working in rural areas except they were just as vital for the people of the UK. The community of Bishopsteignton during WWII would have comprised of farmers, tradespeople, professionals and their families so accidents and illness would have occurred. Whilst we know there was a doctor called Rosaleen Cooper, who is believed to have tended wounded troops billeted in the village between the wars, she does not appear to have lived in the village for the whole duration of WWII, so the nurse may well have been the first person called if there was a problem or accident.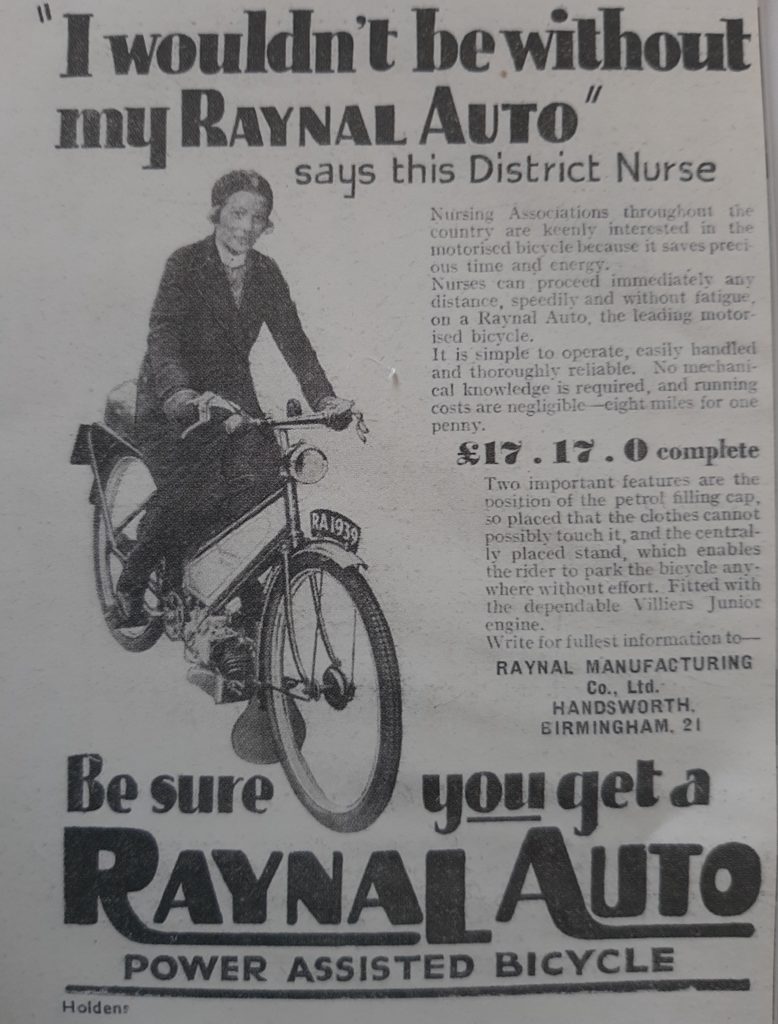 Further information can be found here:
The District Nurses would have used bicycles to get around and they would not have had lights on their bikes as these were banned during the war years as they could be seen potentially by the "enemy" but they wore luminous armbands with the word Nurse on them. They would have worn a uniform of a dress, starched apron, hat and in the winter a coat so they could be recognised by all. They would have had to do treating minor injuries,  wound dressings, injections, and general health checks of people of all ages. They may well have had to act as midwife and health visitor too plus were involved with the settling in of any evacuees to the area. There were not a huge number of drugs available at the time to treat illnesses so it was important to recognise problems very early in order to treat with what you did have – this may well have involved using poultices and remedies made from plants growing in the garden or hedgerows such as rose hip syrup and nettle tea, plants that were often collected by the Women's Institute during the war years.
See our article about the Bishopsteignton Women's Institute here: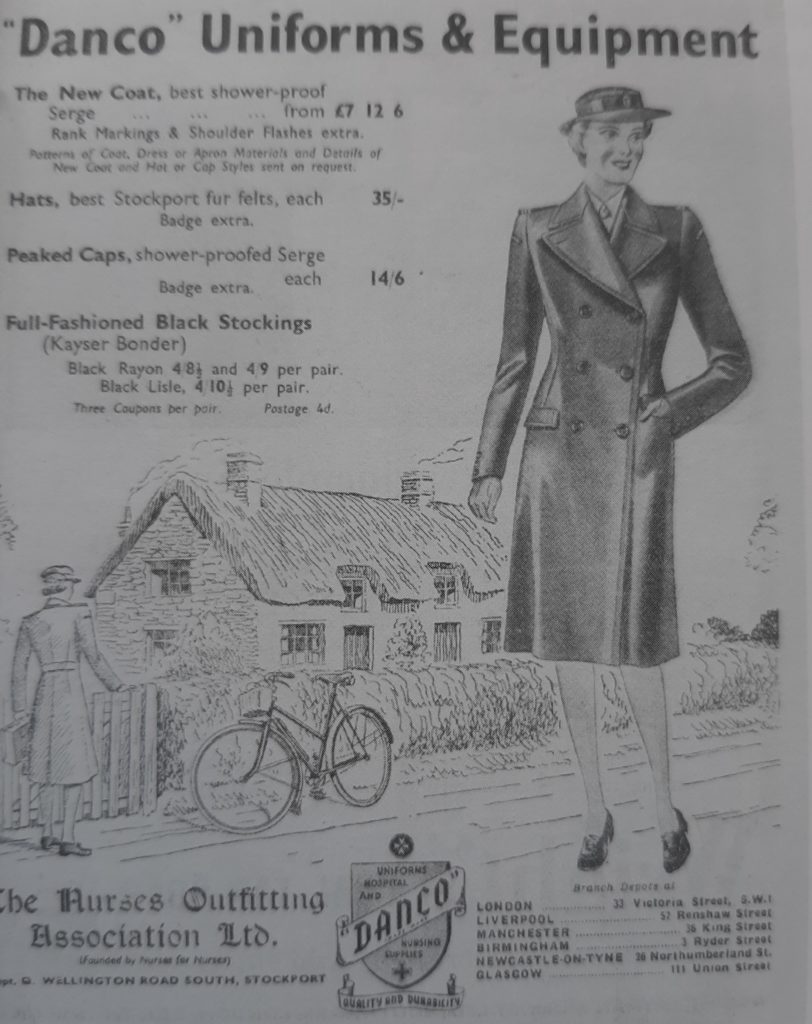 The nurses would have been very well respected by the everyone and this continued long after the war as they were considered to have such a vital role.
References and credits
Photo advertisements from Nurses and Nursing by Dr. Susan Cohen, published by Amberley Publishing, 2019.