A press release to mark the unveiling of the new parish boundary stone, issued by Christopher Grimshaw.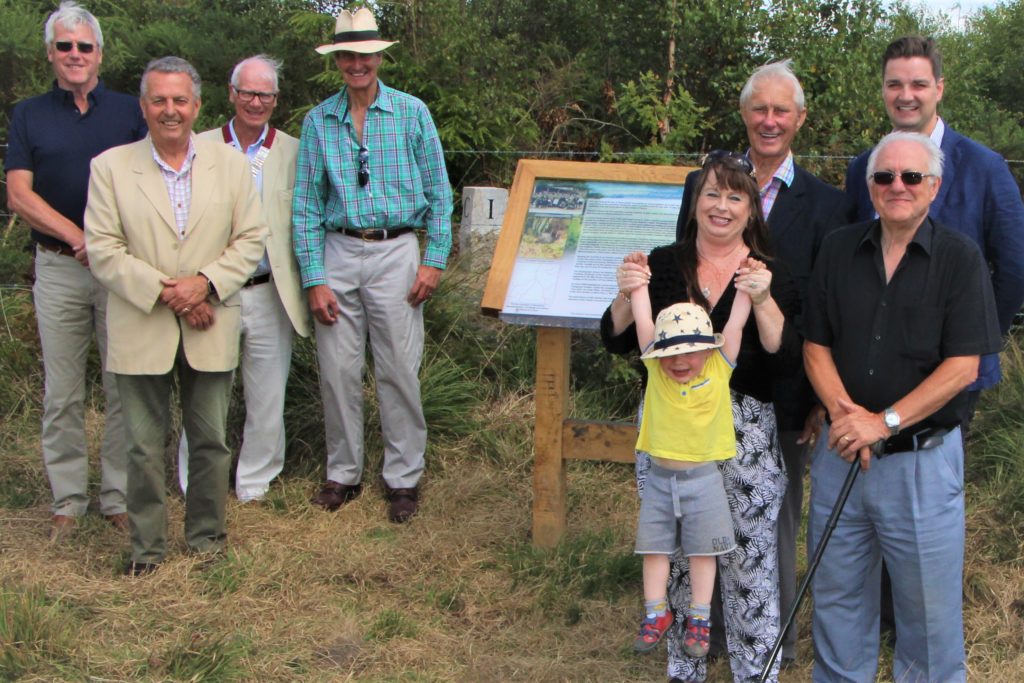 It is not unusual for two or three parish boundaries to come together at a point, but the occurrence of four parishes having the same boundary point is very rare. In fact, there are probably only two such places in the whole of Devon. Such a place occurs just to the north of Ideford Common and to the west of Ashcombe. Here the four parishes of Bishopsteignton, Ideford, Ashford and Chudleigh meet at just one point.
On Wednesday 3rd July there was an unveiling ceremony of a new parish stone. The ceremony was attended by representatives of Bishopsteignton Parish Council, Bishopsteignton Heritage, Devon County Council and members of the public.
In olden days the ceremony had an important practical purpose. Checking the boundaries was a way of preventing encroachment by neighbours; sometimes boundary markers would be moved, or lines obscured, and a folk memory of the true extent of the parish was necessary to maintain integrity of borders by embedding knowledge in oral traditions. This led to an annual practice of Beating the Bounds which is an ancient custom still observed in many English and Welsh parishes. Under the name of the 'Gangdays' the custom was started before the Norman Conquest. A group of old and young members of the community would walk the boundaries of the parish, usually led by the parish priest and church officials, to share the knowledge of where they lay, and to pray for protection and blessings for the lands.
Beside the boundary marker is an information board setting out the history and showing plans of the parishes together with photographs of previous Beating of the Bounds dating back to 1950. The stone and board was a joint venture between Bishopsteignton Parish Council and Bishopsteignton Heritage with help from Devon County Council. The ceremony was presided over by Lieutenant General Sir Andrew Ridgway, KBE, CB, DL, former British Army officer and Lieutenant Governor of Jersey who now resides in Bishopsteignton and is a trustee of Bishopsteignton Heritage.
The boundary stone lies just west of Colley Lane (B3192) 350 meters before the roundabout that joins the Teignmouth road to the A380. Coming from the Teignmouth direction turn left onto the country lane and after 150 metres park in the public car park to the north of Ideford Common. Continue on foot along the path beside the country road in a southerly direction and the stone and information board can be found on the left hand side after 200 metres. (Longitude -3.551020. Latitude 50.59968).