A short history of the relatives of Samuel Quantick and F E Dale, relating to Edith Quantick's life story, from conversations with David and Mavis Quantick and family history notes provided by them.
Reginald 1907-? and Leonard Quantick 1912-?
Quantick Family Tree
The following history relating to the Quantick family of Bishopsteignton has been compiled from conversations with David and Mavis Quantick and family history notes donated by them, including this family tree.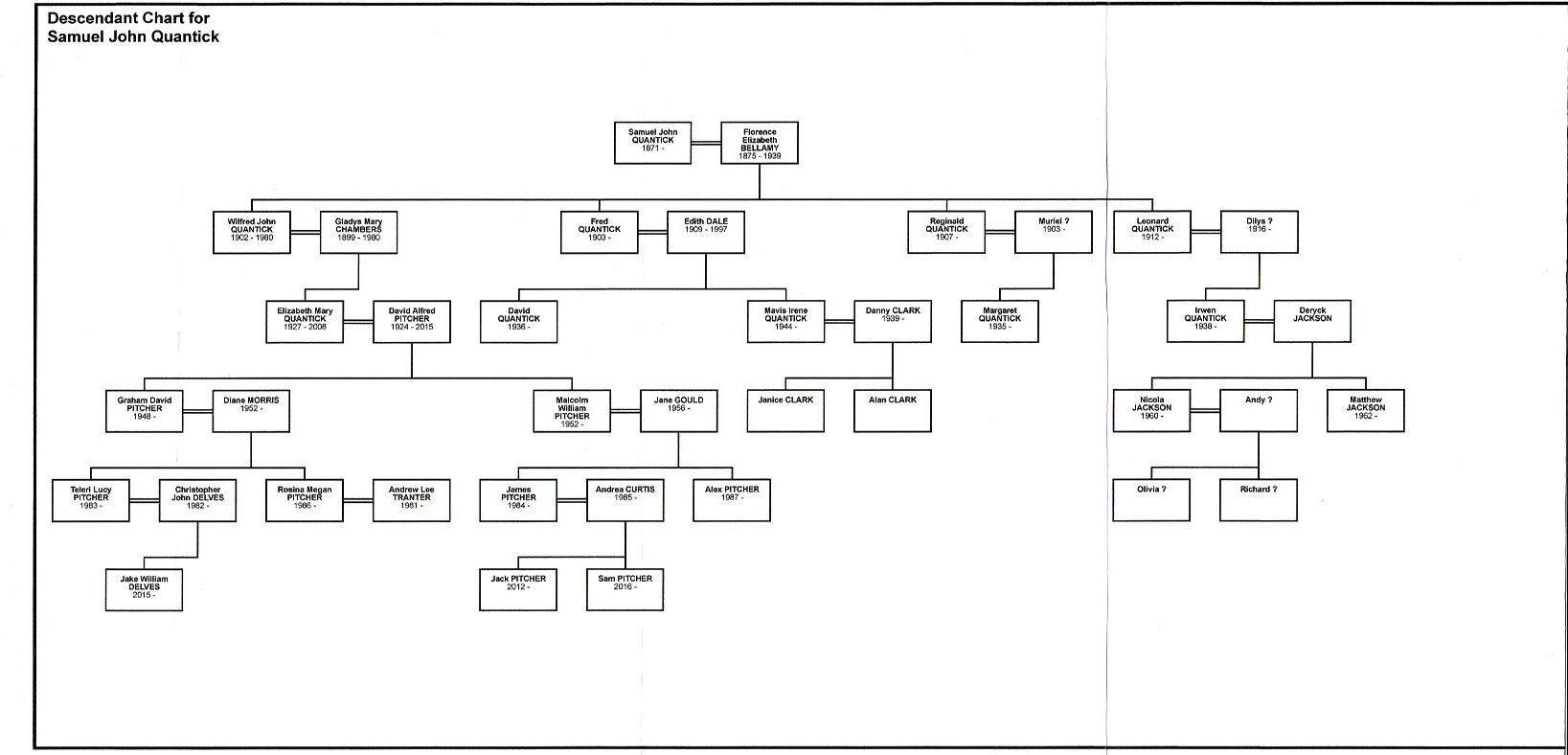 Samuel John Quantick, b.1871, married Florence Elizabeth Bellamy, and had four sons, Wilfred, b. 1902, Frederick, b. 1903, Reginald, b. 1907 and Leonard, b. 1912.
Wilfred Quantick 1902-1960
Wilfred married Gladys Mary Chambers in 1926 at St. Johns Church in Bishopsteignton.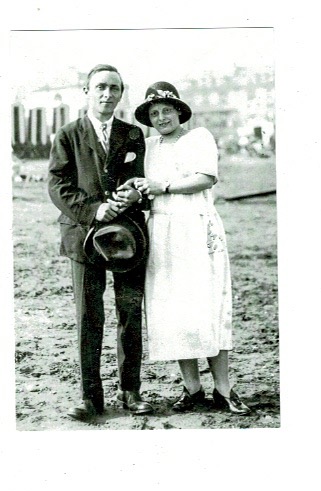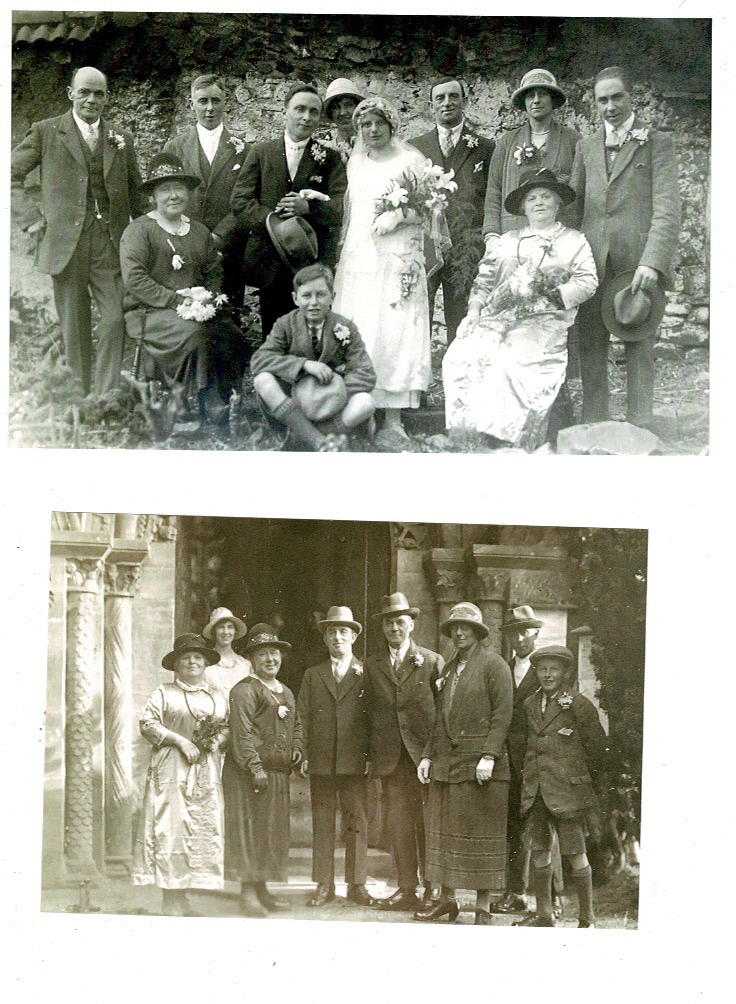 Wilfred and Gladys had a daughter, Elizabeth Mary (known as Betty) in 1927.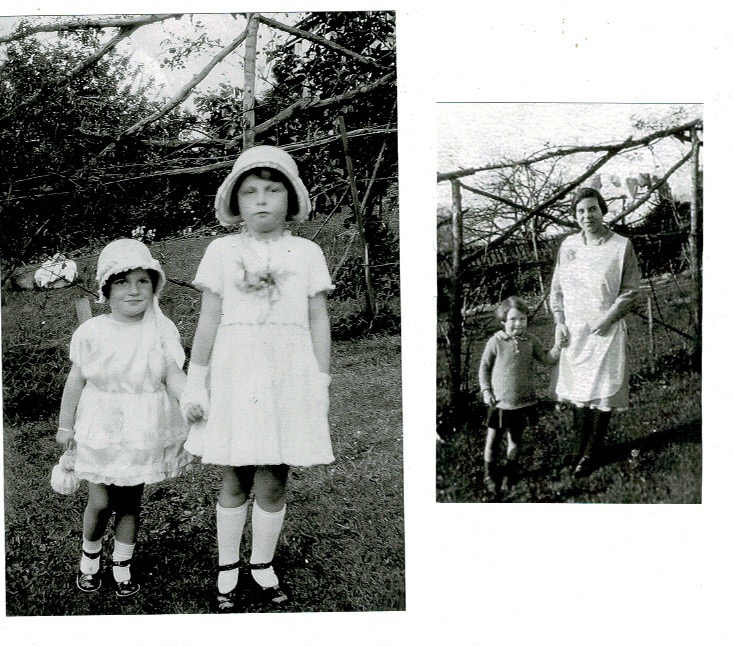 Margaret Quantick (the smaller of the two girls) was born in 1935 to Reginald Quantick and his wife Muriel.
Wilfred was Chauffeur/Gardener for Lord Addison and he used to deliver eggs to the vicarage where Gladys Chambers was a housemaid. Romance blossomed and they married in Bishopsteignton Church on 6th Feb 1926. Their daughter Elizabeth Mary was born on 30th September 1927. They both worked for Lord Addison who lived in Murley Grange.
Lord Addison became an MP for Swindon in 1929 and he decided he wanted to move nearer to Parliament, so they left Devon in 1930 and stayed in Great Kingshill, until Lord Addison found somewhere permanent to live. William Pitcher (father of David Pitcher, later to marry Betty) sold some land from Ashridge Farm in Radnage to Lord Addison where he had a house built. They all moved to Radnage during 1939.
During the war Wilfred did as much as he could for the Agricultural War Effort, however, Lord Addison was quite unreasonable and still wanted Wilfred to carry out all his work for him as well. Unfortunately Wilfred found he just couldn't cope with it all and decided to leave. As they lived in a tied cottage they would have had nowhere to live. William Pitcher invited them to live in Ashridge Farm and help on the farm . Romance blossomed between David and Elizabeth and they married in Radnage Chapel on 5th April 1947. Their son Graham was born on 14th May 1948 and Malcolm 5th April 1952.
David and Elizabeth continued to work and live on the farm until 1984 when they moved to Chinnor. Betty passed away on 14th August 2008 and David on 8th December 2015.
Frederick Quantick 1903-1986
Frederick was born at 3 West Street, Bishopsteignton on 01/09/1903 and died on 21/06/1986.
Frederick was working on the property 'Ashtead' as a builder when Edith, aged 19, moved to the property in Devon from Ashtead Road, Stoke Newington, London with her parents Felix and Annie in 1928. Romance ensued and Frederick Thomas Quantick married Edith Annie Dale on 03/06/1933 and moved into Kettlesbrook, Coombeway, Bishopsteignton.[1]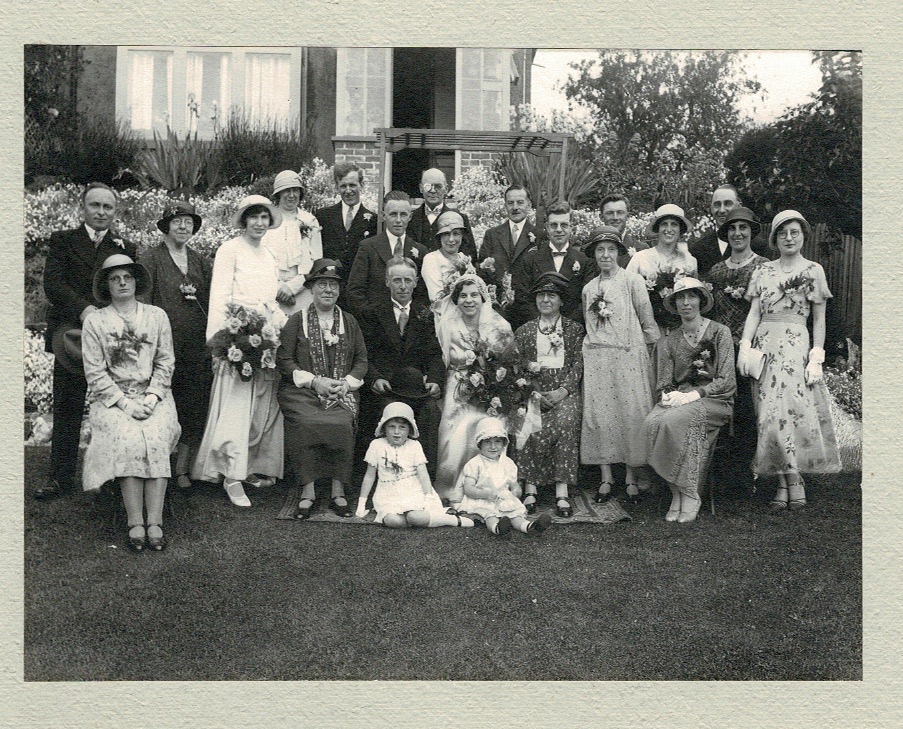 This wedding photo is thought to have been taken in the garden of Ashtead. Samuel Quantick is pictured centre back row with eye patch.
Edith was the daughter of Felix and Annie Dale. Their story is an interesting one.
The Dale Family
Felix Elessio D'Alessandri residing in Switzerland and of Swiss nationality – profession cook, married Sarah Ann Cope formerly Hind also a cook. Marriage date and location not known. They came to London to live. As far as is known they had 1 child Felix Elessio D'Alessandri born at 8 Currie Road, Battersea, London 07/10/1877 and died 10/09/1956. He changed his name to Dale and set up the printing firm of F E Dale & Son Ltd in Upper Thames Street in London.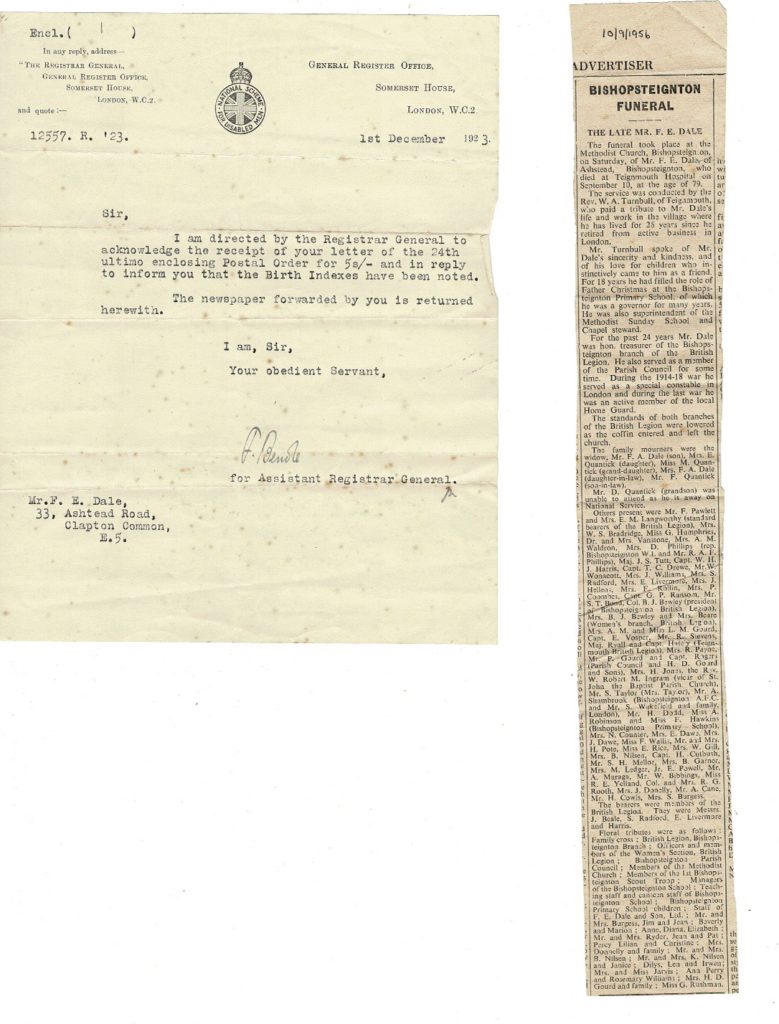 This document is thought to be relating to Felix changing his name to Dale.
Felix Elessio Dale married Annie Dale (nee Goddard) at Upton Chapel, Lambeth Road, Southwark, London on 21/07/1900. Their address at that time was 27 Pearman Street, Westminster Bridge Road, London. Annie Dale's parents were Benjamin (profession brewer's labourer) and Fanny Goddard nee Inwood. Annie Dale had 2 sisters Kate and Ada who did not marry. Annie Dale was born at 6 Howley Street, York Road, Lambeth, London on 14/01/1869 and died at Ashtead, Berry Hill, Bishopsteignton on 11/01/1961. Felix and Annie had 2 children Felix Arthur date of birth and death  unknown,  Edith Annie being the second child born 04/06/1909 in London. When Felix Elessio and Annie came to Bishopsteignton to live (at Ashtead) Felix Arthur took over the printing firm in London from his father.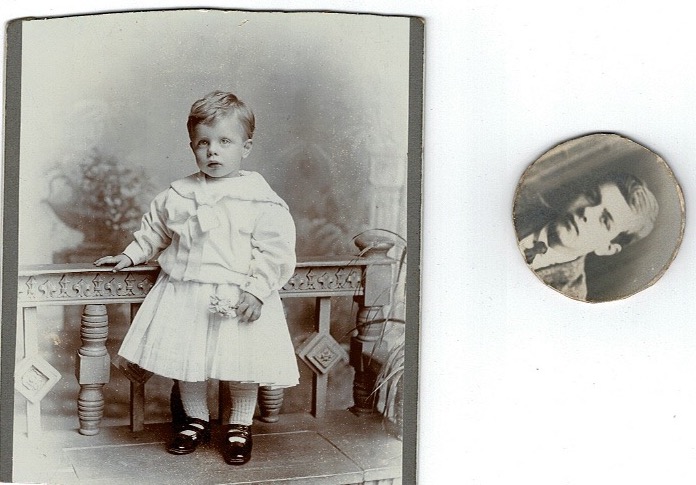 Mr F.E.Dale became a well loved character in Bishopsteignton. His story is told by his daughter here; [1]
Frederick and Edith had 2 children David Arthur born on 12/08/1936 and Mavis Irene born 20/07/1944. They celebrated their Golden Wedding in 1983. David Arthur has not married.[2]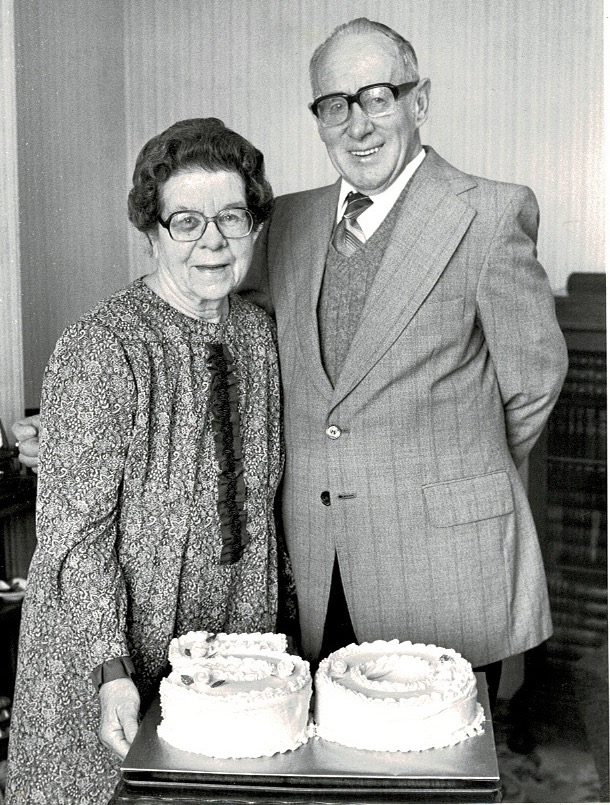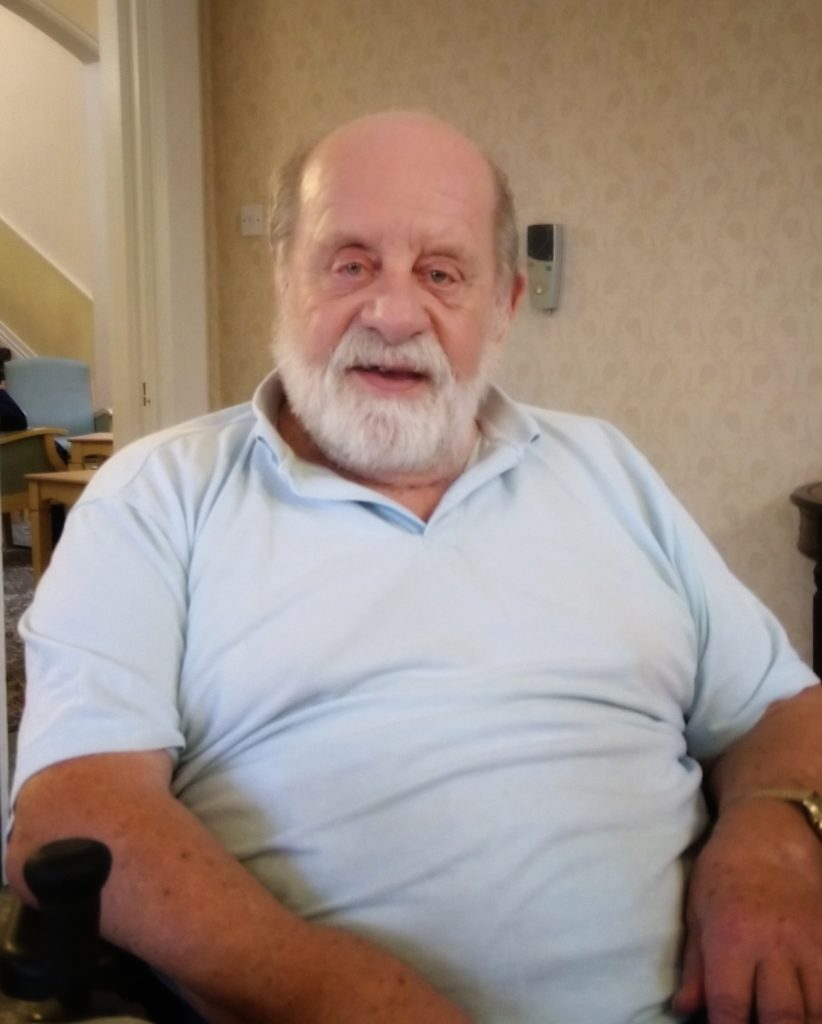 Reginald 1907-? and Leonard Quantick 1912-?
Little is known at this time about Reginald Quantick . It is thought he is probably the young boy on the right of Wilfred and Gladys's wedding photo (see above) and is possibly the boy alongside the horse drawn carriage which his grandfather is driving here.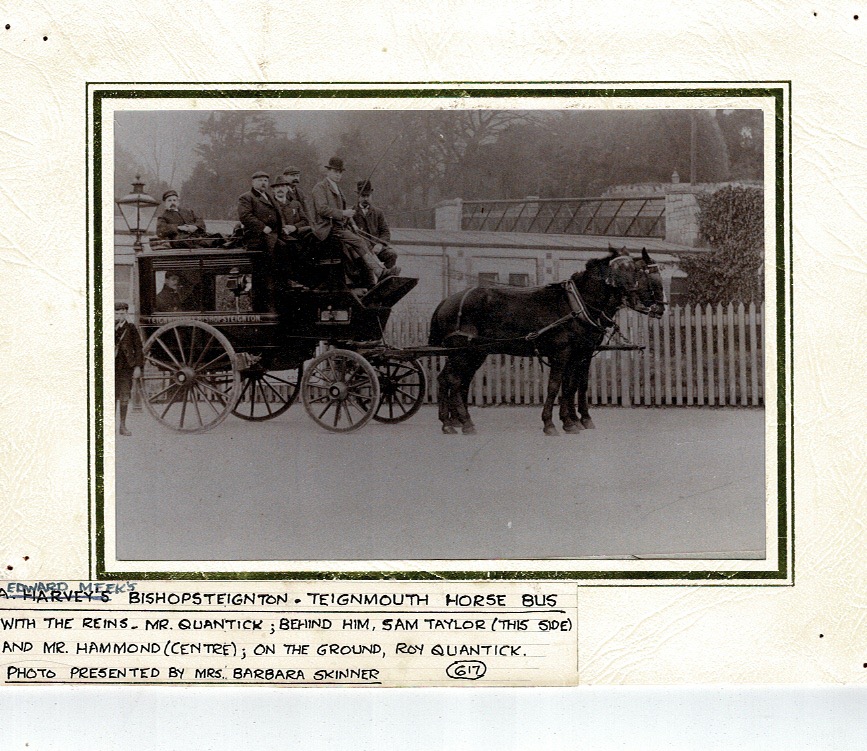 This photo shows Leonard and Reginald as children in 1913, along with a photo of  their grandparents Samuel and Florence in 1935.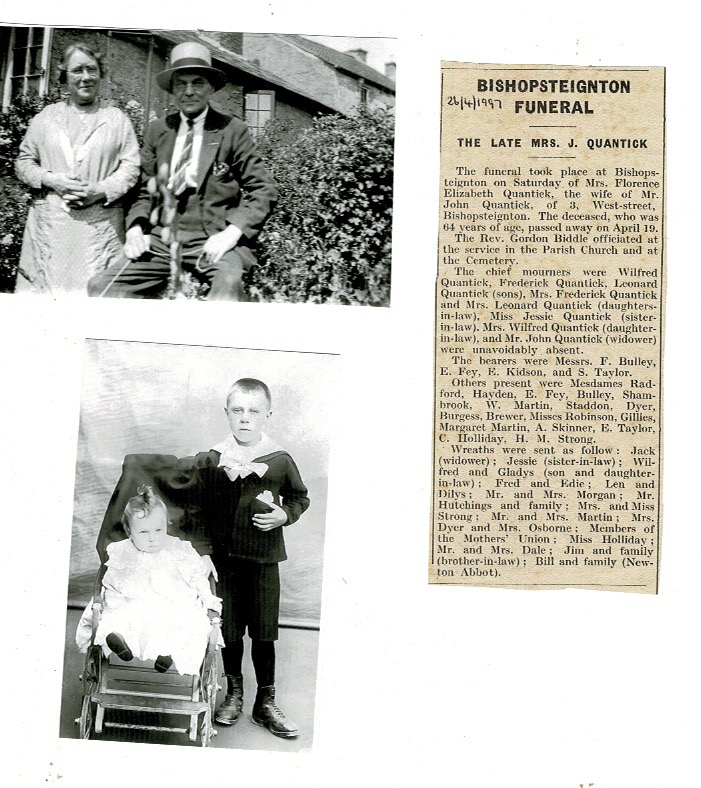 Reginald married his wife Muriel and had a daughter Margaret in 1935.
On the 1939 census Leonard is living at 3, West St., with wife Dilys, b 1916  and daughter Irwen, b 1938, as well as father Samuel.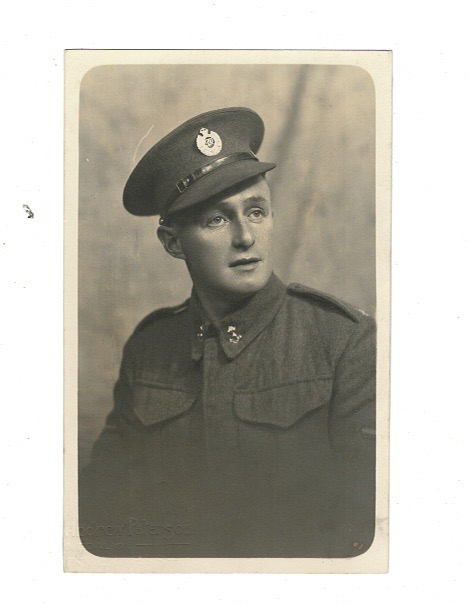 Irwen Quantick still lives in Bishopsteignton and is married to Deryck Jackson.
If you have any other history of the Quantick family, or can fill in any gaps in our story, please comment below or get in touch.