The Back Family. 200 years in the village.
The Back family and their ancestors and descendants have been a quiet part of village life for over two hundred years with the current family still living along the Teign Estuary.
Early 19th Century
Harriet Hodge was born in Bishopsteignton in 1817[1] and married Richard Back at St Nicholas  Church, Shaldon  on the 14th April 1841.[2 ]  He was the son of a tailor and was born in Kenn in 1810.[1]
Their eight children were all born in Bishopsteignton between 1842 and 1851.   The 1851 Census shows them living at Park with Richard working as a farm labourer; by 1861 they had moved to 8, Radway Hill.[3]  Richard died in 1881 and Harriet then lived in the Church Houses/Almhouses.[4] These were tenements to be let to "poor men and women of good character"[5]
Children of Richard and Harriet – village connections-[4]
Robert James Hodge Back, father of William Ernest Back (War memorial) and Charles Henry Back (fell from a train and died 1920 whilst on active service)[6]
Mary Ann Back married Nils Nilsen (Stone Mason) .
Florence Elizabeth Back married Thomas Martin lived at Pruner cottage.
Sarah Jane Back married James Henry Gill.
Harriet Back married John Parker Gourd.
Victorians
One other child of Richard and Harriet was William Henry Back (1846-1874) He married Mary Jane Morrish at Newton Abbott registry office on 6th January 1867.[7] They had four children, Alice, William Henry, John, and James who died in infancy.
Alice married August Ericksen.
William Henry was a quarry-man and moved to Chudleigh.
John was four when his father died, his mother  also became a resident of the Almshouses.[8]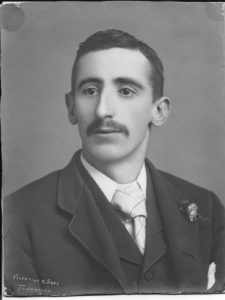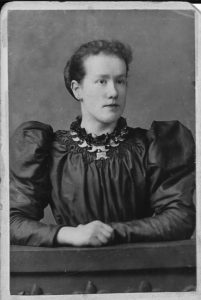 He and his family lived at 9, Radway Hill (now  called number 34). He and his wife Lavinia Mary Widdicombe had eight children.
Into the 20th Century
Children of John and Lavinia Back – Mary Elizabeth (Bess) was the eldest born in 1897.  Followed by John Henry in 1898, Frederick in 1901, Alfred (Alf) in 1903, Lewis 1905, Percy 1907, William David (Bill) 1913 and finally Winfred Edith (Win) in 1916.
John was a gardener at Tapley and all ten family members lived in the small cottage on Radway Hill (nowadays there is one converted property whereas previously this was two cottages). Lavinia was a laundress and took in washing from the village, collecting fresh water from the public pump on Radway Hill, filling the copper in her back yard and heating the water using a fire beneath the copper. All ironing was done using a metal flat iron heated on the range.
Tragedy struck after the war, in 1919,  when John contracted the Spanish flu  and died in the influenza epidemic. Lavinia was a widow with eight children.
Urbanisation
Lavinia's eldest daughter Bess went into service and moved to London marrying her cousin from Chudleigh, Thomas Edmund Heathman.  John moved to Essex.  After working as a parlour maid at Yannon Castle in Teignmouth, Win married and moved to Dawlish.
Fred, Alf, William (Bill), Lewis and Percy remained in the village their whole lives creating the next generations.
1939 Register
Radway Hill:
No.1 James Harris (wife Eva Gourd, daughter of Harriet Back)
No.2 Sidney Burgess (Grandson of Harriet Back)
No.3 Frederick Gill (Grandson of Sarah Jane Back)
Church House
No.6 Percy and Doris Back (Son of John Back and Lavinia)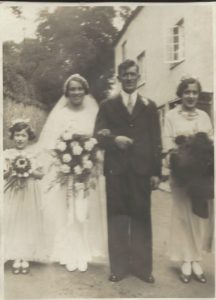 No.7 empty
No.8 empty
No.9 Lavinia Back and grandchildren, Rachael, Ena and Olive Heathman
Manor Farm – Percy Dawe (Wife Lilian Gourd, grand-daughter of Harriet Back)
Late 20th Century
Fred Back – Born 14th January 1901- married Frances Major in June 1927.  Died whilst playing bowls in 1970. Had three children Eileen (1928-1944) Jean (1929-2013) and Bryan (born 1933).
Alf – Born 26th July 1903, died 23rd May 1936. Unmarried – Lived at 9, Radway Hill.
Bill – Born 8th December 1913, married Gwendoline Dennis in 1934, had five boys. David (1934-1977), Dennis (born 1942), Colin (born 1944), Paul (8/6/1944-8/6/1944), and John (1945-2006).  Lived at 27, Fore Street.
Lewis – Born 6th August 1905, died 18th March 1984- Married Ivy Taylor December 1928.  Had two daughters Hazel (1929-2005) and Jill – born 1947. Lived at 4, Cockhaven Street.
Percy – Born 19th April 1907, died 9th November 1967.  Married Doris Browning 26th September 1935. Lived at 6, Radway Hill and 1, Cockhaven Close. No children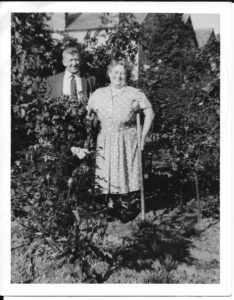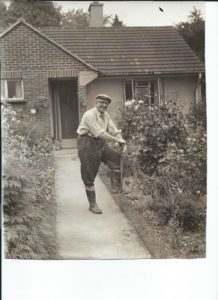 References and credits
1. 1851 England census >Devon > Bishopsteignton
2. England & Wales, Marriage Index: April May June 1841 >Back
3. 1861 England census >Devon > Bishopsteignton
4. 1891 England census >Devon > Bishopsteignton
5. Bishopsteignton Museum
6. Headstone, St John's Churchyard, Bishopsteignton
7. England & Wales, Marriage Index: Jan Feb Mar 1867 >Back
8. England & Wales Death Index Jan Feb Mar 1921 > Back
Photographs are from family collection.
20th Century entries are from family oral history.