Believed to be 11393 Private William Taylor of the 2nd Battalion, the Devonshire Regiment. He was the son of George and Elizabeth Taylor and was born in Kingsteignton in 1893. William died on the 6th October 1916 aged 23 years in France with no known burial. He is remembered on the Loos Memorial.
Death and Burial. Descendants.
Early Life
There is only a little information about William's family and currently his link  with Bishopsteignton is yet to be fully discovered. He is believed to have been born in 1893 in Kingsteignton, Devon.
William's parents were George and Elizabeth Taylor who in 1891 were recorded as living in Fore Street, Kingsteignton. George was a clay cutter and they then had 4 sons – Thomas (aged 7 years), Frederick (aged 6 years), Sydney(aged 3 years) and Lewis (aged 10 months)
In 1901 William was registered aged 8 years, living with his parents and elder brothers Sidney and Lewis and younger brother Frank in Hackney Street in Kingsteignton. By 1911 his parents had moved to 4, Wolborough St, Newton Abbot, Devon. There is a record of a William Taylor aged 17 years working as an assistant at Buttercombe Farm, East Ogwell lodging with the farmer Francis Shears and his wife Edith Ann. Could this be  him?
William's mother Elizabeth died aged 46 in 1914.
Military Experience
William joined the 2nd Battalion , Devonshire Regiment with the Service No 11393 and served like many in France and Flanders. On the 7th September 1916 he was listed as "wounded" and was entitled to wear a wound stripe. [1]
Death and Burial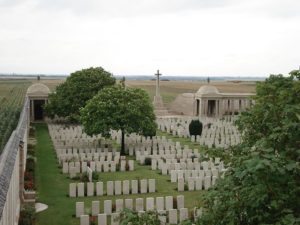 He was killed in action on the 6th October 1916 aged 23 years. There is no known burial for William. One of many lost in the fields of France. He is remembered on the LOOS Memorial, Panel 35 -37 within the Loos Memorial Cemetery.[2]
Descendants
At the time of his death his father was recorded as living at 7, Palks Court, Wolborough St, Newton Abbot.  Are you a descendant of the Taylor family? Please get in touch.