A summary of the occupiers of Tapley, Radway Hill, Bishopsteignton, taken from the official parish records.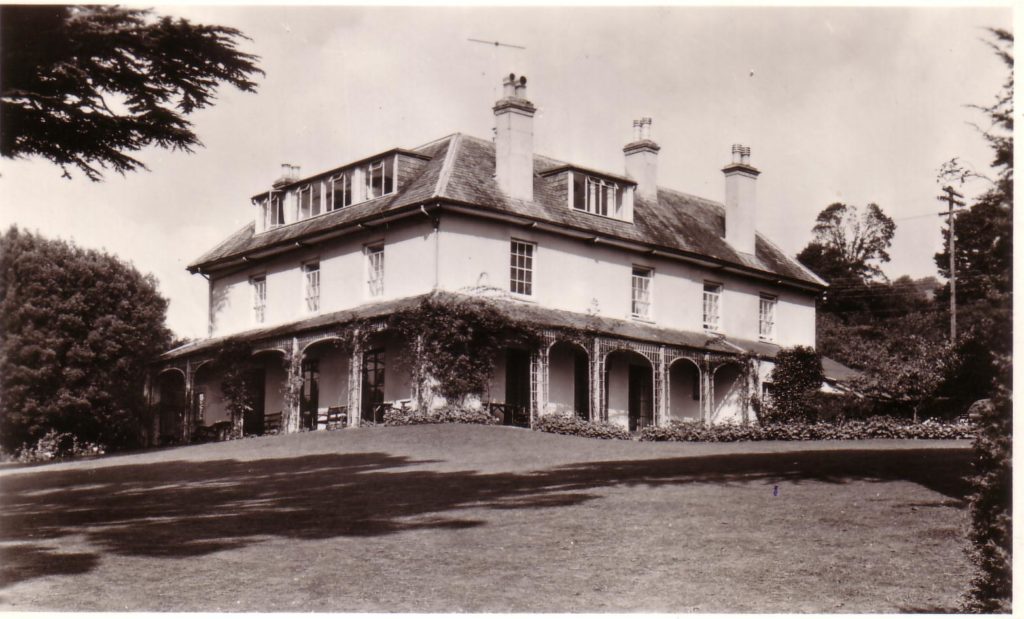 The Tapley House is though to have been built during the Elizabethan era, and later enlarged in the style of architect James Nash. Tapley included a vegetable garden, hidden away behind a red stone wall which still runs up Radway Hill.
Meaning of Tapley
The first element is believed to be either the Olde English pre 7th Century personal name Taeppa meaning 'peg' and originally given as a metonymic occupational name to a maker of pegs, plus 'leah', a wood, hence 'Taeppa's Wood', or 'taeppa' literally meaning 'peg' plus 'leah', hence, 'wood where pegs were collected'. In medieval times widespread use was made of pegs in the construction of buildings. [2]
The Tapley Family were farmers and mariners who lived in Bishopsteignton and the surrounding area – West, Teignmouth, Shaldon, Combeinteignhead, Stokeinteignhead, and Dawlish etc. for several centuries.
16th Century
1500 ( this needs more research to confirm) Joan Tapley was born about 1500 the daughter
of Mathew Tapley (b.1480). She apparently married a Mr "Coweyns" about 1520 so
Did she become part of the Bishopsteignton Comyns Family?
1548 Will of John Tapley of Bishopsteignton. Probate granted at Exeter – The Will was lost
in the 1942 wartime destruction of Exeter's Probate Registry.
1560 The first mention of this family name the church records is that Mathewe Tapplie
married Elizabeth Easton. According to W. D. Cleland, Tapley House takes its name
from Mathew Tapley.
1562 The Church Register records the marriage between William Tapplie and Joane Best, and the burial of Elizabeth Tappley.
1567 The Baptism Register records the baptism of George Tappley.
1587 Record of the Will of Hugh Tapleigh of Bishopsteignton. According to Nigel Walker,
Hugh Tapley died 27th December 1587, leaving 8 sheep valued at 16s, his wearing
apparel 10s, and 10s in money. So no land, house or furniture.
17th Century
1603 Record of the Will of William Taplye of Bishopsteignton. Probate granted at Exeter –
The Will was lost in the 1942 wartime destruction of Exeter's Probate Registry.
1614 A Sale document records the sale of a property by the Earl of Salisbury to Tapplie.
1639 A Sale document records the sale of a piece of land by William Strode to George Tapply the elder. The land has one piece called Ollandby Radwaie, this can be identified as close to the top of Radway Hill. The whole parcel includes Wester Martyns Parke, Moorleigh and Ollands, all in Bishopsteignton.
1641 The Devon Protestation Return shows that George Tappley signed.
1673 Record of the Will of George Tapley of Bishopsteignton. Probate granted at Exeter –
The Will was lost in the 1942 wartime destruction of Exeter's Probate Registry.
1674 The Devon Hearth Tax Return shows George Tappley as having two hearths.
(What happened in the 18th century?)
19th Century
According to W.D. Cleland in an article published in the Teignmouth Post in 1927: Tapley was extended into a much larger house just after 1815.
1817 The Land Tax Assessment shows that Thomas Boone is owner of Tapley with Archer Esq. as tenant. The house was probably new built or altered. Thomas Boone's daughter Charlotte was the village school mistress by the 1851 census.
( Did Thomas Boone build other houses ?)
1818 /19 The Register records the baptism of Jane Archer and Charles Archer of Taplie.
1826 Cleland records that Archer was tenant of Tappley. The Archers later moved to Cornwall where Charles became vicar of Lewannick.
1827 The Churchwardens' records show that Tappley was empty for 18 months in 1827/28.
1829 The Land Tax Assessment shows James Bate as tenant. ( research needed)
1836 The Tithe Map Apportionment shows Thomas Boone as owner of Tappley and Charles Martin as tenant.
1841 The Census shows the occupant of Tappley as David Martin aged 50 with four children.
(Were Charles/David Martin related to the other Martins /Ashill Farm/Lindridge etc?)
1851 The Census shows the occupier as Rickards. 1856 The Post Office Directory shows the occupant as William Richards Esq.
William Rickards was born in Penrith Cumbria in 1778 and at the age of 40 he married 21 year old Jane Duncan in Canobie Scotland and returned with her to St Petersburg Russia, where 9 of their ten children where born. Their last daughter Elizabeth was born in 1841 in Edinburgh when William was 63 years old.
It is understood that William Rickards was a St Petersburg Merchant. By the 1820s some 2500 British Families lived in St Petersburg. The City's first grand embankment alongside the Neva river was named the English Embankment. There was an English speaking prep school, an Anglican church and an English Theatre and Club.
Mr & Mrs Rickards moved to Tapley in the 1840s and their eldest daughter Jane got married in Bishopsteignton in 1848 to William Rickard's friend and colleague John Sadler. John had been a merchant in Oaxaca, Mexico. It is interesting therefore that one of Williams's sons, Constantine, moved to Oaxaca Mexico which is famous for its silk production. Constantine died there in 1905 at the age of 77.
In 1849 in Bishopsteignton John & Jane Sadler's first child was born and also called Jane. But Mr & Mrs Sadler eventually set up home in London. Their second child was born in London in 1851 John William Sadler (more of him later).
In the 1851 Census Mr & Mrs Rickards had 4 of their daughters still living with them. They had 5 servants living in the household, but only one of these was local: Mary Ann Wellington, aged 56, was born in West Teignmouth.
In 1857 William Rickards, 79 years old, died at Tapley leaving an estate valued at under £18,000.
The 1861 Census shows that Jane Rickards aged 63, William's widow to still be living at Tapley with 3 of her daughters: Anne, Isabella and Elizabeth. They had a Coachman, a Cook and a Housemaid, 22 year old Alice Pitts (perhaps related to Pitts a gardener at Lindridge?)
In 1865 Jane Rickards died at Tapley the day before her 70th birthday. She left an estate of less than £800 and her 35 year old daughter Anne was her executor.
1870 Kelly's Directory shows the Misses Richards as occupiers. Presumably Anne, Isabella and Elizabeth Rickards.
The 1871 census shows a Thomas Turner cattle dealer aged 60 living at Tapley House with one housemaid. (More research needed)
By 1871 Anne Rickards had moved to live with her married older sister Emma Hopkins in Hampshire. Whilst the other two unmarried sisters Isabella and Elizabeth were living in the household of their other married sister Jane Sadler, in London.
In 1873 the Baptism Register records the baptism of a child of Maj.Gen. R.A.Hickman Thomas and Mary Ann Molesworth of Tappley. ( more research needed here).
In 1878 the Baptism Register records the baptism of a child of John William Saddler of Tappley.
That is to say the Grandson of William Rickards/the son of Jane & John Sadler had moved into Tapley House with his wife Mary. As mentioned earlier John William Tapley had been born at Tapley House in 1849.
The 1881 Census records them as having 2 children Emma aged 4 (born in London) and James aged 2 who had been born and baptised in Bishopsteignton. The household also contained Frank Ogle brother-in-law 23, a Cook – Sarah Rowe 25, a Nurserymaid – Bessie Webb 20 and a Housemaid – Margaret Warren 18, the last 2 being born in Bishopsteignton. Neither John William Sadler aged 29 or Frank Ogle 23 had an occupation. (what happened to Frank? Possibly John was in poor health?)
In 1883 Kelly's Directory shows the occupant is J W Saddler. However before the 1891 census the Saddler household had left Tapley for Reed Vale West Teignmouth. At the census Bessie Webb was still with them, but now described as a Parlour maid. John's profession/occupation is described as "living on own means". John died at Reed Vale in 1901. His wife Mary died in 1925 at Courtenay Place Teignmouth leaving over a £1000.
1890 White's Directory shows the occupant as Mr T S Isaac. (research to do)
1897 Kelly's Directory show the occupant as Herbert Sydney Boyle. (research to do)
1898 Cleland says the occupier was Dr L A Galabin aged 70. (research to do)
20th Century
John and Lavina Back lived in a small cottage on Radway Hill. John was a gardener at Tapley Lavinia was a laundress and took in washing from the village, collecting fresh water from the public pump on Radway Hill, filling the copper in her back yard and heating the water using a fire beneath the copper. All ironing was done using a metal flat iron heated on the range. They had 8 children. Henry Gourd was their boarder in 1901. Tragedy struck after the war, in 1919, when John died in the influenza epidemic.
1902 Kelly's Directory shows the occupant as Alfred Galabin. He died in 1913, aged 70.
1913 Cleland says Mrs H M Galabin was occupier.
1914 Kelly's Directory shows Mrs Galabin as occupier. Mary Ann Galabin died in 1929 aged 84.
1930 An Advertisement in the local paper is for the sale of Tappley.
1931 Cleland says that Mrs Lascelles brought the property. (research to do)
1935 Kelly's Directory shows the occupant as Charles Lascelles.
1939 Kelly's Directory shows the occupant as Charles Lascelles.
Post War William Gerald Paddon (descendant of the Paddons of Cockhaven Manor)[3]
Later the house became a hotel. Then it was demolished in 1973 to make way for a housing Estate.
Photograph below shows the estate building on Radway Hill.