Eighty years ago the Royal Air Force had to defend the skies against the German Luftwaffe in an air battle termed "The Battle of Britain" by Winston Churchill.
 Background
Eighty years ago, back in 1940, Britain faced a real and imminent threat.  Germany, under Hitler and the Nazi Party had successfully invaded large parts of Europe including Poland, Holland, Belgium, Denmark, Norway and France.  Also countries such as Switzerland, Sweden, Spain, Portugal and Ireland had opted for neutrality. All that stood in the way of total Nazi domination of Western Europe was Great Britain.
Rather than attempting an amphibious crossing of the English Channel, Hitler believed his mighty Luftwaffe could bomb Britain into surrender and that she would be forced to sue for peace. The Royal Air Force had to defend the skies against overwhelming odds in an air battle termed "The Battle of Britain" by Winston Churchill.
Planes
The two principal planes fighting each other in the skies in the summer of 1940 were the British Spitfire and the German Messerschmitt.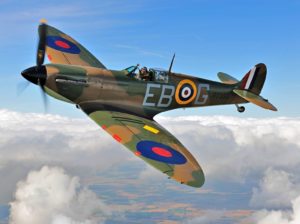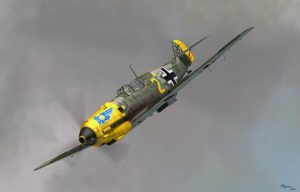 The Royal Air Force (RAF) was able to defend Britain because it had better spotting equipment called radar and more adaptable planes. By late August the Luftwaffe had lost more than 600 aircraft and the RAF only 260. By the middle of September it was clear that the Luftwaffe could not defeat the RAF. British fighters were shooting down German planes faster than the German factories could make them. On October 12, Hitler announced that the invasion of England was off for the winter. Plans for an invasion were discarded by spring and thanks to the bravery of these pilots  Britain was never invaded.
Further Information
A video highlighting this battle can be found here
https://www.bbc.co.uk/teach/class-clips-video/history-ks2-the-battle-of-britain-and-beyond/zrk847h
A future talk
As part of Bishopsteignton Heritage's World War 2 commemorations and the 80th anniversary of the Battle of Britain in September 2020,  a talk will be given at a future date  by Flight Lieutenant Rich Gibby (RAF Ret'd) who flew the Lancaster and Dakota aircraft on the Battle of Britain Memorial Flight, whose mission is to commemorate those who gave their lives in the service of the country. He will talk in more detail about the Battle of Britain and include service histories of the five RAF servicemen named on the Bishopsteignton War Memorial as well as his own service career.