During WWII many children, and sometimes their parents, were evacuated from inner cities and ended up in Bishopsteignton. These are the stories of some of them.


During WWII many children, and sometimes their parents, were evacuated from inner cities and ended up in Bishopsteignton. These are the stories of some of them.
Phyllis Blogg
When Phyllis Blogg's children were evacuated to Bishopsteignton from London, she came to visit them and ended up staying on. They were billeted with Kit and Jack Ward, who ran the butcher's shop in Fore St., opposite the Manor Inn. Kit's family owned the Manor Inn.
Many years later Phyllis Blogg wrote to Dick Searle, then the curator of Bishopsteignton Museum, about her wartime experience in the village. The letter, and the language within it, is of its time. It is reproduced here in its original form, save for some explanatory brackets.
Dear Mr Searle
Here are a few memories of my time in Bishop. It all began with the evacuation of my children, Peter and Keith. For over a week I hadn't heard, then a letter from Mr & Mrs Ward, the local butchers, to say they were with them along with several others. It was a great relief and I proposed a visit with my youngest son. We were welcomed and felt at ease immediately.
Then after a few days the massive bombing of London began and Mr Ward (Jack) said we should stay on. Thus began many years in Bishop.
Life went on in the village and all the children attended the local school – head was Miss Robinson – a strict lady but all my sons passed scholarships to Newton Abbot Grammar.
They joined the choir and Peter sang solo many times. I recall the choir being invited by the Yanks, then in the village, to sing carols at their camp. A lorry arrived to pick them up and a good time was had by all.
By now all the men had been called up so Mrs Ward was left with the shop and one errand boy. Imagine, though rationed, the cutting up of sides of beef and sheep and pork. I soon helped and we managed to sort out the rations. I became a first class sausage maker and when Fred (Sharland) had to go I used to deliver the orders round on the shop bike. It was a hilly job.
Various incidents occurred like the arrival of the Yanks. First the Blacks came to prepare the camp. In the evening when they were free they roamed the streets and frightened everyone to death. The main contingent arrived and every one knew one or two. They were introduced to darts and local scrumpy. Mrs Ward (Kit) and I often went across to the Manor Inn.
(Kit's) Mother ran it and Kit was a good darts player, so I learnt and we took on all comers, even formed a ladies team.
We heard the bombing around and there were hit and run raids in Teignmouth. One raid was on Torquay. At the time we were in the orchard (this has now gone) having a cuppa. The trees and ground shook and we later heard what had happened.
I have enclosed a few snaps (please let me have them back). The day came and I had to get to Totnes from Bishop. At the same time Jack then on leave, had been called back, so Kit was torn. However I said "I'll get a taxi" so that passed off quite well.
This is all – hope it's of interest
Phyllis Blogg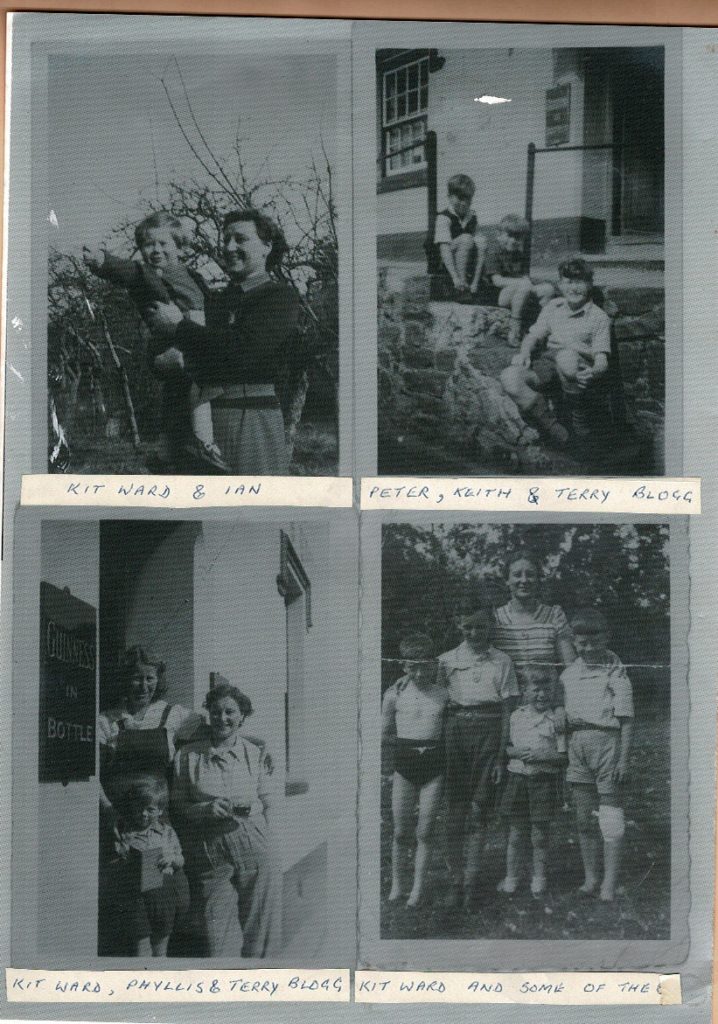 The Ward Family
Phyllis Blogg and her brood were made very welcome by Kit and Jack Ward, who themselves were very popular in the village. They still have relatives living in the village, who have kindly filled in some gaps in their story.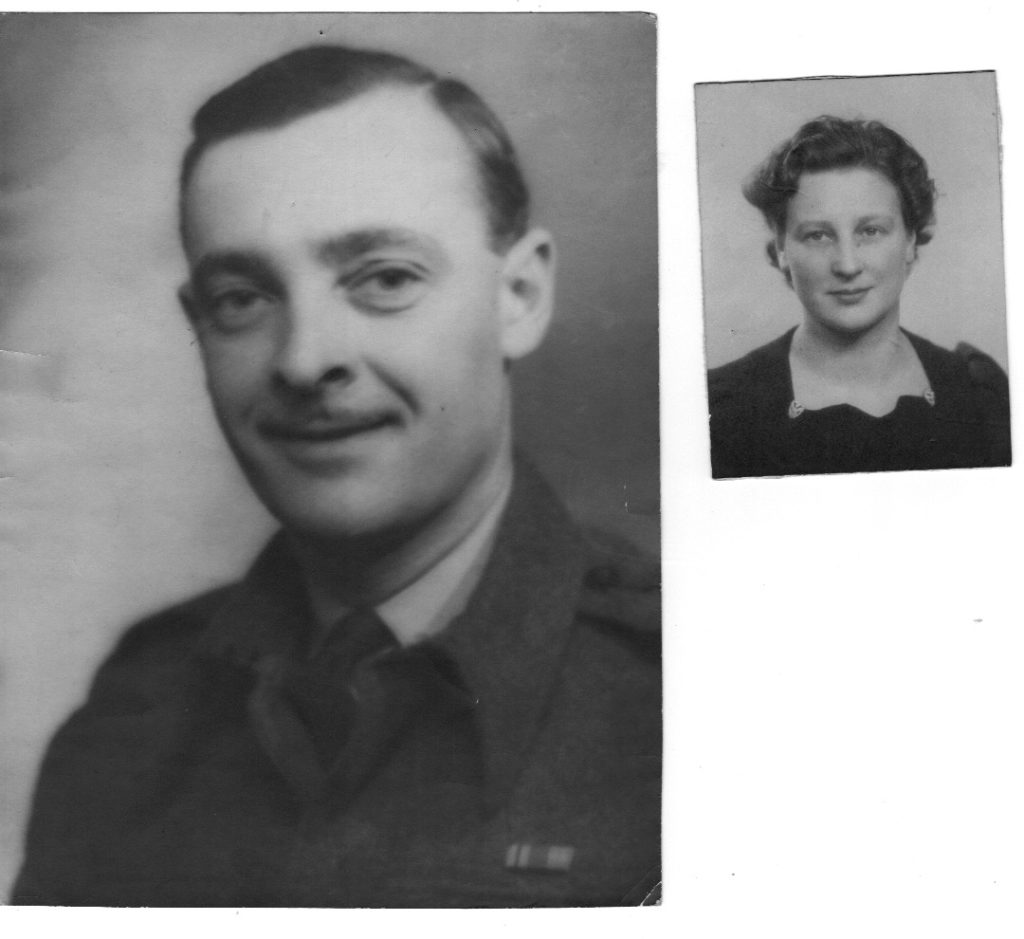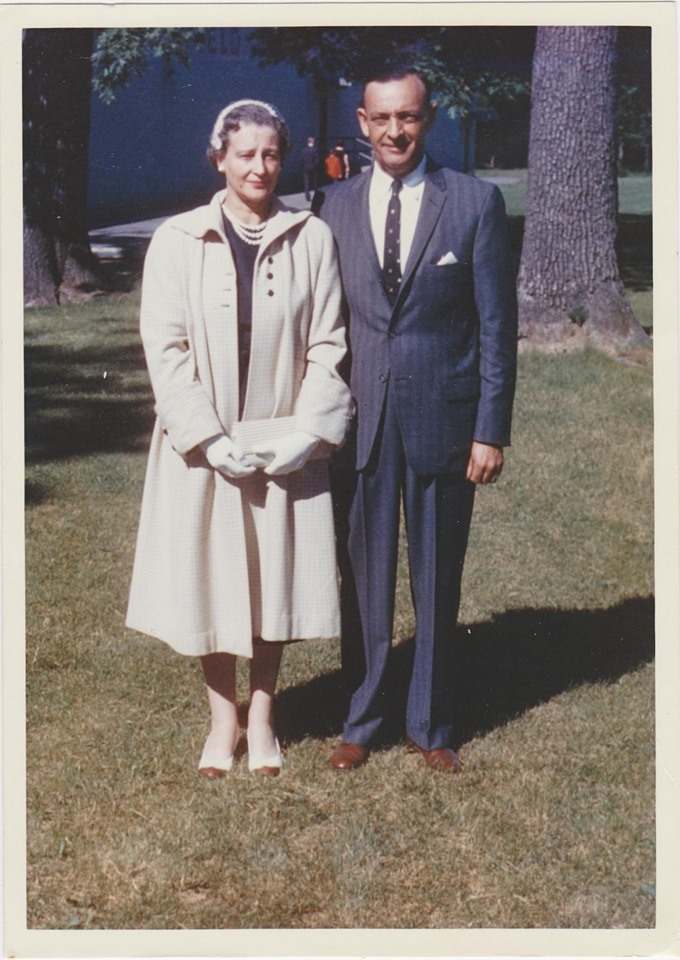 It is thought that Kit later moved to America and adopted one of the Blogg boys, possibly Terry, taking him with her.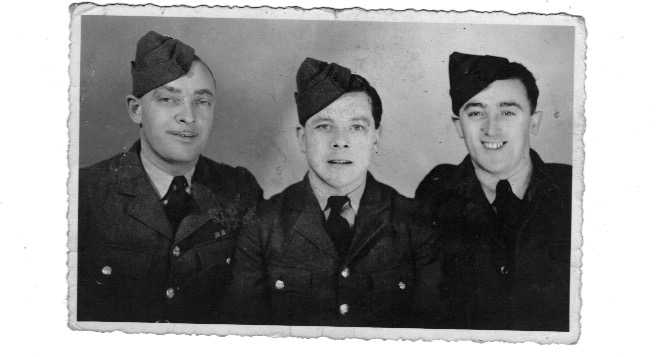 The butcher's shop on Fore St. was previously owned by John Burnie Ward and Ethel May Ward, nee Crisp, Jack's parents.  Fred 'Gunner' Sharland was their butcher's boy.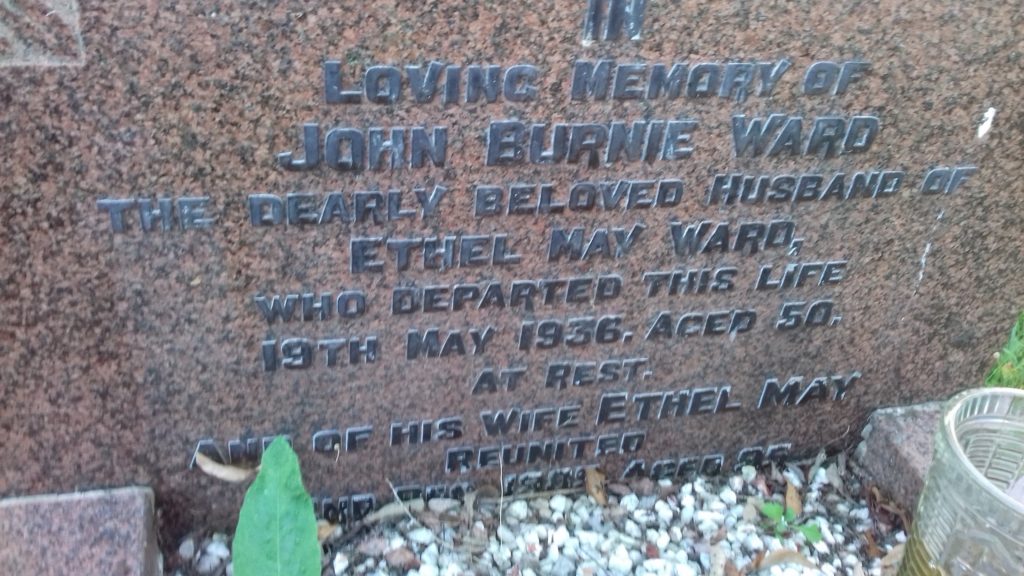 Ethel May was originally Crisp, then Ward, then Branch
Arthur Ward was Jack's younger brother, Sylvia and Mararet Ward were Jack's sisters.  Sylvia's first husband was Ronald Ambrose Slater, known as Jimmy, who was in the Wiltshire Regiment and received the Military Cross. His name features  on the war memorial, and he is buried in Tilly, France. More of his story here;
https://www.bishopsteigntonheritage.co.uk/events/world-war-two/ronald-ambrose-slater/
Later Sylvia remarried and was the mother of Phyllis, Gary and Jane Aldridge.
John and Geoffrey Hope
Just after Bishopsteignton Heritage opened its doors to visitors at the HUB in the Community Centre, we were visited by a gentleman who, it turned out, had been evacuated to the village in 1941. His name is John Hope, and he was the nephew of Phyllis Blogg. Phyllis's maiden name was Hope and John's father, Percy Alfred Hamilton Hope was her brother. John was evacuated to Bishopsteignton along with his mother Winifred, his brother Geoffrey and his grandmother; he was three years old at the time, Geoffrey a little older. They lived at first with Phyllis and her boys at Cross Gate. Later they moved to a house in Fore St. At some point their father joined them at Cross Gate, as these photographs portray.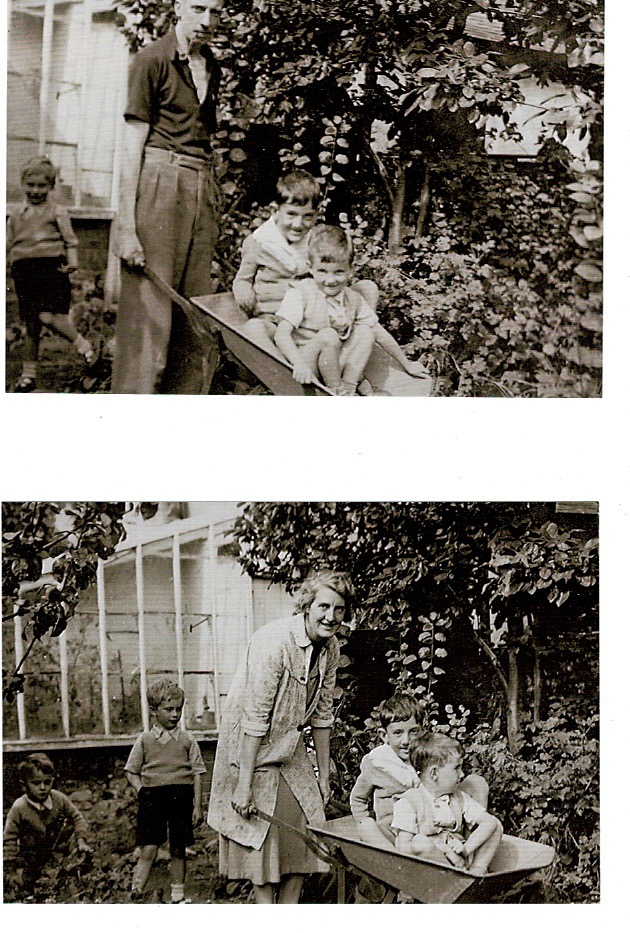 John later sent these photographs to be kept in the archive. They show various aspects of the village during the early 1940s.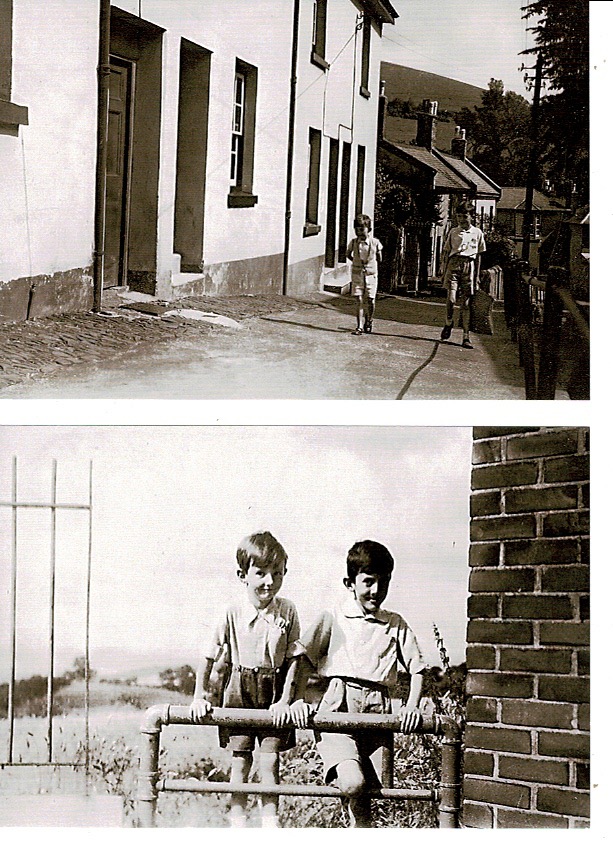 Geoffrey was not a well child, he suffered from a cleft palate and unfortunately died in a Devon hospital in 1945. It was lovely to meet John and to help him remember what was obviously a happy time in the village.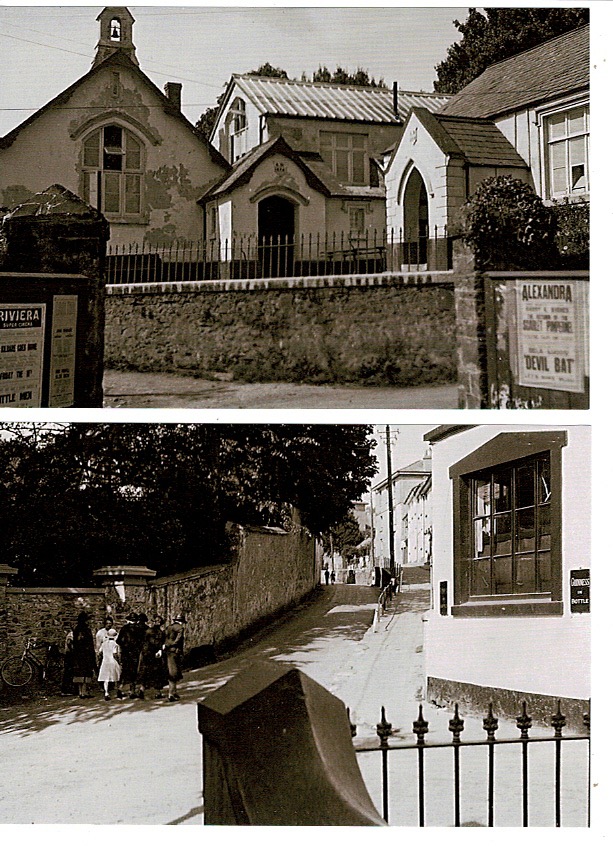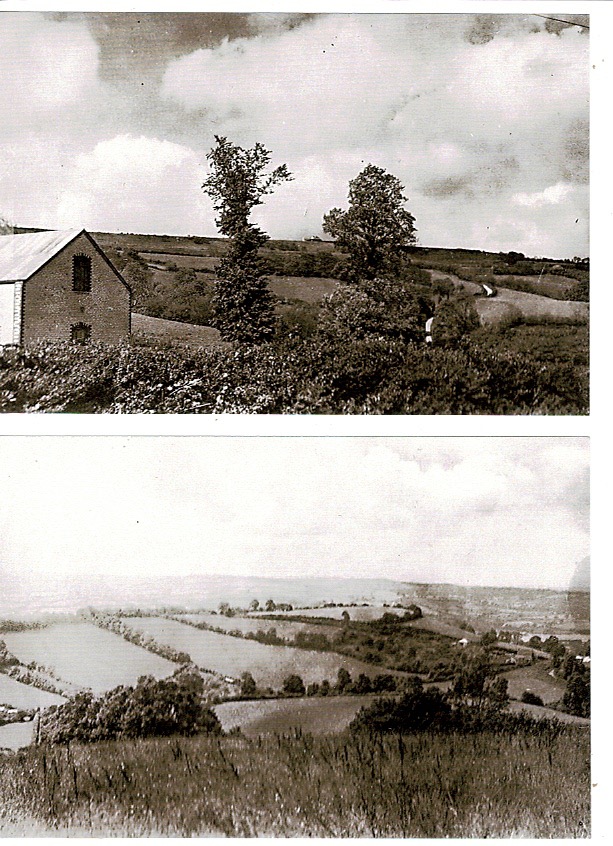 David Cross
LETTER FROM DAVID CROSS EVACUEE
Dear Mr Searle,
David, Pat and Ted Cross, Bishopsteignton London Evacuees. June 1940 – January 1942.
In relating the following memories of the 18/19 months I spent in Bishopsteignton, I would ask you to bear with me, regarding some of the names and places. I was pleased to hear that Peter Blogg still keeps in touch with you, we were in the infant/junior school together in Clapham, London before the war.
Early one morning in June 1940, a lot of school children waved goodbye to their parents at the local school, boarded buses or coaches to a railway station, (no doubt Paddington), climbed aboard a train and spent the rest of the day travelling to we knew not where. What I can say is, that I can only recall a sense of adventure rather than apprehension and, at this stage, I wasn't missing my parents.
The train puffed into the station and stopped (Newton Abbott) and we all got out. How, I can't remember, we all arrived at the village school in Bishopsteignton with our teachers, Miss Dorrington and Miss Smith with Mrs Petit in charge.
I recall the school being very crowded at first, gradually emptying. It was my mother's wish that we three, Pat and I were 8 and 1/2 year old twins, and Ted, 10 years old, stayed together. It was getting quite dark outside, all the other children seemed to have gone out, a woman called out "I'll have the boys but not the maid."  There was hushed talk between the grown ups, there were whispers between the three of us saying, "We're staying together." The voice said "Alright I'll take them all." Mrs Petit told us we were going to live with Mr and Mrs Taylor (Moses and Mary Taylor) in the Cottages, Lower Radway. I was pleased to see that now the cottage is called Mary's Cottage. (Mary Taylor I wonder?) It was dark when we left the school.
Mrs Taylor took Pat's hand and walked ahead, Ted and I followed with Mr Taylor. We crossed the road, walked up a hill along a stony lane to a cottage. Pat was standing on the top of three steps leading to the front door. Mrs Taylor had gone into the cottage to light the gas.
With the light alight, Mr Taylor guided us into the living room. My memory is that it was cosy but strange; I remember a tear trickling down my cheek. Mr Taylor spotted this, and in his way, tried to comfort us by saying, "Now don ee fret, I spect yer Mam's weeping too." I'm afraid that didn't have the desired result. I can remember sobbing myself to sleep that first night in Bishopsteignton.
My memory of the next morning is rather blurred but I can remember that the three of us were out of the cottage quite early and I think it was Sunday. We retraced our steps from the night before, down the lane, down the hill, past the butcher (Mr Ryder). We looked across the road to the school building and then to the big gates opposite us, which were slightly ajar. (It was sad to see these gates are now disused and derelict, all road names and signs were removed during the war so we couldn't tell where we were.)
Curiosity got the better of us; we crossed the road and peeped round the gate. There was, what appeared to us to be, a very old man tidying up the driveway. He spotted us, gave us a welcoming smile and, I can hear the sound now, he said "You'm up early baint ee?" I'm afraid I don't know who he was but I can remember that he told us Col Dewar (Duder) lived in the house and that two evacuees had arrived at the house the day before. These turned out to be our friends John and Molly Beckenham. I don't think they stayed very long, but do remember meeting up with them again in London towards the end of 1942.
We went back home and were told we had to be at the bottom of the lane in the morning and wait for our teacher. For tea that day we had jam, buns and cream. We seemed to have that for most Sunday teas. (Naturally Sunday tea soon became my favourite meal.)
Monday morning we met up with Mrs Petit and several children and we walked up the High St. to the Methodist Church. As I remember, on the right was a green corrugated Hall building, which the evacuees used until they could be integrated into the village school.
After speaking with you and Mr Back at the Museum the other Sunday, I believe that the sudden influx of London evacuees couldn't be accommodated in the village school until alterations were carried out, that is, converting the living accommodation (now the Museum) into classrooms.
School supplies were very restricted; we had drawing paper, paints, pens, limited writing paper. Our teachers boiled nettles and cabbage for green paint, we used soot for black paint, goodness know how we got the reds, blues and yellows. We used charcoal for writing as well as drawing and had to draw and paint on newspaper. As I remember all the "making do" only lasted a few weeks until we were integrated into the village school by which time we had got to know the village children, by meeting our friends who lived with them and playing in the playing field which was situated over a low wall off the lane in Lower Radway leading to the cottage or through the main gate at the top of the hill.
Miss Taylor was in charge of the village school and I remember her as a very kind and calm person. She had a Morris 8 car and lived in the High St next to or near the Chemist's shop. Nearly opposite is a bungalow behind a high wall, 'River View". Beside this, towards the Ring O' Bells is the house where Miss Philips lived, then the front of the house had an iron canopy to the ground floor with a side-way to the rear garden and Bantams wandering around front and rear gardens.
Our friends Brian and Bobby Parlitt were taken in by Miss Phillips. Further up the High St. on the left was Mr Ward the butcher where Peter and Keith Blogg stayed. There was an orchard behind the shop where we used to play. I remember we used to call one of the apple trees the aeroplane tree. It was easy to climb and shaped so that we imagine a bomber with pilot, bomb aimer, wireless operator, air gunner, rear gunner etc. depending on how many wanted to play. It was also at Mr Ward's that I learned to pluck a chicken.
Further up the High St., on the right, was the Manor Arms (Inn) beyond which was the War Memorial and Methodist Church and our temporary classroom, on the left was Taylor's Garage. I never thought about it at the time, but perhaps there was a family connection with Mary and Moses Taylor. Next to the garage was a house whose front room was Lloyd's Bank. I think it was only open one or two times a week, and this was also the house where Sheila Skinner lived and in fact still does. If I remember rightly she had an older brother. (Sheila remembers the bank being next door to her).
Just beyond the road forks, the right fork led to the Commercial Tavern (Old Commercial Inn), now renamed and with an extended car park. Outside the entrance to the Commercial Inn was a cigarette machine where for 6d you could buy 5 Park Drive, Weights or De Reske whether you were 8 or 80.
Diagonally opposite the Inn was the coal yard and Post Office. Beside the coal yard was a short road, which led back to Fore St. with the General Store on the corner. In the last house on the right or thereabouts in this short road, lived the Davies family, I remember Barry and Valerie. Barry Davies, Bob Mann who lived at the farm opposite the village school, were the two local boys I was most friendly with, particularly during the school holidays.
Late 1940, early 1941 rumour had it that children were being taken out to Canada and Australia. The Blitz in London was becoming very heavy. My father suggested that my mother come down to us to be safe and to satisfy herself that we were not likely to be whipped across the seas.
My mother rented a house, no. 4 Fore St. with a Mrs Jones from Battersea, London with two sons and a daughter. This was the opportunity for my sister Pat to leave Mrs Taylor's and go to live with our mother. My brother and I accepted this situation. I honestly can't remember any feeling of "Why can't we go to live with mum?" My mother got a job in the kitchens of Huntley preparing the vegetables etc. Mrs Feddon was the owner as I recall and the film star George Arliss was a resident, an elderly gentleman with a monocle.
The house my mother rented was across the road from the then timber-clad village hall, which are now numbered in the 40s and 50s. I think in those days Fore St. commenced at the road junction at the end of the village hall.
The apartments that are now next to the village hall were a large building where soldiers were billeted. They also camped in the field behind Cross House and were at the Cockhaven Hotel. If my memory serves me correctly, the Officers Mess was within Huntley. Detachments of the Ox and Bucks, the Gloucesters and the D.L.I. were in Bishopsteignton and we youngsters used to sit and watch them training, not really comprehending the seriousness of the situation. Bren Gun Carriers, Army lorries and trucks trailing guns frequently passed along the village streets, but as I recall they didn't seem to disrupt the day-to-day village life.
Some of the men of the village used to put on armbands with L.D.V. printed on them and carry sticks and half bricks and go down to the Path fields beyond Huntley and practice grenade throwing. Later they were issued with army uniforms and rifles and became the Home Guard.
We used to be able to go across Path fields over the road along the footpath beside the field to the wooden footbridge over the railway down the steps to the shore of the river Teign. One summer's evening in 1941, a bunch of children along with Jim Burgess followed this route carrying a rowing boat that Jim had built for its maiden voyage. As I recall it was a great success, but as it was a small rowing boat there was much to do on the shore, so two or three of us went a little way along the shore to some sandstone cliffs where there were small caves. Peering into the darkness of the largest one there was a sudden 'whoosh' and out flew a swan over our heads, frightened the life out of us. I can't recall ever going back to those caves again. What I do recall is the small bungalow at the foot of the steps, and the lady who lived there used to talk to us about the river.
As I said earlier I used to spend a lot of time, during school holidays and weekends at Mann's Farm, either helping or playing. Helping with the horses, grooming, harnessing and taking them down to the field next to Cole's Barn after the day's work. There were three horses, Tidy, Blossom and Damsel. Helping with the cows bringing them in for milking with Ollie Back and Arthur Mann and letting them out into the fields. Helping with the harvest, cleaning the chaff from the threshing machine.
Playing on Faldon with grass or snow sledges. One time we made a camp in the hay at Straw Loft at Stables in the Stable Yard next to the school. We used to tunnel through the hay to the straw, move the straw bales to form a clearing in the corner against the wall, sit there with lighted candles and cigarettes obtained from the machine mentioned earlier. The thought of it now makes my blood run cold. I didn't enjoy the cigarette although later back in London I carried on with the experiment. I now tell people that I stopped smoking at 13 because I thought it was affecting my voice, but in fact my voice was breaking. While I was in Bishopsteignton my brother and I joined the Church Choir and after talking it over, my sister tells me she was also in the choir and you reminded me that, of course, Peter Blogg used to sing solo.
We went to church 3 times most Sundays; morning and evening services and Sunday school in the afternoon. The Rev Biddle was the vicar and I remember him as a big man dressed always in his black cassock with a black leather belt and heavy black horn-rimmed glasses with straight sides. When he was talking to us in Sunday school, we sat in the church pews and I can remember he had the habit of removing and replacing his glasses, folding them, gesticulating with them in his hand, later diving his hand into the top of his cassock for the black leather open topped glasses pouch. I also remember receiving the Text stamp for every visit to Sunday school and taking them back to Mrs Taylor to show her we had been to Sunday school.
After church or choir practice we used to sometimes play in the graveyard until a grown up reminded us where we were and sent us home. Just over the wall of the churchyard, beside the road leading to Coles Barn, was a brick pit where all the grass clippings and dead flowers were thrown. Some of the children used to climb over the wall, jump onto the side of the pit and down onto the roadside as an alternative to going through the big church gates. I never went this way. I was convinced that the pit was the entrance to Hell.
On rare occasions we used to walk into Teignmouth to go to the children's cinema at the Carlton. On one such trip whilst queuing to get in, I dropped my sixpence, which rolled down a drain. I sat on the kerb bemoaning my lot and a lady came up to us and asked what was the matter. My brother explained and the lady gave him a two-shilling piece. Between sniffs and sobs I thanked her and we both went in to see 'Sea Hawk' with money to spare.
Another time in 1940 Mr Taylor took the three of us into Teignmouth for a bus ride and as we walked towards the front there was the sound of an aeroplane, a bang and a great spout of water near the pier. People started running about and Mr Taylor took us into a restaurant by the Riviera Cinema. There we were told that it was a single German bomber carrying out a random bombing raid. Most people seemed to take the incident quite calmly but there was a lady in the restaurant who was very alarmed. She was being comforted by two of the waitresses who were helping her with a cup of tea, but the poor lady was shaking so much that the cup and the saucer were chinking together, the spoon fell on the floor and the tea was going everywhere. We three children started to giggle and Mr Taylor quite seriously told us to "Hush now". We found it difficult to repress our laughter. Mr Taylor discreetly took us home without having our tea and biscuits. When we arrived home Mr Taylor recounted the tale to his wife in the kitchen while we sat in the living room. We could hear them laughing and then in walked Mrs Taylor with Sunday tea. Yes, buns jam and cream. "Come on you rascals sit up and eat your tea, then up them timber 'ill stairs".
Now that I have started putting pen to paper, memories of this period of my life have come flooding back, aided and abetted of course by my brother and sister. We all live in West Sussex now within 8 miles of one another.
I have been back to Bishopsteignton three or four times, but last year we discovered the school was now a community centre but unfortunately we were visiting on a week day and the museum was closed, so this year we arrived on a Sunday. It was lovely to come back and reminisce.
Norman P. Barnett
A  SHILLING, A BADGE & A MESSERSCHMITT
by Norman P. Barnett, evacuee.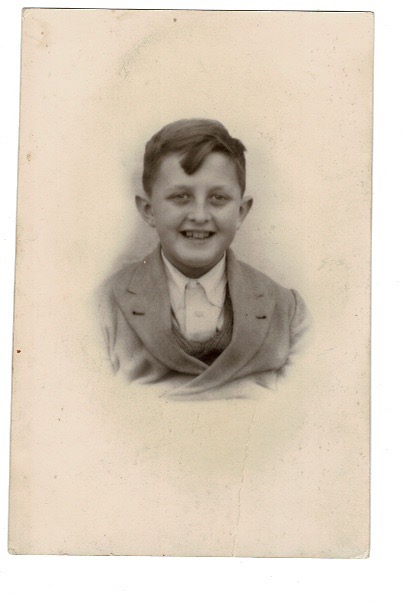 A child sitting alone in the middle of a small school hall. It is getting dark. All the other children have gone and  most of the adults. This was me, as an evacuee in 1940 . I should not have been there. I should not have been sitting alone in a small village in Devon. I should have been in Reading, hundreds of  miles away. But I had got on  the wrong train  This meant that I was with the wrong group. I was not on the list. The billeting officer did not have a place for me. Throughout the long afternoon, I watched people arriving and collecting children until I was the only one left.
When we left the school in London, there were three separate groups. The "mixed infants", the "big girls" and the "big boys" I should have been with the "big boys" but my mother's friend asked me to look after Michael and Jane. Being the obedient child that I was, I dutifully followed them on to the "mixed infants" coach and on to their train at the rail­way station. My mate, Clifford, followed me. We were not sad, that came later.   We played paratroopers, jumping out of coaches, feet together in the approved position , our ruck­sacks, our parachute packs. I do not know why nobody noticed a difference in numbers or noticed that Cliff and I were not quite "mixed infants". But as I remember, everyone was in a tremendous hurry , probably anxious to get to our destination before nightfall. Cliff and I were just over 8 and did not look that much older than the other children. If they did think we were in the wrong group, there was nothing they could do about it once the coach was on its way.
In later years, I learnt that the "big boys" had gone to Reading, from where something like 50% of them had run back to London within weeks. That could have been behind the thinking of the authorities. Place those most likely to run within easy distance of London, then they would be less likely to get into trouble on their journey. I have often wondered what my life would have been like if I had got on the right train. I would have seen more of my parents, as it was within reasonable travelling distance from London and I might have spent the war years in the Berkshire countryside.
I was eventually billeted with a greengrocer and his wife. They were obviously on a reserve list which is why they got the "leftover". They told me later, and not in an unkind way, that they had said that they were too busy to take an evacuee. When told that they had no choice,they had space, they said they would prefer a "big girl" who could help in the shop.
I was lucky that they had a spare bed otherwise I would ended up on a camp bed supplied by the billeting officer, as happened to other evacuees. They decided not to use me in the shop, when they discovered I could not make change to save myself. They found a job for me, however, deciding that I could deliver orders to save precious petrol. Michael and Jane? They were billeted with the lady of the manor, whose children were grown and in the forces. They had a nursery full of toys, the run of a big estate and were brought to school in a pony and trap in bad weather. I was not happy in my billet, but thought I was better off than my mate Cliff. As he was also "surplus to numbers" after following me, he also drew someone from the reserve list but for a very different reason.
He was billeted with an old lady, said to be a witch. She lived at the end of a narrow lane, in a thatched cottage. It had no running water, no electricity and the toilet was at the end of the garden. But he always seemed to be happy.          You could see that she was fond of him and he did not seem to go short of anything although she could not have had much. He would come to school every morning, a bit scruffy but clean and with a jam sandwich in his hand. At lunchtime and at the end of the day, he would run home while the rest of us would dawdle. In school, he  would tell the the class and the teacher of the animals he had seen when out collecting sticks to start the fire. But it seems that some­ one thought that things were not right for Cliff. One morning he did not come to school and I never saw him again. Years later, I heard that he had returned to London and had been "bombed out". That term had a loose meaning amongst kids in those days, covering anything from being killed or injured in an air-raid to losing one's home and moving elsewhere. The truth is that I lost touch with Cliff long before he left the village.
I did not have much time to think about missing him. I was always busy with something. There was school, of course, which was at the other end of the village from my billet and consisted of two rooms, one for infants, one for the juniors. I was taught by a Miss Smith, who won my devotion by admiring my essays. I would wheel her bicycle for her, back to her billet, at the end of every day. This must have caused her some wry amusement as her younger (and prettier) colleague usually had two young soldiers competing to perform the same task for her.
I knew the lane where Miss Smith lived from my rounds, delivering orders from the shop. The lane  was  high above the village and led to the moor. For most of the year it was just another call but in Winter, it was purgatory. I remember one particular Saturday night when it was snowing and freezing cold.             Saturday nights were the busiest and this was no exception. My last call was on the moor lane. I struggled up the slight rise to the beginning of the lane and started my ascent of the hill, carrying a wicker basket, full of groceries. I walked crabwise, three paces forward, slide back two paces, three paces forward, slide back two. By the time I got to the top, dusk was falling and as I got there, a snow shower blew in from across the moor. I remember that I started crying at this point but cannot recall if it was because of the cold or from fear of the growing darkness. But I pressed on to the house where the order was to be delivered, after all it was nearer than the village.
Another ordeal awaited me. There were a  series of steps down to the house, covered in ice and powdery snow. I stepped on the first step, fell down the next two, picked myself up, stepped down two steps, fell down the next two and so on, for what felt like an eternity. When I arrived at the door of the house, I must have looked a sorry sight. Tear stained and covered in snow. They took me in, sat me beside the fire and gave me a cup of tea. But what I remember most vividly was that the lady of the house gave me a shilling, a large sum in 1941, and told me that I was very brave to come out in such terrible weather. That shilling in my pocket warmed me all the way back to the shop.
Bravery of a different order was being displayed by the Local Defence Volunteers, the forerunners of the Horne Guard. I would watch them drilling in the grounds of the house opposite the shop every Sunday morning. Some had shotguns, some had rifles but most had only broomsticks. But everyone had that serious look that grown ups had when something bad had happened and they have to do something about it. They marched and they drilled, some in their best suits, others in their work clothes, one or two in plus-fours. I think if they had not looked so serious, they would have looked comic. As it was, they looked so fierce, they frightened me a little.
In a matter of weeks, they were able to relax. The Army arrived in the village.     They set up camp in a large field not far from the school. They were a source of great excite­ment to the children. Any soldier walking in the village soon had an escort of children , begging for souvenirs. The most highly prized souvenir was a cap badge. Most of the boys had at least one badge, while others had collections and did a brisk trade in swaps. I did not have a badge, being shyer than the others, that is I did not have a badge until my meeting with Sergeant Fowler.
The "other ranks" were in tents in the big field but the officers and NCOs were billeted in houses around the village. The "Sergeant's Mess" was located in a house near the post office and I passed it every day when delivering orders. I would often see this older man who had a pleasant smile and was always patient with the crowd of children milling round him. On this particular day, I had been to the post office with two other evacuees, Freddie and George.        We had been to cash postal orders from home and were busy deciding how we would spend the money.   As we passed the sergeant's house, Sergeant Fowler came out. Freddie and George set an immediate clamour. "Got any Souvenirs, Sarge" "Give us a cap badge, Sarge". He smiled patiently and to my surprise, spoke to me "What about you, son, do you want a badge?" I replied "Yes, please", hesitantly, half expecting a tease. He took off his forage cap, removed the badge and gave it to me. I was so surprised that I forgot to thank him. The sergeant turned and went back into the house, probably for another badge for his cap, leaving three stunned and silent boys. I kept that badge for years, long after I was married and was the father of three boys. I never let it get dull or tar­nished but after all those years of polishing it, I cannot remember what regiment it was for except that it was one that disappeared in a merger.    The badge itself disappeared in time and for all I know one of my sons found it and swapped it for a handful of conkers.
The war seemed far away from that quiet haven in Devonshire. The Army had become part of the scenery and boys no longer clamoured for souvenirs.             But that peace was shattered, late one summer afternoon. I had been to the recreation field with Michael and Jane. I still felt responsible for them, after all they came from the same street in London, as me. Loyalty to your home area was important to evacuees and there were fights about whose area was best.   We were starting home along the top road above the village. We were passing the police house, when the air-raid siren, which was mounted on the roof, started its ear splitting howl. We nearly jumped out of our skins. As London kids , we had heard sirens before, not often, but we had heard them.   But we had never been so close to one before. We stood screaming and as hard as we pressed our hands over our ears, we could not shut it out. It stopped. The silence seemed as loud as the siren had been.
There was a roaring sound in the distance and a popping sound. It came nearer and louder. Some instinct made us huddle under the hedge, just as something heavy crashed against the other side. The world was falling apart and we were frozen in our terror. With a roar and a stutter of machine guns, a mottled green  and brown mottled shape flew over our heads and seemed to just miss the roof of the police house. It was a Messerschmitt 109 . Even without the crosses on the side, I would have known what it was, every boy was into aircraft recog­nition. I could see the pilot, even the details of his face. I remember thinking how ordinary he looked except for a look of intense concentration. Then he and the plane were gone. We waited, listening to the receding noise of the engine, expect­ing some new terror. But peace returned to the countryside and we stood up. A noise made us look up and we saw the rolling eyes of a terrified horse. He had crashed into the hedge in a frenzied attempt to get away from the roaring monster bearing down on him. He bolted when he saw us. We bolted too. We did not stop until we got back to the village.
We wanted to tell everyone what we had seen. But the adults had other things on their minds and had no time to listen to all the children who had been caught out in the air-raid. The children were not the only ones that had been caught out. The defence network might expect the slower heavy bombers in the West Country but the fast fighter bombers were not expected, they did not have the range.   But the planes that came to Devon used disposable wing tanks, a tactic used later in the war by RAF. It seems that the target of the plane that we saw was the airfield on the moor. It is difficult to see why they bothered. The sole strength of the airfield was a couple of bi-planes, complete with floats. They were museum pieces compared with the sleek lines of the Messerschmitt. The men who flew them were brave to get into the cockpits, let alone take on the enemy planes. But their efforts were in vain, the enemy had long gone by the time they got in the air.
The Army had also been unprepared. Their only armour, one bren gun carrier, clattered around the village for a while but had nothing to shoot at. The raid led to the carrier making twice daily patrols, up to the moor and back again. The only result of these patrols was complaints from the County Council about the way the carrier tracks damaged sections of the road.
I did not have any further brushes with the enemy while I was in Devonshire. I did not stay there much longer, in fact. I developed chronic otitis media that did not respond to the care of the local doctor and district nurse. My mother, who had to deal with it in the past, came down to care for me and both of us were billeted in a grotty bungalow, with another evacuee family. We did not have to stay there for long, fortunately. My father had been directed to work in the Midlands and had found a house where we could join him. After hurried preparations , my mother and I travelled across the breadth of England to join my father in Coventry.
It took the Germans two weeks to find out where I had moved to.
Norman Barnett was an evacuee billeted with Mr and Mrs Garland at the Bakery, Fore St., Bishopsteignton from 1940-41.
Timothy West
The actor Timothy West was  in Bishopsteignton briefly during the war period. The story goes that his father, actor Henry West was on tour and performing in Torquay when war broke out. The family are entered into the 1939 census register as living at 9, Post Office St., now 10 Fore St.. They later moved to Bristol when his father got an acting job there.

The McGregor Family
John Harvey McGregor (known as Jack), his wife Audrey Pamela (Pam) Brooke lived mainly in Surrey with their two sons John (b 1937) and Richard (b 1939). In September 1940 they all moved down to Devon to escape the blitz, and it was then that they came to live in Bishopsteignton.
John Harvey McGregor served on H.M.S. Neptune in the Royal Navy as Paymaster Commander (Acting). HMS Neptune sailed from Chatham in May 1941 on its last voyage and so they did not see Jack again after that.
Jack's sons, John and Richard both remember their time in Bishopsteignton very well (1940-1948).
"We lived (as a tenant) in four different houses. At first we lived at Radway House which was opposite the old Gourds bus depot. Then we moved to a house called Greenways which was near Huntly. Next we lived at White Lodge at the top of Berry Hill, and finally at Manor Farm at the top of Radway Hill. Manor Farm was owned by Percy Dawe from the Dawe's farm family and he was married to Lilian who had been a Gourd. They had a daughter called Christine who was almost exactly the same age as Richard. When I revisited Bishopsteignton in 1964 Manor Farm was literally a pile of rubble as it had obviously just been demolished for redevelopment. I have only been back to Bishopsteignton 3 or 4 times since we left and the last time was in 1999. Then I met Philip Gourd in the museum who was the youngest of the brothers who drove the buses when we were there, and he remembered my mother. I gather he died in 2013 aged 93.
I remember the buses well as I used to travel on them to school in Teignmouth for two or three years. We finally left Bishopsteignton in March 1948, after seven and a half years there, and we moved back to Surrey. One of the last things I remember doing in the village was going to the re-dedication of the War Memorial to those who fell in WW2 with my mother on 29 February 1948 (the day before my ninth birthday). (John was not there as he was away at boarding school). I know this because my mother kept a copy of the Teignmouth Post and Gazette which I now have."
John Harvey McGregor died at sea in Libyan waters on 19th December, 1941. He appears on the Bishopsteignton War Memorial.
Read his story here:
https://www.bishopsteigntonheritage.co.uk/people/john-harvey-mcgregor/
After the War, Audrey Pamela McGregor married a widower, Errol S
Barraclough (known as Budge), and they lived in Surrey until his death in
1965. Pam continued to live in Surrey until her own passing in July 2001.
John McGregor followed his father into the Royal Navy. He went on to serve as a Commander on both submarines and big ships, in 1982 his actions in the Falklands earned him an O.B.E. He now lives in Kent with his wife, and has two children and five grandchildren.
Richard McGregor qualified as a chartered accountant before working for an industrial group in Berkshire. He now lives in Wiltshire with his wife, and has three children and nine grandchildren.
Evacuation Chart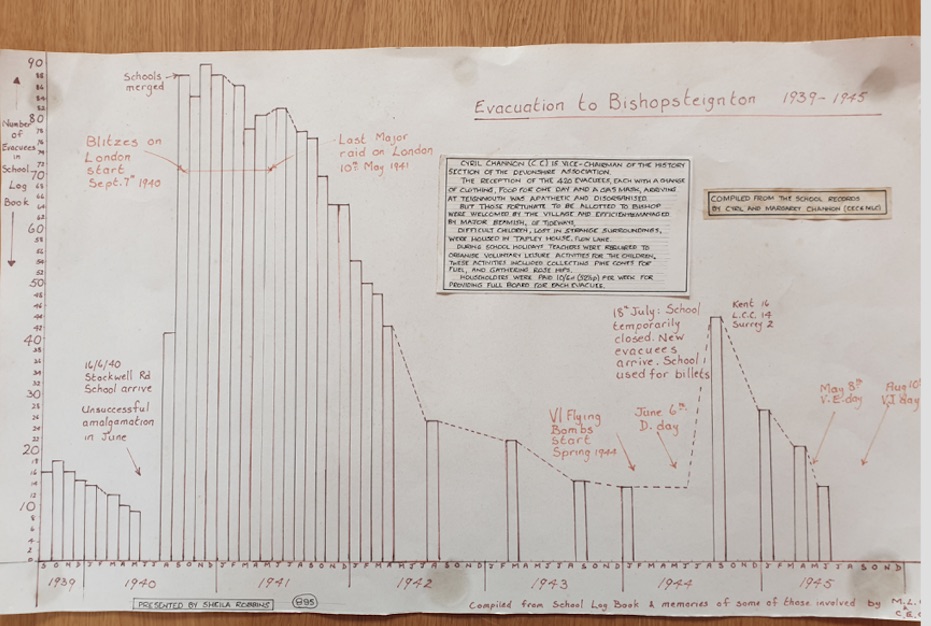 All efforts have been made to ascertain that the information in this article is correct. Most of it is taken from material in the Bishopsteignton Heritage archive, and some from personal recollection. If you spot any errors or have any further information on any of these evacuees and their families and descendants, or know of any others that came to the village, please do comment below or let us know by email.
.