Many people lost their lives fighting in WWII, some came back alive, and others stayed and did their bit at home. Today we would like to remind you of the men and women who were the heroes.
Bishopsteignton Memorial to those who died in WWII
Bishopsteignton Memorial to those who died in WWII
There are only two days left until we celebrate VE-Day, when the war in Europe was finally over and servicemen and women could look forward to returning to their loved ones at home. Some were not so lucky and paid the ultimate price for victory, with their lives. The Bishopsteignton Memorial bears the names of those who came from the village who paid that price for the safety of us all and future generations. You can read their stories here: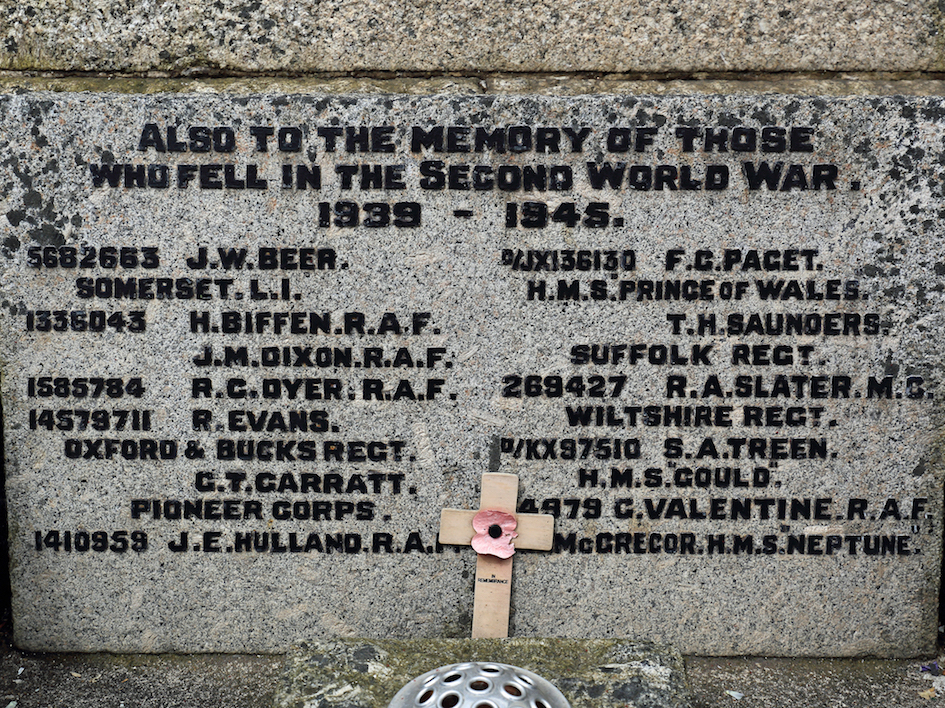 Those who Returned
Phillip Gourd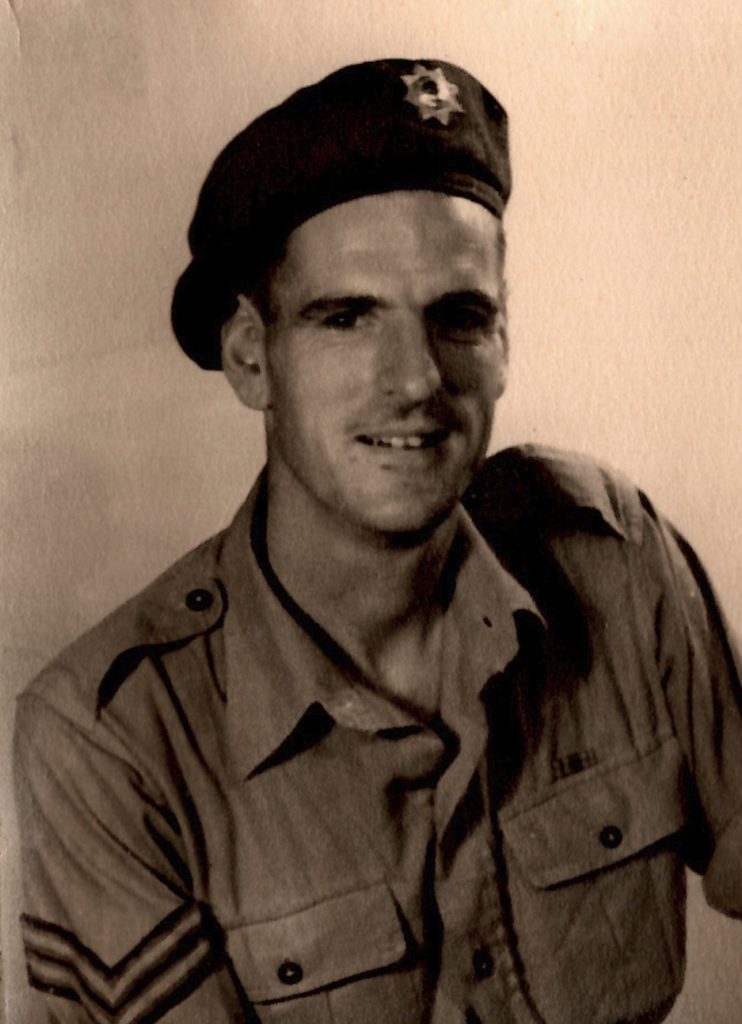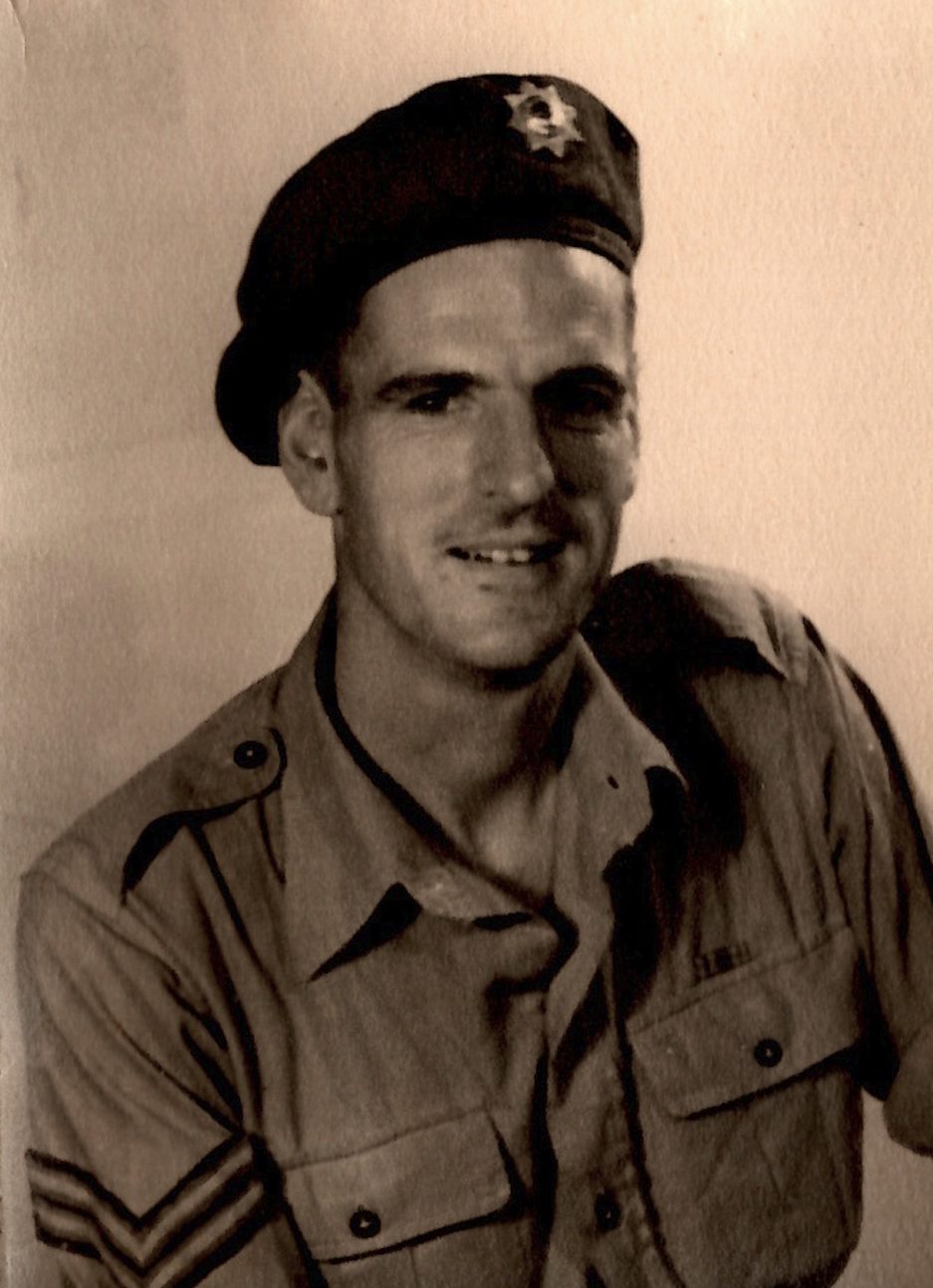 Of those who returned some rarely spoke of their ordeals or the stories that they remembered from the war years. One of the best known characters of the village for most of his life was Philip Gourd. He was in the Coldstream Guards during WWII, and was an acknowledged hero, as he was first on the scene of a massacre by the German forces in Italy. Philip returned to the same Italian village every year after the war. He also wrote his life story up until the end of WWII which is published here:
And listen to Philip's memories recorded for the Imperial War Museum here:
www.iwm.org.uk/collections/item/object/80018885
Leonard Quantick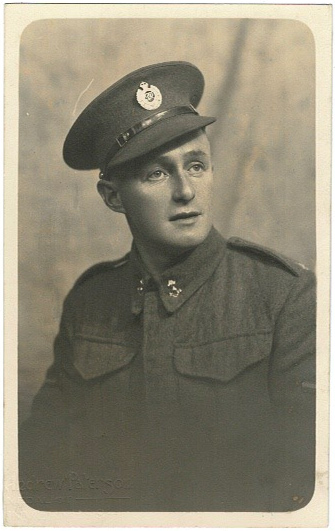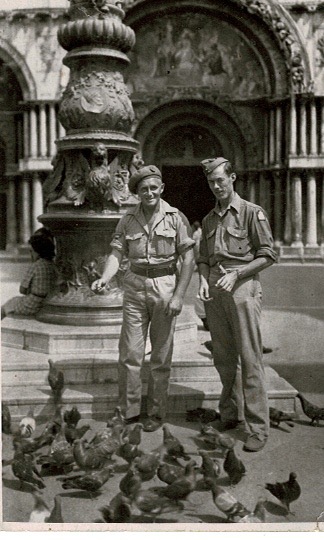 Leonard Quantick was the brother of Frederick Quantick, son of  Samuel Quantick and father of Irwin Quantick of West St. Bishopsteignton. He served in Italy and Africa during WWII and came home to work in the building trade in the village.  If you know any other details of Leonard Quantick's military service please do let us know.
Read more about the Quantick family, the Home Guard and WWII here:
Mrs E Quantick in her own words
Jack Ward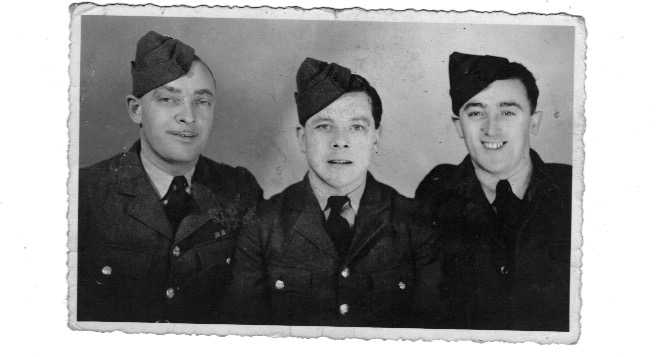 Jack Ward (far left of photograph) was the butcher in Fore St. during the war, but obviously did military service at some point. He and his wife Kit took in several evacuees in 1940 including the Blogg family, who they remained close to after the war ended. Read their story here:
www.bishopsteigntonheritage.co.uk/people/evacuees/
If you know of any unsung heroes of WWII that live in Bishopsteignton, please do get in touch so that we can publish their stories.
Those who Stayed Behind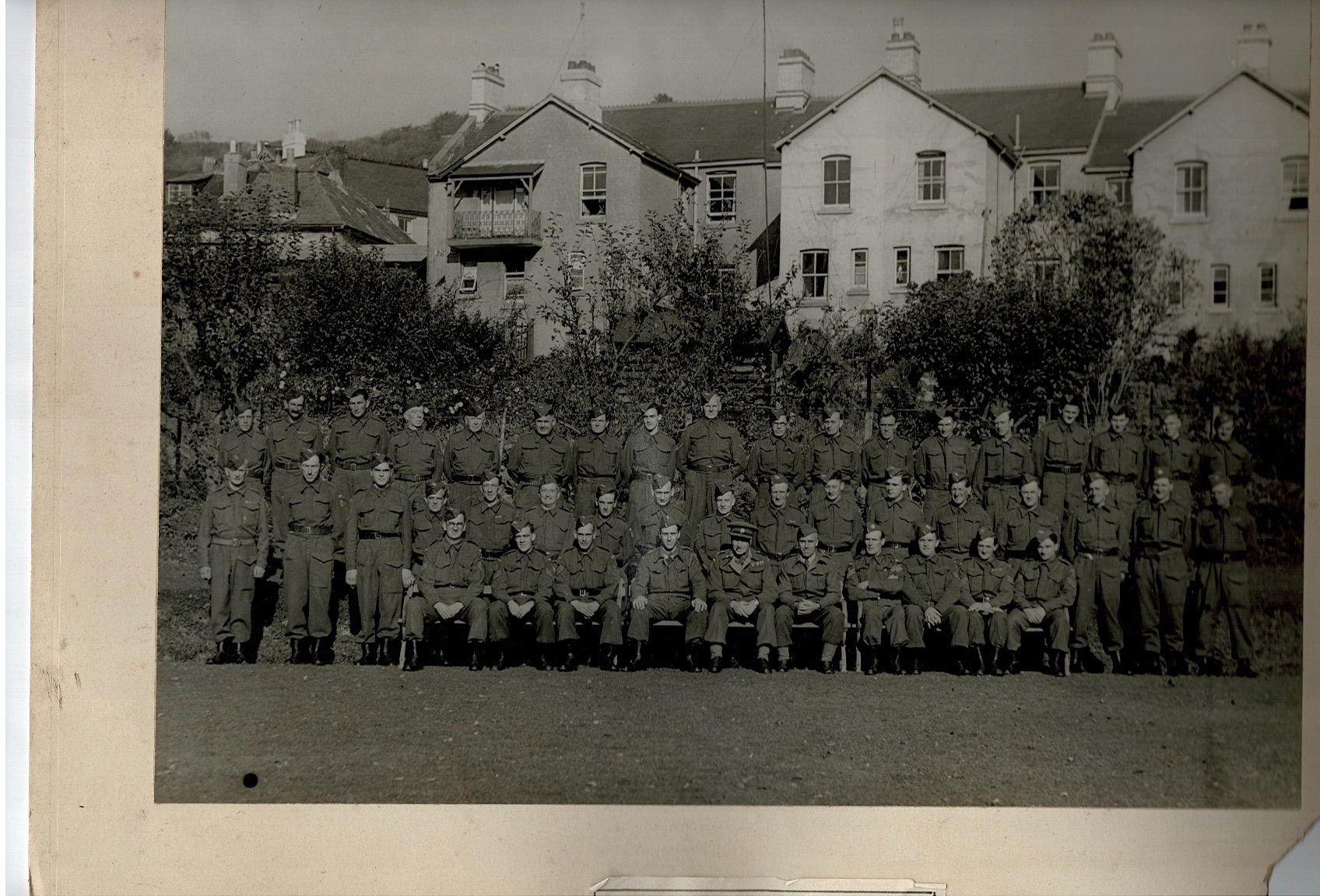 As there were a lot of farmers and agricultural labourers in Bishopsteignton during WWII, which were classified as reserved occupations, the local Home Guard was quite a large contingent of men, most of them very young. Older soldiers who had fought in WWI were also included as Home Guard members, including Sgt Sidney Skinner, himself a hero of the First World War, who recruited and trained the Guard. His daughter Sheila Robbins remembers his training sessions;
I can remember leaning, looking out of the window here and Dad trying to teach them to slope arms out here in the road, it's hard for you to imagine , but they were either very young or middle-aged elderly, because all the young men had gone.  You know, you try teaching youngsters who were so full of beans, and then you get the ones that had perhaps come through the First World War and they were really old. There was a big Home Guard in the village.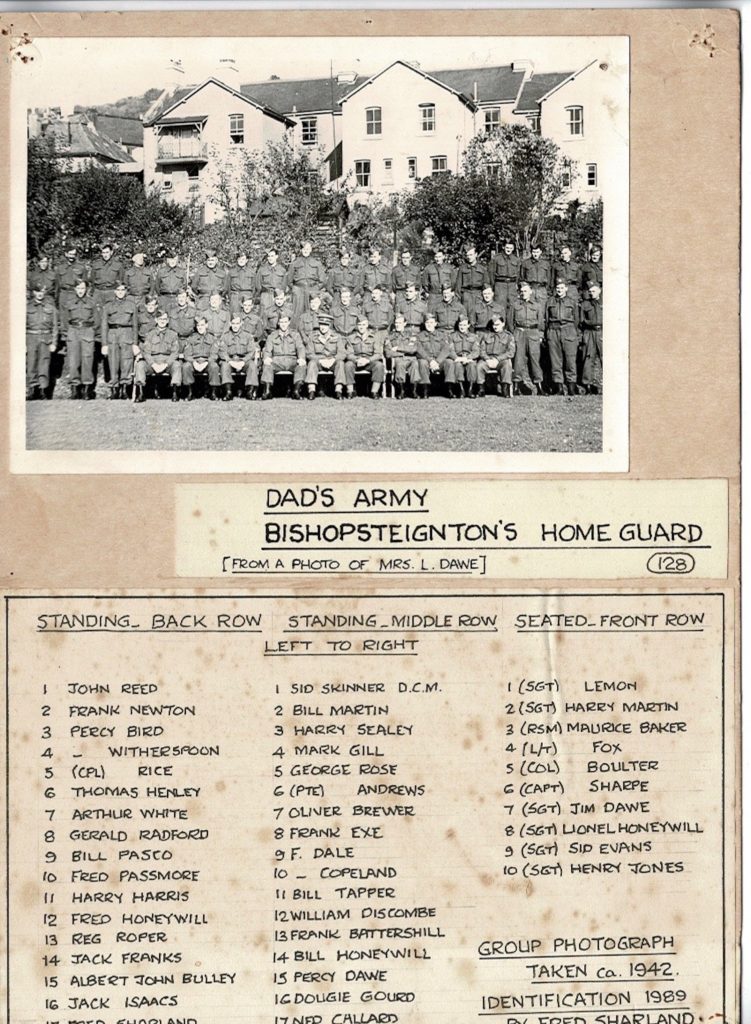 This photograph from the Bishopsteignton archive lists the names of the men in the Home Guard (Dad's Army) in 1942.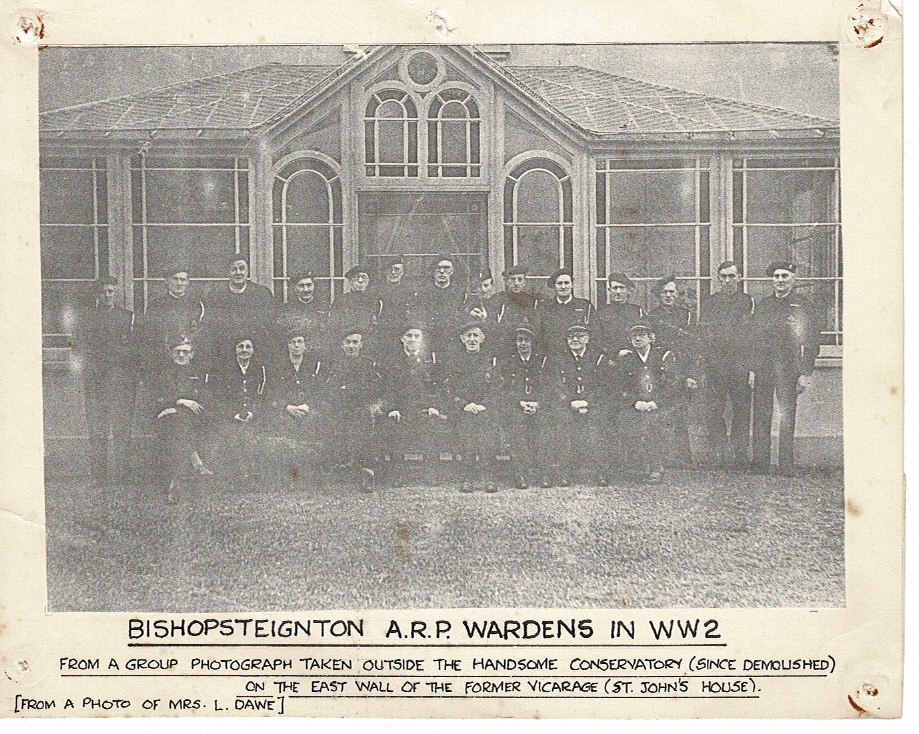 Of course there were also the local A.R.P. wardens who played their part on the home front.
Air Raid Precautions (ARP) refers to a number of organisations and guidelines in the United Kingdom dedicated to the protection of civilians from the danger of air raids. From 1 September 1939, ARP wardens enforced the "blackout". Heavy curtains and shutters were required on all private residences, commercial premises and factories to prevent light escaping and so making them a possible target for enemy bombers to locate their targets.
The ARP services were central in reporting and dealing with bombing incidents. They managed the air raid sirens and ensured people were directed to shelters. Read more about the ARP here:
en.wikipedia.org/wiki/Air_Raid_Precautions_in_the_United_Kingdom
It wasn't just in London that the bombs fell. Teignmouth had it's share of bombing raids and fatalities, and Bishopsteignton did not remain unscathed. One Bishopsteignton resident, Rosa Turpin, is noted in the parish death Register.
Mrs R V Turpin . Rosa Victoria Turpin. Civilian of Shimpitts, Bishopsteignton. Daughter of the late William James and Ella Rosa Smith, of 2 South Devon Terrace, Newton Abbot and wife of Thomas Turpin (former name Smith). Born in the September Quarter of 1887. Died at 11 Higher Brook Street, 2 Sep  1942 aged 55.
Her husband Thomas was a retired plumber and a special constable according to the 1939 census. She was one of those killed in Teignmouth during a raid.
RAID OF 2 SEPTEMBER 1942 (Esplanade, Higher Brook Street and neighbourhood) Eight killed,  four severely injured and twenty seven injured.
The raid is documented on this copy of the Council's records.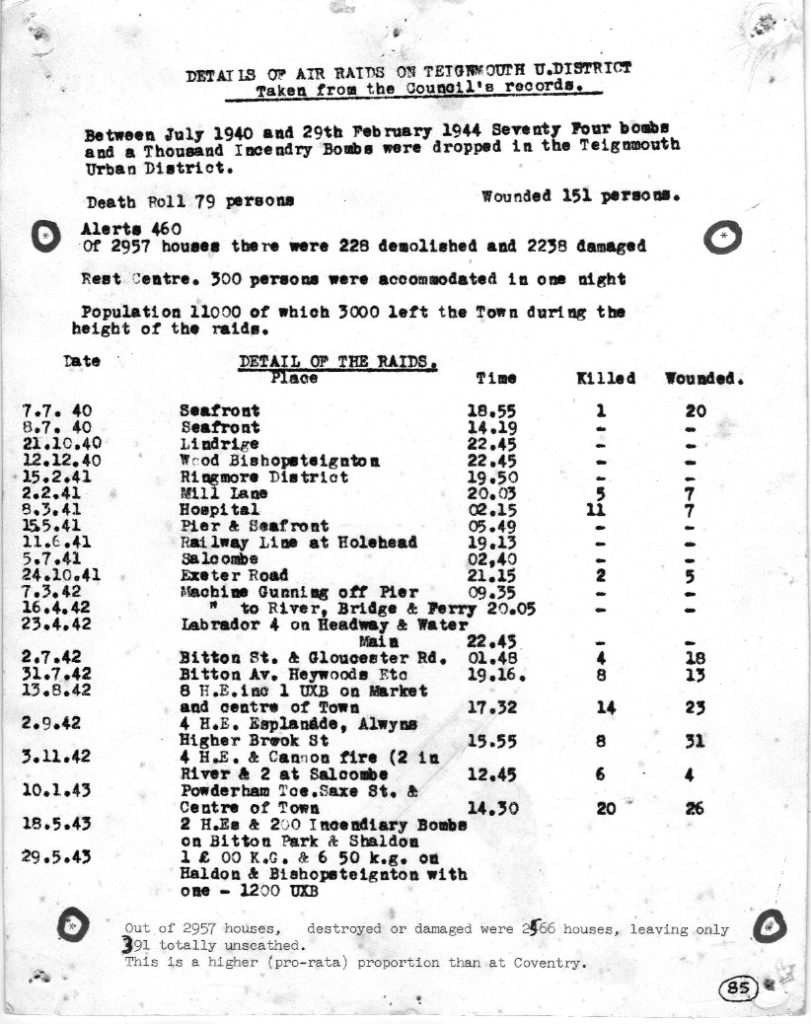 To find out more about the air raids look here:
www.devonheritage.org/Places/Teignmouth/CasualtiesofthebombingofTeignmouthinWorldWar2.htm
Bishopsteignton had a near miss when a bomb dropped at the top end of Coombe Way. This is the bomb disposal squad removing a bomb from Gypsy Corner, Haldon.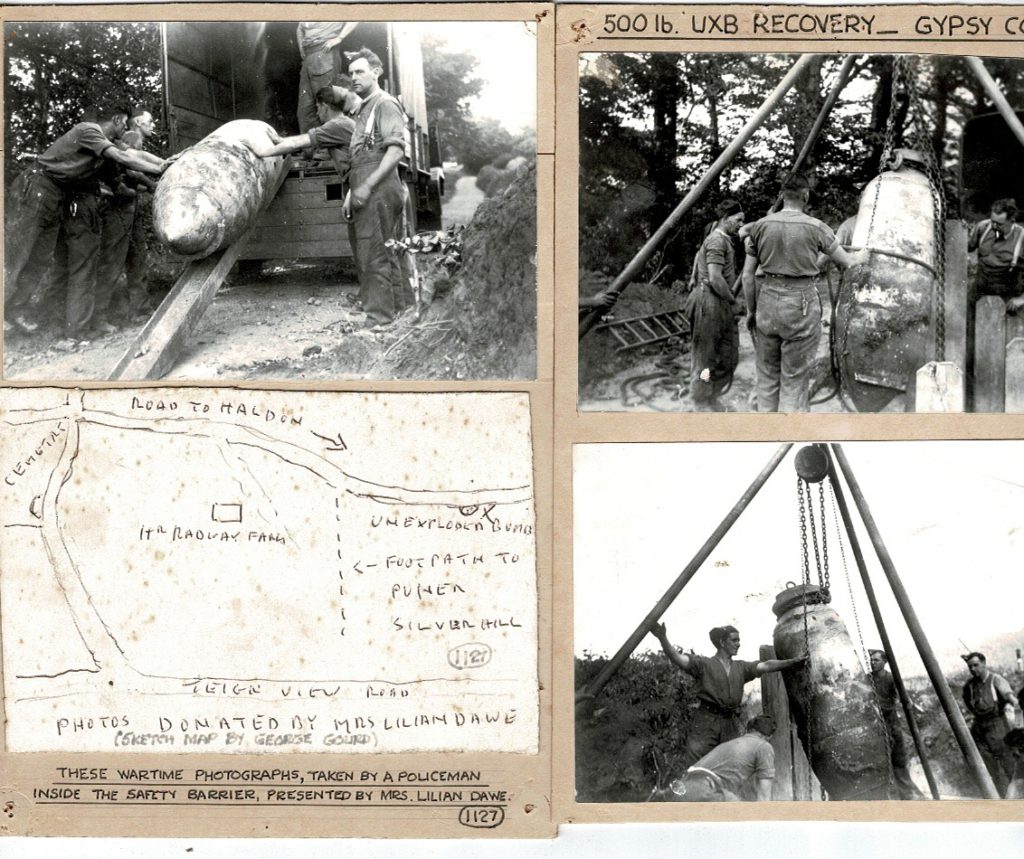 Many people have memories of WWII, some awful and some not so bad. This is a memory of  a local resident Nigel Harris that he left to us at the archive.
Luftwaffe visit Bishopsteignton
I was talking to my mother, Edna Harris about her war experiences during the anniversary of the end of World War Two. She told me about the time she spent living at Park Farm Bishopsteignton. Edna was in the top field and could see and hear a plane strafing a passenger train on the Teign estuary.
The plane then turned towards her, she took cover under some trees and froze. She clearly saw the pilot's face and swastika on the wing as the plane manoeuvred over the farm house. Her brother Edward Perkin working in the lower field jumped into a scrub full of stinging nettles. (Edward later served in the R.A.F. as an aircraft engine fitter).
The raider then carried out the next attack, dropped a bomb and missed the train. The enemy plane was engaged by the anti-aircraft battery sited at Coles Barn. One of the gun crew was Fred Pawlett known as "Scouty"; he was the scout master in Bishopsteignton for many years. The raider was eventually shot down by anti aircraft fire over Torbay. The pilot was seen to parachute into the sea.
By coincidence Edna's sister Sylvia was coming home on leave from nursing duties, and waiting for a connection at Exeter St David's. Sylvia saw the train come into the station many carriages shot up. I don't know of any casualties. I work as a Train Driver based at Exeter I often drive between Teignmouth and Newton Abbot luckily no enemy aircraft overhead but I picture the scene every time I run the route.
We shall remember our heroes on this VE-Day, and celebrate their efforts to make the world a safer place.
If you are interested in researching your own family or military history, Ancestry has free access to their records until May 10th 2020. This is the link: