Memories of Rachael Heathman and her evacuation in Bishopsteignton 1939-1940.
Other Bishopsteignton evacuee stories
Stay in Devon!
A letter written by Rachael Heathman, mother of Rowena Bradnam, who was with her grandmother, Lavinia Back, in Bishopsteignton when WWII was declared.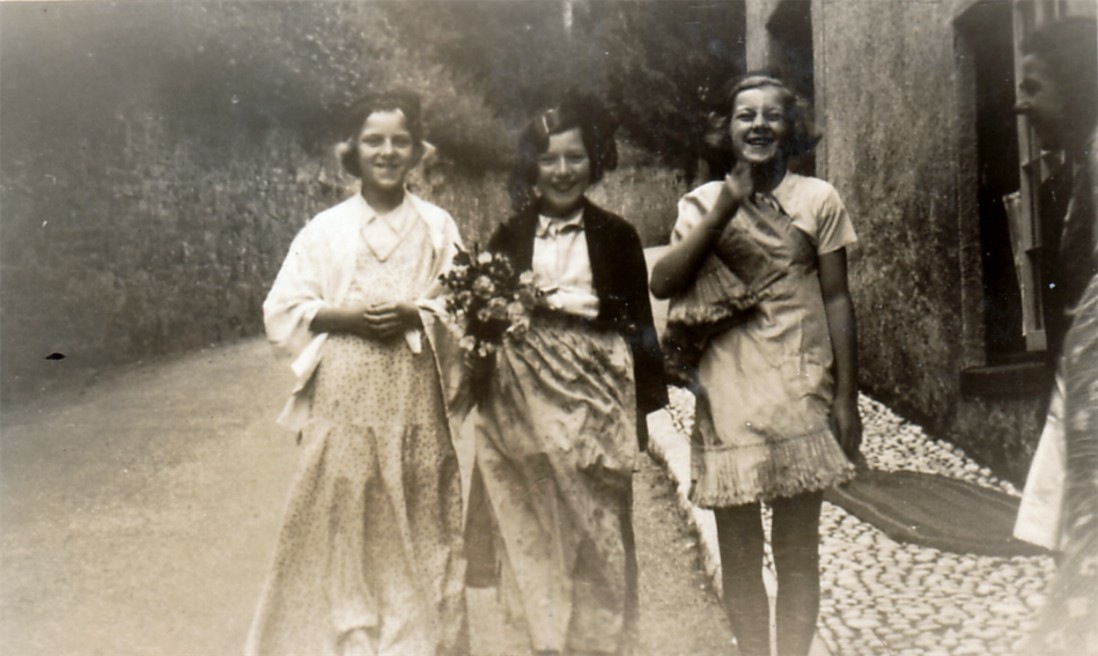 "On Saturday 2nd 1939, my sisters and I were due to return home from our holiday with my grandmother in Devon. Due to the possibility of war being declared, my mother sent a telegram to my grandmother on September 1, telling her to keep us with her, and not to send us home.
My grandmother had similar ideas also sending a telegram to my parents saying she was keeping us with her. Due to the situation, these telegrams were not delivered to their destinations until a week later.  Had we gone home there would have been no one to meet us at Paddington station.
On September 3rd, we listened to Neville Chamberlain on the wireless telling us that we were at war from 11 am.  My reaction was fear that planes would bomb in the London areas and my parents might be killed.
Since there was only a small village school with two classrooms, there was only partial schooling for the local children and evacuees.
I and one sister, (Ena), returned to our home in February 1940, while my youngest sister, (Olive), stayed until September, 1940. She was taking an exam to see if she could go to grammar school, we having passed such an exam previously and received a free place due to our parents' poverty.
I believe that was one reason that we returned home in the early part of 1940.  My parents couldn't afford to keep two homes going. "1
1939 Census
1939 Census notes the occupiers of 9 Radway Hill, Bishopsteignton as;
Lavinia Back
Rachael Heathman
Ena Heathman
Olive Heathman
Family Connections
Rachael Alice Mary Heathman, born 26 September 1924 was the eldest daughter of Thomas Edmund Heathman (Ed) of Chudleigh and Mary Elizabeth Back (Bess) of 9 Radway Hill, Bishopsteignton,  currently part of 30 Radway Hill following renumbering and renovations. Ed and Bess separately moved to London for employment after the first world war and married in November 1923.  They had three daughters in total including Ena Elizabeth Heathman born 8 May 1926 and Olive Frances Heathman born 29 August 1929.
Bess was the eldest daughter of Lavinia Mary Widdicombe and John Back of Radway Hill, Bishopsteignton.
John Heathman was born in Sampford Courtney in 1811. In  1835 he married Agnes Breacker/Braker in Bishopsteignton. The  1841 census shows them living on Radway Street with their son John.
1851  Census – John and Agnes with children John, Thomas and Mary live on Radway Street,  he is a gardener and farmer. They remained at the same address until Agnes' death in 1887. Both are buried in Bishopsteignton Churchyard.
Their son Thomas became a baker and moved to Avonwick. He in turn had a son Thomas who fought in the Boer War and was awarded the DCM for bravery.  After his military service they first had a bakers and grocers shop in Kingsteignton before settling in Chudleigh as a Mason.
His son Thomas Edmund (Ed) Heathman married Mary Elizabeth (Bess) Back.   The Back children spent a lot of time in Chudleigh staying with their Grandfather Joseph Widdicombe (Lavinia's father)  He was the cooper and had a workshop on Old Exeter Street. The grandchildren used to stay with him because, he liked to have a few ciders and had a bit of a temper to match his red hair,  so if the children were there it was thought he would be less likely to take out his temper on his wife.
Read the history of Bess's brother Lewis Back here;
https://www.bishopsteigntonheritage.co.uk/people/lewis-back/
Other stories relating to Bishopsteignton evacuees include:
The Blogg Family, The Ward Family, The Hope Family, The Cross Family, Norman P. Barnett, The McGregor Family.
All efforts have been made to ascertain that the information in this article is correct. Most of it is taken from material in the Bishopsteignton Heritage archive, and some from personal recollection. If you spot any errors or have any further information on any of these evacuees and their families and descendants, or know of any others that came to the village, please do comment below or let us know by email.
References and credits
1. Printed in Local Croydon newspaper on 50th Anniversary on WW2